10 Best Sunsilk Shampoos in India – 2019 Update
Sunsilk shampoos have been an integral part of the hair care regime since a long time. The most important factors for the popularity of the Sunsilk shampoos are its long lasting fragrances, good results and affordability. They are many Sunsilk shampoo types in the market. And they keep coming up with new variants and different range of shampoos to solve the different hair problems.
Check out the top 10 Sunsilk Shampoos:
1. Dream Soft and Smooth Shampoo:
This wonderful shampoo contains ceramide and egg yolk extract, which makes the hair soft and smooth. It is specially designed for dry hair and acts as a cleanser and provides nourishment. Its conditioning properties act as a softening agent which smoothes out the frizz and also create an outer protection to seal the moisture of your hair.
[ Read: Sunsilk Dream Soft And Smooth Shampoo Review ]


2. Lusciously Thick and Long Shampoo:
If you are looking for a shampoo which cleanses, nourishes and also help in hair re-growth, then this is one of the best shampoos available in the market. It contains keratin yoghurt nurti-complex, which provides nutrients to the hair and strengthens it from root to tip making them thick and long. It is gentle on hair and has a long lasting fragrance which lingers for a long time.


3. Damaged Hair Reconstruction Shampoo:
This shampoo has one of the most advanced reconstruction formula which gives back life and health to your damaged hair. It contains olive oil nurti-complex which reconstructs damaged hair strand by strand, fills in the cracks in the hair strand and provides essential nutrients to reconstruct damaged hair. The shampoo is specially meant for people with dry, damaged hair with splits ends.


[ Read: Shampoos For Thin Hair ]
4. Radiant Shine Shampoo:
This is the new entry in the Sunsilk shampoo range and has created quite a buzz. This unique shampoo contains 5 most essential oils; argan, jojoba, camellia, olive and almond for hair growth and health.  The ultra-light fusion of all these natural oils penetrates deep into the hair, cleanses the hair well leaving no residue, seals in the moisture and provides it a radiant shine from inside and outside. It has a nice floral smell which stays on for 2 days.


5. Perfect Straight Shampoo:
Straight hair is always most sought after and most of the girls try a lot of methods to achieve that perfectly straight hair. But now you can easily achieve those smooth and straight locks with the help of this shampoo. It has the breakthrough straight lock technology which controls and aligns every hair stand.  It also reduces the frizz, provides moisturization and keeps the hair perfectly aligned.


6. Black Shine Shampoo:
This shampoo is enriched with the amla and pearl-complex, which forms a protective layer on the surface of the hair to protect it from the harmful sun damage. Amla is well known to restore the hair's health, shine and provide the adequate nourishment. Sun damage causes extreme damage and the hair also loses its natural colour. The shampoo provides a natural shine and glow to your hair. It has a semi-liquid consistency with a shimmer black colour.


[ Read: Aloe Vera Shampoo in India ]
7. Shine and Strength Shampoo:
This shampoo is also a new entrant in the Sunsilk co-creations range created by Jamal Hammadi. The shampoo protects and moisturizes each hair strand from root to tip. It contains henna nutri-complex which cleanses, hydrates and strengthens each hair fiber to make it healthy and strong from within. With regular usage, you will get naturally healthy hair with luminous shine.
8. Anti-dandruff Solution Shampoo:
Many people suffer from scalp infections and stubborn dandruff, especially during the on-going monsoon season. Sunsilk has got a new shampoo range to solve your dandruff woes. It contains zinc pyrithion and citrus complex, which is well known for dandruff elimination. The shampoo is also enriched with natural ingredients like sunflower oil and lime extracts which cleanses and soothes your hair well.


9. Keratinology Detoxifying Shampoo:
This shampoo is the part of the Sunsilk's keratinology range, advanced reconstruction for dry and damaged hair. It is specially designed to retain the beauty and health of your salon-treated hair for a long time. It is developed with keratin micro-technology which nourishes and reconstructs dry and damaged hair. Use regularly for healthy and smooth hair.
10. Keratinology Sun kissed Colour Therapy Shampoo:
This particular range of shampoo protects color-treated hair and the shiny and luminous hair colour is retained for a longer period of time. It provides salon like care for your damaged and coloured hair and also helps the hair colour to remain for a longer time. It makes your hair soft, clean and shiny and you would also experience decrease in the hair fall.
[ Read: Beer Shampoo Benefits ]
*Subject to Availability
Hope you enjoyed the article on the Sunsilk shampoo India Range. Please leave us a comment.

The following two tabs change content below.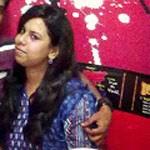 Latest posts by Ankita Biswas (see all)