7 Best Sweat-Proof Makeup Primers To Buy In 2023
Beauty formulations that help you with combat sweat and remain as gorgeous as ever!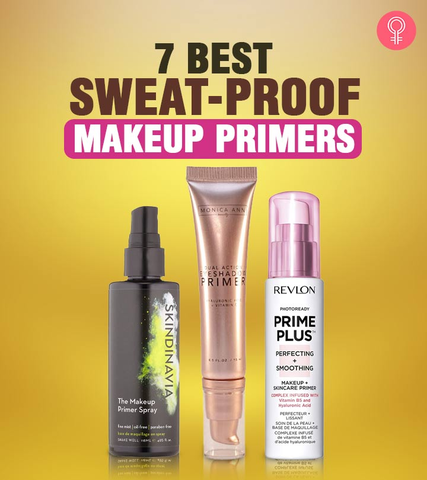 While you can control your makeup looks, you absolutely cannot control the weather! High humidity levels and soaring temperatures are not your friends if you have a face full of well-done makeup. That is unless you use the best sweat-proof primers! These are the gems of the makeup world that help you prepare your facial canvas before you apply your next layers. A primer smoothens your skin, fills your pores, and blurs out any unevenness. It also makes your makeup last longer. Primers are of various types: gel, tinted, cream, and silicone-based. It is also made according to skin types. So, while you choose the ones best suited for your skin type, make sure that it is also sweat-proof.
In this article, we take a closer look at some sweat-proof makeup primers available this year to help you make the best choice for yourself. So, give it a quick read before you make your next purchase!
7 Best Sweat-Proof Makeup Primers
Eyeshadow primers are lightweight bases that help your eye makeup last for a longer time and allow a crease-free look. This set of three liquid eyeshadow primers for Ownest can be used to achieve different makeup looks for different skin tones. They provide a waterproof, matte finish. These long-lasting primers have a quick-drying, creamy formula that keeps your makeup intact throughout the day.
Pros
Lightweight
Long-lasting
Waterproof
Quick-drying
Set of three
Budget-friendly
Cons
None

Price at the time of publication: $7.99
Pros
Moisturizing
Lightweight
Quick-drying
Oil-free
Waterproof
Paraben-free
Sulfate-free
Phthalate-free
Cons
None
Price at the time of publication: $34.0
This one is for all you ladies attending various music festivals and concerts. Tired of that glitter makeup running off your face in an hour? Try the Electrik Glitter Makeup Primer! For intense moisturization, the waterproof formula is enriched with hemp seed oil and omega vitamins A and E. You can use this with any foundation and makeup product, but it is best suited for glitter makeup.
Pros
Waterproof
Moisturizing
Eliminates acne
Biodegradable
Long-lasting
Value for money
Cons
None
Price at the time of publication: $11.95
Get instantly photo-ready skin with this primer from Revlon. It takes your skin's needs into consideration while acting as the perfect base for your makeup products. The antioxidant-rich creamy formula is enriched with moisturizing vitamin B5, hyaluronic acid, and pumpkin-seed extract that work together to even out fine lines and uneven skin texture. Get the best of skin care and makeup in this breathable formula, and wear your makeup for long hours without any worries.
Pros
Moisturizing
Breathable
Paraben-free
Sulfate-free
Phthalates-free
Artificial dye-free
Environment-friendly
Cons
None
Price at the time of publication: $11.77
Pros
Lightweight
Non-greasy
Controls shine
Brightens complexion
Controls sebum secretion
Paraben-free
Cruelty-free
Cons
Price at the time of publication: $15.99
This set of three different eyeshadow primers by UCANBE is suitable for a wide range of skin tones. The transparent, light primer improves your overall skin tone and makes your eyeshadow colors pop out. The shimmer is for highlighting and brightening your skin, while the dark brown primer works best to cover blemishes and dark spots.
These quick-drying primers offer a clear canvas for you to build up your eye makeup looks. They also absorb excess oil to provide a long-lasting, smudge-free look all day.
Pros
Long-lasting
Waterproof
Smudge-proof
Silky texture
Budget-friendly
Cons
None
Spray on this mist primer for long-lasting coverage all day. This lightweight, hypoallergenic formula allows your skin to breathe and prevents any breakouts. The hydrating, water-based primer is perfect for dry skin as it improves the quality of your skin over time. It also regulates sebum production, blurs fine lines, and fills pores to provide a smooth canvas for your makeup looks.
Pros
Long-lasting
Lightweight
Hypoallergenic
Hydrating
Non-greasy
Paraben-free
Silicone-free
Cruelty-free
Vegan
Cons
Price at the time of publication: $30.09
Applying a primer is a necessary step in the makeup regime. Primers form an even base for makeup that looks natural and smooth. A sweat-proof primer is suitable for active people and outdoor days! These primers need to be hypoallergenic, lightweight and loaded with sunscreen. However, before choosing one for yourself, check this buying guide to be better informed.
Things To Consider While Buying Sweat-Proof Makeup Primers
If you have oily skin, pick a primer that is non-comedogenic, non-greasy and oil-free. A mattifying primer will minimize excess oil, reduce enlarged pores and shine. For dry skin, you need a hydrating formula that can maintain the pH balance of the skin and keep it moisturized. A hydrating primer will replenish, nourish, and soothe the skin while preparing it for makeup. Sensitive skin can be tricky when selecting beauty products. Try to pick a primer that is crafted with natural ingredients, botanical extracts, and non-toxic materials. Paraben, silicone, SLS, and other such additives must be avoided. Artificial fragrances can also cause irritation to delicate skin.
Choose a sweat-proof primer shade closer to your skin tone. You can determine the shade of your primer by applying it on your jawline. Choose the shade that looks absolutely natural against your skin.
If your skin is pigmented due to tanning, age, or skin issues, use a color correcting primer. There are specific color-corrector primers for specific tones. Green primer minimizes redness due to sunburn or a pinkish complexion. A purple primer helps cancel out yellow undertones. Pink primers can be used as blush-ons to add some color and brightness to the skin. Delicate skin showing blue veins can be covered with yellow primer while a peach primer is used to conceal hyperpigmentation and dark circles.
Aging causes fine lines, wrinkles, and blotchy skin. Check for ingredients rich in antioxidants that will smoothen the aging lines. A nourishing, moisturizing formula is also helpful to hydrate sagging skin and offer it a rejuvenated lift.
Your primers should contain salicylic acid as this helps reduce acne. Look for non-comedogenic, oil-free and fragrance-free formulas that will remove acne and other skin issues. Vitamins A and E can keep the skin moisturized while absorbing excess oil.
A pore-minimizing primer helps if you have large, open pores. The primer forms an even, long-lasting base for your makeup so that the foundation does not settle into the pores and fine lines on the skin.
Humidity is a nuisance for makeup, and we all agree that sweat-proof makeup products are a blessing! After all, no one wants to have a cakey, melting face after an hour of getting their face ready! A good-quality primer helps smooth the imperfect texture of the face and offers a perfect base for successive makeup products. Look for sweat-proof primers that are lightweight, hypoallergenic, and do not have harmful chemicals in their formulation. Also, if you are someone with oily skin type, look for oil-free, non-greasy products that are also non-comedogenic. For dry skin type look for hydrating primers that nourish the skin.
Why Trust StyleCraze
The author of this article, Baishali Bhattacharya, is certified in makeup techniques. She is also passionate about trying out the best makeup products and is closely reviewing them for her readers. She has conducted thorough research after going through several products and their reviews and user feedback to list these sweat-proof primers. These have been chosen based on their hypoallergenic, lightweight, non-greasy, and skin-friendly properties.
Does a primer prevent sweating?
No, a primer does not prevent sweating. But, it prevents your makeup from sliding off with the sweat.
How do I stop my makeup from sweating off?
You can stop your makeup from sweating off by using sweat-proof products and a good primer.
Can we use primer in summer?
Yes, you can use silicon-based primers in summer because along with being lightweight they also minimize the production of oil and perspiration.
Do I apply sunscreen or primer first?
Sunscreen is the last step in your skincare routine, while the primer is the first step of your makeup routine. So, sunscreen comes before makeup.
Can I use sunscreen as a primer?
Yes! Some sunscreen can double up as a primer. However, do check the product level and reviews so that you can find the right sunscreen that you can use as a primer as well.
Can we use primer daily?
Yes, you can use primer daily even without makeup. This will help you to get a lightweight smooth complexion without the heavy foundation.