19 Best Swimsuits For Women Over 50 That You Need to Grab ASAP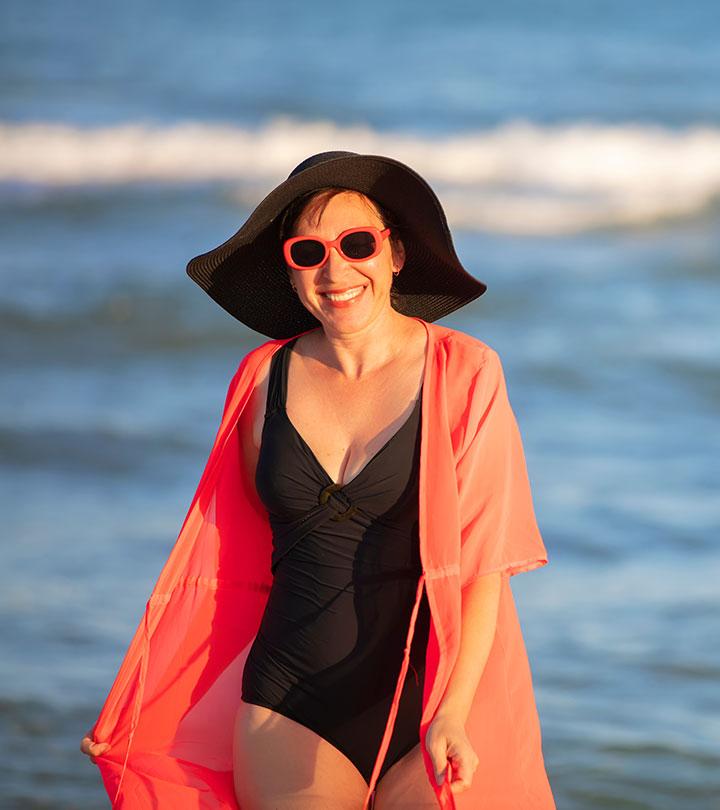 Swimsuits are apparel that every woman must wear boldly by not giving a damn about their age. Summer is right around the corner, and if you are over 50, it's time that you got a swimsuit that makes you feel confident as well as comfortable. Coming across such swimsuits is not too hard once you become aware of the multiple styles and options available in the market.
Finding a swimsuit that you truly love can be quite a task. To make it easier for you, we've put together some of the best swimsuits that you will simply adore and be super comfortable in.
Read on to know what we have in store for you!
This one-piece swimsuit from Meyeeka is stylish and attractive. The fabric used for this swimsuit is a blend of nylon and spandex. If you are over 50, this swimsuit will be a great pick as it provides full coverage and support while making you look super-fashionable. It is available in multiple colors and affordable.
Similar products
If you are stepping out for a casual day by the pool, this monokini by Zereka will be the perfect choice. This swimsuit is quite bold with two slits at the sides along with a scoop neck. Its high waist cut provides full coverage and support. The fabric is super durable and available in plenty of other great colors.
Similar products
This one-piece swimsuit from CUPSHE comes in this sophisticated burgundy color that looks super classy and attractive with a knot bunched up at the side. It has a deep back that will make you look ravishing. The fabric used for this swimsuit is a combination of nylon and spandex that makes it very durable.
Similar products
COCOSHIP's high-waisted bikini set looks like the perfect thing you need to flaunt this summer. Its color palette of pastel shades is super refreshing and like a breath of fresh air. The bikini has a cute halter neck that makes it look bold and beautiful. Women above 50 years can totally carry off this swimsuit and be comfortable in it, too.
Similar products
This bikini set by RUUHEE screams fashion goals! This olive green bikini not only looks super attractive and stylish but is also comfortable. The fabric used to make this bikini is a nylon and synthetic blend that is soft and durable. It is available in other quirky colors and patterns.
Similar products
This bikini by Aleumd is just perfect for a day by the beach. Its mint blue color swimsuit and off-shoulder style look amazing. The bikini bottom is high-waisted and makes your waist look super slim. This bikini looks great on anyone over the age of 50. The fabric used is soft and durable.
Blooming Jelly's high-waisted bikini set is quite unique. It has a soft fabric that is durable and comes in a fun polka dot print. The high-waisted bottom makes your waist look super flattering. A fancy knot at the front of the bikini makes it look stylish.
This ruffled bikini by SHEKINI looks super cute and fun. So, what if you are over 50? You are still allowed to flaunt that bikini bod! This bikini is bold and perfect for a day by the pool. The fabric is a blend of nylon and synthetic that is available in many other amazing colors like red, deep blue, black, and white. Not only does it look great but it is also easy on your pocket.
This high-waisted polka dot bikini set from Angerella is the perfect swimsuit to wear to a brunch party by the pool. The blood-red halter neck top is paired with a black and white, polka-dotted, high-waisted bottom. Put on some funky accessories, like big hoop earrings, and you are good to go.
The famous swimsuit brand, Tempt Me, has come up with this stylish two-piece swimsuit that has a two-tiered ruffle top and high-waisted bottoms that accentuate your curves. The material is super soft, stretchy, and durable. It is perfect for a day at the beach.
Heat Move's two-piece bikini set comes in beachy floral patterns. It is lightweight, and its fabric used is super soft and durable. Not only does it look stylish on women over the age of 50, but this two-piece set also helps them feel confident and comfortable. It is available in many other styles, colors, and patterns that reflect the warm season of summer.
Swimwear comes in so many different styles and patterns that, on most days, it is hard to pick a favorite. For women who are over 50 years of age and looking to step out of their comfort zone and try something fun, this one-shoulder swimsuit by Lysa could be the one. It offers both comfort and style and is available in plus sizes as well.
Strapless bikinis are a classic. They look super gorgeous, don't they? The amount of fun you can have wearing them is insane. They give out a vibe of confidence and poise. Make sure you get a size smaller than yours for a better fit and support.
No products found.
This black high-waisted swimsuit not only looks super stylish but also offers ample amount of support and comfort. High-waisted swimwear is trending right now, and you can pull it off with ease. It enhances your physique and boosts your confidence. The black straps at the hips make it all the more stylish and desirable.
This Tankini by Holipick has a halter neck and deep back that looks sexy. The fabric used is soft and stretchy, which flatters your figure. It is available in many other colors and patterns. This swimsuit is also affordable and durable. It is a great investment for women who are over the age of 50.
This two-piece swimsuit by Amstt has a sexy mesh on the top and looks super stylish. Its floral pattern looks pretty and feminine. The halter neck will look amazing on women who are above 50. It fits comfortably and adds great shape to your body.
HAIVIDO's tankini swimsuit has a V-neck and a sexy criss-cross back. It also claims to provide UV protection. It is made of a nylon-spandex blend. The swimsuit is available in multiple bright colors that look stunning. This two-piece tankini is perfect as it can be worn in the sweltering summers while playing games and when taking a dip in the pool.
Black is an exquisite color. It is a color that signifies class, grace, and elegance. A classic black swimsuit never fails to impress on a day by the pool. For women over 50, this is a great option. The tiered ruffles create a silhouette that is perfect for anyone who likes to keep things a bit modest.
Cross-front bathing suits veer away from the regular boring idea of a bathing suit. It adds style and confidence to the outfit. The cross front is quite a bold move, but you should not think twice before opting for this look. It does not lag behind in the comfort department and offers ample support too.
These are some of the best swimsuits that are available for women who are 50+ years of age. Swimsuits are a great investment, and when you are out on a casual day at the beach or by the pool, a comfortable and good-looking swimsuit is a must-have. Which one of these swimsuits did you like best? Let us know in the comments section below!