20 Best Swimwear Brands For All Shapes And Sizes
Flaunt those curves confidently at the beach in stylish bikinis from leading brands!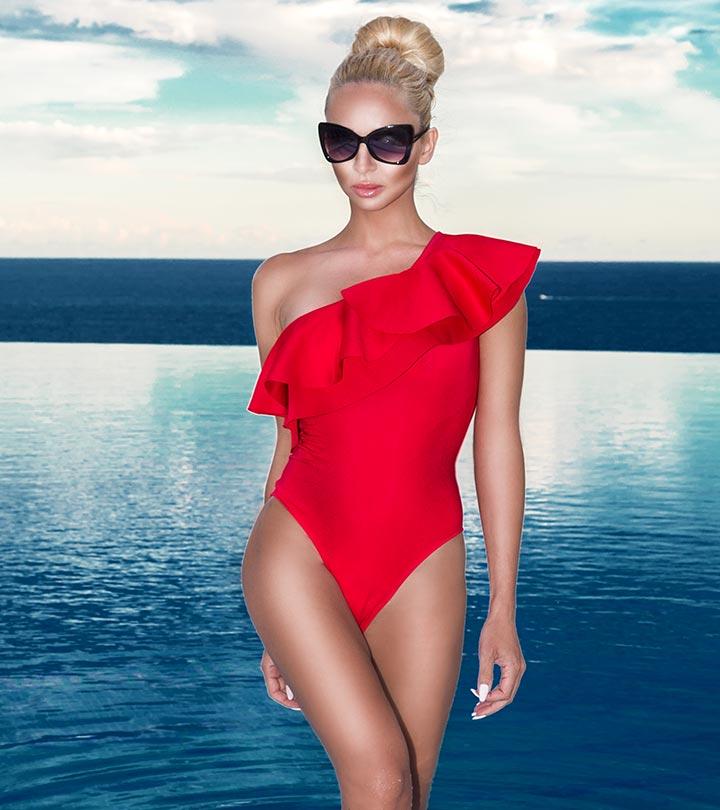 Beach holidays and pool parties give you such a high – the mere feeling of going on one is exciting. And, let's face it, the trip is going to be all about the sun, bikinis, and the tan lines! So, make it right. Designing swimwear is an art in itself, because it needs to be functional, and hold everything at its right place, hide little crevices, and create a beautiful silhouette. Some brands specialize in this, and are best at what they do. Let's look at the 20 best swimwear brands out there today.


Ace The Look
Body Positivity: The best swimwear brands actively promote inclusivity and diversity to reinforce the message that swimwear is for all shapes and sizes.
Fit Testing: This is important to ensure a brand's swimwear offers a comfortable and flattering fit for a wide range of customers.
Adjustable Features: Many top swimwear brands incorporate adjustable features into their designs, such as adjustable straps, stretch fabrics, or removable pads to customize the fit and provide flexibility for different body shapes and sizes.
Sizing Guides: The best swimwear brands often offer dedicated customer service to assist in finding the right fit, and provide style recommendations that suit their unique body shapes.
20 Best Swimwear Brands In The World
1. Hoaka Swimwear
Elisabeth Rioux started her swimwear brand 'Hoaka Swimwear' when she was just 20 years, and it has been a success and enjoyed popularity from its very inception. The Instagram model turned entrepreneur wanted to bridge the gap in the swimwear segment and make bikinis that are sturdy and invariably cute with high durability – which is what a bikini should be. You will see some attractive geometric designs, and real-time women posing with Hoaka Swimwear, which makes it easy for us to shop. It is an international brand and ships across the globe, which is the best part, so go and check them out.
Check Out Its Collection Here: https://www.hoakaswimwear.com/
2. To Dive For
To Dive For is a British-based brand that ships around the world. It is into designing high performance luxury swimwear for swimming and diving. From off-shoulders and one-shoulders to functional dive clothing, it is inspired by 'Ocean Adventures', and is making swimwear elegant, stylish, and all about comfort. Fashion Expert Keicia Shanta, with editorials for Saks Fifth Avenue and Nordstrom, sums up this look saying, "Love this super cute swimsuit. A perfect blend of comfort and cute."
Check Out Its Collection Here: https://www.todivefor.com/
3. Kopper And Zinc
Sally Burgess, an Australian designer, started this label to quench her never-ending desire to combine beachwear with instinctual fashion. Its designs are all strappy, edgy, and bold silhouettes that enhance the female figure while being fluid and fashionable.
Check Out Its Collection Here: www.kopperandzinkswimwear.com

4. Khassani Swimwear
Mathilde and Pauline started Khassani Swimwear for the love of traveling, water, and beaches. Its collection is all about minimalistic designs, subtle colors, and a mix of both. Little details make a huge difference to your outfit and silhouette; its designs prove just that. If you are looking for exciting bikinis for your next vacation, check them out.
Check Out Its Collection Here: www.khassaniswimwear.com
5. Love Stories Swimwear
Love Stories is a Dutch brand started by Marloes Hoedeman that offers intimate clothing. Blending colors, fabrics, and cuts to create luxurious, soft, and smooth intimates is not something we see every day. And, then it started its own swimwear, taking beach wear to the next level. Check its online shopping store or walk into a local retail store– it is present in 28 countries, chances are it is in yours too. Keicia adds, "Love Stories always comes up with really unique designs that make you want to hit the beach."
Check Out Its Collection Here: https://www.lovestoriesintimates.com
6. Alix Swimwear
Alix NYC believes in understated elegance while being edgy, and this comes across vividly in its collections. Alix first launched its collection in 2014 to make luxury basics with fabrics like silk, jersey, etc. It truly understands a woman's needs and acknowledges that it needs attention to detail in making outfits that fit, sit, and feel. Miss Shanta adds, "Alix NYC offers style and comfort. Be prepared to get compliments all day when you wear this baddie."
Check Out Its Collection Here: https://alixnyc.com
7. Moiess Swimwear
Jessica Mercedes, a Polish influencer and blogger stumbled upon this idea while scouting for that perfect bikini that is made to fit to match women's bodies in a way that it's practical yet alluring. So, in the quest for that one bikini that defined her the most, she started Moiess Swimwear. Jessica practically designs, nurtures, and builds the collection to make swimsuits that fit and flatter in the most real sense.
Check Out Its Collection Here: www.moiess.com

8. Sea Folly
'Peters Folly' is an Australian swimwear company started by Peter and Yvonne in 1975 and later rebranded as 'Sea Folly', became a big name in Australia in no time. Its designs were a big hit from its inception and received awards for being the 'Best Swimwear'. Sea Folly branched out in Australia, and eventually opened stores in the US and Singapore too.
Check Out Its Collection Here: https://au.seafolly.com/
9. B Fyne Swimwear
'B Fyne' is quite a unique story and a brand, and started by a Nigerian-American woman Buki Ade. She started B Fyne when she realized that there was a lack of representation of African women in the truest sense. She believes in women celebrating their bodies, flaunting their curves, and being themselves – unapologetically and confidently. B Fyne's designs are all of that and more – they are bold, eccentric, and flattering. Keicia Shanta beams at this pick saying, "I love women-backed brands that truly get how a woman wants to be represented when it comes to style. Love the colors and designs of this brand."
Check Out Its Collection Here: https://bfyne.com/
10. White Fox Swimwear
White Fox is a Sydney-based swimwear brand that has a loyal customer base for its swimwear, and otherwise too. Its collections are all about making simple cuts and plain colors look impeccably stylish, comfortable, and affordable. It caters to women of all body types, too.
Check Out Its Collection Here: https://www.whitefoxboutique.com/


Trivia
White Fox was established in 2013 in traditional start-up fashion, with founders Daniel and Georgia Contos fulfilling orders out of their garage. The brand has built a global fan following that has been expanding year after year by utilizing the power of social media and influencer marketing.
11. Calzedonia Swimwear
Calzedonia is an Italian company that started in 1987, making lingerie and swimsuits for men, women, and kids. With a unique 'verticalized' business model, its idea was to build a franchise sales network and expand the business in this format. In less than twenty years it caught on like wildfire in all of Europe and other countries too. Its strength lies in its products and how it manages to meet the sensibilities of women from so many cultures with its dynamic approach.
Check Out Its Collection Here: https://world.calzedonia.com/
12. Oseree Swimwear
Ose(ree) roughly translates to 'to dare' in French. It was started by Isabella and Janine, who turned their dream into reality with this swimwear brand, making suits that are incredibly sensual yet sophisticated. With soft fabrics like silk, satin, etc., its swimsuits are quite exquisite, unique, and rich in details. Oseree is an Italian brand in the realest sense – with modern aesthetics, high quality work, and new designs with changing trends.
Check Out Its Collection Here: https://oseree.com
13. Heidi Klein Swimwear
Heidi Gosman and Penny Klein started Heidi Klein – a luxury boutique in Notting Hill, in 2002 as a one-stop shop for swimwear. The idea was to reinvent swimsuits in a way that matches the sensibilities of women but with newer fabrics, designs, cuts, and patterns. It grew as a luxury boutique across the world offering exclusive styling solutions to many loyal customers, and celebrities like Kate Moss, Jennifer Aniston, etc. Its secret is that it listens to its customers and values customer satisfaction. And with a motto like that, it is unstoppable.
Check Out Its Collection Here: www.heidiklein.com
14. L Space Swimwear
L Space is a California-based lifestyle brand with the motto Love, Laugh, Lounge and Live, for the love of water and beaches. Its designs are incredibly chic, stylish and smart without being complicated. It also makes summer fashion apparel, sportswear, accessories, and everything you need for your next beach vacation.
Check Out Its Collection Here: https://www.lspace.com/
15. Vitamin A
Vitamin A is a California-based company that makes products with a unique approach to luxury beachwear, making clothes from recycled nylon, which is also its most sought after collections. It believes that sustainability is sexy and goes on to prove that too. Amahila Stevns, the founder, is also the brains behind the famous: LBB – Little Black Bikini.
Check Out Its Collection Here: www.vitaminaswim.com
16. The Reformation
Reformation is a California-based clothing company with sustainability at its core. It looks at clothes that match the current sensibilities of women and incorporates designs that are in tandem. All its products are sustainable end-to-end, and it has a reputation of continuing to push limits to keep up, support innovation, and find new ways to create products that are environmentally-friendly.
Check Out Its Collection Here: https://www.thereformation.com/
17. J Crew
J.Crew is an American apparel company, known for making designer clothes keeping affordability in mind. It launched its swimwear in 1989, and grew with this line along with the company. J.Crew designs are all about stripes, polka dots, vivid colors, and a lot of pinks, so if any of this describes your taste and you are a fan of J.Crew anyway, try its swimwear collection.
Jill, a fashion blogger, reviewed swimwear from J.Crew and noted, "They are cute and hold up really well. Plus, I think the silhouettes are super flattering as a middle-aged woman. I don't want anything too low cut or skimpy (i)."
Check Out Its Collection Here: https://www.jcrew.com/
18. Solid And Striped
Isaac Ross, the founder of Solid And Striped, got excited about making a pair of swimming trunks for men, then went on to sell that one pair successfully. Due to his passion and vision, Solid And Striped grew through organic marketing. From there, the company grew leaps and bounds and went on to manufacture women's swimsuits, which was also an instant hit. From that to being on the cover of Harper's Bazaar, there's no stopping the brand.
Check Out Its Collection Here: www.solidandstriped.com


Trivia
With celebrities like Gigi Hadid and Hailey Baldwin regularly sporting Solid And Striped swimsuits, the brand has gained somewhat of a cult following.
19. Venus Swimwear
Daryle Scott started Venus Body Wear in 1984, making athleisure wear for women and started the swimwear category after about a year. It began with the idea and ideology to celebrate women, their curves, and their uniqueness, and catering to everyone with utmost care. It is known for its mix and match options, amongst many other things.
Check Out Its Collection Here: www.venus.com
 20. Stanlice Swimwear
Stanlice Swimwear is where high street fashion meets swimsuits. It caters to all body types, ages, and personal style preferences. Best part, it ships all across the globe and is turning into a hot favorite. Keicia Shanta adds, "Love that this brand caters to all body types while paying attention to design and comfort."
Bikinis are like tattoos; one is never enough and the more, the merrier. It just doesn't matter what size or body type we are, all we need is a little confidence, a lot of self-love, and the right bikini. What are your favorite among these best swimwear brands? Let us know by dropping in a text in the comment section below.
Frequently Asked Questions
Is it better to size up or down with swimsuits?
Since swimsuits are made of stretchable material, they may expand when wet. Therefore, it is best to size down or stay true to your size.
Why are some swimsuits so expensive?
Extremely skilled laborers are required to make swimsuits as they need to work with slippery and stretchy fabrics. That is why some swimsuits are expensive.
What are good swimsuit brands for girls?
One of the top swimsuit brands for girls is Hoaka Swimwear, followed by Kopper and Zinc and Khassani Swimwear.
What are the best clothes to wear for swimming?
The best non-absorbent clothing for swimming is any swimwear made of Lycra and Nylon.
What swimsuit lasts longest?
When it comes to durability, polyester is the best choice. Polyester keeps its shape and retains color after being dyed or printed. Blends of nylon and spandex are also excellent materials to keep in mind; ideally, you want a fabric that uses high-quality elastic.
Which swimwear brands offer plus-size options?
The best brands for plus-size options in swimwear are Speedo Swimwear, Nadi Nadi Swim & Beachwear, Swimwear From Flirtatious, and Parfait Swimwear.
What are the best swimwear brands for competitive swimmers?
Both male and female athletes compete in swimming while wearing kneeskins. Kneeskins are typically constructed of highly developed lycra-based fabrics that closely conform to the body, increasing speed and reducing drag resistance in the water.
Which swimwear brands offer long-lasting durability?
The best brands for tough, long-lasting swimwear for men and women are Speedo, Arena, and Adidas.
What are the best swimwear brands for water sports?
Some of the best manufacturers for water sports are Speedo, TYR, and Nike Swim.
Which swimwear brands offer quick-drying options?
The top swimwear companies that provide quick-drying options are Speedo and Arena.
Discover the hottest designer swimwear brands from the video below! From classic cuts to modern styles, find the perfect swimsuit for your summer look.
Personal Experience: Source
i. J.Crew Try On Session!
https://goodlifeforless.blogspot.com/2021/03/jcrew-try-on-session.html
The following two tabs change content below.