15 Best Synthetic Lace Front Wigs – 2022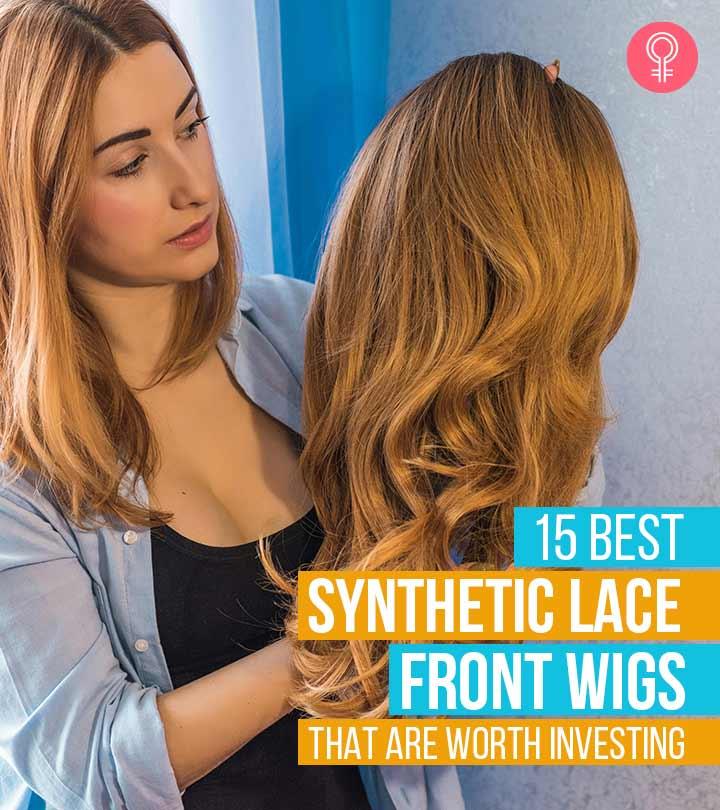 If you are a person who loves changing your look now and then, wigs are a must. The best synthetic lace front wigs, in particular, give you a natural hairline and are super easy to style on your own. They restore your confidence like no other while giving you a dense hair look. More celebrities are popularizing wigs as a way to enhance your look without destroying your natural hair. Here is our list of the 15 highest-rated lace wigs to try this year to ensure all eyes stay on you!
Best Synthetic Lace Front Wigs
Get natural-looking wavy strands with these high-quality kanekalon fiber wigs. The hair is sewn on a breathable mesh cap, and small cushions on the sides keep your scalp cool and irritation-free. And due to the adjustable straps ensure a secure fit. These wigs are easy to install and restyle. Moreover, its silky, soft strands do not tangle or shed off. Additionally, the pink-blue locks transform your look and help you achieve an incredibly sassy appearance. This double weft wig is perfect for women with thinning hair. If you want to know more about this product, check out this video on YouTube.
Breathable mesh
Double-weft clips
Adjustable strap
Easy-to-install
Heat-friendly
Tangle-free
Budget-friendly
Comes with money-back guarantee
Cons
With these 24 inches long, curly lace front wig from Fureya you can rock any hairstyle. This wig is made from high-quality, heat-resistant synthetic fiber that lets you style your hair, keeping the entire process discreet. The black fiber strands hand-tied on medium-brown, high-quality Swiss lace provides a natural-looking hairline. Its adjustable straps, three wig combs, and breathable closed weft keep the wig fixed on your head without being uncomfortable.
Pros
Heat-resistant
Adjustable strap
Durable
Soft curls
High-density
Bouncy hair
Breathable Swiss lace
Cons
Fiber's tangle
Not beginner-friendly
Heat hair styling can cause hair damage! But with this wig from Missyvan's you can rock straight hair without damaging your natural tresses. The high-temperature resistant synthetic fiber can withstand up to 320. This wig's comfortable elastic net, adjustable strap, and soft and durable Swiss lace offer a comfortable fit. And it comes with baby hairs near the hairline for a flawless, natural appearance. This wig comes with 180% hair density, making it perfect for long, voluminous hairstyles. Go ahead and check out this YouTuber's video for more details about the product.
Pros
Durable fiber
High-temperature resistant
Hand-tied fibers
High-density hair
Comfortable elastic net
Perfect for long, voluminous looks
Cons
Blonde head with gorgeous red lipstick – perfect look for a movie date or a late-night party. But coloring damage?? Worry no more! You can switch to the Platinum Blonde Synthetic Lace Front Wigs from Lovestory and rock the hairstyle you always wanted without damaging your natural tresses. These wigs feature heat-resistant synthetic fibers, adjustable straps with three combs sewn over soft Swiss lace. The adjustable straps and combs hold on to your natural hairline, preventing the wig from slipping off. In this package, you get two wig caps and a wig.
Pros
Heat-resistant
Super soft fiber
Glossy finish
Natural looking hair
Minimal shedding hair fiber
Secure construction
Breathable fabric
Cons
This glue-less, 22 inches long straight synthetic lace front wig from Maycaur transforms your hair without causing any damage to your hair. It comes with 180% high-density hair for a fuller, voluminous look. The soft, light-brown Swiss lace with a natural-looking hairline, adjustable strap, and three flex combs ensures a secure fit. To get a better understanding of the product, you can check out this video on YouTube.
Pros
Heat-resistant
Durable
Natural shine
High-density
Tangle-free
Budget-friendly
Comes with money back guarantee
Cons
Dreaming for ponytail? Get this 24-inches long, black, wavy hair with synthetic lace front wigs from Candice. This wig features a medium cap with an adjustable strap and three combs that prevents wig slippage so that you can sport cute high pony looks with ease. The soft Swiss lace with a natural hairline, middle parting, and baby hairs makes your hairstyle more natural.
Pros
High-density wig
Heat-resistant hair fiber
Comfortable on the scalp
Durable
Easy to install
Natural-looking middle parting
Suitable for high pony hairstyles
Cons
Do you freak out thinking of coloring your hair? Worry no more! Just get yourself this 24-inch curly, honey blonde synthetic lace front wig from Andria. This set comes with two-tone dark root curly wigs made of heat-resistant fibers and a 100% breathable cap for comfortable wear. Plus, it features soft, durable medium brown Swiss lace, adjustable strap, elastic net, and three combs for a perfect fit. Moreover, these wigs provide an easy and seamless curly hair look without hurting. Anyone with olive or dark skin tone can wear this wig with confidence.
Pros
Breathable cap
Comfortable on the scalp
Minimal tangles
Easy to install
Soft texture
Durable
Cons
Get the sleek red-carpet hair with this glue-less lace front wig from Swetcurly. This 22-inches blonde straight hair wig comes with a medium-sized brown net cap, adjustable strap, and fixed combs for a secure fit. The soft, breathable mesh cap ensures a tight fit without hurting. The 100% unprocessed kanekalon hair and flexible parting look incredibly natural.
Pros
Durable
3.5-inch parting
Breathable lace
Lightweight wig
Unprocessed kanekalon hair
Breathable mesh cap
Low shedding
Minimal tangling
Cons
Balayage looks great but is difficult to maintain. But, this spectacular synthetic lace front wig from Qdbowin Queen makes balayage's so easy. This 22 inches long straight wig with a 3.5-inches parting gives you a natural look. The wig comes with heat-resistant synthetic fibers that can withstand heat up to 320. And it features a medium-sized cap, adjustable strap, and three combs for easy installation. Moreover, the half-hand-tied hair fibers secured with new hairline processing technology make the wig more realistic.
Pros
Heat-resistant
Glossy finish
Easy to install
Half hand-tied fiber
Natural hairline
Soft lace
No shed
Tangle-free
Easy to maintain
Cons
None
The synthetic lace front wig from Sapphirewgs comes with 22 inches long natural-black heat-proof hair fibers that are easy to restyle. This synthetic wig stays undetected thanks to its middle parting design, natural hairline, and baby hairs. Its soft, comfortable rose net, breathable design, or brilliant craftsmanship makes this wig worth the investment. This wig is suitable for women with dark skin tones.
Pros
Heat-proof
High-density wig
Kanekalon fiber
Breathable lace
Comfortable on the head
Tangle-free
Cons
Look your best with Miss Diva synthetic lace front wig. This 20 inches long natural-black wavy wig is made of heat-resistant fibers that let you style your hair any way you want. Plus, this wig comes with adjustable straps and three flex combs, ensuring a secure fit. Gently comb and wash the wig in cool water with mild shampoo and conditioner to prolong use.
Pros
Heat resistant
Durable lace
Smooth fit
Minimal shedding
Beginner-friendly
Easy to install
Easy to clean
Comes with money-back guarantee
Cons
Adopt a fashionable and colorful hair look with this synthetic lace front wig from Nnzes. Its blonde heat-proof fiber strands with realistic hairline give you a natural look. The adjustable straps, three combs, and elastic breathable rosettes ensure comfortable wear with perfect fit. These wigs not only provide soft touch but are also perfect for versatile styling.
Pros
Heat resistant
Good for daily use Budget-friendly
Minimal tangle
Soft hair
Glossy finish
Good for all skin tone
Cons
This wig from DASHLY looks great on all skin tones. Its comes with deep-centered parting with baby hairs near the hairline for a natural look. Its ear-to-ear soft lace does not irritate the skin.
Pros
Heat-resistant fibers
Soft fiber
Natural finish
Soft lace
Easy-to-restyle
Cons
Tangles easily
Excessive shedding
This premium synthetic lace front wig from AISI Queens is made of high-quality, heat-resistant fibers. Its hand-tied hairline around soft lace with breathable cap provides a comfortable feel. This hand-knitted middle parted bob wig gives a gorgeous look that compliments all skin tones. The adjustable strap and elastic cap provide tight fit for long lasting wear. Moreover, the brown highlights give you a confident look that helps you to dress up perfectly either in daily wear or in a party costume.
Pros
Heat-resistant
Hand-knitted hairline
Soft lace
Versatile usage
Lightweight
Cons
None
This synthetic lace front wig from Fugady provides natural-looking loose deep wave 24 inches long hair. The glue-less lace closure, baby hair, natural hairline and high-density voluminous look amps up your appearance. Its excellent craftsmanship, invisible and breathable lace alone makes it a splurge worthy choice. Its adjustable strap and medium sized make it easy to wear and ensures extended durability. Besides being a great choice for all occasions, it provides damage-free restyling as it can be dyed or bleached. Add more charm to your looks by adding this beauty element to your makeup arsenal to get a drastically changed appearance.
Pros
High-density
Durable
Bleach-safe
Dye-safe
For all skin tone
Comfortable wear
Cons
None
Why Trust StyleCraze?
Baishali Bhattacharya, the author of this article, is an image consultant and loves helping her readers try out different looks. She has gone on a hunt for the best synthetic lace front wigs. She curated a list of the best lace front wigs after extensive research. The listed products will help you create different looks and always stand out in the crowd.
Recommended Articles