8 Best Table Tennis Rackets Available In India
Unleash your potential in table tennis and control the court with every hit.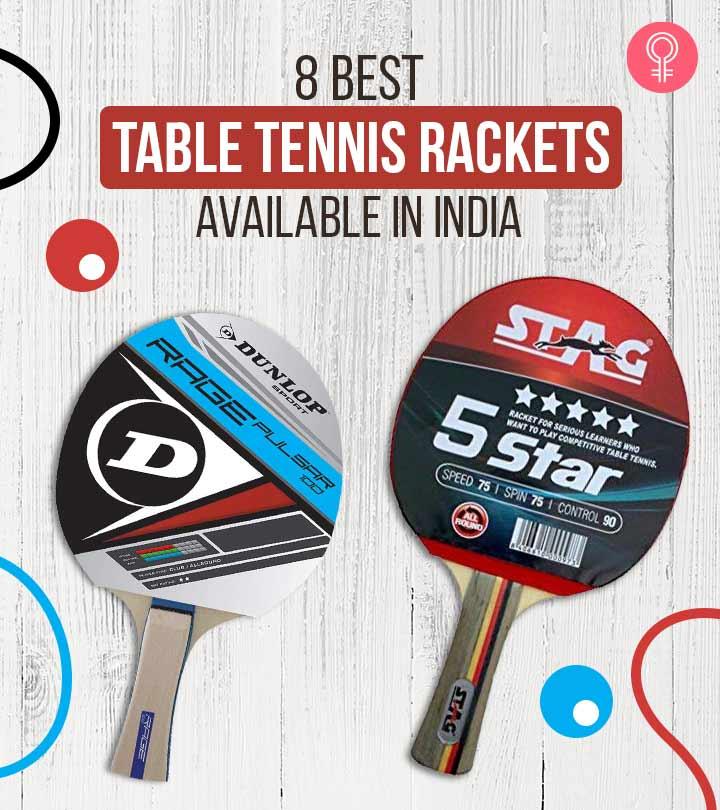 Table tennis is considered a highly competitive sport and is a popular game worldwide, especially in European and Asian countries. It is a fast game and needs quick reactions that keep the players and spectators on edge. Whether you are a budding player or a professional, if you want to up your game, you need a high-quality racket. To help you find the perfect paddle, we have curated a list of the best table tennis rackets available in India. Scroll down to check them out!
8 Best Table Tennis Rackets
This table tennis racket from GKI is one of the best rackets for beginners. It is made from durable, high-quality imported material. The specially designed body brings out the best among the offensive and defensive players. The lightweight, ergonomic handle gives the player a better grip while playing. This racket is made from timber and comes in a matte finish.
Specifications
Speed: 92
Spin: 92
Control: 96
Pros
Beginner-friendly
Ergonomic grip
Long-lasting
Thick blade
Value for money
Cons
Price at the time of publication: ₹950
This table tennis racket from Stag is a lightweight paddle, suitable for beginners. It is one of the best table tennis rackets in India and has expertly crafted wooden handles to ensure a good grip. The pack includes two rackets and three balls.
Specifications
Speed:50
Spin:70
Control: 97
Pros
Ergonomic handle
Free balls included
Wider hit surface
Comfortable grip
Lightweight
Ideal for beginners
Cons
The Stag 5 Star table tennis racket is designed to give precise control to players. It is perfect for powerful shots. The rubber used in the racket is hard and approved by the International Table Tennis Federation. It features a sponge thickness of 2 mm, has a height of 26 inches, and a beam width of 24 mm. The product is multicolored and has a flared handle for excellent speed and fine spin. This paddle is ideal for players transitioning to intermediate levels.
Specifications
Speed:75
Spin:75
Control: 90
Pros
Comes with a small bag
Good grip
Value for money
Cons
Price at the time of publication: ₹788
The Palio Legend 2.0 is one of the most coveted table tennis rackets on this list.  This professional racket is designed for advanced level players. It is made from high-quality wood, ensuring durability and performance. The racket's rubber lamination guarantees excellent speed and spins in every shot delivered.
Specifications
Speed:100
Spin:90
Control:60
Pros
Sturdy and flared handle
Durable body
Double blades
Suitable for advanced players
Free case provided
Cons 
Price at the time of publication: ₹4499
The Dragon Table Tennis Racket from GKI is designed to keep the needs of intermediate players in mind. The elongated handle does not strain the hand while playing. The paddle is made of sturdy natural wood and premium quality rubber, giving your shots a cutting edge during the game.
Specifications
Speed:90
Spin:90
Control:97
Pros
Sturdy handles
Excellent grip
Lightweight
Value for money
Cons
The Expert Table Tennis Palio Legend 3.0 is another premium table tennis racket on our list. This professional-level paddle is an upgraded version of the bestselling Palio Legend racket and comes with a revamped design. This racket is slightly heavier but gives your shots greater spin and speed.
Specifications
Speed:100
Spin:90
Control:70
Pros
Perfect for advanced players
Maximum power
Enhanced spin
Cons
Price at the time of publication: ₹4799
This table tennis racket from Dunlop is perfect for beginners. It features an outer cellular rubber lamination that is designed for better spin and speed. The 5-ply blade with 6mm thickness ensures powerful shots during the game. Its flared handle provides better grip during the game and does not strain the hands.
Specifications
Speed:60
Spin:60
Control:60
Pros
Wide frame
High-quality material
Lightweight
Beginner-friendly
Cons
The Carbon Shot Table Tennis Racket from Tibhar ensures better grip, comfort, and ease of handling while playing. High-grade quality materials are used to manufacture the product, enabling better performance and power delivery. The wooden frame is oval-shaped for wider hits, while the handle is narrow and strong for a better grip while playing.
Specifications
Speed:99
Spin:60
Control:75
Pros
Great grip
Durable body
Lightweight
Value for money
Cons
Now that we know what the best table tennis rackets in India are, let's look at the factors to consider before buying one.
How To Choose The Best Table Tennis Racket
Grip is vital in table tennis. While some players are comfortable with the shakeha nd grip, others love the penhold grip. Select a racket with a good handle that is compatible with your grip style. A flared handle enables you to hold the racket a bit loose, while a straight handle is thinner, allowing a firm grip.
The playstyle is another aspect to be considered. Choose a table tennis paddle in sync with your unique swing style.
The blade is mainly responsible for adding to the paddle's strength and boosts power rating. A lighter racket made with high-quality materials is ideal for offensive players. A slightly heavier paddle with softer materials is ideal for defensive players. In case you enjoy quick-paced spins, a blade with 5-layered materials is the one to choose. Blades made from titanium carbon that is both rigid and light are the best choice. All-wood blades are perfect for players who want a slower game. It is because the wood absorbs the energy generated from the ball.
When choosing a table tennis racket, pay attention to the firmness and tackiness/stickiness of the rubber lamination. The tackiness of rubber gives the ball a better spin. Soft and tacky rubber is recommended for players who enjoy an offensive game.
This is the layer that is between the blade and rubber. Sponges in table tennis rackets come in three ratings – thin, medium, and thick. Generally, sponges with 2 mm or more width are considered thick and work well for faster-attacking deliveries. The thinner ones work well for defensive players.
Having the best table tennis racket can make all the difference when it comes to winning or losing the game. Make your choice based on your playing style and level – beginner, intermediate, or advanced player. Take your pick from the above list and ace your game in style.

Recommended Articles