14 Best Talcum Powders Available In India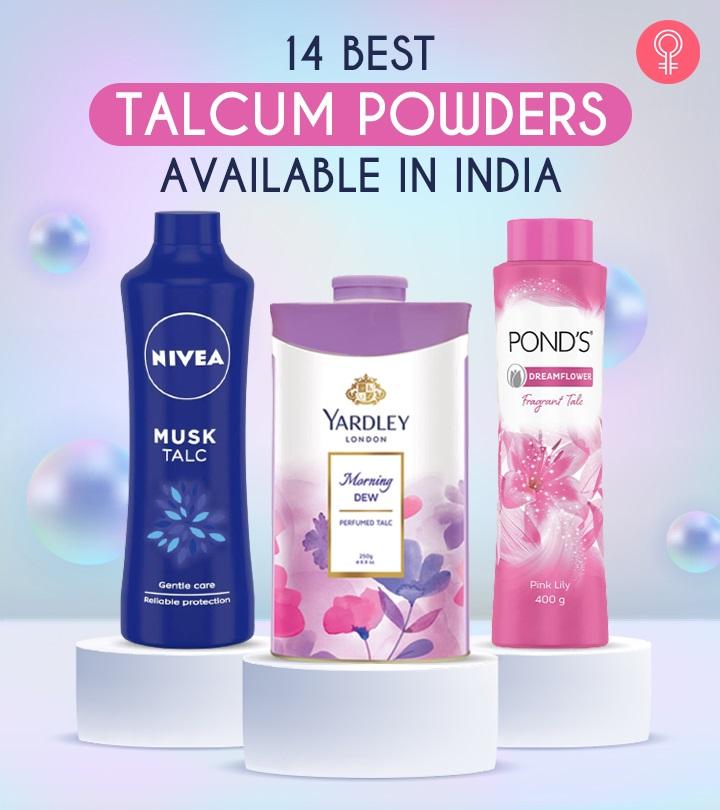 While many of us still like to invest in deodorants, we also know nothing can replace a good talcum powder. Talcum powder or talc is used by all, from an infant to an adult, to keep the skin soft and dry. This essential cosmetic helps control oil and prevents rashes while soothing the skin with a refreshing fragrance to keep you going throughout the day. Using talc becomes even more necessary during summers to control sweat, odor, skin rashes, and chafing. Talcum powder, thus, is an inevitable part of our skin care routine. So, to help you find the right product, we have compiled a list of the 14 best talcum powders available in India. Scroll down the page and check them out!
14 Best Talcum Powders Available In India
The Nivea Musk Talc has the perfect blend of gentle Nivea care and protection. The powder absorbs moisture from the skin to keep it dry and sweat-free. It has a musky scent that overpowers sweat and keeps you odor-free. Its pleasant fragrance lingers onto your skin to keep you fresh all day long.
Pros
Gentle formula
Dermatologically-approved
Subtle fragrance
Cons
None
This classic Pond's Dream flower Fragrant Talcum Powder offers you instant freshness that stays throughout the day. The smooth pink lily fragrance uplifts your spirits and adds a dash of elegance to your persona. Its refreshing formula contains natural minerals that efficiently absorb moisture and fight body odor-causing bacteria to keep you sweat- and odor-free. You can use this talc as a face powder as well. Besides, the excess oil absorption evens out the skin tone and provides a mattifying effect.
Pros
Silky feel
Long-lasting effect
Value for money
Cons
None
Enjoy the benefits of a talc and deodorant with the Yardley London Morning Dew Perfumed Talc.  It is infused with a delicate blend of the floral fragrance of lily and lotus imparts an elegant and confident feel. This premium talc soothes the skin, keeps it soft and rejuvenated while preventing body odor and sweating.
Pros
Easy application
Lasting effects
Value for money
Cons
None
This talc from Nivea is another classic talcum powder loved by all generations. It protects your body against sweat and odor-causing germs. Its soothing and gentle formula is equipped with a refreshing scent to keep you active throughout the day. It absorbs excess moisture from the skin to prevent issues like rashes and chafing.
Pros
Gentle formula
Dermatologically-approved
Subtle fragrance
Lasting effects
Cons
None
The Enchanteur Romantic Perfumed Talc gives a floral burst of freshness to your skin and keeps you sweat-free throughout the day. Its fresh fragrance consists of notes of sensual white jasmine to uplift your spirits. The combination of Bulgarian roses and vanilla is pleasantly refreshing as you go about your day.
Pros
Smooth texture
Offers UV protection
Can also be used as a face powder
Cons
The Yardley London Gold Deodorizing Talc for men offers adistinctive fragrance that keeps you refreshed throughout the day. Its quintessential scent is blended with the notes of mint, rosemary, sandal, warm spices, rose, geranium, musk, and warm patchouli to give you an elegant and sophisticated feel. Plus, its refreshing formula is crafted to suit all skin types and provides a soft and smooth feel.
Pros
Smooth texture
Classic scent
Can also be used as face powder
Cons
None
Start your day on a sweet note with the Pond's Magic Freshness Talcum Powder. It absorbs moisture and oil from the skin to keep you sweat-free and radiant. This powder adds a bright, dewy glow to your skin while the soothing fragrance of acacia honey refreshes your senses.
Pros
Silky feel
Lasting effects
Can also be used as a face powder
Value for money
Cons
None
The Biotique Bio Basil &Sandalwood Refreshing Body Powder refreshes your body on a hot summer day. Its energizing formula consists of cooling ingredients like red sandalwood extracts, basil, neem, and margosa to brighten up the skin and keep it dry all day long The extracts of basil and neem with their antimicrobial properties, prevent rashes and keep you odor-free. Sandalwood also protects you from the harsh UV rays of the sun while providing a calming effect on your skin.
Pros
100% botanical extracts
UV protection
Ayurvedic formula
Cons
Scent is not long-lasting
The Godrej Cinthol Cool Talc provides a refreshing way to beat the heat and stay active throughout the day. It has menthol in the formula that provides instant relief from the heat with a lasting cooling effect. Besides, its enticing fragrance lingers onto your skin to keep you rejuvenated all day long.
Pros
Lasting scent
Cooling effect
Cons
Nothing beats the summer heat like this talcum powder from Navratna that has a sweat sense technology. This two-way cooling formula offers instant cooling and keeps you fresh the entire day. It has ingredients like soothing mint, moisturizing primrose, and chamomile that relax your body, induce sleep, and bring down anxiety. It also has rose and lavender that calm the skin by reducing redness, while vetiver prevents stress and exertion.
Pros
Icy cool sensation
Long-lasting scent
Value for money
Cons
None
The Emami Golden Beauty Alpine Dew Talc is formulated with a non-irritating formula to keep you energized the whole day. It combines the benefits of ancient herbs with the fresh alpine dew French perfume for an invigorating experience. It has herbs like thyme, basil, evening primrose, geranium, chamomile, and marigold that soothe the skin while preventing sweating.
Pros
Gentle formula
Irritation-free
Smooth texture
Cons
Breeze through the day with the revitalizing citrus scent of the Godrej Cinthol Lime Talc. It provides lasting protection from moisture and sweat throughout the day. The deodorizing talc imparts a lingering freshness that keeps you active and energized as you go about your work.
Pros
Cooling effect
Lasting scent
Cons
The Santoor Perfumed Talc offers soft and smooth skin along with an uplifting perfumed scent. Its luxurious formula absorbs sweat and odor, offering immediate freshness to you. The sandalwood extracts add glow to the skin while musk, geranium, mint, and rose keep you refreshed throughout the day. It also offers sun protection while keeping your skin cool and acne-free.
Pros
Soothes skin Leaves skin soft and silky
Matte effect
Healing properties
Lasting scent
Value for money
Cons
None
The luxurious Forest Essentials Silken Dusting Powder in the fragrance Indian Rose Absolute is a smooth dusting powder that leaves your skin fresh and clean. Its high-absorbing formula prevents sweat and body odor. This cornstarch-based powder is made from damask roses known for its intoxicating scent. The other ingredients like mashobra golden honey and Coorg vanilla bourbon keep the skin dry and non-sticky. Moisturizing olive oil, rich in antioxidants, rejuvenate the skin and prevent premature aging. Arrowroot powder provides a soft and smooth touch to the skin while eradicating skin issues, and kokum butter regenerates and nourishes the skin by penetrating deep inside.
Pros
Non-comedogenic
All-natural ingredients
Talc-free
Matte finish
Lasting scent
Cons
These are the best talcum powders in India. Now, let's delve into the various ways it can be used apart from keeping sweat and odor at bay.
Ways To Use Talcum Powders?
Talcum powder can be applied to the lashes before putting on mascara to get extend its staying-power. It also makes your lashes look longer.
Talcum powder can also be mixed with a dark bronzer to get the desired lightened shade.
Talc can be used as a dry shampoo as it absorbs excess oil from the scalp and keeps the hair dry and non-greasy.
Brighten up your face by applying a little bit of talc on your face and get even-toned skin.
Use it before you wax your hands and legs for an effective waxing experience.
Before picking up a talcum powder, remember these pointers.
How To Choose The Best Talcum Powder?
Now that you know which are the best talcum powders, it's time to look at the essential points to be considered before buying any talc.
Some talcum powders come for different skin types. Therefore, ensure that you check whether the talc you are buying is suitable for your skin or not. It becomes essential if you have sensitive skin as this skin type is easily prone to irritation and reactions.
Look for a talcum powder that has additional organic and skin-friendly natural ingredients. Such ingredients stay gentle on the skin and prevent allergic reactions and irritation.
Prevention From Sweat And Odor
There is no point investing in talc that doesn't prevent sweating and body odor. Therefore, before buying any talc for yourself, make sure it absorbs sweat and keeps you odor free.
These were some of the best talcum powders available in India. They combat sweat and odor, and refresh your senses throughout the day with their distinctive scent. So, if you are still stuck with your old talcum powder, think about switching to any of the options mentioned above!

Recommended Articles
The following two tabs change content below.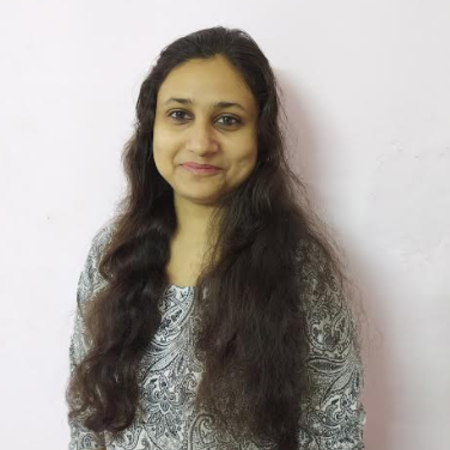 Shiboli has a master's degree in English literature from The English and Foreign Languages University, Hyderabad, and is a certified...
more