10 Best Tan Removal Face Packs In India – 2023 Update
Effectively removing extremely stubborn tan has never been easier.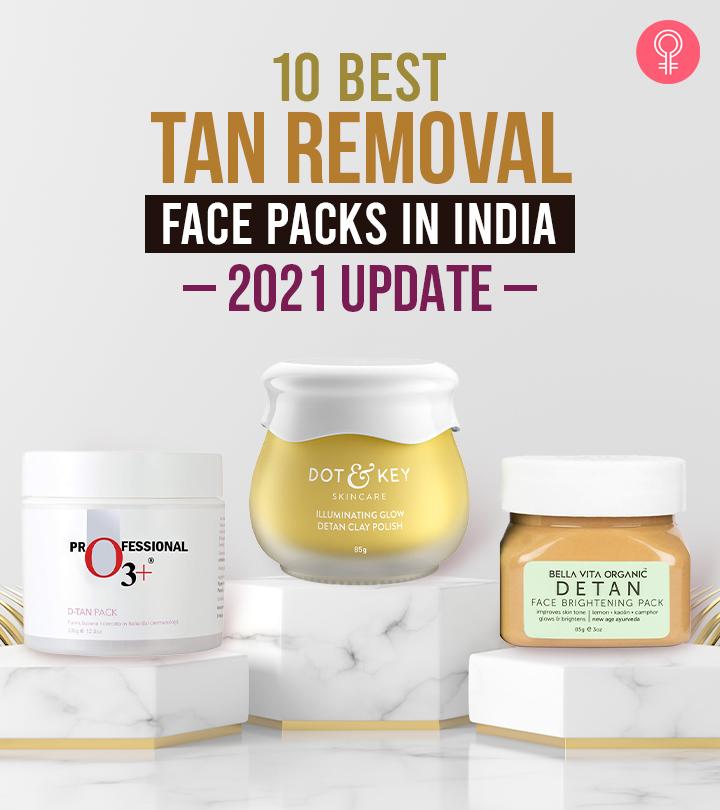 Did you just get back from a vacay with a horrible tan? Worry not – because there are ways to restore the natural glow of your skin. Although sunscreens play a significant role in preventing sun tan, you require additional care to maintain your skin. That's where tan removal face packs come into the picture.
These de-tan face packs are infused with skin protecting and brightening ingredients like essential oils and proteins. They prevent the pigmentation caused due to sun exposure while restoring the original radiance of the skin. Scroll down to check out our list of the 10 best tan removal face packs available in India.
10 Best Tan Removal Face Packs Available In India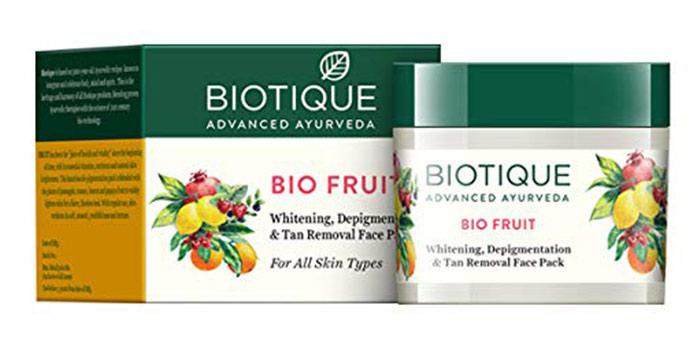 The BIOTIQUE Bio Fruit Whitening Depigmentation & Tan Removal Face Pack has a luxurious organic formula that brightens your skin and makes it look flawless. It contains natural juices of tomato, papaya, pineapple, and lemon to lighten the skin tone and replenish its radiance. The multani mitti in the pack gently exfoliates your skin and unclogs pores. This de-tan pack can be used daily to get smooth, soft, and younger-looking skin.
Key Ingredients: Multani mitti, Geru (Garric), Yasad hhasma (Yasad bhasma), Tamator (Lycopersicum esculentum), Ananas (Ananas comosus), and Kikargaund (Acacia Arabica)
Pros
Organic
Paraben-free
Preservative-free
Dermatologist-tested
Cruelty-free
Cons
May irritate sensitive skin.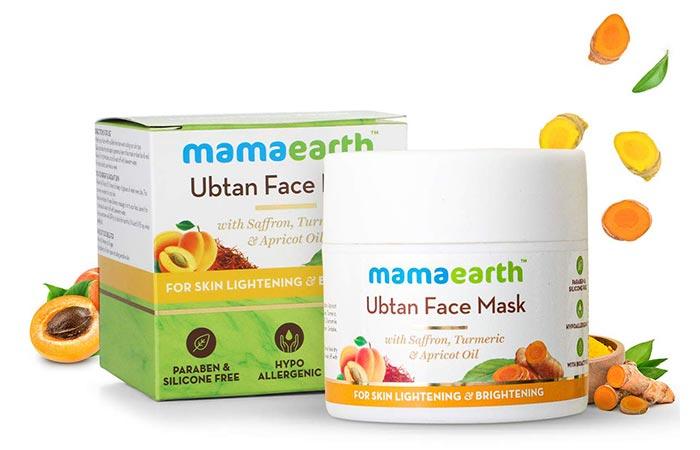 This bioactive Ubtan Face Mask from mamaearth brightens and softens the skin by removing tan and damage caused by pollutants and harsh sun rays. It adds a dewy glow to the skin while retaining moisture to keep it hydrated.
The pack contains saffrom, rich in antioxidants and vitamins, to restore luster and radiance and soothe the skin. Turmeric prevents aging signs and maintains the youthfulness of the skin. Cucumber has mild astringent properties that calm sunburned skin and reduce irritation, while the apricot kernel oil exfoliates, moisturizes, and brightens the skin. This tan removal face pack also contains mulberry and apricot extracts to slow down the aging process. Ingredients like olive oil and kokum butter retain skin moisture to keep it soft and supple.
Key Ingredients: Saffron, Turmeric, Cucumber, and Apricot kernel oil
Pros
Dermatologically tested
Pleasant fragrance
Paraben-free
Sulfate-free
Artificial preservative-free
Artificial color-free
Mineral oil-free
Petroleum-free
No artificial scents
Cons
Contains alcohol
May cause a burning sensation.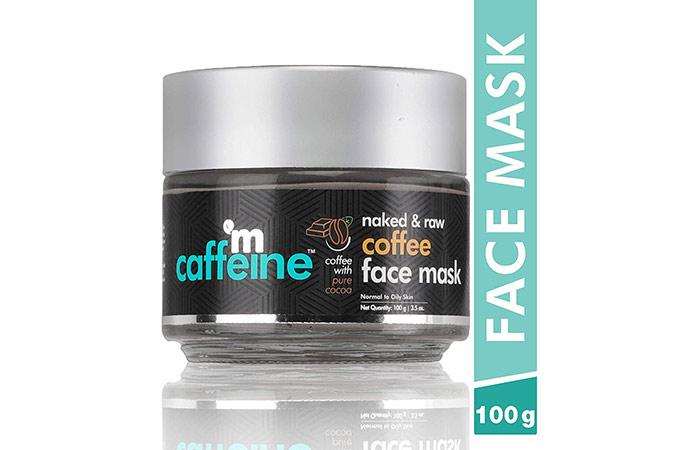 The mcaffeine Naked & Raw Coffee Face Mask is suitable for oily and combination skin types and works by balancing the skin oils. This kaolin clay-based de-tan mask contains argan oil to balance and lock the skin's natural moisture. It reduces tan, acne, and dark circles while hydrating and softening the skin.
The face pack is enriched with organic ingredients like Arabica coffee that removes dead skin cells, impurities, and dirt to reveal clean and glowing skin. It has vitamin E that exfoliates dry skin cells and reduces wrinkles. Other ingredients like pure cocoa and coffee boost collagen production, deep cleanse the skin, and eliminate cellulite. This caffeine-infused face pack even tones the skin and decreases puffiness. The antioxidants in cocoa and coffee combat oxidative damage to prevent aging signs.
Key Ingredients: Arabica coffee, Kaolin clay, Caffeine, Argan oil, and Vitamin E
Pros
Vegan
Easy to use
Pleasant fragrance
Cruelty-free
Paraben-free
Mineral oil-free
Dermatologically tested
Cons
May cause burning and breakouts.
Price at the time of publication: ₹16.49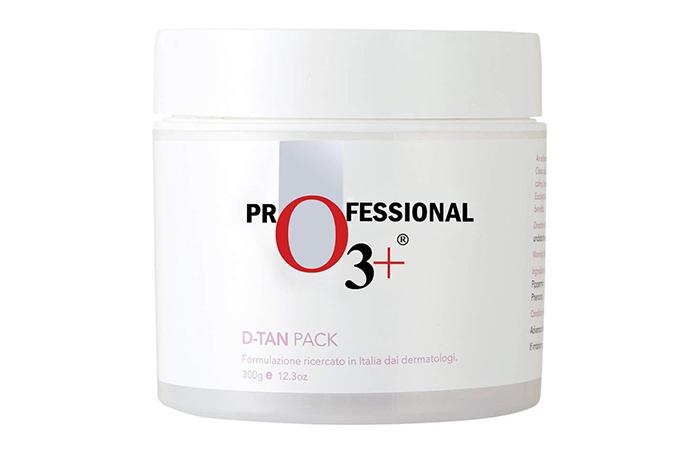 The O3+ Professional D-Tan Pack is crafted with natural ingredients for instant care benefits. It contains skin-soothing elements, such as eucalyptus and mint oils, to cleanse and nourish the skin thoroughly. You can use this pack regularly to get hydrated and nourished skin that is free of tan and other damages caused by the sun.
Key Ingredients: Peppermint oil, Clove, and Eucalyptus oil
Pros
Bleach-free
Paraben-free
Cruelty-free
Cons
Unpleasant and strong scent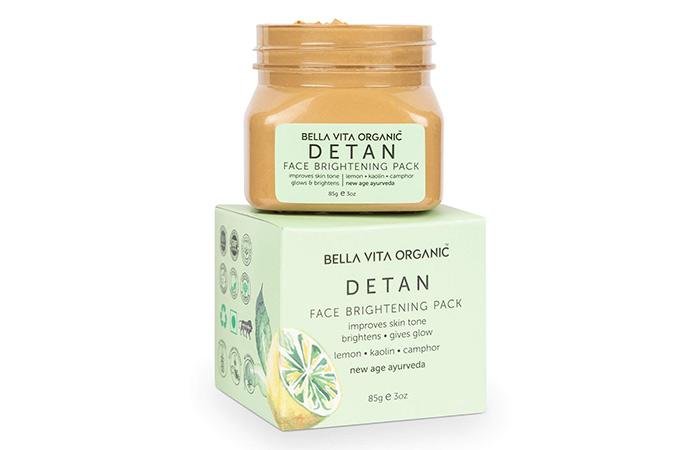 The Detan Face Brightening pack from BELLA VITA ORGANIC provides multiple skin benefits. It contains a nourishing blend of ingredients like clove oil, bentonite clay, grapefruit extracts, and apricot oil to remove tanning and reveal spotless, firm, and pigmentation-free skin. The vitamin E, poppy seed extracts, and almond oil repair damage, improve skin texture, and impart a radiant glow to the skin.
The blend of grapefruit extracts, clove oil, and apricot oil fades blemishes and lightens the skin while removing tan. The kaolin clay, sandalwood, and bentonite clay exfoliate the skin to remove acne, whiteheads, and blackheads and shrink the pores. This natural de-tan pack suits all skin types and controls oil production to give you bright, tight, and acne-free skin.
Key Ingredients: Bentonite clay, Kaolin clay, Sandalwood powder, Almond oil, Poppy seed extract, Vitamin E, Clove oil, Apricot oil, and Grapefruit extract
Pros
Pleasant scent
Suitable for all skin types
Paraben-free
Sulfate-free
Mineral oil-free
Cons
May cause a burning sensation.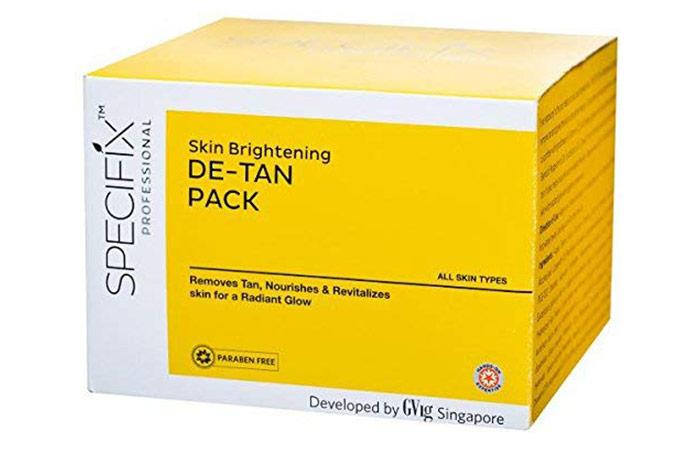 The VLCC Specifix Skin Brightening De-Tan Pack is packed with the benefits of nature and science to provide tan-free and radiant skin. It contains eucalyptus oil, peppermint oil, lemon peel extracts, and cucumber to remove dullness and tanning caused due to harsh UV rays. This de-tan pack is enriched with the enzymatic properties of hydrolyzed soy protein and niacinamide to lock in moisture and brighten and nourish your skin. Regular use of this pack will give you firm, toned, and younger-looking skin.
Key Ingredients: Eucalyptus oil, Peppermint oil, Lemon peel extracts, Cucumber, Hydrolyzed soy protein, and Niacinamide
Pros
Suitable for all skin types
Spreads well
Paraben-free
Cons
None
Price at the time of publication: ₹58.59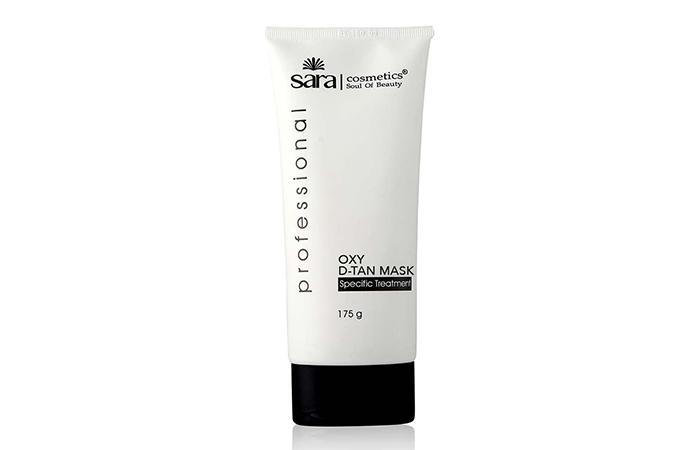 The Oxy D-Tan Mask from sara Cosmetics is enriched with a potent de-tanning formula that brightens and lightens the skin tone. It also contains natural botanicals like camphor oil and eucalyptus oil to purify and refresh the skin. This tan removal face pack lifts skin impurities and cleanses clogged pores. Its deep cleansing properties remove toxins, excess oil, and impurities from the deep skin layers to keep it clear and blemish-free.
Key Ingredients: Eucalyptus oil and Camphor oil
Pros
Suitable for all skin types
Lasting results
Gentle
Cons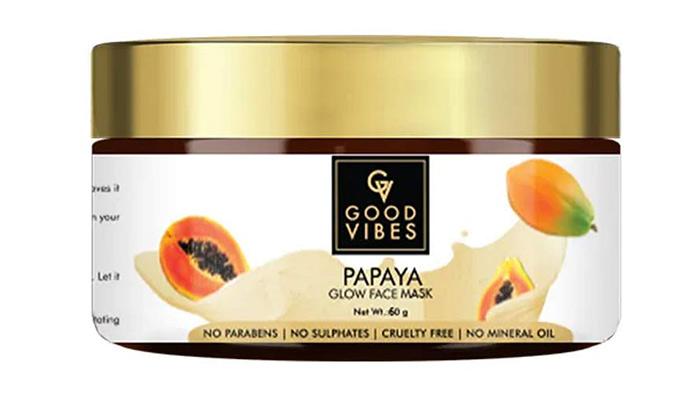 The vitamin C-enriched Papaya Glow Face Mask from GOOD VIBES helps remove tanning and hyperpigmentation and leaves your skin bright and hydrated. It is infused with papaya that is rich in skin brightening agents to remove tanning and discoloration.
This pack also contains licorice extract that brightens the skin, mulberry extract that protects the skin from free radical damage, watermelon extract that hydrates the skin and keeps it supple, and almond oil that nourishes and hydrates the skin. The vitamins and antioxidants lighten scars and blemishes and impart a radiant glow to your skin. This face pack also prevents wrinkles, pigmentation, blemishes, and breakouts while softening and revitalizing the skin.
Key Ingredients: Papaya extracts, Licorice extract, Mulberry extract, Almond oil, and Watermelon extract
Pros
Suitable for all skin types
Easy to apply
Pleasant scent
Paraben-free
Cons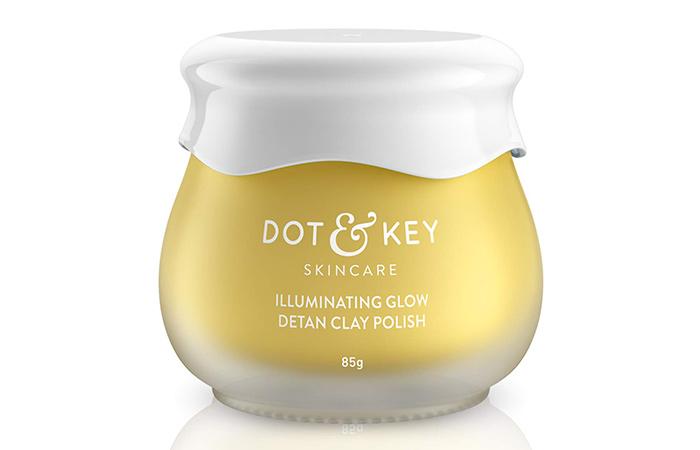 The Illuminating Glow Detan Clay Polish from Dot & Key is the best tan removal face pack that eliminates sunburn while soothing and detoxifying the skin. This tan minimizing pack is rich in anti-inflammatory properties and antioxidants like green tea to refresh and revive the skin.
It contains sandalwood to remove dark spots, tan, hyperpigmentation, and discoloration and lighten the skin tone. The antibacterial agents prevent acne and calm sunburned skin. The green tea gently exfoliates the skin to diminish signs of early aging without clogging the pores and preventing redness. The lemon verbena oil moisturizes the skin, prevents irritation, and brightens the skin.
Key Ingredients: Green tea leaf extracts, Sandalwood, Natural clay, Peony flower root, and Lemon verbena oil
Pros
Safe formula
Suitable for all skin types
Cruelty-free
No harsh chemicals
Vegetarian
Pleasant scent
Cons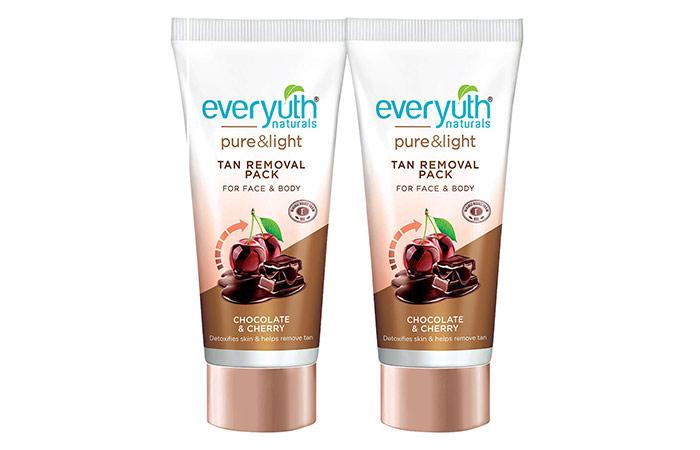 The everyuth naturals Pure & Light Tan Removal Face Pack restores the skin's brightness by removing tan. It contains antioxidant-rich chocolate to detoxify the skin and vitamin-rich cherries to brighten and refresh the skin. This de-tan pack removes tan by lifting pollutants, chemicals, dirt, and impurities from the skin and rejuvenating it from within.
Key Ingredients: Chocolate and Cherries
Pros
Suits all skin types
Can be applied on the body
Cons
Now that you know which the best tan removal packs are, it's time to understand what to consider before buying a tan removal face.
Face packs effectively remove tan and leave the skin moisturized and rejuvenated. They soothe sunburned skin and even out the skin tone. So, what are you waiting for? Choose a product from our list of the 10 best tan removal packs available in India and enjoy your time in the sun without any worries!

Recommended Articles