The 8 Best Tan Towelettes Of 2023
Get the sun-kissed glow without exposing your skin to the harsh rays at a beach.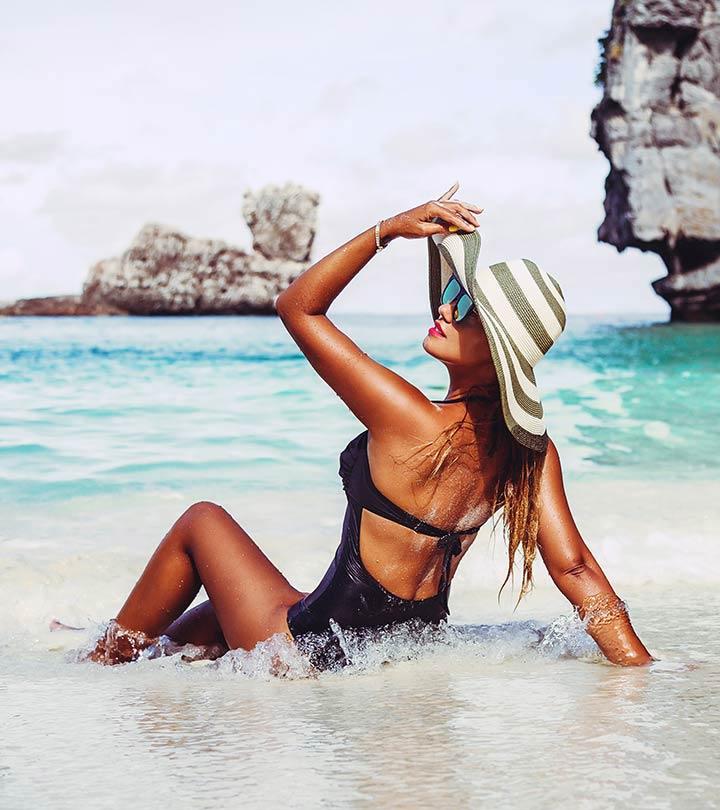 You do not always have to visit the beach to get that beautiful golden glow on your skin. The best tan towelettes can do the trick, that too from the comfort of your home. This fast, easy, and convenient self-tanning product is man's second-best creation (matte lipsticks have to be the first)! The tan towelettes or wipes are easy to work with and provide a gorgeous sun-kissed glow in a matter of hours. These products are portable and offer head-to-toe coverage. The best part? With these wipes, you don't have to worry about the sun's damaging rays!
Want to try these towelettes at home? You have landed on the right page because we have compiled a list of the top-rated tan towelettes in this article. So, swipe up and take a look!
The 8 Best Tan Towelettes Of 2023
Known for their top-quality products, these self-tanning towelettes by L'Oreal Paris certainly live up to their name and are a convenient as well as an easy-to-use solution to your self-tanning woes. Enriched with vitamin E and AHAs, these towelettes provide an excellent tan within just 2-4 hours. Loaded with plenty of self-tanner for one application, each towelette is perfect for giving you that beautiful natural glow, whether you are at home or on the go.
Pros
Contains vitamin E and AHAs
Non-greasy
Great value for money
Cons
Tan may be washed out in a couple of days
Instructions on the box need to be followed correctly to avoid a patchy tan
Price at the time of publication: $19.58
These towelettes happen to be a cult-favorite among loads of young women. It imparts a natural tan on the face and body within just 3 hours. Known for the moisturizing complex, these wipes leave skin feeling supple and soft. With minimal perfuming agents, these towelettes are suitable for use on sensitive skin. Individually packaged, each towelette comes with the promise of a stunning tan, the right intensity of color regardless of your skin tone or type.
Pros
Contains moisturizing agents
Suitable for sensitive skin
Affordable
Paraben-free
Cons
You may require more than one wipe for full-body coverage
Price at the time of publication: $57.99
A hot-favorite among women all over, these glow-pads provide an all-year-round sunkissed glow that is uniform and subtle. Empowered with skincare champions like vitamin D and antioxidants, these pads impart a healthy honeydew tan effortlessly. Being fragrance-free, these are perfectly suitable for those with sensitive skin. Microencapsulated DHA and soy proteins deliver a streak-free tan that can last for days. And last but certainly not the least, the hydroxy acids in these pads help exfoliate, eliminate blackheads, and fade existing sunspots for a uniform glow.
Pros
Contains vitamin D and antioxidants
Contains exfoliating hydroxy acids
Suitable for sensitive skin
Composed of microencapsulated DHA and soy proteins for a natural and streak-free tan
Cons
Does not provide full-body coverage
Slightly expensive for only a facial tan wipe
Price at the time of publication: $63.25
These superb towelettes do their magic on your face and body in just 3-4 hours. What is great about them is that every towelette is loaded with enough formula to cover each corner of your face and body to give you that beautiful, glistening tan that lasts for 7 whole days! Now, that's pure magic! These towelettes are curated with a buildable formula, which means your tan gets better with every application. It doesn't get any better than this!
Pros
Offers better color with repeated use
Imparts a tan that lasts up to 7 days
Face and full-body coverage with one wipe
Cons
Heavy on the pocket
Strong fragrance
Price at the time of publication: $140
With experience spanning over 14 years in the tanning industry, Ibiza Sun's self-tanning wipes are indeed a treat for your skin! These wipes are free from parabens and contain loads of nourishing goodness in the form of organic DHA, chamomile, and aloe vera, which makes your skin sun-kissed, supple, and youthful. Suitable for all skin types, these wipes offer a uniform, streak-free tan that dries off quickly and leaves your skin glistening like you just basked in the Ibiza sun! In fact, the company is so confident about their product that it comes with a 100% money-back guarantee in case you aren't happy with the results!
Pros
Suitable for all skin types
Enriched with numerous natural ingredients
Comes with a 100% money-back guarantee
Cons
Washes off in a couple of showers
Strong aroma
Price at the time of publication: $23.99
Do you have sensitive skin? Are you worried about the damaging effects of self-tanning products that are laden with chemicals? These Sun Bum Self Tanning Towelettes are perfect for you! Their moisturizing and soothing formula nourishes the skin while leaving imparting a soft and beautiful tan. Formulated with hypoallergenic, vegan, and paraben-free ingredients, these towelettes are also enriched with vitamin E and pro-vitamin B5. So, the next time you need a quick tan for your sensitive or irritated skin, treat yourself to these beauties!
Pros
Moisturizing
Great fragrance
Paraben-free
Cruelty-free
Infused vitamin E and pro-vitamin B5
Hypoallergenic
Cons
Slightly expensive
Tan may not last very long
Does not impart much colour in one application
Price at the time of publication: $28.99
If you are in the mood for beautiful and sultry sun-kissed tan, then this is the product for you! With a battery of great self-tanning products on offer, Tournesol brings us another gem in the form of these self-tanning towelettes. Featuring a formula enriched with Algo-Tan, these towelettes provide a smooth, streak-free, and natural-looking tan within no time. Loaded with fruit extracts and aloe vera, this product not only moisturizes your skin but also creates a protective barrier against any potential damage. So, go ahead, treat your skin to this superb product today!
Pros
Suitable for all skin types
Quick-drying
Algo-Tan technology that ensures a quick tan
Cons
Tan may fade easily
Strong fragrance
Price at the time of publication: $24
Do you want a flawless and pool-party worthy tan in a matter of hours? The Jergens sunless tanning wipes might become your best companion! Loaded with a formula that works with your skin tone, these wipes contain a prestige-inspired blend of DHA + Erythrulose, that gives you that beautiful natural-looking tan. Enriched with vitamin E, these wipes can help brighten your skin and make it look healthy and youthful.
Pros
Suitable for all skin tones
Paraben-free
Contains vitamin E
Cons
Price at the time of publication: $8.72
Now that we have seen these 8 best tan towelettes of 2023, let us understand how to use them.
How To Use Tanning Wipes
So, now that you have been introduced to some of the best products out there, here's a quick glimpse of how you can get the best out of them. Follow these simple steps, and you will thank us forever!
The first and most crucial step while using any tanning products is to exfoliate your skin. Use a soft loofah in the shower, or if you feel up for it, resort to some coconut-coffee mix, and get rid of any dead and damaged cells.
This is recommended for a smooth and uniform tan unless you are using towelettes with a nourishing and moisturizing formula.
Once your skin is clean and dry, apply the wipes in large circular motions all over your body.
You don't want your hands to be a few shades darker than the rest of your body. Some formulas can impart color within minutes, so ensure that you wash your hands thoroughly once done.
Avoid contact with water or all that effort that you just went through, will amount to nothing.
Reapply as needed, to maintain your gorgeous and glowing self-tan. For darker results, repeat the application after 4 hours.
Gone are the days when you had to worry about skin damage or aging caused by sun exposure or tanning beds. Tanning wipes will give you that stunning natural glow quickly and conveniently, without all that harmful radiation or chemicals. More importantly, these sunless tanning beauties give you that sunkissed tan at a much cheaper cost than you'd have to pay for a single tanning salon visit. So, try any of the products above to turn yourself into a stunning Jennifer Aniston with a healthy honeydew glow and not an orange blotchy oompah-loompah!
Did you find this post informative and helpful? Do let us know in the comments below!
Why Trust StyleCraze?
The author of this article is a skin care enthusiast who is also a big fan of the natural-looking sun-kissed glow. She went through multiple online review forums and brand websites to list the best tan towelettes. These good-quality tanning wipes are safe for the skin and give you a beautiful glowing tan without the need for long hours at the salon.
Frequently Asked Questions
How long do tan towels last?
It depends on how often you decide to use them and the size of the towels. If you were to use a towel to build up that tan every 3-4 days, a pack of 10 would last you close to 6 weeks. In contrast, if you weren't a regular, they could last you for months. If you aren't a frequent 'tanner,' remember to check the expiry date at the time of purchase to ensure that they would at least last you a year.
Can you shower after using tan towels?
It's ideal to shower before using tan towels. You would get rid of some color if you were to shower right after.
How to apply tan towels without streaks?
Cleanse, exfoliate, moisturize, and dry your skin before application. Now rub the towel gently on your skin in large circular motions. Ensure that you apply the sheet/towelette uniformly, so you don't miss any spots.
Do tan towels smell?
Most tan towels have a pleasant citrusy scent that lingers around for a while during use.
How often do you use tan towels?
You may use tan towels once or twice weekly to maintain the tan and shade.
How long after a tan towel can you shower?
Shower after 6-12 hours after using a tan towel.
Recommended Articles