13 Best Tanning Oils For Natural-Looking & Glowy Skin – 2023
Achieve a sun-kissed glow of natural-looking tanned skin without getting baked in the sun.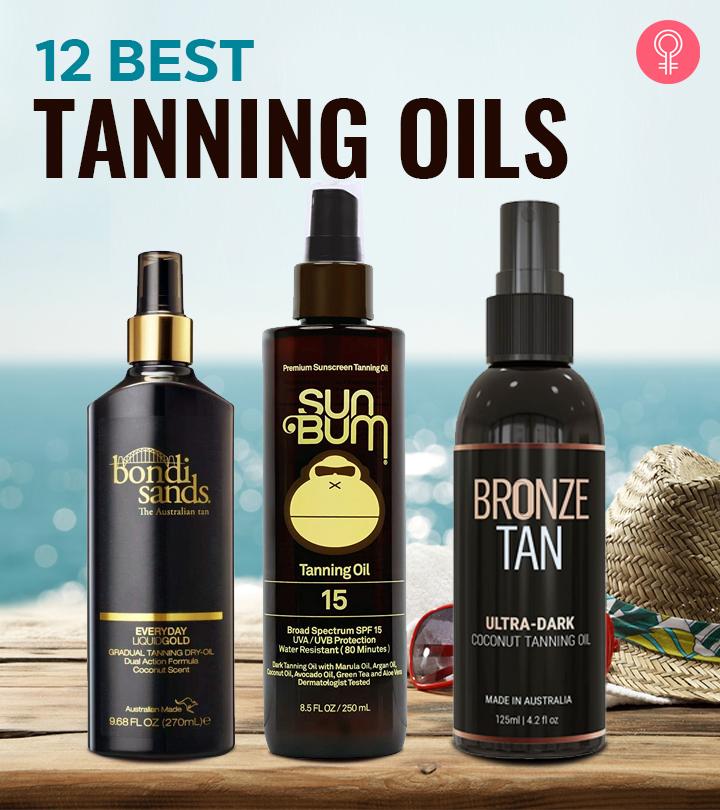 We all love the sun-kissed glow of tanned skin. The cosmetics world offers the best tanning oils that speed up the process of tanning so that you do not have to spend long hours getting baked in the sun. These oils protect the skin from the harmful rays of the sun while accelerating the process. They are also enriched with skin-nourishing ingredients that moisturize and tone the skin while tanning it for the most natural-looking glowy skin. The market is filled with multiple brands offering various tanning oils. To help you choose, we have listed some of the most effective tanning oils available on the market right now. Keep scrolling to find out more.
What Is A Tanning Oil? How Does It Work?
Having a sun-kissed tan can never go out of style as nothing can beat the beauty of a bronzed suntan. Does that mean we have to sit for hours in the sun to get that darkened hue? Not really! Getting that perfect beachy tan is now comfortable with tanning oils.
Tanning oils are usually considered a summertime staple used to get a quick suntan. They work on your skin to develop a tan quicker. According to the Indoor Tanning Association, catching some rays may lengthen your life (1).
Here is how tanning oils work:
A tanning oil attracts and focuses the sun rays onto the skin to give a deep, dark tan. Even though the skin receives enough UV rays to create a tan, a tanning oil accelerates this process by intensifying the rays. The UV rays penetrate the skin and increase the ability of the melanocytes to produce melanin. The greater the presence of melanin in your skin, the more suntan you will receive.
Tanning oils also use bronzers to accelerate the tanning process. A standard bronzer used in a tanning oil is dihydroxyacetone (DHA), a colorless natural sugar, which, along with the natural amino acids, reacts chemically on the outer layer of your skin. It gives a natural bronzing effect on your skin, which wears off as the affected skin cell layer naturally dies and peels off.
Another added perk of using tanning oils is that they are packed with moisturizing ingredients. Tanning can quickly dehydrate your skin. Tanning oils contain vitamin E and glycerin that maintain the moisture balance of your skin.
The following are the top tanning oils on the market. Take a look.
13 Best Tanning Oils You Must Try In 2023
If you are looking forward to enjoying a refreshing experience of sunbathing, try out the Hampton Sun SPF 4 Oil. Using this tan oil will give you the right amount of tan and protect your skin from the harmful effects of the UVB rays. This nourishing body oil has a silky texture. Its formula is a combination of vitamin E, walnut oil, and aloe vera. It makes your skin healthy and gives it a deep, even, and sun-kissed glow. The formula absorbs quickly without leaving a greasy feeling.
Pros
Silky texture
Quick absorption
Hypoallergenic
Dermatologist-tested
Suits all skin types
Non-greasy
Cons
None
The Bondi Sands Self Tanning Dry Oil will leave your skin hydrated and gradually helps develop a golden tan. The tanning liquid has a touch-dry formula and promises subtle yet visible results within six hours. To build a gradual, natural-looking tan, you can use the tanning oil on a daily basis. The tanning oil is infused with the fresh scent of coconut oil and hydrating argan oil. The product has a pump spray nozzle that allows for a mess-free application and instant beach-ready skin. To know more about the Bondi Sands Self Tanning Dry Oil, click on this video.
Pros
Buildable tan
Moisturizing
Sun-safe formula
Scented
Pump spray nozzle for mess-free application
Easy to use
Cons
None
The Cocosolis Choco Sun Tan &Body Oil provides a quick and deep tan to your skin. It can also be used as a body oil for dry skin. Tanning oil is formulated with organic ingredients. It is suitable for delicate and sensitive skin. The oil comes with SPF that will speed up the tanning process. The tanning oil contains coconut oil, cocoa butter, and avocado oil that help moisturize the skin too.
Pros
Moisturizing
Fast-acting
SPF protection
Easy to use
Formulated with organic ingredients
Cons
None 
The Eda Taspinar Bronzing Bomb will give you a great bronzed look. The tanning oil has an amazing scent and includes anti-aging supplements. It is formulated with roucou oil, carrot oil, and walnut oil that provides a Mediterranean dark tan. The oil also contains vitamins A and E that protect the skin and offer anti-aging benefits. The tanning oil is paraben-free.
Pros
Moisturizing
Anti-aging
Paraben-free
Cons
None
The Carroten Intensive Tanning Oil will give you a deep tan with an exotic glow. It is formulated with carrot and coconut oils that promote tan acceleration, giving your skin a natural-looking yet deep sun-kissed tan. The vitamin E, and A offers protection from free radicals while calendula oil soothes your skin. The lotion also moisturizes the skin deeply. It is suitable for all skin types.
Pros
Moisturizing
Glow-inducing oil
Natural-looking tan
Dermatologically tested
Suitable for all skin types
Pleasant scent
Cons
None
The Banana Boat Deep Tanning Oil has tan extending conditioners and SPF 4. It is made with carrot, coconut oil, and banana extracts that give you a deep rich tan with a glamorous glow. The tan is long-lasting and is ideal for you to swim, enjoy water sports, or splash in the water as it is water-resistant for 80 minutes.
Pros
Water-resistant
Long-lasting
Moisturising
Contains SPF 4
Cons
None
The Aloe Gator Dark Tanning Oil Spray is a customized oil that provides a deep, dark tan to your skin. The oil has a non-greasy texture. It is formulated with exotic coconut oil and cocoa butter. The moisturizing effect of the oil comes from aloe vera, and vitamins A and E. These ingredients keep the skin hydrated and help prevent skin peeling and dryness.
Pros
Moisturizing
Non-greasy texture
Hydrates skin
Prevents skin peeling and dryness
Cons
None
The Hawaiian Tropic Dark Tanning Oil will drench your skin with moisture. Its formula will pamper and soothe the skin. The oil contains a blend of rich oils and exotic island botanicals. The product has a classic coconut fragrance. It also offers considerable protection from UV radiation, is oxybenzone- and octinoxate-free, and is not tested on animals. It also protects from UV radiation. If you are still unsure about the benefits of Hawaiian Tropic Dark Tanning Oil, check out this video.
Pros
Moisturizing
Formulated with natural ingredients
Classic coconut fragrance
Protects from UV rays
Cruelty-free
Cons
None
Dr. Mercola Natural Tanning Oil is formulated without any artificial fragrances and toxic ingredients. It is hypoallergenic and vegan. The tanning oil is 100% biodegradable and planet-friendly. It comes in a sprayer bottle that makes for even and effortless application. The product is also waterproof.
Pros
Waterproof
Biodegradable
Hypoallergenic
Vegan
Easy to use
No artificial fragrances
No toxic ingredients
Cons
None
The Arizona Sun Tanning Oil is made with plant extracts. It provides a deep, dark, and long-lasting tan. The oil has a desert floral fragrance. The oil absorbs easily into the skin and is recommended for people who rarely burn or tan.
Pros
Long-lasting
Made with plant extracts
Easily absorbs intothe skin
Cons
None
The Bail Body Watermelon Tanning Oil is enriched with watermelon seed oil. It naturally enhances your tan. The oil is lightweight and moisturizing. It is packed with minerals and antioxidants that nourish and replenish the skin. The tanning oil has a fruity and fresh fragrance.
Pros
Lightweight
Moisturizing
Naturally enhances skin tan
Fruity and fresh fragrance
Cons
None
The Absolutely Natural Platinum Tanning Oil is a biodegradable and vegan product. It has a blend of macadamia, rose hip, kukui, and squalane. The tanning oil has an SPF 8 that protects sun-sensitive areas.
Pros
Biodegradable
Vegan
SPF (Sun Protection Factor)
Moisturizing
Professional-grade
Cons
These are the top tanning oils available on the market. The following section discusses how you can apply tanning oils.
How To Apply Tanning Oils?
The right application process can give you a goddess-like glowy suntan. Have a look at the step-by-step guide on how to apply tanning oils:
Make sure your skin is clean, smooth, and exfoliated. Get rid of your skin dryness and flakiness by exfoliating it and bringing it back to life. This process will help you get the darkest tan.
A little amount of oil can go a long way. Take the desired amount of your favorite tanning oil, rub it well on your palms, and apply it evenly to all parts of your body.
Sit in the sun for some time to catch some rays.
Tanning oils can be applied overnight to get maximum nourishment and hydration. They are ideal for skin rejuvenation.
Are Tanning Oils Safe?
Getting that golden sun-kissed glow is a trend nowadays and tanning oils are gradually becoming a summer skincare. In Europe and the United States, about 37-49% and 17-29% of people, respectively, engage in deliberate tanning (1).
The Indoor Tanning Association claims that a base tan can act as the body's natural sunburn prevention (1).
However, there are risks associated with suntanning as it may cause permanent damage to our skin. Exposure to the sun and harmful UV rays can be hazardous for your skin. Though tanning oils contain SPF, the exposure may still have adverse effects on your skin.
You can lower this risk by picking the right tanning oil. The following buying guide should help you.
How To Choose A Tanning Oil – A Buying Guide
Calculate Time Spent In The Sun: Choosing the best suntan oil depends on the amount of time you like to spend in the sun. For those who like to spend long hours in the heat every day, a skin-friendly, non-comedogenic tanning oil that stays on the skin for a long time after application is ideal
Also, the oil should have a higher SPF. A broad spectrum tanning oil with SPF 15 or above is recommended to offer sun protection. A tanning accelerator with a lower SPF could suffice if you would only spend a shorter duration in the sun.
Check For Common Tanning Oil Ingredients: The best tanning oils are formulated with naturally-derived ingredients like aloe vera, shea butter, coconut oil, and vitamins A, C, and E. These ingredients in a tan enhancer ensure skin protection and prevent any kind of irritation or redness.
Check For Any Skin Conditions: People with sensitive skin must be careful while choosing their sun-loving oils. Those with eczema should choose an oil that has hydrating and moisturizing benefits, while those who tend to develop allergic reactions should use oil formulated with natural ingredients.
Consider Your Skin Type: Tanning oils are usually formulated considering a specific skin type. People with dry skin can use tanning oils as they absorb well into the skin and keep it hydrated and moisturized. Those with oily skin can go for a suntan lotion as it does not make the skin as greasy.
Lighter/fairer skin tones usually burn faster and take longer to tan. A long-lasting tanning oil with a high SPF will work better in this case. On the other hand, people with darker skin can rely on lower-SPF tanning oils for faster and better results. Darker skin tones have a lower risk of sunburn.
Why Trust StyleCraze?
The author Oyendrila Kanjilal is a certified skin care coach. She has conducted extensive research to help you pick the best tanning oils that are suitable for your skin type and concerns. The list above includes her top picks that are formulated with skin-nourishing ingredients. These products not only tan your skin quickly but also impart a natural glow to it.
Frequently Asked Questions
What is a tanning oil made of?
Tanning oils are usually made of aloe vera, shea butter, coconut oil, argan, fruit extracts, coffee extracts, and other naturally-derived ingredients.
Which is the ideal tanning oil to apply?
The Bondi Sands Self Tanning Dry Oil, Cocosolis Choco Sun Tan & Body Oil, and Sun Bum Moisturizing Tanning Oils are among the best you can use.
Can a sunscreen and a tanning oil be used together?
Many people often ditch sunscreens and apply only tanning oils to get tanned faster. However, using both together can offer better protection against the hazardous UV rays. Alternately, you may use a tanning oil with a higher SPF.
Can you use tanning oil during pregnancy?
Skin tanning oils contain ingredients that are generally harmless. Hence, the oils can be used during pregnancy. However, it always is better to consult a doctor first.
How long should you lay in the sun with a tanning oil?
You can lay in the sun for 1-2 hours after applying a tanning oil.
Which tanning oils or lotions work the best?
The Sun Bum moisturizing tanning oil provides protection from UV rays and is also suitable for all skin types. It is one of the best tanning formulas in the market.
Recommended Articles