12 Best Tanning Oils You Must Try In 2020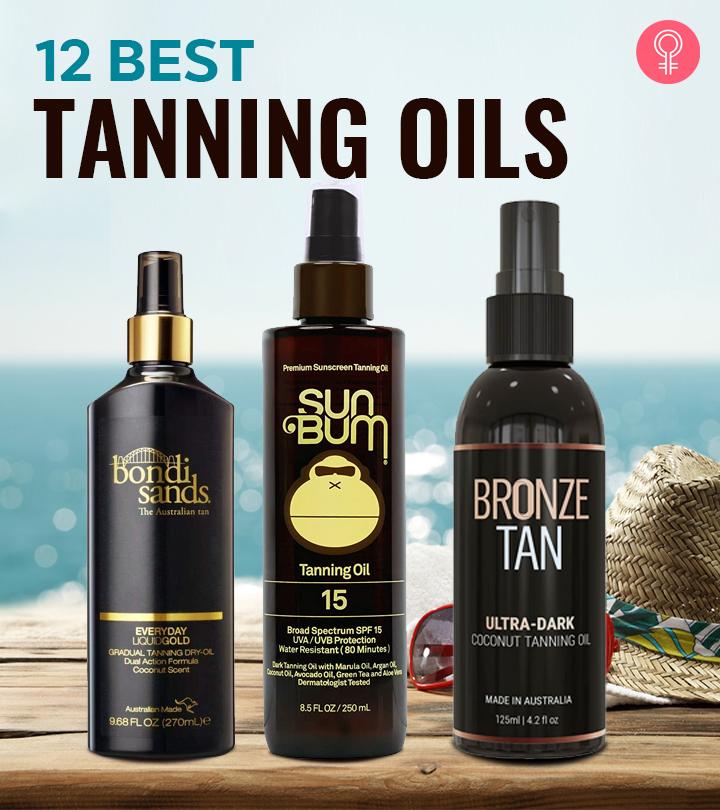 Tanning parlors are good. But you don't want to look like you sat on the top of a lasagna tray and got out looking like the freshly baked crust. So, what else can help you with that gentle but beautifully sun-kissed texture? And while at it, how do we bring the intensity down without compromising on the glow? Tanning oils are the answer. A lot of tan lovers are turning towards these. The oils help reduce the intensity of the UV rays while holding on to the golden glow. Let us look at some of the best tanning oils on the market right now. Read on.
What Is A Tanning Oil? How Does It Work?
Tanning oil is usually used to get a quick suntan. The tanning oil attracts and focuses the sun rays onto the skin in order to give you a deep, dark tan. Even though the skin receives UV rays to create a tan, a tanning oil accelerates this process by intensifying the rays. This helps in getting a natural-looking tan in a short time. A tanning oil will give your skin a natural tan for a perfect beach look.
The following are the top tanning oils on the market. Take a look.
12 Best Tanning Oils You Must Try In 2020
The Bondi Sands Self Tanning Dry Oil will leave your skin hydrated and gradually helps develop a golden glow. The tanning liquid has a touch dry formula. To build a gradual, natural-looking tan, you can use the tanning oil on a daily basis. The tanning oil is infused with the fresh scent of coconut oil and hydrating argan oil. The product has a pump spray nozzle that allows for a mess-free application.
Pros
Buildable tan
Moisturizing
Pump spray nozzle for mess-free application
Easy to use
Cons
None
The Cocosolis Choco Sun Tan &Body Oil provides a quick and deep tan to your skin. It can also be used as a body oil for dry skin. Tanning oil is formulated with organic ingredients. It is suitable for delicate and sensitive skin. The oil comes with SPF that will speed up the tanning process. The tanning oil contains coconut oil, cocoa butter, and avocado oil that help moisturize the skin too.
Pros
Moisturizing
SPF protection
Easy to use
Formulated with organic ingredients
Cons
None 
The Sun Bum Moisturizing Tanning Oil is nourishing and provides a golden brown tan. The tanning oil provides protection from UV rays. It works great for all skin types. It is formulated with natural ingredients like aloe vera, green tea butter, and coconut and avocado oils. The oil is hypoallergenic, cruelty-free, and paraben-free.
Pros
Hypoallergenic
Cruelty-free
Paraben-free
Provides UV protection
Ideal for all skin types
Moisturizing
Cons
The Eda Taspinar Bronzing Bomb will give you a great bronzed look. The tanning oil has an amazing scent and includes anti-aging supplements. It is formulated with roucou oil, carrot oil, and walnut oil that provides a Mediterranean dark tan. The oil also contains vitamins A and E that protect the skin and offer anti-aging benefits. The tanning oil is paraben-free.
Pros
Moisturizing
Anti-aging
Paraben-free
Cons
None
The Existing Tanning Self Tanner Oil will give you a bronzed and beautiful exotic glow. The tanning oil takes 2-3 hours to develop and lasts about a week. It is formulated with all-natural ingredients. The ingredients have a dry oil formula and hydrate the skin. The tanning oil is safe for women and men of all ages and skin tones.
Pros
Moisturizing
Formulated with all-natural ingredients
Safe for both men and women
Hydrates the skin
Cons
None
The Coconut Joe's Exotic Deep Dark Tanning Oil is lightweight and mineral-oil free. It has a unique blend of exotic oils and extracts. The tanning oil is formulated with the world's finest virgin coconut oil. The oil deeply moisturizes your skin while giving it a deep, dark tan. The oil is formulated without any harsh chemicals.
Pros
Moisturizing
Lightweight
Mineral oil-free
Formulated without harsh chemicals
Cons
None
The Aloe Gator Dark Tanning Oil Spray is a customized oil that provides a deep, dark tan to your skin. The oil has a non-greasy texture. It is formulated with exotic coconut oil and cocoa butter. The moisturizing effect of the oil comes from aloe vera, and vitamins A and E. These ingredients keep the skin hydrated and help prevent skin peeling and dryness.
Pros
Moisturizing
Non-greasy texture
Hydrates skin
Prevents skin peeling and dryness
Cons
None
The Hawaiian Tropic Dark Tanning Oil will drench your skin with moisture. Its formula will pamper and soothe the skin. The oil contains a blend of rich oils and exotic island botanicals. The product has a classic coconut fragrance. It also protects from UV rays.
Pros
Moisturizing
Formulated with natural ingredients
Classic coconut fragrance
Protects from UV rays
Cons
None
Dr. Mercola Natural Tanning Oil is formulated without any artificial fragrances and toxic ingredients. It is hypoallergenic and vegan. The tanning oil is 100% biodegradable and planet-friendly. It comes in a sprayer bottle that makes for even and effortless application. The product is also waterproof.
Pros
Waterproof
Biodegradable
Hypoallergenic
Vegan
Easy to use
No artificial fragrances
No toxic ingredients
Cons
None
The Arizona Sun Tanning Oil is made with plant extracts. It provides a deep, dark, and long-lasting tan. The oil has a desert floral fragrance. The oil absorbs easily into the skin and is recommended for people who rarely burn or tan.
Pros
Long-lasting
Made with plant extracts
Easily absorbs intothe skin
Cons
None
The Bail Body Watermelon Tanning Oil is enriched with watermelon seed oil. It naturally enhances your tan. The oil is lightweight and moisturizing. It is packed with minerals and antioxidants that nourish and replenish the skin. The tanning oil has a fruity and fresh fragrance.
Pros
Lightweight
Moisturizing
Naturally enhances skin tan
Fruity and fresh fragrance
Cons
None
The Absolutely Natural Platinum Tanning Oil is a biodegradable and vegan product. It has a blend of macadamia, rose hip, kukui, and squalane. The tanning oil has an SPF 8 that protects sun-sensitive areas.
Pros
Biodegradable
Vegan
SPF protection
Moisturizing
Cons
These are the top tanning oils available on the market. The following buying guide helps you pick the right tanning oil for you. 
How To Choose A Tanning Oil – A Buying Guide
SPF –Most tanning oils do not come with SPF protection. However, some of them provide basic sun protection. If you decide to go for a tanning oil that has no SPF, make sure to have a sunscreen while tanning to protect your skin from sun damage.
Waterproof – If you plan to hang around beside the pool or on the beach, a tanning lotion without any water-resistant property will be good. However, if you plan on going for a swim, choose a waterproof tanning oil that will not get washed away in the water.
Natural Ingredients – The tanning oil made with organic and moisturizing ingredients provides great nourishment to the skin. It will also keep your skin hydrated under the sun. Hence, look for a tanning oil formulated with natural ingredients.
Conclusion
Tanning oils must moisturize your skin without feeling sticky. Some essential oils are known to have a natural tanning effect. Hence, look for a tanning oil that is natural, organic, and hypoallergenic. Pick your favorite product from this list. Try it out to get a beautiful, natural-looking tan.
Expert's Answers for Readers Questions
Are tanning oils harmful to you?
Using a tanning oil may put you at risk of getting a bad sunburn. In the worst cases, if proper is not taken in the long run, a tanning oil may also result in skin cancer.
How can I get a tan safely?
Ensure your tanning oil has the right amount of SPF. This way, you can get a tan without causing any harm to your skin.
Recommended Articles
The following two tabs change content below.

Latest posts by Sucharita Mishra (see all)

Sucharita Mishra
Sucharita Mishra has a Master's degree in Biotechnology and specializes in writing on Health and Wellness. She has worked on determining various heavy metals present in green tea for her Master's dissertation at CSIR- CFTRI, Mysuru. After completing her degree, Sucharita decided to pursue her passion for writing. She is addicted to all things black and aspires to become a bat one day.