11 Best Tasting (Flavored) Lip Glosses Of 2020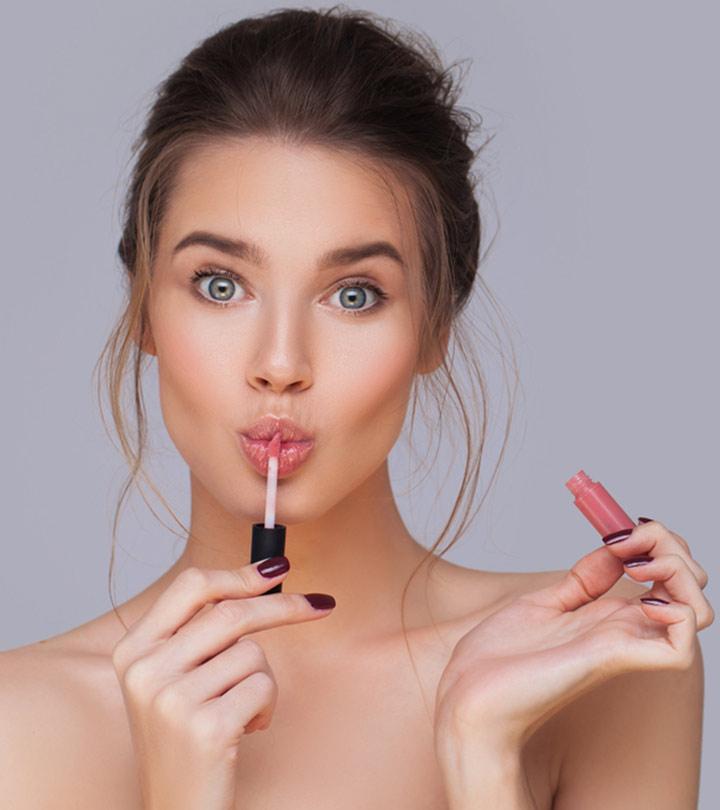 Lip glosses are a girl's best friend right from her teenage years. Whether it is for your bestie's wedding or for that date with your crush that you've been looking forward to, a good lip gloss can do the trick. However, most of us might have come across a lip gloss that was perfect in every way, only if it didn't taste that awful. So, apart from the shade and texture, the taste of a lip gloss can also make a huge difference.
After all, it's something that you wear on your lips and regardless of how careful you are some of it is bound to get into your mouth. So if you are looking for an ideal gloss that not only serves its purpose but also tastes great, check out our pick of the 11 best tasting (flavored) lip glosses of 2020 to treat your lips with.
Top 11 Flavored Lip Glosses You Can Buy Now
If you are a fan of flavored lip glosses, then Lip Smacker's Best Flavor Forever might be all you need. It includes a wide range of distinct and fruity flavors. You will find everything from the classic strawberry and vanilla to more quirky flavors such as cotton candy and oatmeal cookie. It also comes in fruity flavors such as watermelon, mango, and kiwi. With Best Flavor Forever you'll never have to worry about getting bored with the same flavor again. Moreover, this lip gloss is infused with ingredients such as castor seed oil to provide hydration to your lips.
Pros
Pleasant flavor
Comes in 8 different flavors
Provides moisturization
Cons
The lip gloss is not pigmented.
Next up on our list of tasty lip glosses is Jellicious lip gloss by Ruby Kiss. Jellicious comes in a pack of 3 flavors—Hawaiian Breeze, Cotton Candy, and Ice Kiss. The gloss has a weightless jelly-like texture that provides a smooth glide across your lips. The lip gloss is infused with mango butter that prevents chapped lips by providing moisturization. It is enriched with acai berry extracts that have antioxidant properties. With 2 clear shades, the Cotton Candy lip gloss offers a slight pink tint on your lips.
Pros
Long-lasting wear
Offers intense moisturization
Lightweight texture
Cons
Offers only a single pigmented shade
If you love a thick texture for your gloss then Victoria's Secret's Beauty Rush might be the one for you. Providing a slightly pinkish hue, this one is perfect for everyday use. The gloss also has a sweet taste that isn't overpowering and offers a pleasant fragrance. The lip gloss provides a modest shine while acting as a moisturizing balm for your lips. It comes in a tube that allows for easy application.
Pros
Long-lasting
Provides moisturization
Universal shade
Cons
The texture might not be appealing to everyone
Looking for a lip gloss for your little girl? Then this could be the one. The JoJo Siwa 7-Pack Flavored Lip Glosses come in a pack of 7. It includes fruity lip gloss flavors such as berry, watermelon, pineapple, mango, cupcake, strawberry, and grape. The gloss has a very pleasant smell and is sparkly, making it the best gift for your daughter.
Pros
Perfect for kids as well
Perfect for people who love glittery lip glosses
A sweet flavor that is appealing to teens and adults alike
Cons
The quantity provided may be less.
If tropical flavors are your thing then the item next up on our list might be the one for you. The Tropical Flavors Lip Smacker by Bonne Bell comes with 8 distinct tropical lip gloss flavors. These include tropical fruity flavors such as passion fruit, peach, mango, and tangerine. It also comes in a bunch of exquisite flavors such as grapefruit, pina colada, coconut, and tea. These flavored lip glosses are infused with ingredients such as castor seed oil to provide moisturization while teleporting you almost instantly to a tropical paradise!
Pros
8 distinct flavors in a single pack
Pleasant smell
Easy to apply
Cons
The lip gloss is not pigmented.
This Vanilla Cupcake flavored lip gloss from Palladio could be perfect if you want to go for a subtle yet glamorous look. This particular flavor comes in a light pink shade with a subtle shine, making it perfect for every occasion. Infused with natural ingredients such as ginseng, green tea, chamomile, and aloe vera, this gloss has a non-greasy texture with moisturizing benefits. The lip gloss comes with a sponge applicator wand allowing for a hassle-free application.
Pros
Comes with a wand applicator
Has a light pink shade perfect for daily use
Non-greasy texture
Provides moisturization
Cons
The scent might not be appealing to everyone.
With its Lip Glaze range, stila not only offers a wide array of shades to choose from but also comes with a pen applicator. The applicator allows you to regulate the amount of gloss that you apply with each turn. The lip gloss also comes with flavors and scents that match each shade. Apart from adding a splash of color, stila Lip Glaze also ensures that your lips stay moisturized for a long time. It adds a bit of shine to your lips and could well prove to be the perfect gloss for a girl's night out!
Pros
Easy application
Available in multiple shades
Provides moisture
Paraben, sulfate, and phthalate-free
Cons
Tube design might lead to a bit of product wastage
Next up on our list of flavored lip glosses is the Raspberry Sorbet lip gloss by Philosophy. It has a sweet berry flavor that's perfect for everyday wear. The lip gloss gives your lips a pinkish glow while keeping it moisturized. The gloss comes in a tube form for easy application. Each tube contains 0.4 oz of lip gloss.
Pros
Provides moisturization
Pigmented lip gloss
Pleasant scent
Cons
The scent may not last long.
If stick and tube applicators are not your thing then Mode brings you this roll-on lip gloss. This lip gloss has a sweet flavor that complements its silky texture. Mode Lip Glaze is infused with ingredients such as sweet almond oil and Armenian Areni Noir wine grape seed that helps keep your lips hydrated. It has a semi-liquid consistency that easily glides on your lips. What's more? It's all vegan!
Pros
Cruelty-free
Paraben-free
Non-sticky formula
Cons
Who doesn't love Oreos? Taste Beauty brings you a lip balm that tastes and smells like your favorite cookie! The lip balm also comes in an oreo cookie-shaped case. The lip balm is formulated to provide your lips with extra moisture. Make sure to grab yours now as it is a limited edition item.
Pros
Cute packaging
Delicious flavor
Provides moisturization
Cons
Since the lip balm comes in a tub without an applicator, it could be messy for some.
Hershey's sweets and candies were one of our favorites growing up. Now you can taste them on your lips with Taste Beauty's range of Hershey lip glosses. It comes in a pack of 6 distinct candy flavored lip glosses that take you back to those good old days. This could make for the perfect gift for your little niece.
Pros
Provides moisturization
Comes in distinct candy flavors
Suitable for both kids and adults alike
Cons
So there you have it. Lip glosses are an essential item in our vanity bags that we cannot afford to go without. Regardless of what time of the year it is, your lips need that moisture, all the while looking stylish. So choosing the one that suits your taste and style is obviously important. We hope that with our list of tasty lip glosses, choosing the one that is right for you becomes an easy deal.
Recommended Articles: