11 Best Tasting (Flavored) Lip Glosses Of 2023
Choose highly effective lip gloss to make your lips glossier, shinier, and smoother.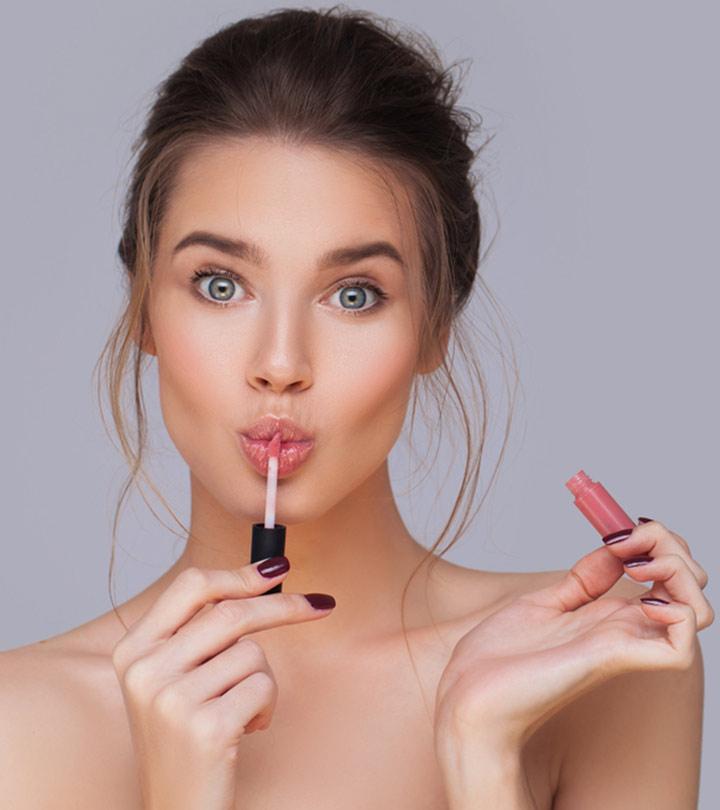 Lipglosses that taste well can take the whole experience of wearing makeup to another level every time you put it on! If you don't get what that means, you must get your hands on the best-tasting lipgloss at the earliest and put the formula to test! Lipglosses not only make your lips look soft, plump, and lusciously beautiful, but also help keep them hydrated and well protected. Now with the many options available, you might be tempted to pick up a few as per your whim and fancy. But, imagine if they just don't taste right! Or rather, taste weird along with a strange smell. That spoils the whole effect of wearing the gloss and you most probably would stay away from it! Similarly, a lipgloss that adds that perfect sheen and tint to your lips and is deliciously flavored as well, would find you reaching for it more often! To help you get one for yourself, we have shortlisted the 11 best options for you!
Top 11 Flavored Lip Glosses You Can Buy Now
If you are a fan of flavored lip glosses, then Lip Smacker's Best Flavor Forever might be all you need. This pack includes a wide range of distinct and fruity flavors. You will find everything from the classic strawberry and vanilla to more quirky flavors such as cotton candy and oatmeal cookies. It also comes in fruity flavors, such as watermelon, mango, and kiwi. With Best Flavor Forever you'll never have to worry about getting bored with the same flavor again. Moreover, this lip gloss is infused with ingredients such as castor seed oil to provide hydration and shine to your lips. If you're looking for a nice lip care gift for your daughter, this is it! Check out a more detailed review of this product and go through the reviewer's experience before you make up your mind.
Pros
Pleasant flavor
Comes in 8 different flavors
Provides moisturization
Cons
The lip gloss is not pigmented.
Switch your lips' glossy mode on as the next up on our list of tasty lip glosses is Jellicious lip gloss by Ruby Kiss. Jellicious comes in a pack of 3 flavors—Hawaiian Breeze, Cotton Candy, and Ice Kiss. The gloss has a weightless jelly-like texture that provides a smooth glide across your lips with a juicy finish. The lip gloss is infused with mango butter that prevents chapped lips by providing moisturization. The butter gloss is enriched with acai berry extracts that have antioxidant properties. With 2 clear shades, the Cotton Candy lip gloss offers a slight pink tint on your lips. Several reviewers have mentioned how smoothly the product goes on the lips and adds just the right amount of shine.
Pros
Long-lasting wear
Offers intense moisturization
Lightweight texture
Cons
Offers only a single pigmented shade
If you love a thick texture for your gloss then Victoria's Secret's Beauty Rush might be the one for you. Providing a slightly pinkish hue, this one has the perfect texture for everyday use. The gloss also has a sweet taste that isn't overpowering and offers a pleasant fragrance. The lip gloss provides a modest shine while acting as a moisturizing balm for your lips. It comes in a tube that allows for easy application.
Pros
Long-lasting
Provides moisturization
Universal shade
Cons
The texture might not be appealing to everyone
This set of 5 Broadway Vita-Lip Clear Lip Glosses has fans raving over its bomb flavors, ultra-glossy finish, and pleasant scent. You get to try lip-smacking flavors of coconut, argan, rosehip, mango, and mint in the lip balms, each with its own set of benefits for your lips. The coconut and argan oil moisturize, heal, and protect the lips, while mango hydrates and softens the lips. The rosehip reduces fine lines, and the mint offers a cooling effect. These pout-enhancing glosses are infused with many minerals and vitamin E that benefit the lips by maintaining plump and luscious lips with mirror-like shine. The gloss has a very pleasant smell and is sparkly, making it the best gift for your daughter. Several reviews have mentioned how the products add a pretty shine and are worth the hype and money!
Pros
Hydrating formula
Vitamin-infused formula
Pleasing scent
Set of 5 flavors
Value for money
Cons
If tropical flavors are your thing then the item next up on our list might be the one for you. The Tropical Flavors Lip Smacker by Bonne Bell comes with 8 distinct tropical lip gloss flavors. These include tropical fruity flavors such as passion fruit, peach, mango, and tangerine. It also comes in a bunch of exquisite flavors such as grapefruit, pina colada, coconut, and tea. It adds dimension to the lips. These flavored lip glosses are infused with ingredients such as castor seed oil to provide moisturization while teleporting you almost instantly to a tropical paradise!
Pros
8 distinct flavors in a single pack
Pleasant smell
Easy to apply
Ultra-moisturizing formula
Cons
The lip gloss is not pigmented.
This Vanilla Cupcake flavored lip gloss from Palladio could be perfect if you want to go for a subtle yet glamorous look. This particular flavor comes in a light pink shade with a subtle shine, making it perfect for every occasion. Infused with natural ingredients such as ginseng, green tea, chamomile, and aloe vera, this tasty lip gloss has a non-greasy texture with moisturizing benefits. The lip gloss comes with a sponge applicator wand allowing for a hassle-free application. This moisturizing lip gloss is not tested on animals and is an ethically clean choice for aminal lovers.
Pros
Comes with a wand applicator
Has a light pink shade perfect for daily use
Non-greasy texture
Provides moisturization
Cons
The scent might not be appealing to everyone.
With its Lip Glaze range, stila not only offers a wide array of shades to choose from but also comes with a pen applicator. The applicator allows you to regulate the amount of gloss that you apply with each turn. This revitalizing lip gloss also comes with flavors and scents that match each shade. Apart from adding a splash of color, stila Lip Glaze offers hydration and ensures that your lips stay moisturized for a long time. It adds a bit of shine to your lips and could well prove to be the perfect gloss for a girl's night out!
Pros
Easy application with the pen applicator
Available in multiple shades
Moisture-rich formula
Paraben, sulfate, and phthalate-free
Cons
Tube design might lead to a bit of product wastage
The Revlon Kiss Balm is ideal for moisturizing and protecting your lips. It's made with natural ingredients and SPF 20, so it stays on your lips for hours and keeps your perfect-face dreams alive. Its high-gloss formula comes in various flavors, including rose, ginger, and vanilla, which are delicious. This balm is an excellent addition to your beauty routine and will help you achieve your dream of a flawless touch-up! Reviewers love how the product leaves a slight hint of color on the lips after application.
Pros
Available in 7 colors
Tasty Flavor
Pleasant Fragrance
Easy to apply
Long-lasting hydration
Cons
None
If stick and tube applicators are not your thing then Mode brings you this roll-on lip gloss. This lip gloss has a sweet flavor that complements its silky texture. Mode Lip Glaze is formulated with ingredients such as sweet almond oil and Armenian Areni Noir wine grape seed which help keep your lips hydrated. It has a semi-liquid consistency that easily glides on your lips. What's more? It's all vegan and undergoes no animal testing to meet safety standards! Nyssa Green, an Emmy award-winning makeup artist, notes, "The sheer color of this gloss makes it a win for me!"
Pros
Cruelty-free
Paraben-free
Non-sticky formula
Cons
The rom&nd Glasting Water Gloss helps you get yummy, plump-looking, irresistible lips. It is available in three subtle shades, each with its distinct flavor. This nourishing product comes with a spatula tip applicator for an easy, smooth, and mess-free application. It has a creamy, sparkly, dewy finish, perfect to match with the Korean glass skin makeup trends. It has a softening and smoothing effect on the lips. This moisturizing lip gloss is infused with the goodness of sweet almonds to ensure healthy lips. If you love K-beauty philosophy, this is for you. Reviewers are in awe of the statement-making shimmer that the lip gloss offers.
Pros
Long-lasting
Spatula-tip applicator
Non-sticky
Plumping formula
Soft finish
Cons
Looking for a lip gloss for your little girl? If fruit-flavored candies were your favorite while growing up, you will love this Kissing Fruit lip gloss—your gateway to nourished lips. The roll-on gloss is easy to carry and apply. It is available in six sweet sugary flavors of lemon, grapes, cherry, watermelon, apple, and strawberry. Each flavor offers a slight tint, making your lips look smooth, gorgeous, and glossy.
Pros
Lightweight
Lip-smoothing formula
Roll-on packaging
Offers slight tint
Suitable for kids and adults
Cons
Sticky
All flavors may not be strongly-flavored
*The prices provided in this article are based on the latest available information. However, they may vary due to changes in pricing by the seller and/or promotional offers.
Lip glosses are a great way to protect your lips from cold, dehydration, and UV radiation. Flavored lip glosses are available in plenty, but you must make informed choices and pick one suitable for your skin and needs. Here are a few things to consider before buying the best tasting lip gloss.
How To Select The Best Tasting Lip Glosses For Women
Moisturization: Lip glosses offer non-drying formulations for instant moisturization to dry, chapped lips. Pick one that has a long-lasting impact. Look for expertly crafted formulas with ingredients like shea butter, mango butter, jojoba oil, vitamins A, C, and E, minerals, and natural oils for soft, supple lips all day.
Flavor And Shade: A lip gloss that smells nice when applied adds a feel-good factor. However, avoid synthetic flavors and choose natural flavors of orange, strawberry, cotton candy, pineapple, and vanilla. Apart from a good flavor ensure that you choose the lip gloss shade. While some prefer subtle and natural shades, some prefer just the transparent glossiness. The shade of the lip balm must complement the natural tone of your lips.
Texture: Greasy lip glosses may feel heavy when applied. They make one uncomfortable while talking and can stick to the lips. Choose lip balms that are lightweight and smooth,  easy to wash away, and do not leave any additional residues. In addition to being non-greasy, make sure that the lip-gloss is easy to apply and feels comfortable for a long duration.
Ingredients To Avoid: Ensure that your lip balm is free from additives such as paraben, sulfate, artificial colors and flavors, and phthalate to avoid any adverse effects on your lip skin. Dermatologist-tested and Chemical-free lip glosses and lip balms can be used for both adults and kids lip skin with safety.
Why Trust StyleCraze?
Srijita De is a makeup aficionado and loves reviewing beauty products for her readers. The best tasting flavored lip glosses mentioned in the list ensure soft, plump, and juicy lips every time you apply them. The author has reviewed multiple online reviews before curating the products in this article. She recommends using these lip glosses because they not only taste good but also offer lasting hydration.
Recommended Article