11 Best Tasting (Flavored) Lip Glosses Of 2023
Choose highly effective lip gloss to make your lips glossier, shinier, and smoother.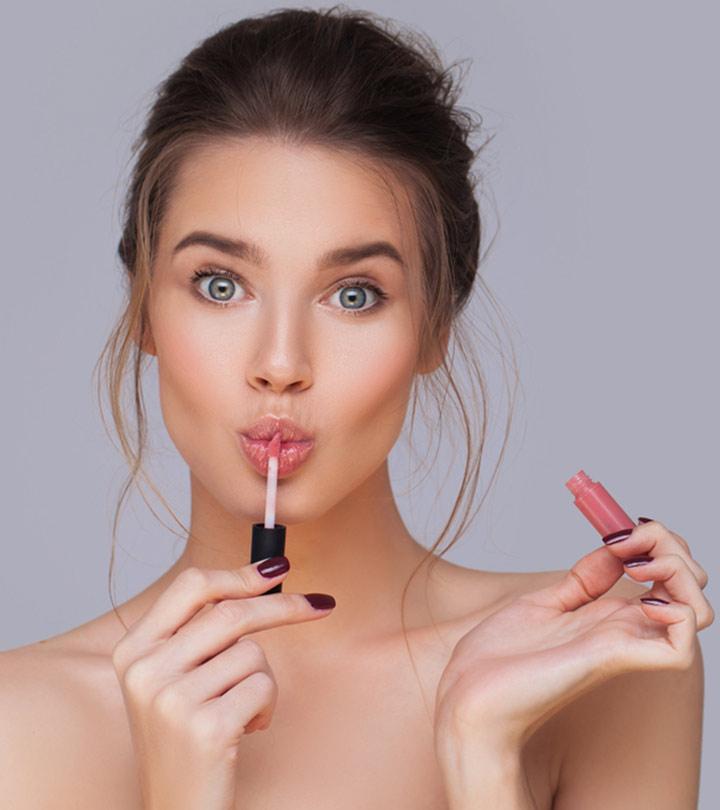 Lipglosses that taste well can take the whole experience to another level every time you put it on! If you don't get what that means, you must get your hands on the best-tasting lipgloss at the earliest! Lipglosses not only make your lips look soft, plump, and lusciously beautiful, but also help keep them hydrated and well protected. Now with the many options available, you might be tempted to pick up a few as per your whim and fancy. But, imagine if they just don't taste right! Or rather, taste weird along with a strange smell. That spoils the whole effect and you most probably would stay away from it! Similarly, a lipgloss that adds that perfect sheen and tint to your lips and is deliciously flavored as well, would find you reaching for it more often! To help you get one for yourself, we have shortlisted the 11 best options for you!
Top 11 Flavored Lip Glosses You Can Buy Now
Pros
Pleasant flavor
Comes in 8 different flavors
Provides moisturization
Cons
The lip gloss is not pigmented.
Price at the time of publication: $8.66
Next up on our list of tasty lip glosses is Jellicious lip gloss by Ruby Kiss. Jellicious comes in a pack of 3 flavors—Hawaiian Breeze, Cotton Candy, and Ice Kiss. The gloss has a weightless jelly-like texture that provides a smooth glide across your lips. The lip gloss is infused with mango butter that prevents chapped lips by providing moisturization. It is enriched with acai berry extracts that have antioxidant properties. With 2 clear shades, the Cotton Candy lip gloss offers a slight pink tint on your lips.
Pros
Long-lasting wear
Offers intense moisturization
Lightweight texture
Cons
Offers only a single pigmented shade
Price at the time of publication: $5.99
If you love a thick texture for your gloss then Victoria's Secret's Beauty Rush might be the one for you. Providing a slightly pinkish hue, this one is perfect for everyday use. The gloss also has a sweet taste that isn't overpowering and offers a pleasant fragrance. The lip gloss provides a modest shine while acting as a moisturizing balm for your lips. It comes in a tube that allows for easy application.
Pros
Long-lasting
Provides moisturization
Universal shade
Cons
The texture might not be appealing to everyone
Price at the time of publication: $27.99
Pros
Hydrating formula
Pleasing scent
Set of 5 flavors
Value for money
Cons
Price at the time of publication: $5.99
Pros
8 distinct flavors in a single pack
Pleasant smell
Easy to apply
Cons
The lip gloss is not pigmented.
Price at the time of publication: $141.6
Pros
Comes with a wand applicator
Has a light pink shade perfect for daily use
Non-greasy texture
Provides moisturization
Cons
The scent might not be appealing to everyone.
Price at the time of publication: $6.99
Pros
Easy application
Available in multiple shades
Provides moisture
Paraben, sulfate, and phthalate-free
Cons
Tube design might lead to a bit of product wastage
Price at the time of publication: $24
Pros
Available in 7 colors
Tasty Flavor
Pleasant Fragrance
Easy to apply
Long-lasting hydration
Cons
None
Price at the time of publication: $3.84
Pros
Cruelty-free
Paraben-free
Non-sticky formula
Cons
Price at the time of publication: $16
Pros
Long-lasting
Spatula-tip applicator
Non-sticky
Plumping formula
Soft finish
Cons
Price at the time of publication: $13
If fruit-flavored candies were your favorite while growing love, you will love these kissing fruit lip glosses. The roll-on gloss is easy to carry and apply. It is available in six assorted flavors of lemon, grapes, cherry, watermelon, apple, and strawberry. Each flavor offers a slight tint, making your lips look smooth, gorgeous, and glossy.
Pros
Lightweight
Roll-on packaging
Offers slight tint
Suitable for kids and adults
Cons
Sticky
All flavors may not be strongly-flavored
Price at the time of publication: $8.74
Lip glosses are a great way to prevent your lips from cold, dehydration, and UV radiations. Flavored lip glosses are available in plenty, but you must make informed choices and pick one suitable for your skin and needs. Here are a few things to consider before buying the best tasting lip gloss.
How To Select The Best Tasting Lip Glosses For Women
Moisturization: Lip glosses offer instant moisturization to dry, chapped lips. Pick one that has a long-lasting impact. Look for ingredients like shea butter, mango butter, vitamins A, C, and E, and minerals for soft, supple lips all day.
Flavor And Shade: A lip gloss that smells nice when applied adds a feel-good factor. However, avoid synthetic flavors and choose natural flavors of orange, strawberry, cotton candy, and vanilla.  Apart from a good flavor ensure that you choose the lip gloss shade. While some prefer subtle and natural shades, some prefer just the transparent glossiness. The shade of the lip balm must complement the natural tone of your lips.
Texture: Greasy lip glosses may feel heavy when applied. They make one uncomfortable while talking and can stick to the lips. Choose lip balms that are lightweight and smooth,  easy to wash away and do not leave any additional residues. In addition to being non-greasy, make sure that the lip-gloss is easy to apply and feels comfortable for a long duration.
Ingredients To Avoid: Ensure that your lip balm is free from additives such as paraben, sulfate, artificial colors and flavors, and phthalate to avoid any adverse effects on your lip skin. Chemical-free lip glosses can be used for both adults and kids with safety.
Infographic: How To Apply A Flavored Lip Gloss The Right Way
Lip glosses can be game-changing. They are versatile and can take your makeup to a new level. Flavored lip glosses are even better as they make the experience even more fun, because let's admit it, nobody can resist tasting their lips every now and then. However, in order to get the optimum benefits of a flavored lip gloss, you need to use it correctly. Check out the below infographic for more information.


Flavored lip glosses are one of a kind, and if you are a fan of lip glosses, you should invest in one. Besides making your lips plump and luscious, the best-flavored lip glosses will keep your lips well protected and hydrated. The products reviewed in the list above come in a pack of different flavors and offer intense moisturization. They also have a great smell and come with perfect applicators. There are endless options available in the market that you can try out.
Why Trust Stylecraze
Srijita De is a makeup aficionado and loves reviewing beauty products for her readers. The best tasting flavored lip glosses mentioned in the list ensure soft, plump, and juicy lips every time you apply them. The author has reviewed multiple online reviews before curating the products in this article. She recommends using these lip glosses because they not only taste good but also offer lasting hydration.