The 15 Best Tatcha Products To Get Dewy Skin – 2023
Uncover Japanese beauty secrets to keep your skin looking young and fresh with Tatcha.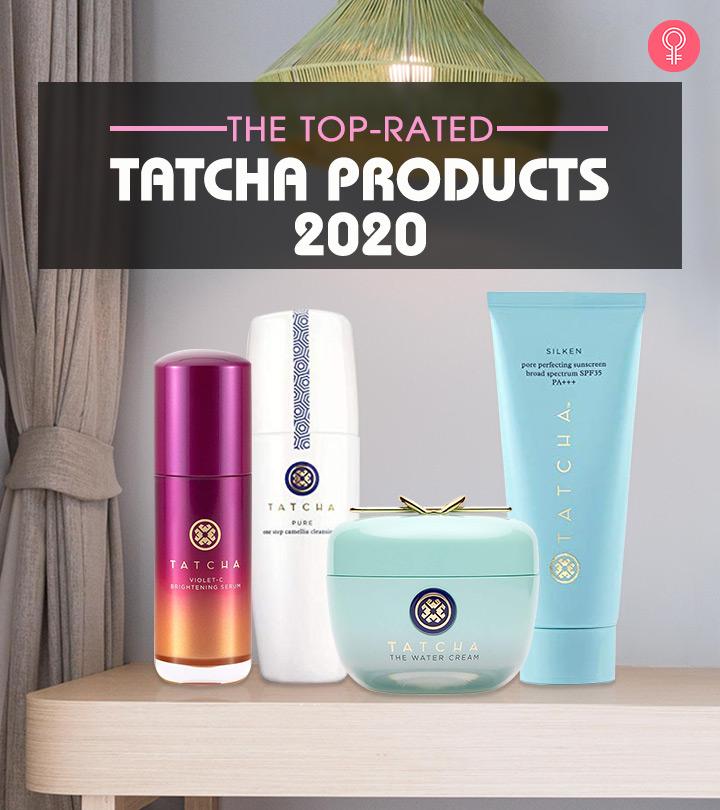 Let's discuss Tatcha, the fascinating skin care brand, and the best Tatcha products!
Tatcha is one of the most well-known names in the beauty industry, with products that are delightfully exquisite and impossible to resist. It was launched in 2009 as a Japanese-inspired American brand. Tatcha is known for its effective formulae made using the purest ingredients. Moreover, all the products help your skin look better right away.
Green tea, rice, and algae are among Tatcha's distinctive ingredients. They are also referred to as the Hasadei-3. The premium products of the brand are created in partnership with geishas.
Apart from its ground-breaking ingredients, Tatcha products are known for their beautiful packaging. They do not contain SLES, sulfates, mineral oils, parabens. So if you are seeking exquisite yet mild and effective products, you must check out Tatcha. Keep scrolling.
The Top-Rated Tatcha Products Of 2023
Tatcha The Water Cream is an oil-free gel-cream. It works best for combination or oily skin and has a unique lightweight formulation. This moisturizing cream contains the goodness of leopard lily extract, Japanese wild rose, and Japanese botanicals that are rich in antioxidants.
Tatcha Water Cream feels light and refreshing on the skin, minimizes pores, and leaves your skin super hydrated. The product is proven to balance and reduce excessive oil production.
Pros
Lightweight
Unique texture
Works for both oily and combination skin types
Rich in antioxidants
Cons
Expensive
Less quantity
May cause breakouts in some cases.
Price at the time of publication: $123.0
Tatcha The Silk Cream is among the most popular products in this line. It is a gel-cream that contains pearl extract and liquid silk protein, which increase the production of collagen and retain your skin's moisture.
Another benefit of this cream is it makes your skin glowing and firm. This can be attributed to the presence of the Hasadei-3 in its formulation. The Silk Cream gets quickly absorbed into your skin without leaving an oily residue.
Pros
Great for chronically dry skin
Comes with an inlaid gold scoop
Increases collagen production
Moisturizes skin
Cons
Not effective for some users.
Price at the time of publication: $125
The Tatcha Pure One Step Camellia Cleansing Oil is made of Japanese camellia oil. This product contains omega 3s, 6s, and 9s, as well as vitamins A, B, D, and E. It gently, yet deeply, cleanses your skin without stripping your skin off its natural moisture.
This product can help remove tough makeup (including waterproof makeup). It is perfect for you if you do not have enough time to double cleanse. The Hasadei-3 in the Tatcha Pure One Step Camellia Cleansing Oil makes your skin soft and more youthful.
Pros
Gentle yet deep cleansing
Contains omega 3s, 6s, and 9s
Contains vitamins A, B, D, and E
Does not leave a residue on the skin
Cons
Delivery issues reported.
May cause itching for some users.
Price at the time of publication: $50.0
Tatcha The Rice Polish is a deep exfoliating cleanser. It is water-activated. It contains rice and papaya enzymes that leave your skin feeling refreshed.
This enzyme powder offers a foaming chemical exfoliation that soothes your skin and deeply cleanses it. All you need to do is take some enzyme powder in your hand, add some water, and massage your face with it.
Pros
Deeply cleanses the skin
Contains rice and papaya enzymes
Soothes the skin
Cons
Packaging issues reported.
Might cause irritation.
Price at the time of publication: $68.0
The Tatcha Luminous Dewy Skin Mist is ultra-fine. It helps a great deal in keeping your skin hydrated throughout the day. It can also be used on bare skin before applying makeup or to set your makeup afterwards.
The mist contains 20 percent botanical oils, squalene, silk extract, and Okinawan red algae that keep your skin hydrated, glowing, and soft all day.
Pros
Ultra-fine
Hydrates skin
Contains natural ingredients
Makes skin look dewy and glowing
Cons
Not effective for all users.
Packaging issues reported.
Price at the time of publication: $44.83
Tatcha The Essence Plumping Skin Softener works at increasing skin hydration, promoting cell turnover, and improving the absorption of a variety of skin products that you use. It also plumps your skin, making it look more youthful. It contains the Tatcha trio, Hasadei-3, along with lactic acid.
This product makes skin look radiant and dewy. All you need to do is take the essence into your hand and press it onto your face. This product can be used after cleansing or before applying other products.
Pros
Hydrates skin
Promotes cell turnover
Improves absorption capacity of the skin
Contains lactic acid
Cons
Price at the time of publication: $105
Tatcha Luminous Deep Hydration Firming Eye Serum contains Okinawa Red Algae, caffeine, and Honeysuckle leaf. It is weightless and instantly reduces puffiness, hydrates, and firms skin. It also blurs out fine lines and diminishes them in due course. It contains 23-karat gold and comes with a cooling ceramic applicator.
Pros
Cruelty-free
Does not add shimmer
Ophthalmologist-tested
Non-comedogenic
Cons
Packaging issues reported.
Price at the time of publication: $88.0
This body butter works great for those with dry skin as well as eczema. If your skin gets irritated or itchy during the winter season, the Tatcha Indigo Soothing Silk Body Butter is the perfect choice for you.
This cream contains Japanese Indigo that has been proven to soothe irritated skin. It also relieves itchiness and leaves your skin feeling silky and hydrated. The cream is non-greasy and does not feel heavy on application. The body butter has a luxurious scent and comes in a beautiful packaging.
Pros
Works for eczema and dry skin
Contains Japanese Indigo
Soothes skin and stops itchiness
Non-greasy
Lightweight
Cons
Price at the time of publication: $49
If you are looking for a product that flawlessly protects your face, the Tatcha Silken Pore Perfecting Sunscreen is the perfect choice for you. This sunscreen contains various botanicals and silk extracts that smoothen, soften, and give a matte look. It has a Sun Protection Formula 35 (SPF 35). It keeps your makeup in place while giving you the perfect finish and keeping it protected from UV rays.
Pros
Contains SPF 35
Benefits of silk extract and other botanicals
Matte look
Softens and smoothens skin
Cons
Not effective for some individuals.
Price at the time of publication: $68.0
The Tatcha Original Aburatorigami Japanese Blotting Papers are made of the innermost pulp of the abaca leaf. They are super soft, absorbent, and strong and an ideal choice if you have oily or delicate skin.
These blotting papers ensure your skin's natural moisture remains safe and do not disturb your makeup. Tatcha's Aburatorigami blotting papers have 23-karat gold flakes. They are unscented, which means they can be used for sensitive skin as well. They are oil-free, powder-free, and biodegradable.
Pros
Cruelty-free
Oil-free
Powder-free
23-karat gold flakes
Unscented
Suitable for all skin types
Cons
Expensive
Some users say they are not absorbent enough.
Price at the time of publication: $14
The Tatcha Violet-C Brightening Serum contains 20 percent of vitamin C. This formula reduces free radical damage. It also has 10 percent of fruit AHAs that increase cell turnover.
This serum reduces dark spots on the skin because it contains the Japanese Angelic root that has been proven to even out your skin tone. You can use this serum as a nighttime ritual or use it under makeup.
Pros
Contains vitamin C
Reduces dark spots
Increases cell turnover
Evens out skin tone
Cons
Quality-related issues reported.
Price at the time of publication: $89
Tatcha The Violet-C Radiance Mask is violet-hued and comfortable to use. This mask contains the Japanese beautyberry that is rich in antioxidants and vitamin C. The product is known to soften and brighten your skin. All you have to do is spread the mask over your face and leave it on for about 20 minutes.
The best part about this mask is that it doesn't completely dry out or harden, making it easier to remove. This mask is also packed with AHAs that gently remove dead skin cells. You will love how it brightens your complexion and smoothens your skin.
Pros
Comfortable
Rich in antioxidants
Contains vitamin C
Brightens complexion
Cons
Might cause breakouts.
Packaging issues reported.
Price at the time of publication: $70
Tatcha The Silk Canvas Face Primer is inspired greatly by the skin care routine of the geishas. It is a priming balm that is infused with silk that acts as a barrier against your makeup. This ensures your skin does not get damaged even with the use of layers of makeup.
This creamy, thick primer gives you the benefit of botanicals. You need to take a little of the product into your hand and warm it to make sure it easily glides on to your face. This face primer gives you a matte look along with a poreless finish. It helps your makeup stay set all day and prevents it from getting absorbed into your skin.
Pros
Acts as a barrier against makeup
Contains natural ingredients
Matte look
Poreless finish
Cons
Price at the time of publication: $54.0
Tatcha The Pearl Tinted Eye Illuminating Treatment is a two-in-one deal. It is an eye treatment, and an undereye cream. It works on the delicate under-eye area and helps in brightening it by boosting collagen. The treatment will hydrate and reduce the appearance of dark circles under your eyes.
Tatcha The Pearl Tinted Eye Illuminating Treatment has three different light-diffusing shades. Each of these shades fit a variety of skin tones. All you have to do is apply it to the orbital bones before you apply makeup. You will be amazed at how it lights your eyes up like you had the perfect eight hours of sleep.
Pros
Treatment as well as makeup
Hydrates
Brightens under-eye area
Boosts collagen
Available for a variety of skin tones
Cons
Not effective for some individuals.
Price at the time of publication: $64
Tatcha Luminous Deep Hydration Lifting Mask is a bio-cellulose treatment mask derived from coconuts. It contains an anti-aging serum and boosts the skin's moisture content by 200 percent when worn for 15 minutes. It gives you a luminous and plump complexion and leaves you with a firm and instantly hydrated skin.
Pros
Cruelty-free
Anti-aging and lifting properties
Hydrates skin
Boosts moisture content
Blurs out fine lines
Cons
Expensive
Not effective for some.
Price at the time of publication: $25
Why Trust StyleCraze?
Sakshi Bahal, the author, is a beauty and fashion enthusiast who has a penchant for writing product reviews in these categories. She has brought out this list of the best Tatcha products by carefully researching several user reviews and feedback online. With premium formulations beautiful packaging minus the skin nasties, the Tatcha products are sure to leave your skin radiant and beautiful.
Frequently Asked Questions
Is Tatcha good for anti-aging?
Yes, Tatcha has a range of moisturizers that contain 98.7 % anti-aging ingredients. These products boost the hydration of your skin and make it look more youthful and leave it softer and plumper.
Is Tatcha a Japanese brand?
No, Tatcha is not a Japanese brand. However, it is a Japanese-inspired American brand that was founded in the year 2009 by Victoria Tsai, when she was on a trip to Japan and was amazed by how well the geishas flawlessly maintained their skin.
Why is Tatcha so popular?
Tatcha is a skin care brand that manufactures products for all skin types. The high-quality formulas of the Tatcha products deliver skin-hydrating and soothing benefits and enhance the appearance of your skin. In addition, the brand is environmentally conscious and cruelty-free.
Is Tatcha a luxury brand?
Yes. Tatcha is a luxury brand.
Which celebrities use Tatcha skin care?
Celebrities like Selena Gomez, Meghan Markle, Jennifer Aniston, and Kim Kardashian use Tatcha skin care products.
Does Tatcha have retinol?
No. Tatcha skin care products do not contain retinol.
What does Tatcha mean in Japanese?
The word 'Tatcha' is derived from the Japanese word 'Tachibana', which means standing flower.
Is Tatcha natural?
No. Tatcha is not an organic brand. However, the majority of the ingredients are natural.
Recommended Articles: