10 Very Cute Tattoo Designs For Kids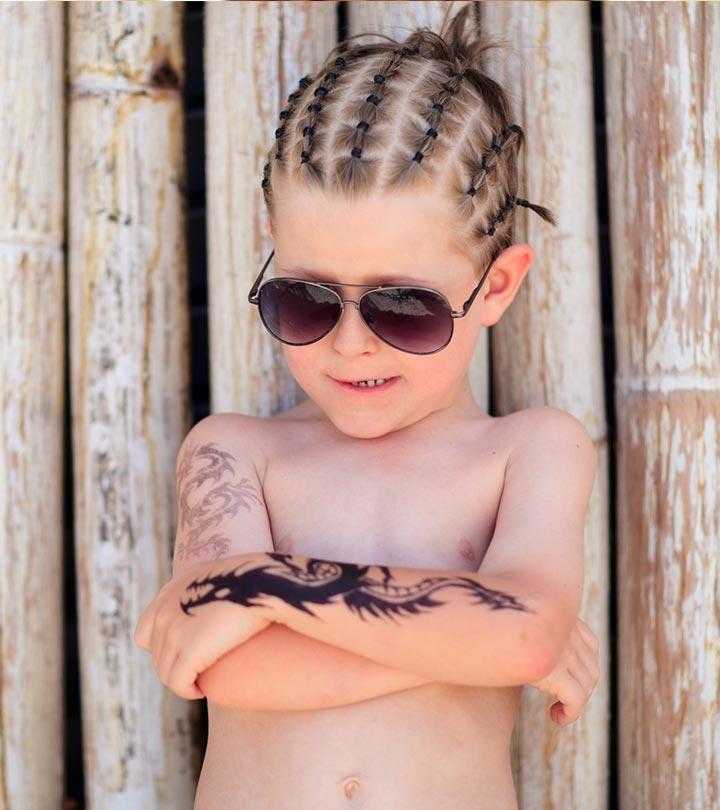 Kids are the embodiment of innocence and life. As we grow older, we feel shy and self conscious to express ourselves freely, something that kids are not aware of yet. Such liveliness and colour is further enhanced when a kid gets a tattoo.
The Best Tattoos For Kids
Here, listed below are a few popular tattoo designs for kids.
1. Butterfly tattoo:
Butterfly tattoos are a great idea for kids. A lot of colour and innovation can be added to the tattoo to make it look pretty and charming. Little touches like stars on the wings would be an artistic and creative touch. The butterfly tattoo for kids itself could be an explosion of colour and charm.
2. Hello kitty tattoo:
Hello kitty was created by a Japanese company and first appeared in 1974. It has, over the years grown into a global marketing phenomenon and is a character that every second person is aware of.  She is a female bob tail cat with a pink bow. A very lively tattoo idea, Hello Kitty is the most adorable character to ink on a child.
[ Read: Buddha Tattoos ]
3. Tweety bird tattoo:
Tweety bird is an animated yellow canary from the Loony Tunes cartoon series. Its name is derived from the word sweetie and it indeed is a very sweet tattoo to have.  Its bright colours have an energetic and magnetic quality about them and can be great tattoos for children.
4. Winnie the Pooh tattoo:
Winnie the Pooh is a yellow cuddly bear who wears a red tee shirt and loves honey. He is a talking bear who lives in a forest with his animal friends and spends his day with fun and frolic. Winnie is any kid's fantasy. He symbolizes a perfect world where imagination can run wild and that is perhaps why he is a great inking topic.
[ Read: Crown Tattoo Designs ]
5. Ariel tattoo:
Ariel is the lead in The Little Mermaid, a fairy tale by Hans Christian Andersen. When Disney adapted this fairy tale they came up with an adorable portrayal of Ariel, who was depicted as a fun loving mermaid with red hair and a sea green tail. She would be a tattoo idea that would symbolize a carefree and kind nature.
6. Bugs Bunny tattoo:
"What's up, doc?" This catchphrase is an instantaneous reminder of the Loony Tunes character who brought eating carrots back in fashion. Depicted with pointy ears and long whiskers, Bugs Bunny is not only adorable on paper and television but skin too.
[ Read: Ankle Tattoos For Girls ]
7. Hearts tattoo:
Hearts are easy and cute. They are the best tattoos for young children because they portray simplicity as well all pure love. The hearts can be coloured or given 3D effects. There are various variations that one could play around with when it comes to a heart tattoo.
8. Mickey Mouse and Minnie Mouse tattoo:
Mickey and Minnie are the cutest cartoon pair. The tattoo could be just an outline of their heads. This idea should be executed with black ink to give it the required perfect effect.
[ Read: Tattoo Meanings ]
9. Unicorn tattoo:
Unicorns are fun, cute and colourful. They offer a world of imagination. These mythical characters are associated with tales of magic and grandeur. That is why they would tend to a child's imagination perfectly.
10. Stars tatoo:
One of the first things we learn in art class is how to draw five point stars. They are easy to draw and pretty to look at and when it comes to choosing tattoos for kids, these two qualities are all one needs in a prospective design.
Image source: 1 , 2 , 3 , 4 , 5 , 6 , 7 , 8 , 9 , 10
The following two tabs change content below.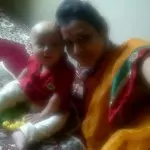 Latest posts by Khushboo Mehta (see all)