Top 10 Taurus Tattoo Designs With Their Meanings
Let these incredible tattoo designs inspire your creativity while honoring your zodiac sign.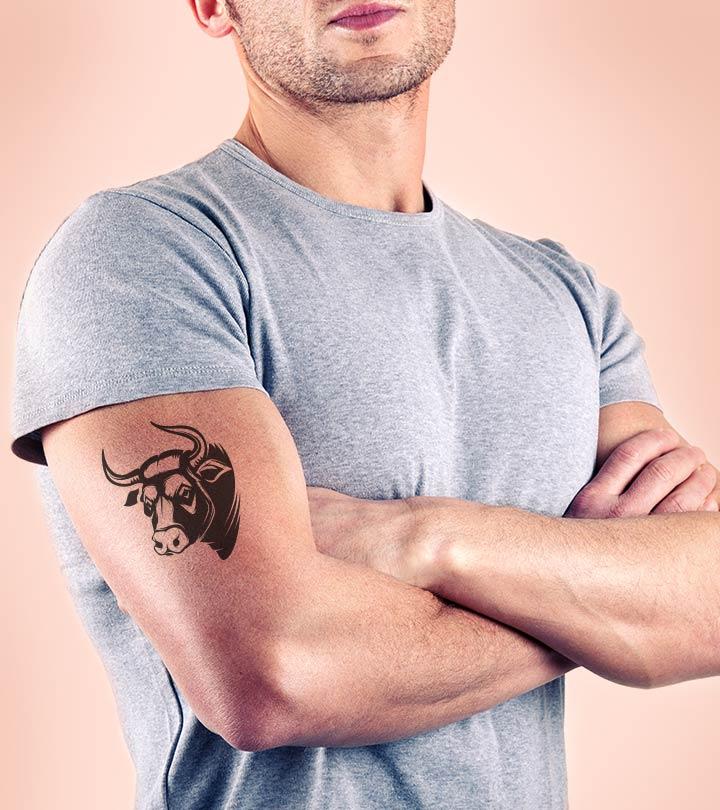 Taurus is the second astrological zodiac sign. It is ruled by Venus, the goddess of love and beauty. Individuals born between April 20 and May 20 belong to the Taurus zodiac. They are down-to-earth, stable, persevering, possessive, prosperous, dependable, sensual and stubborn people by nature. This zodiac is symbolized by the bull. Listed below are some of the most popular Taurus tattoo designs.
Top 10 Taurus Tattoo Designs
Here are the best taurus tattoo designs for you to take a glimpse at!
1. The Bull Tattoo:
The Taurus zodiac is symbolized by the bull and you can have a bull tattooed on your body. The bull is a symbol of perseverance and one mindedness. You could have it tattooed on your arm or back. For men especially this would make a very masculine tattoo.


Trivia
Celebrity Dwayne "The Rock" Johnson has a Brahma bull tattooed on his biceps as an homage to his Taurus sun sign.
2. Venus Tattoo:
Venus is the ruler of Taurus. She is the goddess of beauty, love and prosperity. Taurus zodiac sign holders always seek love and are very possessive when it comes to relationships. You could have goddess Venus tattooed to symbolize that you have Taurus traits of love and beauty. Bull art tattoos also hold great value in tribal mythology as they symbolize virility and strength.
3. Taurus Tattoo:
You could have the word tattooed on your lower back, wrist, ankle or your upper back. You could have it tattooed in blue or green which are the Taurus colours. You could have it in any font and size on your body.
4. Taurus Constellation Tattoo:
Taurus is the second sign in the astrology and horoscope list, depicted by a constellation in the northern celestial hemisphere. You could tattoo the constellation on your body. This would be a great tattoo to have. You could have it across your back or on a smaller part of your body like the ankle. You could ink it in blue to depict the night sky.
5. Taurus Zodiac Tattoo:
The Taurus zodiac sign looks like an outlined bull's head. You could tattoo this on your waist, at the nape of your neck, your wrist or ankle. This would be a small tattoo that would be perfect for people who like minimalistic tattoos.
6. The letter T:
You could have the letter T tattooed on your wrist, ankle or waist. This would be a very flexible tattoo as you could choose both your font and colour.
7. Bull head with Taurus written Underneath:
This tattoo would avoid misinterpretation and would be very artistic too. You could add touches of colour to the bull to make it look realistic and wild.
8. A Fairy with Bull Horns Tattoo: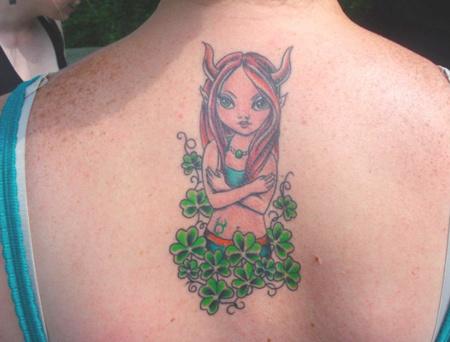 You can have one such pretty tattoos that has a beautiful fairy with bull horns. This can be one of the best Taurus tattoo idea for girls. The creepers with leaves add an extra glare to the fairy.
9. Bull Head Outline Tattoo:
You could consider having just the outline of a bull's head. This would reduce the wild masculinity but at the same time allow you to ink a bull.
10. Combine it with another Zodiac Tattoo:
You could combine your zodiac tattoo body art with another zodiac sign. For example if you want to combine the Taurus and Sagittarius zodiac signs, you could ink a piercing arrow through the Taurus zodiac. When choosing the two zodiac signs you want to combine, you could consider having your and your soul mate's sign together. This will remind you that you always have a part of your lover with you at all times.


Quick Tip
A popular tattoo design is a Taurus and Cancer zodiac sign combination. Instead of the ring of the Taurus sign, you add the Cancer zodiac sign.
Infographic: Top 5 Meaningful Taurus Tattoo Designs
Although not all Taureans are the same, the majority have a very interesting combination of traits, which can be exhibited through these tattoos. Each tattoo captures the essence of the Taurus sign, embodying Venus, the goddess of beauty and love, and they are nothing short of gorgeous. Take a look at the infographic below for some inspirational and meaningful Taurus tattoo ideas.


These Taurus tattoos can help you glorify your star sign. Celebrate your birth sign according to your style – a minimalist constellation pattern or an intricate and bold bull design for animal lovers. You can take inspiration from our collection and design your own. Getting a tattoo can be fun, but don't forget to take good care of your ink. Your skin is susceptible to infections after getting a tattoo. Thus, speed up your healing process by following some precautionary measures before and after getting a tattoo.
Frequently Asked Questions
What colors are commonly used in Taurus tattoos?
Taurus Tattoos are commonly made in black, red, green, brown, and blue ink.
What is the best way to care for a Taurus tattoo after getting inked?
The best ways to take care of your tattoo are washing it gently, applying mild ointment on it, keeping it covered, and reducing its exposure to the sun.
Are there any cultural implications of getting a Taurus tattoo?
Yes, getting a Taurus tattoo can have cultural repercussions because tattoos are frequently viewed as a form of self-expression and can represent cultural customs, personal ideas, and values. Depending on the person, the tattoo's style, and its location, the cultural significance of a Taurus tattoo can change.
These amazing tattoos of the Taurus zodiac might showcase your true personality. Take inspiration from it before you get inked! Check out the video.
Image Source: 1 , 2 , 3 , 4 , 5 ,6 , 7 , 8 , 9 , 10
The following two tabs change content below.