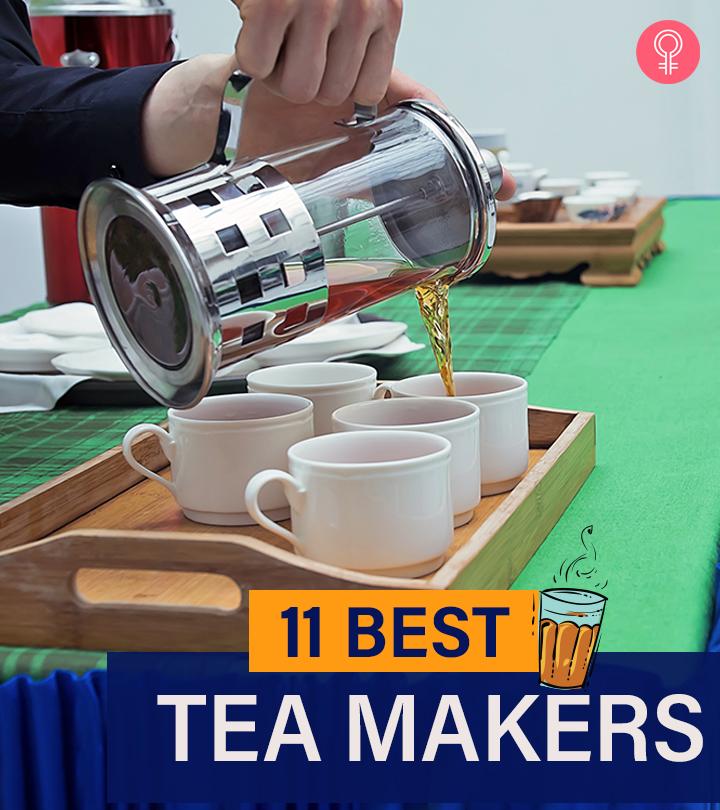 Tea is the underrated cousin of coffee. People don't usually talk about the benefits you get from consuming your cuppa every day. This magical beverage contains loads of antioxidants, is excellent for weight loss (you need to watch your amount of sugar consumption, though), and may reduce the chances of heart attack and stroke. In addition, it also contains way less caffeine than coffee.
But most tea lovers still resort to the same old method of tea brewing. Well, that is to change now. Here we have listed the 11 best tea makers available on the market. Take a look!
11 Best Tea Makers
This beautiful glass teapot looks traditional but has a modern twist. The Hiware Glass Teapot would especially appeal to those tea lovers who enjoy vintage designs. It is made of borosilicate glass and is resistant to high temperatures, which means it can easily be used in a microwave or on a stove top. All you need to do is put the tea into the infuser and add boiled water to it. Or you could simply boil the tea directly on your stove. The stainless-steel infuser evenly infuses the tea into your water. It does not let the tea leaf fragments get into your cup. It also stays rust-resistant for a longer time compared to other tea makers. You can also use the teapot to make iced tea as well.
Pros
Reasonably priced
Sturdy enough for daily use
Insulated handle
Lightweight
Filters tea leaves
Cons
Lid fails to fit onto the pot properly
May develop marks when used on a stove top
May spill while boiling
The Mr. Coffee Iced Tea Maker enables you to adjust the strength of the tea to your liking. The tea maker also comes with a recipe book.It has a removable brew basket. The tea maker can brew tea bags or loose tea. You don't have to worry about any wastage, as the auto shut-off feature is triggered after a cycle is complete. The tea maker also has a programmed cleaning cycle.
Pros
Inexpensive
Programmed cleaning cycle
Auto shut-off feature
Comes with a recipe book
Cons
May spill the tea
The tea may taste weak
Pitcher may emita chemical smell
Not dishwasher-safe
Delicate body
The TeavanaPerfeTea Tea Maker is super convenient to use. You just have to steep your tea, press the bottom of the tea maker down onto your tea mug, and allow the tea to strain. The tea maker's drain mechanism effectively keeps the leaves in the tea maker. Its four-piece construction enables you to remove the parts easily for cleaning. They are also easy to reassemble.
Pros
BPA-free
Easy to clean
Drain mechanism keeps tea leaves away
Lid traps water heat effectively
Cons
Leaky canister
Delicate lid
The Breville One-Touch Tea Maker makes tea at the touch of a button. It has several pre-programmed functions that ensure the brewing time and temperature of the tea are suited to your liking. These functions include options for green, black, white, oolong, and other herbal teas. The function buttons are also customizable –you can make your tea stronger or weaker. The tea maker also has a timer function that allows you to set it to start brewing at a specific time in the morning or evening. It also has a warm function that keeps your cuppa warm for up to an hour.
Pros
Easy to operate
Timer function
Customizable brewing time and temperature
Compact design
Solid construction
BPA-free plastic
Cons
Emits plastic-like smell
Issues with customer support
The Grosche Aberdeen Perfect Tea Maker holds more tea compared to other tea makers. It also is easier to clean, thanks to its wide mouth.Its strainer holds the loose tea leaves while the boiled water is infused with the flavor of the tea leaves. The strainer is easy to remove and washable. This tea maker is shatterproof as well. It is made from high-quality USA Tritan material. It lasts longer when compared to other tea makers.
Pros
BPA-free plastic
Shatterproof
Dishwasher-safe
Long-lasting
Strainer is washable
Easy to clean
Holds more tea
Cons
May have leakage issues
Expensive
The Takeya Iced Tea Maker is a pitcher with an airtight, leak proof lid. This iced tea maker includes a fine-mesh tea infuser that can be used with both bagged and loose leaf teas. It has a patented flash chill technology that chills your freshly brewed tea in 30 seconds without the loss of flavor or nutrients. You can add sugar or other fruits to the tea, as per your liking. Takeya brings over 55 years of Japanese design heritage to its line of insulated, BPA-free tea makers.
Pros
Durable
Airtight and leakproof lid
BPA-free plastic
Patented flash chill technology
Brews tea without loss of flavor or nutrients
Can be used for fruit-infused drinks
Cons
Difficult to clean
Leakage issues
The Capresso Ice Tea Maker can be used to brew both tea bags or loose tea. Its 80-ounce glass pitcher, permanent filter, and removable filter basket are easy to clean. They are dishwasher-safe too. The tea maker is customizable. You can also add sweeteners or frozen/fresh fruit to make delicious drinks. The tea maker comes with an adjustable flavor enhancer.
Pros
Lightweight
Dishwasher-safe
Easy to clean
Adjustable flavor enhancer
Cons
Not durable
Leakage issues
Pitcher is fragile
The Obor Glass Teapot is made with food-grade stainless steel and borosilicate glass. It is BPA-free and does not contain lead or other toxic chemicals. It has a removable inner stainless steel strainer. The filter can be easily detached and rinsed and cleaned. It has a handcrafted, streamlined kettle outlet mouth that enables a smooth water flow. It also keeps the water from splashing. The teapot can be used on the stovetop on medium level heat.
Pros
BPA-free material
Food-grade stainless steel
Easy to clean
Streamlined kettle outlet mouth
Cons
Not durable
Usage could be messy
The Tmost Glass Teapot is made with borosilicate glass. It is heat resistant from -20o to 150o degrees Celsius. The teapot is microwavable, stove top-safe, and dishwasher-safe. It is easy to use too – you can put it directly on an electric or gas stove on medium level heat. This kettle has a removable infuser made of stainless steel that is easy to clean. The lid fits the teapot even when the tea strainer is removed. It has a non-dripping spout. You can use it to make all kinds of tea and drinks, including black tea, flower tea, fruit tea, herbal tea, lemonade, coffee, etc.
Pros
Versatile use
Fast brewing
Heat-resistant material
Microwavable
Stovetop-safe
Dishwasher-safe
Easy to clean
Non-dripping spout
Cons
None
The Aicook Electric Kettle has five precise temperature pre-sets. It has a one-touch option for brewing your black, green, and oolong teas. The temperature sensor ensures your tea leaves don't burn. The kettle also has a Keep Warm feature that will keep your desired water temperature for up to two hours. It also has a Memory feature that allows you to lift the kettle off its base for 10 minutes without shutting it off. The Aicook Electric Kettle is built to automatically shut off as soon as the water reaches the set temperature. It also has a boil-dry protection system that enables it to shut off when the water runs out.
Pros
Five precise temperature pre-sets
Temperature sensor
Keep Warm feature
Memory feature
Auto shut-off feature
Allows easy water refilling
Easy to clean
Made of BPA-free material
Cons
None
The Buydeem Health-Care Beverage Tea Maker features nine smart built-in programs that make it perfect for making fruit or flower tea, soup, dessert, yogurt, stew, congee, etc. You can also use it as a milk warmer or to cook baby food. It comes with a lift-out tea basket that is attached to a stay-cool handle. This allows you to easily and safely test the flavor of your beverage as you brew it.
Pros
Intelligent temperature control technology
Nine smart built-in programs
Easy to operate
Versatile use
Easy to clean
Cons
Bulky design
Leakage issues
These are the 11 best tea makers available on the market. In the following section, we have discussed how you can brew tea.
What Is The Best Way To Brew Tea?
Fill your favorite kettle with fresh water. Don't use preheated water.
Heat the water to the proper temperature.
Warm the teapot by pouring some of the freshly heated water in it. Swish it around a couple of times and pour it out. This process will keep your tea hot for an extended period.
Add your tea to the infuser.
Pour the water in and brew the tea. Let it infuse for five to seven minutes, depending on your preference for tea strength. When your tea is done steeping, remove the infuser from the tea or strain your tea.
How To Clean A Tea Maker?
Pour some vinegar into your tea maker.
Close the lid and power the tea maker. Let the vinegar get pumped into the pitcher. Unplug the tea maker.
After half an hour, re-plug the tea maker. Switch off the appliance when done.
Throw the vinegar out. Pour in some freshwater. Repeat the process a few times till there are no more traces of vinegar.
The following buying guide helps you choose the best tea maker. Take a look.
How To Choose The Best Tea Maker?
Here are a few tips on how to go about choosing the perfect tea maker for you:
It is essential to know what you are looking for. If you simply want to infuse your regular black tea with different fruits and flowers and keep it cold, choose a budget-friendly option. If you are planning to brew different kinds of teas regularly, you should look for manual iced tea makers. If you are planning to invest in an expensive one, choose one of the electric iced tea machines.
Each tea maker has its own tea-making duration. If you are looking for a quick tea-making option, you may have to pay a higher price.
You also must consider the amount of tea you need to brew. If you live alone, you need a smaller tea maker. But if you are making tea for the entire family, you may consider investing in a bigger machine.
There are tea makers that offer tons of features, and some may be complicated to use. Try not to go for a tea maker that has fancy features you wouldn't use.
If you want to control the brewing process, opt for an iced tea maker that will allow you to set the strength of the brew, different temperatures, and the brewing time.
Cleaning is an important factor. Check if the tea maker is easy to clean or has dishwasher-safe parts. Regularly cleaning the appliance is important as it can affect the taste and quality of your tea.
That was our rundown of the best tea makers on the market. All you need to do is go through them and decide which one suits your requirement. Treat yourself to a good tea maker that will be the pride and joy of your kitchen. Pick your favorite appliance from this list and make your early mornings more enjoyable!
Recommended Articles
The following two tabs change content below.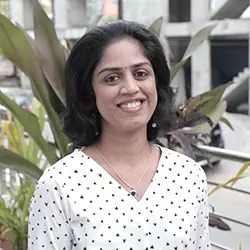 As Head Of Content Operations, Harini sets the tone and editorial direction for StyleCraze to deliver engaging, interesting, and authentic...
more