7 Best-Selling Tea Tree Body Lotions Of 2022
You can depend on their anti-inflammatory properties to protect and hydrate your skin.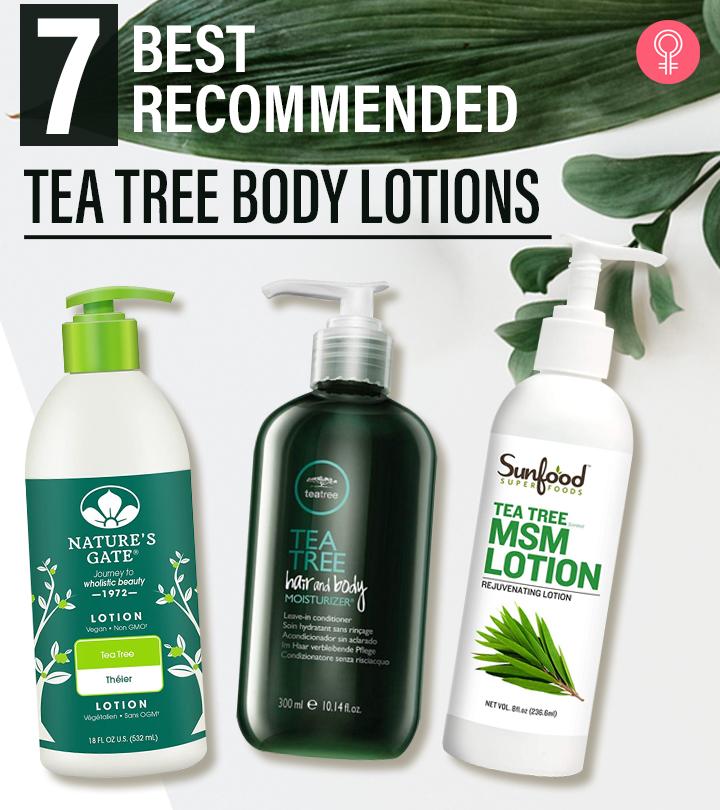 Using the best tea tree body lotion comes with several long-term benefits. It provides protection against bacteria, hydrates your skin, and is absorbed into your skin without making it too oily. It is also known for its anti-inflammatory properties that may help reduce many skin conditions like acne and pimples. Just a tiny amount of lotion can make such a difference to your skin. Check out our list of tea tree body lotions for more information!
7 Best Tea Tree Body Lotions
The Tea Tree Hair and Body Moisturizer comes with rejuvenating, healing, and hydrating properties. Tea tree oil kills bacteria and cleanses the harmful toxins. The moisturizer also contains peppermint and lavender oils that quench dry skin. Peppermint oil has a cooling effect on the skin. Jojoba seed and lavender oils in this product enhance skin complexion and fade premature signs of aging while offering aromatherapeutic benefits. This lotion also works as an after-shave lotion and leave-in hair conditioner.
Pros
Dermatologically tested
Non-comedogenic
Soothing
Vegan
Paraben-free
Smells good
Cons
Price at the time of publication: $34.5
The Nubian Heritage Lemongrass & Tea Tree Lotion restores moisture, brightens and nourishes the skin. This luscious, soothing lotion is packed with skin-friendly botanical powerhouses like sunflower and orange oils, aloe vera, and comfrey root extracts, shea, cocoa, and mango butters. Lemongrass extract in the lotion purifies skin with a refreshing citrus fragrance. Anti-fungal and anti-bacterial properties of tea tree oil make this lotion a healing product for oily to normal and combination skin.
Pros
Soothing
Long-lasting
Sun protection
Balances pH
Affordable
Cons
Price at the time of publication: $16.73
The Nature's Gate Tea Tree Lotion is formulated with plant-based extracts to soften your skin. The antimicrobial properties of tea tree oil in the formula eliminate skin infections, leaving healthy and glowing skin. Other botanical ingredients in this lotion include blue cypress oil, marshmallow, and jojoba oil. This gentle blend offers moisturizing benefits for daily use. It also has a mild smell that stimulates your senses.
Pros
Gentle
non-GMO
Gluten-free
Soy-free
Mineral oil-free
Cruelty-free
Cons
Price at the time of publication: $68.5
The Spa Haus Tea Tree Mint Lotion is fortified with vitamins A, C, and E that nourishes and pampers your skin, unlike any other product. It contains tea tree oil and peppermint extracts to combat skin problems, microbial infections and revitalize the skin. The lotion also has aloe vera leaf extracts that soothe sunburn, eliminates tan, heals wound, slows down aging and, lightens blemishes. This tea tree oil body lotion leaves a light earthy mint scent.
Pros
Creamy formula
Gentle
Non-greasy
Soothing
Quick absorbing
Cons
Price at the time of publication: $11.98
The J'enessence Natural Body Lotion is specifically formulated with 98% natural and highly therapeutic ingredients for a luxurious, relieving, hydrating, and healing treatment at home. It is enriched with tea tree oil that soothes dry skin and is suitable for sensitive skin, leaving you with smooth, clear skin. The lotion also contains lemongrass extract that prevents acne and other skin infections and flavonoid-rich bergamot oil to heal marks and scars on your skin. The blend of natural ingredients makes it perfect for all skin types.
Pros
Gentle
Little goes a long way
Vegan
Sulfate-free
Dye-free
Fragrance-free
Paraben-free
Cruelty-free
Cons
Price at the time of publication: $31.99
Dr. Organic Bioactive Skincare Tea Tree Skin Lotion has a non-greasy formula that hydrates and nourishes the skin leaving it refreshed and naturally healthy. It consists of active compounds of Australian tea tree, known for anti-inflammatory and anti-bacterial properties. The other botanical ingredients in the formula include Irish moss, aloe vera, cocoa butter, shea butter, olive oil, sunflower oil, and vitamins A and E. All these ingredients offer moisturizing, purifying, and rejuvenating benefits to dry, damaged, and irritated skin, leaving a mild fragrance on your body.
Pros
Non-greasy
Lightweight
Mild fragrance
Parabens-free
Petroleum-free
Synthetic colors-free
DEA-free
Isothiazolinones-free
Phthalates-free
BHT-free
SLS-free
Mineral Oil-free
Silicone-free
Vegan
Cons
None
Price at the time of publication: $19.99
The Sunfood Superfoods Tea Tree MSM Lotion is enriched with anti-inflammatory and pain-reducing benefits of 12% OptiMSM and the healing properties of 100% pure tea tree oil. MSM or methylsulfonylmethane delivers anti-aging properties to the lotion and helps reduce aging signs like wrinkles and fine lines, and improve the overall skin texture. The medicinal properties of tea tree oil in the lotion calm damaged and irritated skin, sunburn, mosquito bites, etc. This body lotion leaves your skin soft, smooth, youthful, glowing, and rejuvenated.
Pros
Lightweight
Non-greasy
Hypoallergenic
BPA free
Synthetic chemicals-free
Preservatives-free
Solvents-free
Methyl alcohol-free
Paraben-free
Cons
Price at the time of publication: $12.99
Regular use of a tea tree body lotion clears up most skin conditions and prevents further recurrence. Tap into its skin-friendly ingredient and pick your favorite from the above-listed 7 best tea tree body lotions to keep your skin healthy and beautiful.
Why Trust Stylecraze?
The author, Shiboli Chakraborti, is a certified skin care coach and finds her passion in reviewing and recommending the best skin care products to the readers. She has compiled this list of the best tea tree body lotions after thorough research. She checked the product specifications, user review, and feedback to pick only the top-rated products for the list. These lotions are non-comedogenic and soothing on the skin.
Frequently Asked Questions
Can you use tea tree oil as a body lotion?
Undiluted tea tree oil is not safe for the skin, but you may add a few drops to your regular moisturizer or lotion.
Is tea tree moisturizer good for the skin?
Yes, tea tree moisturizer is good for the skin as it keeps pimples and acne away and does not feel greasy.
What can you not mix with tea tree oil?
It is recommended not to mix tea tree oil with active ingredients like retinol, salicylic acid, glycolic acid, and lactic acid.
Does tea tree oil mess with hormones?
Yes, some studies have shown that tea tree oil tends to disrupt hormonal activity in both males and females.
Does tea tree oil remove dark spots?
Yes. Dilute tea tree oil with carrier oil and apply it to the dark spots to notice a visible reduction of spots in 4-6 weeks.
Recommended Articles