7 Best Tea Tree Oil Body Washes For Women – 2022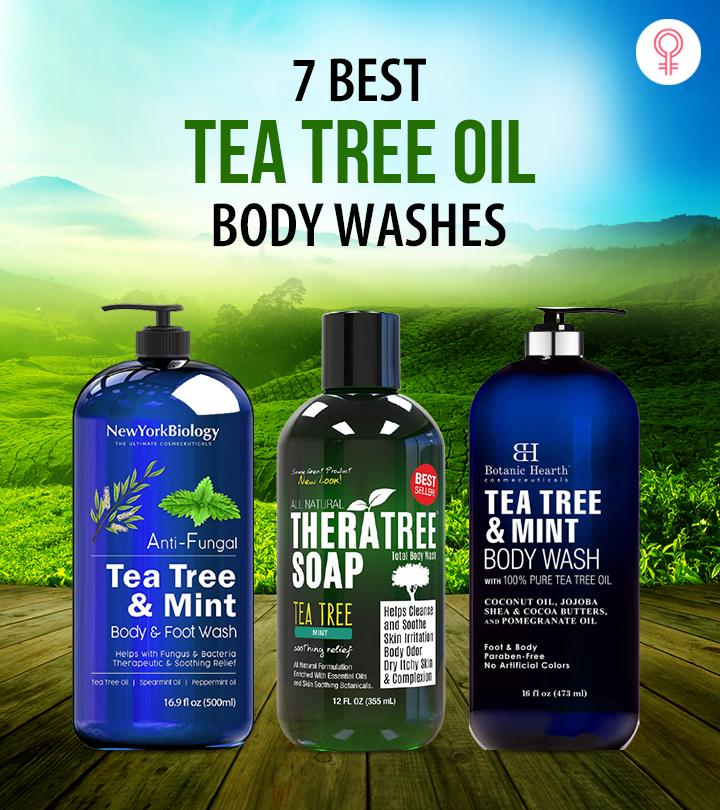 Imagine taking a shower drowning in the whiffs of refreshing scent. Do you feel like experiencing the same? All you need is to include the best tea tree oil body wash in your skin care routine. So, is tea tree oil beneficial? Absolutely yes! It has been part of alternative medicine for over a century. Native tribes in Australia used this oil due to its anti-fungal properties to reduce inflammation. Today, you will hardly see any sensitive and acne-prone skin products without tea tree oil. Moreover, it has a wide range of applications in aromatherapy. So, why wait! In this article, we have included a list of the 7 most popular and effective tea tree oil body washes. Swipe up and choose your favorite one!
7 Tea Tree Oil Body Washes To Indulge In – 2022
Jāsön's Purifying Tea Tree Body Wash is one of the top-rated clean body washes with tea tree oil. It is infused with vitamins E and B5 along with pure tea tree oil, castor oil, and sunflower oil. While these emollients moisturize your skin, the soothing aloe leaf juice hydrates it, leaving you with soft, smooth, and clean skin after every wash. This body wash formula is biodegradable and made with safe, gentle, and effective ingredients. It also is free of parabens, sulfates, GMOs, phthalates, and animal products.
Key Ingredients: Tea tree oil, Castor oil, Aloe leaf juice, Vitamin E, Vitamin B5, Sunflower seed oil
Pros
Leaves no soap scum
Non-greasy
Paraben-free
Cruelty-free
Sulfate-free
Biodegradable formula
Subtle scent
Petrolatum-free
Lathers well
GMO-free
No artificial dyes
Cons
THERATREE Tea Tree Oil Soap is an invigorating body wash with rich foaming action and fragrance. It is formulated with high-quality oils of tea tree, olive, cinnamon, pomegranate, rosemary, and peppermint along with cocoa and shea butter. This formula washes off dirt, grime, make-up, and everyday impurities to save you from the embarrassing body and foot odor. Its invigorating menthol scent leaves you feeling fresh and clean while the oil blend helps soothe itchy, dry, and inflamed skin. The tea tree oil used in this body wash is 100% therapeutic-grade and sustainably hand-harvested in small batches for optimum quality. It is extracted using a chemical-free steam-distillation process to extract and preserve all of its active components.
Key Ingredients: Tea tree oil, Shea butter, Olive leaf extract, Pomegranate seed oil, Goldenseal root extract
Pros
Relieves body, foot odor
Preservative-free
Ideal for athletes
Silicone-free
No artificial fragrances and dyes
Long-lasting
Cons
Strong fragrance
Runny consistency
Botanic Hearth Tea Tree Oil Body Wash is a plant-based soap that works like magic on sensitive, acne-prone skin and on eczema or fungal infections. Its strong minty and earthy fragrance makes it great for athletes and those with skin irritation and body odor. It is made using traditional European techniques with the skin-conditioning oils of coconut, cranberries, linseed, jojoba, neem, olive, and peppermint. The 100% pure, aromatherapy-grade tea tree essential oil in this formula clears away impurities and promotes healthy skin with every wash.
Key Ingredients: Tea tree oil, Cranberry seed oil, Coconut oil, Linseed oil, Jojoba seed oil, Neem oil, Vitamin E
Pros
Naturally-scented
Plant-based body wash
Lathers well
Suitable for acne-prone skin
Long-lasting
Does not dry out your skin
Gets rid of body and foot odor
Treats ringworm, jock itch, and eczema
Cons
Slightly greasy
May cause breakouts
The Anti-Fungal Tea Tree & Mint Body & Foot Wash by New York Biology is a clinically-tested and approved body and foot wash. This powerful formula is enriched with a concentrated (about 5%) combination of tea tree oil, eucalyptus oil, and peppermint oil. This shower gel has antifungal and antibacterial properties that relieve skin conditions such as athlete's foot, jock itch, acne, nail fungus, and eczema. Since it contains essential oils from grapefruit, sea buckthorn, olive, coconut, and neem, this body wash eliminates body and foot odor and itchy skin effectively. It is made without toxic preservatives, alcohol, and synthetic fragrances.
Key Ingredients: Tea tree oil, Sea buckthorn oil, Coconut oil, Grapefruit peel oil, Oregano oil, Vitamin E
Pros
Clinically tested
Alcohol-free
Suitable for fungal and bacterial skin infections
Paraben-free
Mildly scented
Sulfate-free
Suitable for acne-prone skin
Cruelty-free
Lathers well
Long-lasting
Cons
Difficult to dispense
Inconsistent soap consistency
The Body Shop's Tea Tree Skin Clearing Body Wash is made with pure tea tree oil that is ethically-sourced (Community Fair Trade) from Kenya. It works best on oily, acne-prone, sensitive skin and fungal and bacterial infections. This gentle vegan body wash leaves your body feeling refreshed and invigorated with its exotic blend of tamanu and manuka oils along with tea tree oil. It visibly reduces breakouts, blemishes, flaking, and dryness by maintaining your skin's moisture balance. This formula can be used every day as it is made without parabens, silicones, toxic dyes, and animal products.
Key Ingredients: Tea tree oil, Tamanu seed oil, Manuka oil
Pros
Vegan
Detergent-free
Gluten-free
Suitable for blemish-prone skin
Paraben-free
Silicone-free
Naturally scented
Gentle formula
Cons
Majestic Pure Tea Tree Wash contains natural emollients and essential fats from cocoa butter, shea butter, coconut oil, pomegranate oil, and vitamin E. The antioxidant-rich pomegranate oil, cranberry oil, lemon oil, and Inca inchi seed oil nourish and polish your skin while maintaining its moisture balance. Tea tree oil's antifungal properties help manage toenail fungus, athlete's foot, ringworms, jock itch, acne, eczema, and infections causing foot and body odor. This gentle, naturally-scented body wash washes off everyday impurities and leaves you feeling invigorated and clean after every wash.
Key Ingredients: Tea tree oil, Peppermint oil, Shea butter, Coconut oil, Pomegranate oil, Cranberry oil, Vitamin E
Pros
Gentle on sensitive skin
Does not dry out your skin
Plant-based formula
Pet-friendly
Paraben-free
No artificial dyes
Alcohol-free
Cons
Dermalogica Conditioning Body Wash is a silky, luxurious shower essential that cleanses, conditions, and invigorates your body. Inspired by the essential oils diffused in Turkish hammams, this gentle cleansing formula carries aromatic oils of French rosemary, clary, lavender, sandalwood, and Chinese eucalyptus alongside tea tree and lemon oils. This active oil blend is enriched with vitamins E and B5 that maintain the moisture and nutrient balance of your skin after each wash. This tea tree oil body wash is known for its refreshing smell that suits all skin types and lingers all day long.
Key Ingredients: Tea tree oil, Texas cedarwood oil, French rosemary oil, Clary oil, Eucalyptus oil, Lavender extract, Sandalwood oil, Vitamin E, Vitamin B5Pros
Mildly scented
Gentle formula
Long-lasting
Lathers well
Does not dry out your skin
Cons
Difficult to dispense
Expensive
These tea tree oil body washes not only nourish your skin but also ensure a refreshing bathing experience. The anti-fungal properties of these natural ingredients make it an ideal choice for those experiencing breakouts and acne. Tea tree oil is also therapeutic, and hence body washes infused with it help uplift the senses. Some of these oils are free of chemical components and offer long-lasting results. They have natural formulae and lather well to ensure thorough cleansing. However, you should steer clear of body washes that are greasy, have runny consistency, and overwhelming fragrance.
Why Trust Stylecraze
Oyendrila Kanjilal is a certified skin care coach who loves to use tea tree oil body washes because it offers a refreshing shower experience. She has checked many reviews online, browsed through multiple forums for user feedback, and went through the products in detail to ensure that these are the best tea tree oil body washes. She recommends these products to her readers for their anti-fungal and anti-inflammatory properties.
Recommended Articles
The following two tabs change content below.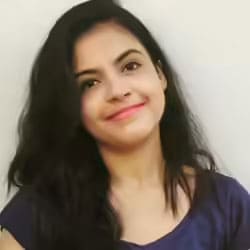 Oyendrila holds a master's degree in English Literature from the University Of Calcutta, West Bengal, and is a certified skincare...
more