10 Best Tea Tree Oil Face Creams Of 2022
Say goodbye to acne and inflammation with these incredible tea tree oil creams.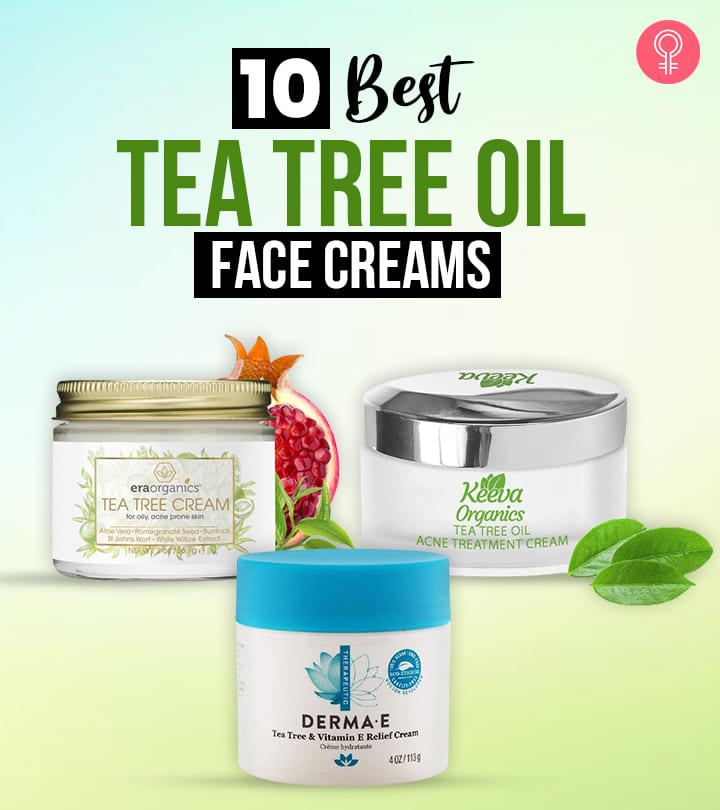 Acne-prone skin demands the best tea tree oil face creams in the world. And why shouldn't they? These creams have anti-inflammatory and antimicrobials that can limit acne, blackheads, and whiteheads. They also soothe rashes, eczema, wounds, and cuts. This sounds just perfect to us! Therefore, knowing their significance, we have prepared a list of the 10 best face creams with tea tree oil in this article so that keeping your skin moisturized and healthy becomes easier for you going forward. What are you waiting for then? Come on, let's check it out!
10 Best Tea Tree Oil Face Creams
The Era Organics Tea Tree Oil Face Cream makes your skin clear and smooth by reducing acne, redness, blackhead, and blemishes. It contains aloe vera, rich in vitamins A, B, C, and E and minerals like calcium, magnesium, copper, and zinc, which heals and hydrates the skin. It amplifies the cell renewal process and increases blood flow to your face.
The tea tree oil in the cream reduces redness and irritation. It cleanses the skin and fights acne-causing bacteria. The cream also contains pomegranate seed oil that delays aging and prevents sun damage and burdock root that works on eczema, psoriasis, and acne. Salicylic acid, another anti-acne ingredient in this product, removes dead skin, tightens pores, and enhances skin texture. The dandelion root in the formula balances, tones, and firms the acne-prone skin to make it youthful and firm.
Best For: Combination, Oily, Dry, and Normal skin
Pros
Non-comedogenic
Easy to spread
A little goes a long way
Paraben-free
Hormonal disruptor-free
Vegan
Non-toxic
Cons
Causes a mild, temporary burning sensation
The Keeva Organics Tea Tree Oil Acne Treatment Cream combats cystic acne, spots, breakouts, and scars. This lightweight moisturizing cream is made of top-quality additives that suit sensitive skin. It is packed with essential oil of tea tree that has antifungal properties and cleanses and tones the skin. This all-in-one tea tree cream prevents future breakouts by addressing the root cause of the acne to reveal beautiful and clean skin. You can check out this YouTuber's review of the product if you require more convincing.
Best For: Acne-prone skin
Pros
Easy to spread
Quickly absorbed
Lightweight
Smells good
Natural formula
No animal testing
Cons
None
Treat blemishes, acne, and sunburn with the Derma E Tea Tree & Vitamin E Relief Cream. It also offers deep moisturization to heal dry skin. The cream contains vitamin E that hydrates your skin and improves its texture, while tea tree oil offers calming effects to comfort the skin and protect it from future issues.
Best For: Dry skin
Pros
Lightweight
A little goes a long way
Suitable for the body and face
Paraben-free
Mineral oil-free
Gluten-free
Sulfate-free
Cruelty-free
Vegan
Cons
The TreeActiv Acne Treatment Face Cream Moisturizer contains tea tree essential oil to add radiance and moisture to dry skin. It rejuvenates the skin and cleanses it from within to keep it problem-free. The cream also contains peppermint that soothes and purifies the skin and reduces blemishes and whiteheads.
The aloe vera in the formula hydrates the skin, leaving it plump and dewy, and pink grapefruit essential oil purifies and refreshes the skin. This healing facial cream also contains spearmint essential oil that cleanses the skin, unclogs pores, and offers cooling effects. The grapeseed essential oil in the cream regulates oil production and balances the skin while fading early signs of aging.
Best For: All skin types
Pros
Non-comedogenic
For all age groups
Gentle
Non-irritating
Pregnancy-safe
Palm oil-free
Paraben-free
Cruelty-free
Vegan
Cons
Greasy
Unpleasant and strong scent
The Svasthya Body & Mind Essential Oil Face Butter contains shea butter that nourishes your skin while preserving its natural oils. It is also infused with grapeseed oil and frankincense to tighten the skin, fight acne, fade dark circles, and prevent skin aging by boosting collagen production.
The skin-replenishing coconut oil in the cream offers a healthy glow while filling wrinkles and fine lines. It also contains argan oil and cypress oil that manage sebum production to control acne without clogging the pores. The cream also contains lavender essential oil that aids in healing and restoring the skin's texture. The tea tree essential oil in the formula provides an effective solution to treat acne; it acts as an antiseptic that heals wounds, while its scent provides stress-relieving benefits.
Best For: Acne-prone skin
Pros
Non-comedogenic
Absorbed quickly
Non-greasy
For all age groups
Paraben-free
Artificial colorant-free
Preservative-free
Petroleum-free
Artificial scent-free
Cruelty-free
Sulfate-free
Cons
The Majestic Pure Tea Tree Oil Face Cream has a safe and skin-loving formula enriched with 5% tea tree oil and ceramides to treat acne-prone skin. Tea tree oil purifies the skin by removing impurities and makes it clear, supple, and youthful. The non-greasy cream absorbs quickly to provide revitalizing benefits.
Best For: Acne-prone, Itchy and Dry skin
Pros
Non-greasy
Easy to spread
Quickly absorbed
Natural formula
Cruelty-free
Cons
May irritate sensitive skin
Use the Keeva Organics Acne Scar Cream to treat old and new acne scars and dark spots. It is made with all-natural ingredients, such as tea tree oil that treats acne while soothing and healing the skin. The non-irritant formula moisturizes the skin and prevents future breakouts.
Best For: All skin types
Pros
Non-greasy
Natural formula
Smells good
Sulfate-free
Palm oil-free
No animal testing
Paraben-free
Cons
Heavy
Irritates sensitive skin
The LilyAna Naturals Super C Face Cream melts into the skin to smoothen it from within. It helps treat blemishes, wrinkles, and fine lines to reveal rejuvenated skin. The cream is enriched with vitamin C to reduce excess oil production and activate collagen production to treat signs of aging.
The aloe vera in the formula heals damaged skin and improves its texture due to its antioxidant properties. Glycerin softens, brightens, and protects the skin by locking moisture and boosting hydration levels. This cream also contains salicylic acid to exfoliate the skin and tea tree essential oil to reduce inflammation, fade acne scars, and smoothen the skin.
Best For: All skin types
Pros
Absorbed quickly
Lightweight
Non-sticky
Gluten-free
Sulfate-free
Phthalate-free
Artificial color-free
Artificial scent-free
Petroleum-free
Cruelty-free
Vegan
Cons
The Thursday Plantation Tea Tree Face Cream combines the benefits of skin-enhancing ingredients to keep the skin moisturized and hydrated. It contains tea tree oil that cleanses, balances, and tones the skin while naturally moisturizing it. This facial cream is also packed with macadamia oil, shea butter, and rosehip oil to restore skin vitality.
Best For: Dry skin
Pros
Mild tea tree scent
Lightweight
A little bit goes a long way
Paraben-free
Mineral oil-free
SLS-free
Synthetic fragrance-free
Synthetic color-free
Petrochemical-free
Cons
The intense hydrating properties of the Farmasi Dr. C. Tuna Tea Tree Face Cream make it the best product to protect your skin. It improves the skin's radiance while forming a protective barrier so that your skin is not impacted by environmental aggressors. This cream reduces acne marks, blackheads, and blemishes. It is enriched with tea tree oil, carrot root oil, and vitamin E with antioxidant, anti-acne, and soothing properties to help repair your skin.
Best For: Oily, Blemished, and Acne-prone skin
Pros
Lightweight
For daily use
Non-drying
Alcohol-free
Cons
Tea tree oil is highly beneficial to treat acne and soothe acne-prone skin. But is it enough? What else should you look for while buying a face cream with essential tea tree oil? Let's find out.
How To Choose The Best Tea Tree Oil Face Cream – Buying Guide
Apart from having tea tree oil as a major ingredient, the face cream should also have supporting beneficial ingredients like aloe vera, glycerin, citric acid, etc. Stay away from harsh and skin-damaging additives, such as sulfates, parabens, and alcohols.
Tea tree oil is well-known for its skin-healing and anti-inflammatory properties. This means that it could be beneficial for both oily and dry skin types. The other ingredients in the formula will decide if a cream is suitable for your skin type.
For example, on oily skin, the tea tree works by dissolving excess oil while effectively treating acne. For dry skin type, look for a tea tree oil cream featuring a moisturizing blend of additives like vitamin E, shea butter, or coconut oil to prevent irritation and itching.
Why Trust Stylecraze
Shiboli Chakraborti, the author of this article, is a certified skin care coach who knows what is good for the skin. Her deep knowledge of skin care and issues like acne or other skin problems helps her pick the best for her readers. She has browsed through several forums for user reviews and product details to prepare this list of the best tea tree oil face creams to keep your skin moisturized and healthy. These products are lightweight, cruelty-free, non-irritating, and suitable for all age groups.
Frequently Asked Questions
Can children use a tea tree oil face cream?
Yes, tea tree face cream can be used by people of all age groups, including kids.
Will tea tree oil face creams cause breakouts?
Tea tree oil creams are effective in treating acne. They are well-known for healing acne and acne scars. However, other ingredients in the formula may hinder the effects if they are harsh or comedogenic. In addition, a high concentration of tea tree oil may also make your skin sensitive or cause breakouts.
Does tea tree oil face cream expire?
Yes, like all skin care products, tea tree oil face cream comes with an expiration date.
Can I leave tea tree cream with oil overnight?
Yes, it is completely fine to leave tea tree cream oil overnight. Add a few drops of tea tree oil to a carrier oil such as coconut oil, or almond oil and apply the mixture to your skin and leave it on overnight. Rinse it off in the morning.
Does tea tree cream oil remove pimples and even tone the skin?
Tea tree oil can disinfect the skin and pores with its anti-microbial and anti-inflammatory properties which help combat pimples. It can also help in lightening dark spots by cleansing the dirt and oil blockage from skin pores.
Recommended Articles