The 9 Best Tea Tree Oils For Acne (2022) + Buying Guide
Gift yourself clear skin with only a few drops of these anti-fungal formulas.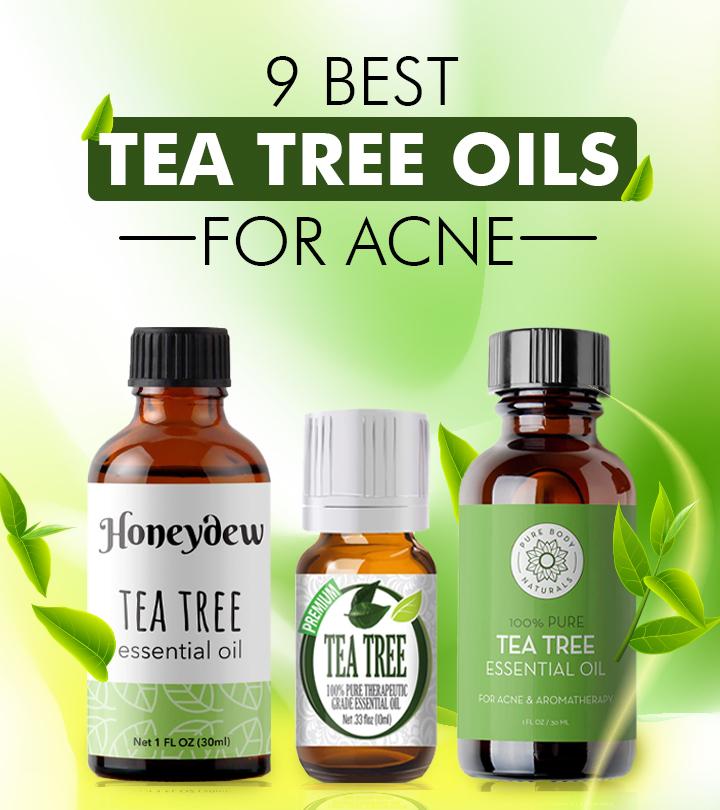 If your acne leaves scars behind and you find it extremely difficult to get rid of the marks, you need to land your hand on the best tea tree oil for acne available in the market. Many people come across this situation, and a tea tree oil exclusively designed for acne comes to the rescue. As this oil is endowed with anti-inflammatory and antifungal properties, it proves to be an effective natural remedy for acne. Therefore, knowing its immense significance, we have made a list of the 9 most amazing options that are worth trying. So, go ahead and check the list out.
9 Best Tea Tree Oils For Acne
This premium quality tea tree oil from Healing Solutions is entirely pure and undiluted. It is a therapeutic grade oil obtained from steam distillation to keep the benefits intact. The glass bottle comes with a dropper to prevent spilling or mess. The healing properties of this oil help relieve anxiety and stress and calm your senses. It can be used with a humidifier or diffuser for a relaxing aromatherapy. This oil also serves as an effective solution for acne, pimples, and dryness.
Pros
Suitable for massaging
Pure and safe
Therapeutic
No additives
No harmful chemicals
Cons
Strong fragrance
Too sticky
Price at the time of publication: $7.99
Try the Art Naturals Tea Tree Oil to get rid of acne, scars, fungus infections, and hair concerns. This 100% pure tea tree oil is safe on sensitive skin. It is obtained from the Melaleucaalternifolia plant and derived via a steam distillation process to preserve its qualities. This tea tree oil is infused with a fresh herbaceous fragrance and can be used with a diffuser to cure a cold and flu or for relaxation. It can be applied as a topical solution for acne.
Pros
Refreshing aroma
Long-lasting
Easy to dispense
Cons
Price at the time of publication: $14.95
The Pure Body Naturals Tea Tree Essential Oil is derived from superior quality tea tree plants via steam distillation. This concentrated oil contains high levels of terpene that rejuvenates the mind and body. This undiluted therapeutic-grade tea tree oil is fused with refreshing minty and spicy medical notes and can be used on the face, body, and scalp to treat acne. It treats skin concerns like breakouts and prevents flakes and itching. You can use this oil to disinfect surfaces and for other cleaning purposes. 
Pros
Gluten-free
Cruelty-free
Vegan
Lab-tested
100% pure
Versatile
Works as an air freshener
Cons
Price at the time of publication: $15.95
Dilute the Beyond Fuji Organic Tea Tree Oil with any carrier oil to get effective skincare and haircare benefits. This fine quality tea tree oil treats issues like redness, oiliness, eczema, psoriasis, insect bites, burns, and cuts. It eliminates acne and breakouts while suppressing swelling and redness. The organic oil fades acne scars and pimples to leave your skin smooth and clean.
This oil has antifungal and antibacterial compounds that treat athletes' foot, fungal infections, and warts. This tea tree oil nourishes and rejuvenates the nails by softening the cuticles to prevent breakage and removing discoloration. It can also be used for disinfecting the premises due to its sanitizing agents.
Pros
Suitable for all skin types
Pure
Ethically sourced
Cons
Price at the time of publication: $19.95
The Natural Riches Organic Tea Tree Oil is extracted from Australian Melaleuca plants using a steam distillation process to preserve its benefits. It has anti-inflammatory properties to treat skin conditions like acne, blemishes, insect bites, muscle pain, etc. This oil can be applied on the face, head, and body to eliminate odor, fungal infections, dandruff, dryness, itching, etc.
This rejuvenating and calming oil can also be used in a diffuser to create a healthy and soothing environment for your home or office space. It has a fresh earthy and woody scent to promote relaxation and wellness. The organic oil can also be used on cuts, burns, and bruises for relieving effects. It helps restore the skin's smoothness and calm the irritated skin. It also eliminates imperfections like bumps and eruptions from the skin.
Pros
Multipurpose
Can be used for aromatherapy
Non-toxic
No additives
Undiluted
No fillers
Cons
Burns a little
Strong smell
Price at the time of publication: $14.99
The LDREAMAM Tea Tree Oil moisturizes the skin to keep it healthy. It effectively treats acne spots, dark spots, and blemishes by regulating sebum production. Mix a couple of drops of this oil with any carrier oil like almond oil, olive oil, or even with your moisturizer to apply it onto your skin.
It can be used in a diffuser or humidifier to maintain a healthy environment and strong immunity. You can also add some drops to your bath water to have a relaxing and relieving bathing experience. Its naturally strong aroma rejuvenates the senses. The antibacterial properties of this oil deeply cleanse the skin to wipe off acne-causing bacteria.
Pros
100% pure
Mild formula
Versatile
Naturally refreshing aroma
Suitable for aromatherapy
Cons
The Honeydew Tea Tree Essential Oil has antibacterial properties, making it an excellent choice to heal acne, burns, and cuts. It also possesses antifungal properties to treat athlete's foot. This tea tree oil provides a complete skincare solution due to its therapeutic qualities and prevents acne, dandruff, flakes, and blemishes. It also relieves irritation and itching by thoroughly cleansing the skin.
Pros
Pure
Cruelty-free
Vegan
Lab-tested
Suitable for aromatherapy
Refreshing scent
Cons
The fragrance fades away quickly.
Price at the time of publication: $9.95
The Envisha Tea Tree Oil has healing and soothing benefits. It provides faster wound healing due to the antiseptic compounds that stimulate white blood cells. This effective formula prevents burns and abrasions and soothes the skin.
This multipurpose oil can be used to disinfect surfaces and for aromatherapy. Its antibacterial properties make it a highly potent oil to treat acne issues. It also fades acne scars to reveal beautiful and clear skin. This tea tree oil has cleansing agents that help kill germs from surfaces and the body. You can mix it with your room freshener, floor cleanser, shampoo, or soap to get rid of foul odor and infection-causing germs.
Pros
Paraben-free
Cruelty-free
Allergy-free
Toxin-free
Can be used for aromatherapy
Cons
Price at the time of publication: $6.99
The Pure Valley Miracle Tea Tree Oil is suitable for dry, sensitive, and acne-prone skin. The organic formula smoothens the bumpy skin and shrinks pores with its anti-inflammatory properties. Tea tree oil absorbs excess oil to prevent acne and other skin-related concerns. This concentrated oil softens the skin, enhances the skin tone, hydrates the cuticles, and nourishes the nails, hair, and skin. This tea tree oil acts as a natural astringent when combined with witch hazel to get radiant and bright skin.
Pros
Paraben-free
Mineral oil-free
Dye-free
Formaldehyde-free
Non-greasy
Non-irritating
Cons
None
For hundreds of years, tea tree oil has served as an effective remedy for acne. It can also protect your skin from fungal and bacterial infections. The soothing and nourishing qualities of tea tree oil make it a primary ingredient in aromatherapies. Choose a suitable product from our list and give your skin the much-needed relief from acne, inflammation, and other damages.
Why Trust Stylecraze
Shiboli Chakraborti, the author, is a certified skin care coach and understands the challenges faced by those with acne-prone skin. She advocates using tea tree oil for acne as natural, safe, and highly effective. She has researched a wide range of tea tree oils available on the market and curated the above list of products to make things easier for our readers. These products are highly-rated by customers and help reduce acne and related issues without causing any damage to the skin.
Frequently Asked Questions
What are the potential benefits of using tea tree oil for acne?
Tea tree oil has anti-inflammatory and anti-microbial properties. It is very effective against acne. It relieves redness, swelling, and inflammation while preventing and reducing acne scarring, leaving you with clear skin.
How do you use tea tree oil to treat acne?
Wash your face with a gentle cleanser for acne-prone skin and pat it dry before applying the oil. Next, gently apply diluted tea tree oil to your blemishes with a cotton round or pad. Once it is absorbed, apply a moisturizer to seal all the goodness.
Does tea tree oil remove dark spots?
Yes, tea tree essential oil is widely regarded as the most effective preventative measure for fighting dark spots on the skin. It also aids in fading existing dark black spots.
Why can't you put tea tree oil directly on the skin?
Always dilute tree oil before applying it to your skin because it can, otherwise, cause severe skin damage.
How long does it take to get rid of acne with tea tree oil?
It takes nearly 12 weeks to see visible results after you start treating your acne with tea tree oil.
Recommended Articles: