15 Best Tea Tree Oil Products Of 2022 For Flawless Skin
Moisturize your skin with effective formulas that are organically enriching.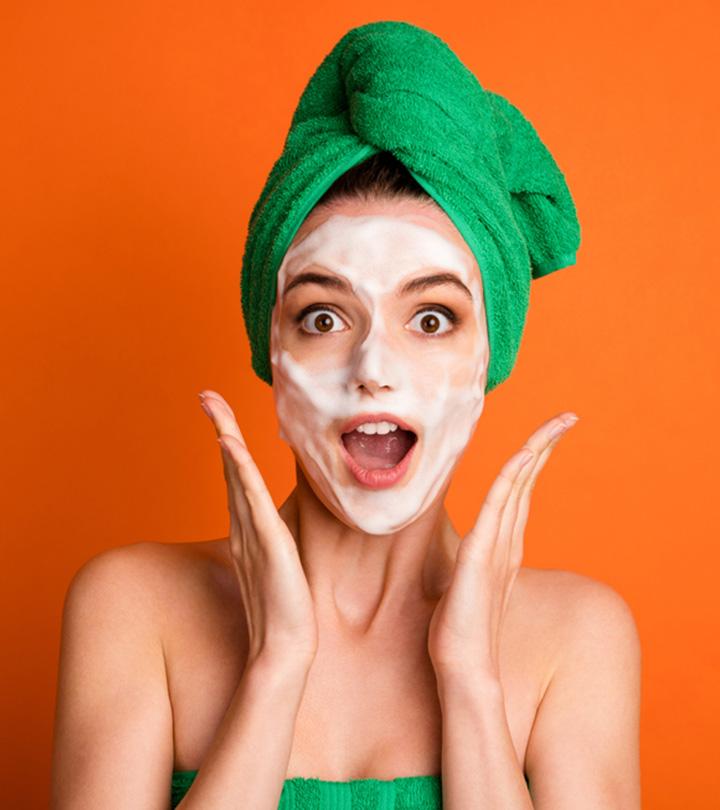 If you have ever wished to get your hands on a magical skin care ingredient that addresses all your skin woes efficiently, we have some good news for you! All you need to look for is the best tea tree oil products for flawless skin. Tea tree oil is native to Australia, and it is a versatile ingredient that you can use at any stage of your skin care routine. You can use it for spot treatment, cleansing, toning, moisturizing, aromatherapy, or even as a disinfectant. Tea tree oil can be your one-stop solution to many skin-related problems.
Tea tree oil comes at 100% purest concentration, and you can use it on your skin to soothe irritation and redness. In addition, the ingredient has anti-inflammatory properties that help relieve superficial skin infections. Keep reading this article to find out our curated list of the best tea tree oil products you can incorporate into your skin care routine and enjoy radiant and glowing skin. Keep scrolling!
15 Best Tea Tree Oil Products For Smooth And Radiant Skin
This tea tree oil body wash has a natural formula to wash away embarrassing body odor and remove dirt. It deodorizes smelly feet, and its organic oils soothe skin irritations. It is infused with premium organic ingredients of tea tree oil, peppermint oil, aloe vera, eucalyptus oil, rosemary oil, jojoba oil, coconut oil, and olive oil. It deeply cleanses, hydrates, soothes and moisturizes your skin beautifully to eliminate bacteria and fungus and prevent acne, rashes, athlete's foot, ringworm, nail issues, and itchy skin. It's suitable for all skin types and great for everyday use. If you need more convincing, feel free to take a look at this YouTuber's video on the merits and demerits of the product.
Pros
Paraben-free
Preservative-free
Petroleum-free
Sulfate-free
Silicon-free
Synthetic fragrance-free
Dye-free
Cons
Some may find the peppermint smell too overpowering.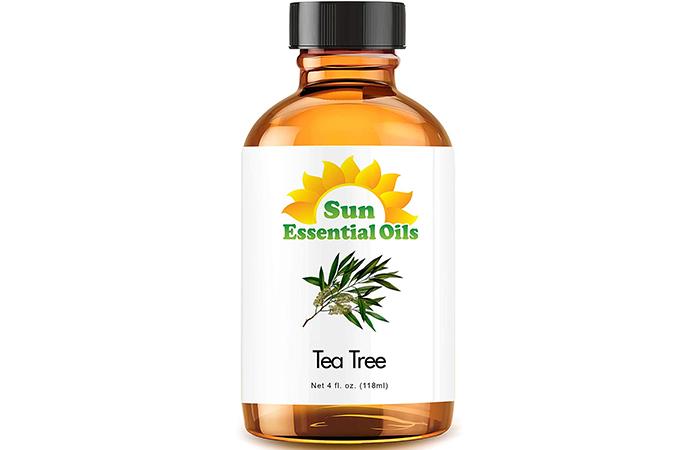 After a long week at work, who doesn't like the idea of a relaxing weekend with some aromatherapy? All you need to do is add a few drops to your essential oil diffuser or homemade soaps, candles, lotions, or shampoos for a wonderful, fragrant, and relaxing experience.  Tea tree essential oil aromatherapy directly affects the body and mind and can treat anxiety and stress. So get ready to inhale this aromatic essential oil and say goodbye to all your stress.
Pros
GCMS-tested
100% natural
Versatile oil
Available in different sizes
Cons
The formula may be too potent for some. It is advisable to dilute it with a carrier oil for better absorption.
Tired of chafing, flakey, and chapped skin? This blend of tea tree oil, lavender oil, lemon oil, peppermint oil, green tea, olive oil, jojoba oil, safflower seed oil, beeswax, and wheat germ will give you quick relief. This tea tree oil balm should be a part of your purse as it takes care of almost everything from acne, diaper rash, split cracked cuticles, chapped lips, eczema, psoriasis, and folliculitis. This all-natural balm has a fresh citrus smell and is a perfect alternative to counter antifungal and antimicrobial creams containing harmful chemicals. So get ready to welcome nourished, soft and smooth skin along with all the compliments.
Pros
Paraben-free
Fragrance-free
100% natural
No harsh chemicals
Cons
May not work effectively for some fungal infections
If you feel your skin could do with some pampering without an expensive spa visit, it might be a good idea to try out this tea tree oil face cream. It fights acne, blackheads, and blemishes, giving you softer and smoother skin. This face cream also nourishes, moisturizes, opens, and cleans clogged pores, reduces redness and inflammation, and balances skin oil. It's a combination of 9 powerful organic and natural ingredients, including aloe vera, pomegranate seed oil, white willow extract, and salicylic acid, which nourish, heal, and even out your skin.
Pros
Non-toxic
Plant-based
Paraben-free
No hormone disruptors
Cons
It may not absorb quickly into the skin.
If you are up for a change from your usual face wash, set your hands on the Body Shop tea tree oil face wash. Made from purifying tea tree oil from the foothills of Mount Kenya, this gel-based face wash is especially suitable for blemish-prone skin, and works its magic gently enough to be used everyday. It contains a super trio of tea tree oil, lemon tea tree, and tamanu oil, which work together to clear your skin, reduce breakouts, and remove excess oil without drying out the skin. If you want a detailed review of the product, make sure to take a look at this video.
Pros
Cruelty-free
Paraben-free
Gluten-free
Silicon-free
100% vegan
Cons
In rare cases, it may cause irritation to very sensitive skin.
When the season changes, so can your skin and hair, and sometimes not for the better. Enriched with tea tree oil, jojoba seed oil, lavender, and peppermint, it leaves your hair and skin feeling soft and smooth. It soothes sensitive skin and nourishes and hydrates your hair. This tea tree oil moisturizer for skin and hair performs a triple function that works as a body lotion, leave-in conditioner, and after-shave cream. Suitable for all hair and skin types, it provides a rejuvenating and refreshing aromatherapy experience like no other.
Pros
Vegan
Paraben-free
Contains natural ingredients
Can be used on the skin and hair
Cons
Contains added colors and fragrances
Let this tea tree oil body wash work its magic on your skin as it nourishes and moisturizes dry, inflamed, and itchy skin. This tea tree oil body wash is enriched with potent ingredients like jojoba, coconut, rosemary, olive, oregano, peppermint, aloe vera, eucalyptus oils, as well as vitamins A, B1, B2, C, D, and E. Its plant-based formula prevents skin conditions like acne, cuts, ringworm, bug bites, body odor, psoriasis, and more. Infused with a potent blend of natural oils for hydration and healing, this body wash will leave your skin, hair, and nails cleansed and rejuvenated.
Pros
Cruelty-free
Chemical-free
Sulfate-free
No preservatives
No thickeners or detergents
Organic and natural ingredients
Cons
The formula may be too potent for some. It is advisable to dilute it with a carrier oil for better absorption.
We all remember when we tried to hide our feet beneath our dress because of our cracked heels. If you suffer from dry, cracked feet with flakey and dead skin, this powerful yet gentle foot cream is guaranteed to help. It locks in moisture to keep your feet looking healthy, smooth and crack-free, all through the year. Apart from tea tree, this foot cream also contains natural ingredients such as peppermint oil, aloe vera, eucalyptus oil, and white willow to help your feet stay soft and supple without any unsightly calluses and cracks.
Pros
Handmade
Naturally sourced ingredients
Free of harmful chemicals
Suitable for all skin types
Cons
Some may find the consistency a bit oily
If you have fretted over oily, shiny skin that ruins your makeup, we may have just the product for you. The Body Shop tea tree oil lotion is a lightweight, non-oily face lotion made with tea tree oil, lemon tea tree, and tamanu oil. It provides hydration and tackles excess oil, clogged pores, and breakouts, giving you a clearer complexion with a mattified finish. It is easily absorbed by your skin, making it one of the best lightweight, mattifying lotions for daytime moisturization.
Pros
Paraben-free
Gluten-free
100% vegan
Lightweight
Cons
May cause dryness in certain cases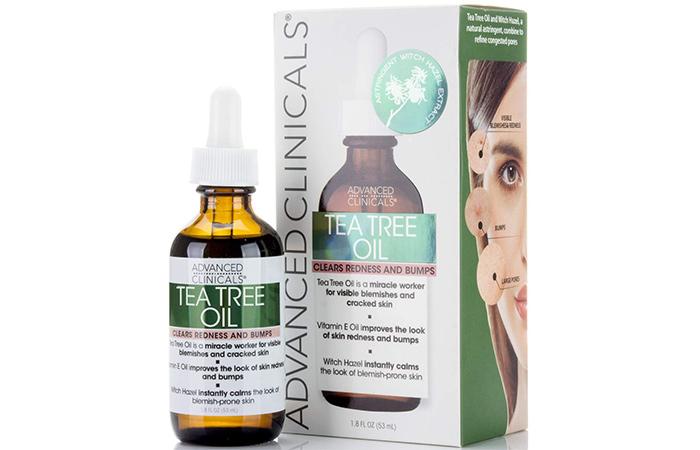 Have blemishes and acne been the bane of your life? Well, this product might have the answer to all your skin woes, as tea tree oil works miracles on blemishes and cracked skin. It's also infused with vitamin E that reduces inflammation and bumps on the skin and witch hazel that soothes and calms blemish-prone skin. These, together with sunflower extract and coconut oil, penetrate your pores for deep hydration and calm irritated and inflamed skin. Rich in antioxidants and restorative properties, this tea tree oil product reduces the effect of acne medication and environmental damage and is suitable for all skin types.
Pros
Paraben-free
Cruelty-free
Vegan
Natural ingredients
Cons
May not be best suited for sensitive skin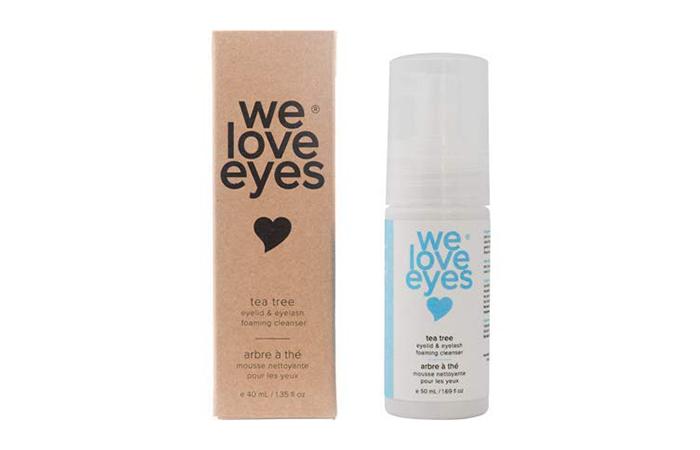 We are all familiar with our eyes itching and then rubbing them profusely, which worsens the situation! This Australian tea tree cleansing oil offers relief to red, irritated, and itchy eyes. It gently washes away sources of inflammation like bacteria, pollen, dirt, dust, and makeup residue with its safe and gentle formula. It contains Australian tea tree oil, organic jojoba oil, and vitamin E, which keep your eyelash follicles clean and moisturizes, and reconditions the skin while controlling excess oil production. It also contains organic grapeseed oil, which acts as an emollient and lubricant for cleans eyes without impurities. So say goodbye to irritated, tired, red eyes and morning eye crusties and look at the world with fresh, bright eyes.
Pros
Vegan
Gluten-free
Cruelty-free
Free from parabens, sulfates, and phthalate
No added fragrances, dyes, or preservatives
Cons
It may cause stinging if it enters the eyes. If it enters the eyes, wash immediately with water.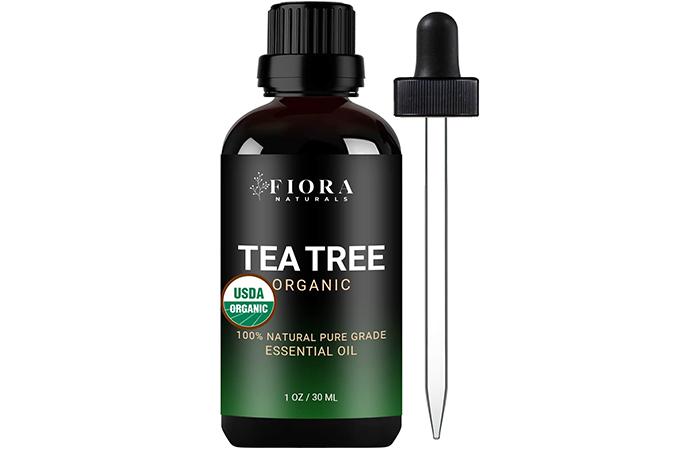 Have you been longing for a relaxing spa but have neither the time nor the resources? Well, let us help you out! Ranked amongst the best tea tree oil products, this essential oil can give you an authentic spa experience. Either use it as a massage oil or add a few drops to the diffuser and enjoy a relaxing, therapeutic time. It freshens the air, detoxifies and disinfects the body, soothes inflammation, and relieves pain. This potent essential oil is also ideal for dandruff, ingrown hair, nail fungus, piercings, acne, cuts, and skin tag removal, to name a few.
Pros
Cruelty-free
GMO-free
Natural ingredients
No additives or fillers
Steam distilled
USDA-certified
Cons
Some may not find the smell desirable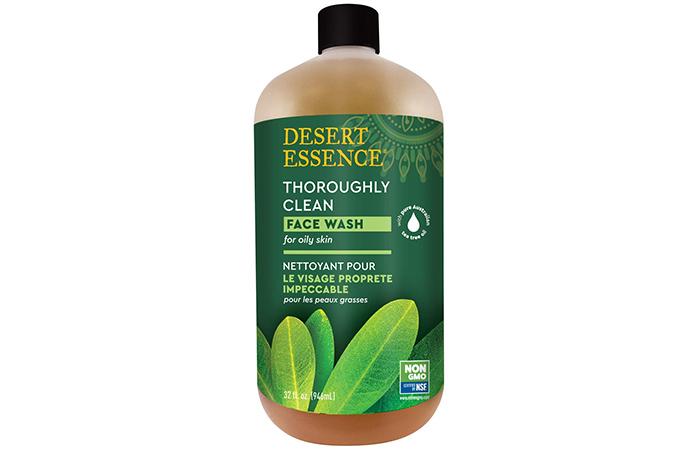 A radiant complexion and flawless skin are no longer an impossible dream with this tea tree oil face wash that removes excess oil and impurities and thoroughly cleanses your skin. Infused with lavender, chamomile, and calendula essential oils, this face wash is a powerhouse of antioxidants and vitamins that soothe, revitalize, and nourish your skin without drying it out and stripping it of its natural oils.  It also contains the natural extracts of goldenseal and Hawaiian white ginger or awapuhi for soft and radiant skin. Mineral-rich bladderwrack helps to soothe skin irritation with its anti-inflammatory properties.
Pros
Vegan
Cruelty-free
GMO-free
Gluten-free
No artificial fragrance
No artificial dyes
Suitable for oily and combination skin
Cons
Its pH value may not suit everyone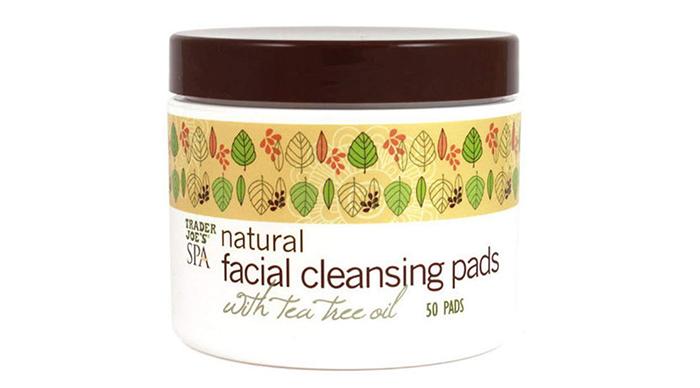 We all like to think of a perfectly made-up face but often forget that cleaning up at the end of the day is equally important. Among the tea tree oil cleaning products, these cleansing pads are one of the best. They come in a pack of 2, each containing 50 cleansing pads each, and are infused with tea tree oil that gently removes residual makeup and unclogs your pores. It also has soothing botanical extracts like calendula and witch hazel. These cleansing pads are a perfect end to a routine day or after a party.
Pros
Cruelty-free
Natural ingredients
No artificial fragrance
Gentle and soothing
Cons
May not be as hydrating as expected
This tea tree facial toner can breathe new life into your skin as it refines, soothes, and balances oily, blemish-prone skin. It uses organic witch hazel, a natural skin refiner, and balances, hydrates, and purifies the skin. Tea tree oil is antibacterial and soothes inflamed skin, and also prevents excess oiliness and shine. It can be used after cleansing and as a mist throughout the day to keep skin hydrated, refreshed, and balanced. This tea tree oil toner also enhances the absorption of serums and moisturizers and sets your makeup for a natural look.
Pros
Organic
Vegan
Cruelty-free
No synthetic fragrance
Paraben, alcohol, and phthalate-free
Cons
Some may find the smell too strong and undesirable
Now that you have been through the 15 best tea tree products of 2022, here are a few points on how to choose the best products for your requirement.
How To Choose The Best Tea Tree Oil Products For Your Skin
A high percentage of Terpinen-4-ol
Better the quality of a tea tree oil, the higher the concentration of terpinen-4-ol and the lower the cineole concentration. Ideally, the concentration of terpinen-4-ol, a natural antiseptic, should be 30-40%, and for cineole, it should be less than 7%. But do remember that some people may be sensitive to the higher concentration levels.
Terpinen-4-ol, like many essential oils, oxidizes rapidly when exposed to light, causing its quality to decline. Light exposure also increases the levels of para-cymene, which is a hydrocarbon that causes skin irritation. Ensure that the tea tree oil you buy is packaged in a dark glass bottle and store the bottle in a cool, dark area that is not exposed to extreme temperatures and moisture.
There are many contaminated products in the market, so it's important to check the specific ingredients in the product. Avoid all parabens, sulfates, and GMOs because tea tree oil is more soothing and has more health benefits without them.
Now that you know what to look out for while choosing a tea tree oil product, the next step is to know how to use them properly and effectively.
How To Use Tea Tree Oil Products
For dry skin, add a few drops of tea tree oil to a carrier oil or your favorite moisturizer and apply at least once a day after your bath. For oily skin, add a few drops to your sunscreen, toner, moisturizer, or a bentonite clay mask and see oiliness drastically reduce.
Depending on skin concerns
A few drops of tea tree oil in a carrier oil or moisturizer applied a few times a day does wonders for itchy skin, including itchy eyelids, because of its anti-inflammatory properties. It soothes the skin and can even help heal skin infections that cause itching.
For inflamed skin, 1 drop of tea tree oil in a moisturizer or carrier oil, applied several times a day, reduces redness and swelling.
As tea tree oil has antibacterial properties, it makes an effective wound healer. Just add 1 drop to an ointment for wounds and apply as instructed by the doctor. Adding 1-2 drops of tea tree oil to a carrier oil and using it to the affected area several times a day can help with inflammation caused by psoriasis.
Tea tree oil and products are great for treating dandruff as it removes dead skin cells and chemicals from the scalp. It keeps your hair moisturized and healthy and promotes growth. All you need to do is apply tea tree oil along with a carrier oil on your scalp and hair for 20 minutes and wash it off with a 5% tea tree oil shampoo. End with a tea tree oil conditioner.
Mix 3 drops of tea tree oil with 2 ounces of witch hazel and use it as a toner. It will reduce swelling, redness, and inflammation because of its antimicrobial and anti-inflammatory properties.
Why Trust StyleCraze?
Kirtana Divakar is a skin and hair care enthusiast who is passionate about researching the best products in the market. She has done extensive research and analyzed several user reviews to curate this list of the top tea tree oil products. Her selection contains several skincare products, ranging from lotions and soaps to creams and face wash, and she has explained the pros and cons of each. She has also included a buying guide and addressed some common queries to help you choose the best product for your needs.
Frequently Asked Questions
Can tea tree oil irritate the skin?
Applying a high concentration of tea tree oil can cause skin irritation, so it's necessary to dilute it properly. Use an appropriate carrier oil to dilute it, or use less concentrated formulas (5-10%, is recommended for beginners), to avoid skin irritation.
Where should tea tree oil fit into your skincare routine?
Tea tree oil is very versatile, so you can wash your face with a gentle tea tree cleanser, especially if you have acne-prone skin. You can also use some on a damp cotton ball and dot your blemishes directly with it. You can also add 5-6 drops of tea tree oil to your moisturizer and apply it to your face.