10 Best Teal Hair Dyes For Gorgeous Ocean-Inspired Hair
This summer, unveil your spunky personality with the trendy, cool, teal blue hue.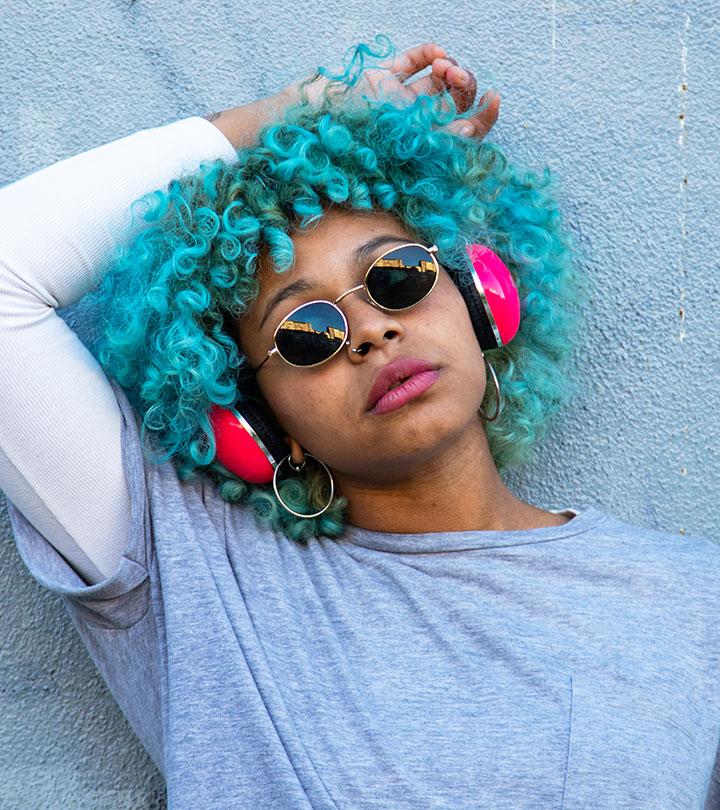 For those who love experimenting with new shades to change their hair color, it's time to try something bold. There is nothing like the best teal hair dye when it comes to unique hair colors. Teal is a color that will bring ocean blue to your hair. It is high in trend, and the vibrancy speaks volumes of your perky personality. So if you are bored of the usual black, brown, and blonde, here are 10 teal shades to pick from.
10 Best Teal Hair Dyes For Head-Turning Locks!
ARCTIC FOX's Aquamarine is a teal hair color dye that contains highly-pigmented blue hues with teal undertones. If you've got pre-lightened or blonde hair, expect it to settle as a vivid shade of teal. However, it also offers a deep teal tint to hair that is darker or unbleached. Lasting for up to 4 to 8 weeks, the formula is fully vegan and conditions hair without damage owing to its gentle nature. A DIY hair dye that is hydrating, offers a vibrant color, and smells good? We think the ARCTIC FOX teal dye is a must-have if you love experimenting with hair colors! If you are still unsure about purchasing, you can check out a review of this product on YouTube.
Pros
Highly-pigmented dye
Lasts up to 4-8 weeks
Cruelty-free and vegan
Conditions and hydrates hair
Free of ammonia, peroxide, and ethyl alcohol
No harmful chemicals
Cons
Might leave behind stains
Price at the time of publication: $18.49
Lime Crime's teal blue hair dye adds intense color to lighter hair and leaves a light teal tint on darker strands. While transforming your hair, the formula also deep conditions hair and leaves it silky smooth. As it is a gentle deposit-only dye, your hair is free from damage, owing to the absence of ammonia, bleach, or peroxide. With no need for heat or developers, the semi-permanent color washes out gradually without leaving harsh patches. Whether you're dyeing your tresses for the first time or keeping the hues alive, Lime Crime has got you covered. You can check out this YouTuber's review of the product if you require more convincing.
Pros
Cruelty-free and vegan
Conditions hair
Fades gradually
Semi-permanent
Non-damaging hair dye
Free of ammonia, peroxide, and bleach
Cons
Might not be very long-lasting
Price at the time of publication: $16.47
MANIC PANIC's teal temporary hair color is a deep green dye with blue undertones that adds dark earthy tones to your strands. It contains 3 times the pigment and lasts 30% longer! You can also mix it with other shades to create your custom dye. Made with vegan ingredients and not tested on animals, this formula is safe as it doesn't contain any harsh chemicals that can render your hair weak. On pre-lightened hair, you can expect the dye to last between 6 to 8 weeks. For mermaid-inspired hair, this DIY ready-to-use cream is all you need! If you want to find out more about this product and its usage, make sure to check out this review on YouTube.
Pros
Cruelty-free and vegan
Phthalate-free
Paraben-free
Gluten-free
Ammonia-free
Doesn't contain PPD or resorcinol
Cons
Might not be transfer-proof
Price at the time of publication: $15.99
L'Oreal Paris offers a teal hair dye for dark hair that lasts you between 7 to 15 shampoos. It combines direct-depositing dyes with a hair conditioning mask to keep hair smooth and hydrated. Without the use of any animal-derived byproducts, this vegan formula colors your strands a deep teal with green undertones. The L'Oreal Colorista teal dye also fades steadily after each wash, so you're not left with an unpleasant hue.
Pros
Cruelty-free
Vegan
Ammonia-free
Peroxide-free
Conditions hair
Doesn't require bleach
Cons
Might stain for a while after dyeing
Price at the time of publication: $10.99
No matter what your hair type and texture is, you can confidently rock this dark turquoise hair dye by 'N RAGE. To bind the pigments to your hair, the formula is infused with hydrolyzed quinoa that increases its retention for long-lasting color. Keratin amino acids and verbascum flower extract maintain your hair's moisture balance and give it a gorgeous shine. Gone are the days when coloring your strands made them dry and brittle! UVA and UVB inhibitors keep hair damage-free while the Keratin Color Enhancing Complex prevents it from breaking. Made to last you 25 shampoos over 3 to 6 weeks, this teal green hair color is ready-to-use.
Pros
Cruelty-free and vegan
Lasts up to 6 weeks
Contains UV inhibitors for longer-lasting color
Prevents hair from damage and breakage
Suits all hair types and textures
Easy to use
Cons
Some may not like the strong scent
Price at the time of publication: $13.0
RAW's Twisted Teal hair dye offers a vibrant color that lasts you from 3 to 6 weeks. Free of PPD, damage to hair is reduced and you won't have to worry about any skin allergies or issues like asthma. With no need for inhibitors, the color fades slightly with every wash and leaves a light tint. Super easy to apply, you can retouch the color on your own and the fun bubblegum scent is divine too!
Pros
Suitable for all hair types and textures
PPD-free
Cruelty-free
Vegan
Lasts between 3 to 6 weeks
Reduces damage to hair
Cons
Contains silicone, which might dry hair out
This Splat teal hair dye fortifies hair with the help of quinoa protein that also increases moisture retention and color longevity. To protect your strands from UV damage and nourish them, baobab extract comes into action. Vitamin B5 is also present to strengthen your hair follicles and add an unbeatable shine. The dye formula is 95% natural with eco-friendly packaging, so while giving your hair some love, you're doing your bit for the earth too. Splat's dye not only keeps your hair looking fresh for up to washes, but also enhances its health.
Pros
Cruelty-free and vegan
Free of PPD and ammonia
Paraben-free
Sulfate-free
Fragrance-free
Doesn't contain bleach
Cons
Some may not like the thick consistency
Price at the time of publication: $11.99
Lunar Tides' semi-permanent teal hair dye is richly-pigmented and gives your tresses a long-lasting glowing hue. With no need for a developer, the formula is pretty easy to use on your own and it also doesn't have any damaging effects. Chemically-treated or bleached hair can use this cruelty-free and vegan hair dye that adds a smoky tint of teal. The color is super vibrant and you can rest assured that it won't stain your bathtub and walls!
Pros
Cruelty-free
Vegan
Highly-pigmented dye
Non-damaging
Doesn't stain
Long-lasting
Cons
Some may find the floral fragrance to be overwhelming
Price at the time of publication: $16.99
Got2B's teal permanent hair dye adds a multi-dimensional metallic look to your hair with an anti-fading effect. For cool and shimmering tones, it is formulated with a metallic-shine booster. It deposits a pigmented color that is also radiant, suitable for all hair types and textures. In the box, a pair of gloves, color cream, developer lotion, and an after-treatment are included with the instruction leaflet. Your DIY hair dye session just got so much easier!
Pros
Adds a metallic finish
Gives a cool tone look
Deeply pigmented
Suits all hair types and textures
After-treatment included
Adds shine
Cons
Price at the time of publication: $10.97
You can enjoy up to 2 weeks of bold and bright teal-colored hair with Clairol's teal hair dye. The true tone formula deposits color evenly and the color-accurate fading lasts you more than 15 shampoos. With no mixing or bleach needed, the direct dye can be painted on from the comfort of your own home. Free of ammonia, peroxide, and parabens, Clairol's dye formula won't damage your delicate strands or color-treated hair.
Pros
Color-accurate fading
Lasts up to 2 weeks
Ammonia-free
Paraben-free
Peroxide-free
No need for bleach or mixing
Cons
Some may not like the mildly-pigmented formula
Price at the time of publication: $6.62
Now that we've seen some of the best types of teal color dyes out there, let's learn how you can pick the best one for you and your hair.
How To Choose The Best Teal Hair Dye
All hair dyes are made of pigments and a base that carries said pigment. The higher the pigment in a hair dye, the more vibrant the color will turn out. Look for a saturated pigment as it is usually brighter and gives your hair a fresh look. If you want something that looks light and faded, you can opt for formulas with lesser pigment as well.
Hair dyes can be semi-permanent, permanent, or demi-permanent and each has different levels of longevity. Permanent color lasts the longest and will need frequent touch-ups and a demi-permanent formula lasts you 3 to 4 months with up to 30 washes. A semi-permanent formula lasts up to a month with 5 to 10 washes and is a good choice if you change your hair color on the regular. As teal has green and blue undertones, it fades to a bluish or greenish color with semi and demi-permanent dyes.
As with every other color, teal also has various tones and shades. You can choose from a bluish shade like aquamarine or a greenish sea green, with some shades that balance both blue and green hues. When choosing shades, you will have to take your original hair color into account. With bleached and lighter hair almost all shades of teal look bright but as teal won't show up on darker hair, you might have to lighten or bleach it.
Hair dyes might have harmful chemicals that can dry hair out and strip it of its vital nutrients. To ensure hair health, choose a formula that contains built-in conditioners and hydrators. Dyes that have keratin and quinoa seed extract protect hair from breakage and damage while also allowing the color to stay for longer.
Why Trust StyleCraze?
The author, Vaishnavi Kothuri, is a hair care aficionado and takes pleasure in helping people choose the right products through her well-researched articles. For this article, she extensively studied teal hair dyes and came up with the above list of the best products, also considering hundreds of reviews posted by users online. These cruelty-free and vegan dyes give your hair the perfect hue besides conditioning and hydrating your tresses.
Frequently Asked Questions
How long does teal hair dye last?
Permanent teal dyes offer the longest-lasting color, semi-permanent dyes can last up to a month, and demi-permanent dyes stay for 3 to 4 months.
Does teal look good on brown hair?
Yes, teal does look good on brown hair but the lighter your shade of brunette, the better the teal color shows up. Darker hair might need to be bleached to show a vibrant shade of teal.