9 Best Teenage Skin Care Products To Manage Breakouts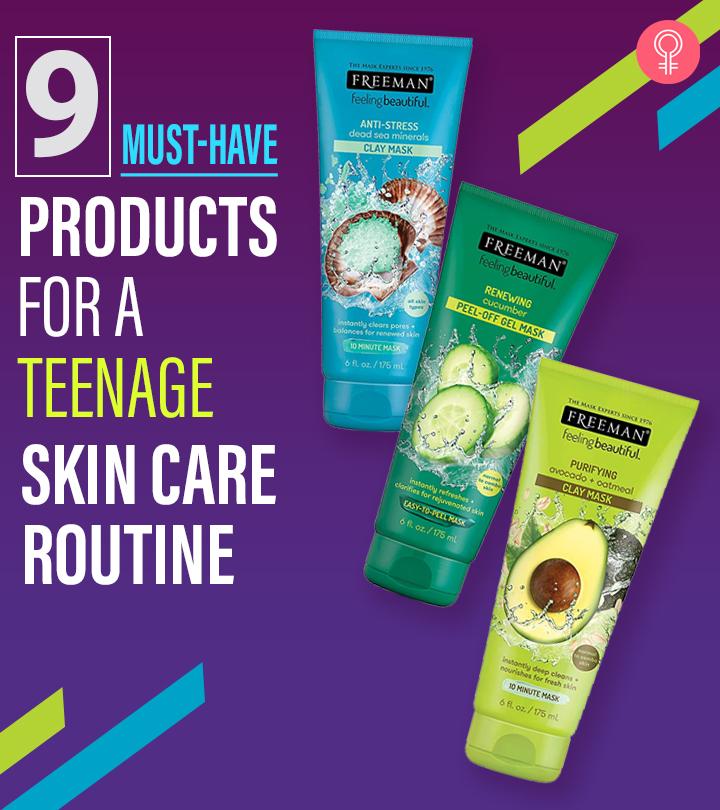 The skin of a teenager is delicate, so it is important not to use harsh or drying chemicals. So, if you are looking for a dedicated skin care regimen, you should try the best teenage skin care products currently available.
Your skin goes through many changes during teenage as hormone levels fluctuate. Breakouts during puberty can make you feel self-conscious. Remember, it is a normal part of growing up, and you don't need to be embarrassed about having pimples. However, you can use specifically formulated products for healthier skin. These ingredients can help manage all sorts of breakouts. The products listed below are effective but also gentle on the skin. Pick some products from the list we have curated for you.
9 Best Teenage Skin Care Products
The 3-Step Acne Treatment from Proactiv consists of a face wash, a toner, and an acne spot treatment. The Renewing Cleanser is designed to combat acne-causing bacteria by delivering finely milled benzoyl peroxide into clogged pores. It also contains smooth exfoliator beads that slough away dead skin cells and impurities to leave the skin clear and radiant.
The Revitalizing Toner contains glycolic acid, and it controls sebum production and removes excess oil from the skin surface to balance its texture. The third step in this six-week program is a medicated Repairing Treatment that repairs damaged skin and prevents new breakouts. This kit also contains a bonus skin purifying mask and green tea moisturizer to refresh and hydrate the skin.
Key Ingredients: 2.5% Benzoyl peroxide and Glycolic acid
Pros
Gentle cleanser
Alcohol-free toner
Comes with a purifying mask and moisturizer
Cons
Dries out the skin.
May irritate sensitive skin.
The nourishing Tea Tree Cream from Era Organics is packed with botanical ingredients to combat cystic acne, blackheads, rosacea, and redness. It harnesses the goodness of pomegranate seed oil, St. John's wort, burdock root, goldenseal, and dandelion root to soothe irritation, protect the skin against sun damage, combat acne-causing bacteria, and improve blood circulation to enhance skin health. The antimicrobial and antifungal properties of tea tree oil keep the skin clean and pure. This gentle formula is also enriched with aloe vera to hydrate the skin and leave it with a soft, radiant glow.
Key Ingredients: Tea tree oil, Aloe vera, St. John's wort, Pomegranate seed oil, Salicylic acid, Zinc, Burdock root, Dandelion root, and Goldenseal
Pros
Botanical ingredients
Non-greasy
Non-toxic
A little goes a long way
Vegan
Cruelty-free
Paraben-free
Fragrance-free
Hormone disruptors-free
Cons
The unscented Foaming Face Wash from Natural Organic Family is crafted with 80% organic ingredients to make it suitable for all skin types. It is enriched with organic aloe vera, papaya extract, and orange flower water to deeply moisturize and gently exfoliate the dead skin cells while keeping the skin calm and soothed. This gentle face wash purifies the skin to keep it free of acne-producing bacteria and has natural astringent properties to reduce excess oils. It has a mild floral scent from the orange flower water, giving a refreshing feeling to the skin.
Key Ingredients: Organic aloe vera, Papaya extract, and Organic orange flower water
Pros
Vegan
Pleasant smell
Paraben-free
Phthalate-free
Cruelty-free
Artificial fragrance-free
Sulfate-free
Toxin-free
Cons
None
The combo pack of four facial masks from Freeman offers a spa-like experience to leave the skin feeling soft and clean. The Revitalizing Pomegranate Peel-Off Gel Mask is packed with pomegranate, goji, acai, mangosteen, mango, noni, and blueberry to protect the skin against free radical damage and environmental pollutants. The Renewing Cucumber Peel-Off Gel Mask contains cucumber and aloe vera that soothe and moisturize the skin and make it skin silky smooth.
The Purifying Avocado+Oatmeal Clay Mask cleanses clogged pores and refreshes, moisturizes, and rejuvenates the skin. The Anti-Stress Dead Sea Minerals Clay Mask is formulated with Dead Sea minerals and sea salt to maintain the moisture balance and an infusion of lavender and bergamot to clear away stress. These gentle masks are suitable for all skin types.
Key Ingredients: Oatmeal, Avocado, Pomegranate, Acai, Goji, Mango, Mangosteen, Cranberry, Noni, Blueberry, Dead Sea minerals, Sea salt, Lavender, Bergamot, Cucumber, and Aloe vera
Pros
Natural ingredients
Cruelty-free
No harsh chemicals
Value for money
Cons
The soothing The Tropics Face Mask from Bella &Bear is packed with algae extracts to tighten and refine open pores while deeply hydrating the skin. Algae are rich in minerals and antioxidants that draw out toxins from the skin and impart a luminous glow. This face mask has therapeutic properties and can be used on sensitive skin to soothe acne breakouts and redness and keep it conditioned and soft for over 24 hours. It is infused with the fruity fragrance of pineapple and mango to give it a tropical feel.
Key Ingredients: Mango, Pineapple, and Algae extract
Pros
Vegan
Smells good
Glides on smooth
Natural ingredients
Cruelty-free
SLS-free
Cons
None
The calming moisturizer from Kidskin is designed for children, preteens, and teens with eczema, rosacea, and acne. This non-greasy moisturizer is formulated with white tea extract to boost immune function and fight acne-causing bacteria. It helps soothe irritated skin and protects it from further damage while clearing blemishes and imperfections. This non-comedogenic cream unclogs blocked pores and tightens open pores. It also provides relief from dry patches and itchiness.
Key Ingredients: White tea extract
Pros
Non-comedogenic
Dermatologist-recommended
Paraben-free
Sulfate-free
Cruelty-free
Fragrance-free
Gluten-free
Benzoyl-free
Cons
May cause rashes and irritation.
The travel-friendly cleansing wipes from TBH are formulated with salicylic acid to exfoliate dead skin cells while unclogging pores to help combat acne and blackheads. The formula also contains witch hazel that has astringent and anti-inflammatory properties that shrink pores, fight acne, and soothe irritation. Aloe veragently hydrates and soothes irritated skin. These gentle ingredients cleanse the face of excess oil and control sebum production. They keep the skin clean and refreshed without drying it out.
Key Ingredients: 0.5% Salicylic acid, Witch hazel, and Aloe vera
Pros
Can be used on the face and body
Sulfate-free
Paraben-free
BPA-free
Gluten-free
Dairy-free
Nut-free
Cons
The long-lasting Charcoal Bar from Keika Naturals is made of coconut charcoal, which has detoxifying properties to combat acne and prevent future breakouts. The formula also includes bentonite clay that nourishes and soothes the skin. The peppermint essential oil and tea tree oil blend in this product offers a delicate fragrance and antibacterial and anti-inflammatory properties. This multitasking cleanser can be used as a shaving bar, bath soap, and shampoo. The eco-friendly brand provides everyone the opportunity to give back to the environment as they plant one tree for every soap purchased.
Key Ingredients: Coconut charcoal, Bentonite clay, Peppermint essential oil, and Tea tree oil
Pros
Smells good
Vegan
Non-GMO
Cruelty-free
Artificial fragrance-free
Paraben-free
Sulfate-free
Cons
May irritate sensitive skin.
The gentle Blackhead Removing Scrub from AcneFree is formulated with charcoal to draw out dirt and impurities from clogged pores.It cleanses the skin thoroughly to eliminate the appearance of blackheads. This effective formula contains 2% salicylic acid, which naturally exfoliates dead skin cells and prevents future breakouts. It is also enriched with jojoba to regulate sebum production and keep the skin soothed and moisturized. This scrub tightens open pores and leaves your skin feeling smooth.
Key Ingredients: 2% Salicylic acid, Charcoal, and Jojoba
Pros
Cons
Not suitable for dry skin.
Why Trust StyleCraze?
The author, Shiboli Chakraborti, is a certified skincare coach who loves reading and writing about different beauty products. She has meticulously gone through many product reviews to curate the list of best teenage skincare products out there that won't burn a deep hole in your pocket. This article lists the top products in the market that cleanse your skin and improve blood circulation to give you glowing and healthy skin.

Recommended Articles: