The 16 Best Teeth Whitening Pens For A Bright Smile
Get a bright and beautiful smile with natural, easy-to-use, affordable whitening pens.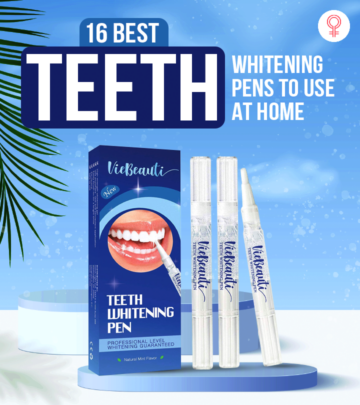 Stained teeth are a common concern for people who smoke, drink coffee, dark-colored soda, and consume colored food. In older people, age-related discoloration of the teeth is also a common occurrence. But you can get rid of these stains smoothly with the best teeth whitening pen. Dr. Farayi (Shakespeare) Moyana, a dentist, says, "Stains are removed by a scale and polished by your dentist or oral hygienist and they are prevented by refraining from consuming the very foodstuffs that create them in the first place. A bleaching agent can even work through or penetrate through stains, though it is a good thing to remove the stains before bleaching." A teeth whitening pen is structured as a thin tube containing a stain remover gel. The gel may be composed of hydrogen peroxide or carbamide peroxide that offers quick or instant results, sometimes even after a single application. These pens are ideal for quick touch-ups and are portable and safe to use. In addition, these pens have a no-mess design that assists in removing stains from your teeth without any hassle. Check out our list of the 16 best teeth whitening pens that will make your smile white! Scroll down and learn more!
How Does A Teeth Whitening Pen Work?
Teeth whitening pens contain bleaching gels like hydrogen peroxide or carbamide peroxide. These bleaches help break stains into smaller pieces, make them less concentrated to brighten your teeth. Teeth whitening pens do not require any rinsing or brushing and are easy to use.
16 Best Teeth Whitening Products To Use At Home
The AsaVea Bright White Teeth Whitening Pen eliminates the most stubborn coffee, tea, wine, soda, or tobacco stains. The compact design makes it easy for you to whiten your teeth anywhere and at any time. The pen delivers fast results with just one minute of use. It features a durable twist-up mechanism with a soft brush tip that gently paints each tooth and its crevices for a complete whitening experience. The product turns your teeth four to eight shades whiter and can last up to 20 uses. Use this pen twice daily until you reach the desired whitening level. Once you have applied, relax your lips after 30 seconds. Avoid drinking or eating for 30 minutes after application. Take a look at the honest review of the pen before purchasing it.
Pros
Mint flavor
No sensitivity
Easy to use
Portable
Compact design
Fast results
Cons
Less quantity for the price
The Venus Visage Bright White Teeth Whitening Pen comes in a pack of two, and each pen lasts up to 20 uses. This mint-flavored pen contains carbamide peroxide that can safely be used to remove years of coffee, tea, smoking, or wine stains. This gel pen is formulated with the finest ingredients and delivers quick results with only 30 seconds of daily application. It is designed with a fine precision brush and offers a bright and beautiful smile.
Pros
Fast results
Travel friendly
Natural ingredients
 Fresh flavour
Professional quality
Cons
Price at the time of publication: $17.95
The VieBeauti Teeth Whitening Pen is ideal for daily use and gives dazzling results within minutes. The teeth whitening pen can be used more than 20 times, and with every use, you will achieve four to eight times whiter teeth. It comes in a pack of two for convenient and long-time use. The gel pen is formulated with carbamide peroxide and glycerine to deliver professional quality results without causing sensitivity. It features a soft brush tip with a durable twist mechanism to paint your tooth precisely. If you are still unsure, the video about VieBeauti Teeth Whitening Pen might help you.
Pros
Durable
Convenient to use
Compact design
No sensitivity
Affordable
Travel-friendly
Cons
Price at the time of publication: $19.99
The AuraGlow Teeth Whitening Pen contains 35% carbamide peroxide whitening gel to break down and remove stains without causing any discomfort. This makes it ideal for sensitive teeth. The mint-flavored bleach has an innovative clear tube design to allow you to measure exactly the quantity used every time. The thick gel prevents leakage and the twistable design of the pen pushes the gel efficiently to the tip for proficient use. This pen can be used twice per day for visible results. After application, let it dry for 60-seconds and then wash off.
Pros
No leaks
Gluten-free
Portable
Clear tube
 Flexible brush
Cons
Price at the time of publication: $26
The Moon Teeth Whitening Pen by Kendall Jenner is an on-the-go bleach for a bright smile. Its vegan formula is enriched with extracts of honeysuckle, lavender, and strawberry fruit. The pen is available in vanilla and mint flavors to add freshness to your breath. The gentle formula has a great taste and shows visible results in just two weeks. The precision-designed brush can work for up to 30 uses. It is formulated with safe ingredients without parabens and has never been tested on animals. Click on the video to view an honest review of the Kendell Jenner Moon Teeth Whitening Pen.
Pros
Easy to use
Gentle formula
 SLS-free
SLES-free
Paraben-free
Eco-friendly
Vegan
Cruelty-free
Cons
None
Price at the time of publication: $19.99
The Panboo Teeth Whitening Pen can be used to eliminate dental plaque and improve your oral health. It offers more than 30 uses and shows visible results in two to three weeks. The bleach is made of 22% carbamide peroxide and is safe for 4-8 shade teeth whitening. The process is painless and does not cause any sensitivity. The soft brush paints each tooth and crevices easily.
Pros
Portable
Gentle
No sensitivity
Enamel safe
Can be used daily
Cons
 Takes time to show results
Price at the time of publication: $9.99
The Crest Whitening Emulsions Teeth Whitening Pen is easy to use and causes no sensitivity. Its hydrating formula has a built-in applicator for precision. The pen is formulated with active peroxide droplets in a hydrating base. The fast-acting formula guarantees you 100% whiter teeth after a few applications. It can be used multiple times in a day to achieve quick results.
Pros
Quick-drying
Easy application
No sensitivity
Alcohol-free
Cons
Less quantity for the price
Price at the time of publication: $21
The Lumineux Whitening Pen is a completely safe and effective way to whiten your teeth. It not only removes stains from the teeth but also protects them from everyday staining liquids such as coffee, tea, and red wine. Its small size makes it easy to carry and use wherever you go. It also produces results in minutes and does not require drying time. This dentist-formulated pen works wonders on harmful bacteria while maintaining oral health.
Pros
Certified non-toxic
Portable
Gentle on the gums
Causes zero sensitivity
Compact design
Cons
Price at the time of publication: $49.99
The Ismile Teeth Whitening Pen is available in a pack of two and has a compact design to allow you to take it with you anywhere and keep your teeth shiny.  It contains 35% carbamide peroxide to let you achieve a 4-8 shade whiter smile in just seven days. The clinically proven formula of the product is easy to apply, and each pen allows more than 22 uses.
Pros
No sensitivity
Gluten-free
Clinically proven
PEG-free
PPG-free
Non-GMO
Artificial flavor-free
Cons
Price at the time of publication: $19.99
The Immense Care Bright & White Teeth Whitening Pen allows you more than 20 uses to remove smoking and coffee stains and more, giving effective results in just seven days. It is flavored with mint to keep your mouth fresh and hygienic. The travel-friendly package includes two gel whiteners to last you long till you achieve a brighter smile.
Pros
Portable
Easy application
Mint flavor
Painless
Gentle
Cons
Price at the time of publication: $5.99
This quick-drying and easy-to-use product is 100% safe and effective. The Beaueli Teeth Whitening Pen is available in a pack of three and is convenient to use. It is formulated with active ingredients like carbamide peroxide and glycerin. The pen is flavored with mint to keep your mouth fresh and hygienic. Its no-sensitivity formula can be used every day and at any time.
Pros
Effective
Quick drying
Compact design
Easy to carry
No sensitivity
Cons
Price at the time of publication: $15.95
The Smile Direct Club Bright On Premium Teeth Whitening is an exclusive pack of eight pens to last you for a year. The pens are formulated with enamel-safe teeth whitening ingredients approved by dentists. The formula will let you achieve nine shade brighter teeth in just one week. This low-sensitivity formula can be applied daily for faster results. The package is designed to give you two complete sets of treatments.
Pros
Safe
No sensitivity
Mess-free applicator
Fast results
 Painless
Cons
Price at the time of publication: $24.64
This is a unique charcoal-based formula that strengthens your teeth and offers a pearly-white smile. The Active Wow 24K White Charcoal + On The Go Teeth Whitening Pen is crafted with sodium bicarbonate with activated coconut charcoal that helps to draw out stains effectively. Its compact design is perfect for carrying in your pocket or purse. Use this pen by just twisting the bottom and when the gel reaches the brush, apply it gently to your teeth.
Pros
Fast results
Mint Flavor
Compact design
Natural ingredients
Cons
Price at the time of publication: $13.99
The Colgate Optic White Express Teeth Whitening Pen is designed for no teeth sensitivity. It has a safe percentage of hydrogen peroxide, which treats yellowed teeth and helps in removing the unsightly stains, while ensuring fast and effective results. The pen is small and easy to use, and you can carry it on the go. Apply it regularly for three days you will get two shades of whiter teeth.
Pros
No sensitivity
Compact design
Easy to use
Unflavored
Quick results
Cons
Price at the time of publication: $36.99
he Breylee Teeth Whitening Pen is formulated with high-quality standards featuring organic ingredients. Its formula contains a safe percentage of carbamide peroxide to get rid of years of stubborn stains. It is flavored with mint and designed with polyclean technology that allows the whitening ingredients to enter your teeth's crevices for excellent results. Each pen can last for up to three weeks.
Pros
No sensitivity
Natural ingredients
Convenient to use
PEG-free
PPG-free
GMO-free
Gluten-free
 Artificial flavor-free
Cons
None
The Smileactives Teeth Whitening Pen is designed with a soft bristle brush tip to paint your teeth with precision and convenience. It is formulated without parabens, alcohol, and artificial flavors, making it perfectly safe for your teeth. The sleek design is easy to carry in your pocket. The water-based gel of the pen is formulated with polyclean technology to let you achieve perfect results. This formula works on crowns, veneers, and dental implants.
Pros
Alcohol-free
Paraben-free
No artificial flavors
Detergent-free
Clinically-tested
Cons
None
Price at the time of publication: $18
Want to know a important pointer before investing, don't fret, we have your back! Here are a few suggestive points to allow you to choose the best teeth whitening pen.
Buying Guide On Teeth Whitening Pen
1. Dental Association Approved: Ensure that the products you buy have the American Dental Association approval that indicates that the product is tested independently for safety and efficiency.
2. Quick Drying: If the product you buy does not dry fast it may get smudged in your mouth even before proving its credibility. Therefore, select one that dries quickly.
3. Instruction Manual: Every product has its own rules of application. Pick one that comes with a detailed usage guide to ensure proper application and better results.
4. Usage: Check for the dosage of application it allows per tube. Some tubes allow 20, and others may allow 30 uses. Depending on your choice, you can choose the product.
5. Sensitivity: To check for sensitivity, always use teeth whitening toothpaste before going for the pen. If you do not get any sensitivity with the toothpaste, you can go for the pen.
Why Trust StyleCraze?
The author, Aditi Naskar, has a diploma in Health & Wellness and has carefully curated the list of the best teeth whitening pens for use at home. These products have been closely reviewed and selected based on user feedback on multiple forums. Factors like dental association approval, quick-drying, and the number of usages have also been considered while enlisting the products here.
Frequently Asked Questions
Are teeth whitening pens safe during pregnancy?
There are no studies that confirm the positive or negative effects of teeth whitening pens during pregnancy. Either way, they are not recommended.
Do whitening pens work instantly?
Yes, teeth whitening pens offer visible results instantly after the first round of use.
How long do I leave the teeth whitening pen on?
Leave the teeth whitening pen on for 20 to 30 minutes.
How often should you use whitening pens?
Use an effective teeth whitening pen once per day for 7 days straight.
How long does it take to see results from teeth whitening pen?
Some teeth whitening pens work instantly while others take two to seven days to show results.
How soon can I eat or drink after using a whitening pen?
Wait for 30 minutes to an hour to eat or drink after using a teeth whitening pen.
Recommended Articles