The 10 Best Teeth Whitening Strips For A Brighter Smile – 2023
Get sparkling white teeth in minutes with these hydrogen peroxide strips.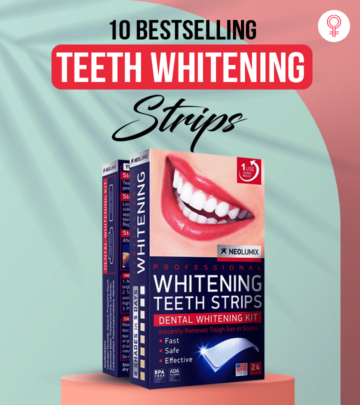 Teeth discoloration or yellowing of teeth is the most common issue found in people who frequently consume coffee or smoke or colored foods items. Teeth discoloration also happens due to aging. This is why you need the best teeth whitening strips to remove the yellowness from your teeth. The strips are formulated with hydrogen peroxide that offers different levels of whitening, considering the concentration level. Discolored teeth are not always because of faulty oral hygiene. But they surely make your smile unattractive and subject you to undeserving judgment. So, to make you smile confidently, we offer you the 10 best teeth whitening strips. Scroll down and check them out!
Are Teeth Whitening Strips Safe?
As long as you follow all the instructions on the package, teeth whitening strips are safe to use. Side effects like sensitivity, pain, and gum irritation will occur only if they are used for longer than the recommended duration. Consider the condition of your teeth and opt for a whitening strip that best suits your oral health and needs.
10 Best Selling Teeth Whitening Strips Of 2023
The enamel-safe Neolumix Professional Whitening Teeth Strips contain premium quality hydrogen peroxide to deliver quick and visible results. They make the teeth four to eight shades lighter in less than thirty minutes. The gentle action of these strips effectively removes stains from tea, coffee, wine, and nicotine while leaving a pleasant menthol taste in your mouth. It can remove up to 95% of enamel stains within just a week of use. This whitener set comes with 24 strips that adhere to the teeth easily and do not slip off.
Pros
 Enamel-safe
 Fast and easy
 Non-toxic
 Non-slip grip
 BPA-free
 Harmful chemical-free
Cons
 Strips are short in length
Price at the time of publication: $19.89
The advanced adhesion on the Zimba Wintergreen Teeth Whitening Strips ensures that the strips stay comfortably on the teeth without moving or slipping off. The gentle formula of the strips reduces tooth sensitivity to eliminate pain during the whitening process. It gives your mouth an icy fresh feeling, thanks to the natural oils of wintergreen. The pack contains 28 professional-grade strips that can fade stains from coffee, soda, wine, tea, and smoking.
Pros
 Instant results
 Non-slip grip
 Enamel-safe
 Reduces sensitivity
 Natural ingredients
Cons
 Leaves a residue on the teeth
Price at the time of publication: $24.99
The lower concentration of hydrogen peroxide in Crest 3D Whitestrips is especially suited to sensitive teeth. These are thin, flexible strips that are coated with a tooth whitening gel that is used and recommended by dentists. The strips are crafted using advanced seal technology to offer a no-slip grip on the teeth, making it comfortable to wear them while offering the freedom to drink water or talk during the whitening process. This enamel-safe dental whitening kit comes with 28 strips for 14 days of treatment that removes years of stains caused by tea, coffee, wine, and nicotine. Take a look at this video for a detailed demo of the Crest 3D Whitestrips.
Pros
 Suitable for sensitive teeth
 Non-slip grip
 Easy to use
 Enamel-safe
Cons
 Might have to use more for the results to show.
Price at the time of publication: $42
The Teeth Whitening Strips kit from Solimo includes 10 treatments of 30-minute daily whitening strips. They are made with professional-grade seal technology that stays in place to allow you the comfort of being able to talk during the treatment. These strips are gentle on your teeth and keep the enamel safe while removing tough stains that have built up over the years.
Pros
 Non-slip grip
 Easy to remove
 Enamel-safe
 Easy to use
 Express whitening
Cons
 Can cause tooth and gum sensitivity
Price at the time of publication: $21.6
The superior-grade teeth whitening strips from MySmile offer more natural and gentler whitening results. The formula uses carbamide peroxide which makes it ideal for sensitive teeth and gums. These quick-acting strips show visible results from the first application and deliver two shades of whitening. Its professional seal technology offers a no-slip grip that makes it possible to talk and drink water during the whitening process. The enamel-safe formula removes tough stains from coffee, tea, wine, and smoking in under 30 minutes. You'll see a whiter smile after 3 days, and full results in 14 days. The pack contains 28 strips that can be used for 14 whitening treatments.
Pros
 Enamel-safe
 Safe for sensitive teeth and gums
 Reduces sensitivity
 Non-slip grip
 Fast-acting
 Top-grade active ingredients
Cons
None
Price at the time of publication: $39.99
The 6% peroxide whitening ingredients in the Bright White Teeth Whitening Strips from PERSMAX release oxygen power to effectively whiten the teeth for visible results. The strips contour the teeth to ensure a snug fit and eliminate any chances of slipping off. You can comfortably use it while talking, traveling, or drinking water. Instant results are delivered in about 30 minutes, but consistent use of these strips will keep your teeth stain-free for up to 6 months. The set comes with 28 strips to deliver 14 treatments to remove the toughest stains and discolorations.
Pros
 28 whitening strips
 Easy to apply
 Mint flavor
 Effective whitening
 Long-lasting effective
 No-slip grip
Cons
 Increases saliva production
Price at the time of publication: $16.99
The pack of 40 teeth whitening strips from Aumay removes stains and brightens teeth from the inside out. Its gentle formula does not cause pain or discomfort to sensitive teeth while it eliminates stubborn stains from coffee, tea, wine, and smoking. These dry strips are easy to use as the gel is moisture-activated and sticks to the contours of the teeth perfectly with no risk of slipping off. It only takes 20 days of teeth whitening treatment for your teeth to become shiny and super white. The brand also assures a 100% money back guarantee if you are unsatisfied with the results.
Pros
 Non-slip
 Non-sensitive
 Mint flavor
 Enamel-safe
 40 whitening strips
 100% money back guarantee
 Vegan
 Fluorine-free
 Cruelty-free
Cons
Price at the time of publication: $14.99
The advanced sheer film technology of the Sheer White! Teeth Whitening Strips makes your teeth intensely white. These strips perfectly mould to the contours of the teeth to provide full coverage. The is 20% carbamide peroxide in the formula provides a pain-free option to get rid of stains and discoloration for sensitive teeth and leave you with 5 times brighter teeth. The strips have good adhesion and stays put while drinking water or talking.
Pros
 Good for sensitive teeth
 Adheres well
 Comfortable to wear
 Quick results
 Full coverage
Cons
Price at the time of publication: $34.97
The easy-to-use Burst Coconut Whitening Strips are infused with nourishing coconut oil that soothes your gums and teeth. These strips also contain hydrogen peroxide to deliver the active whitening ingredient into the porous surface of the teeth for visibly whiter teeth in just one week. The non-slip grip and 15-minute formula make the strips a perfect on-the-go whitening solution. It leaves no lingering chemical aftertaste and can tackle tough coffee, tea, or smoking stains. Go through this video for an honest review of the Burst Coconut Whitening Strips.
Pros
 Enamel-safe
 Non-slip
 No chemical taste
 Saves time
 90-day money-back guarantee
Cons
Price at the time of publication: $19.99
The EZGO Teeth Whitening strips use premium quality ingredients to ensure that your teeth experience no pain or sensitivity. It contains a set of 14 pouches of 28 strips for daily applications to remove tough stains from wine, tea, coffee, and tobacco. It is easy to use and has a good adhesion power to make them comfortable to wear while talking and drinking water. Using the strips for about 30 minutes every day can make your smile significantly whiter and brighter.
Pros
 Quick results
 Easy to use
 Enamel-safe
 100% natural ingredients
 28 whitening strips
Cons
Price at the time of publication: $13.99
What To Look For In Teeth Whitening Strips
Before you choose your teeth whitening strips, it is important to keep some factors in mind.
1.Consult Your Dentist: A professional opinion will guide you on the products that are best suited to your teeth.
2. ADA Seal: The presence of the ADA seal of approval ensures it is safe for your teeth and has been tested independently.
3. List Of Ingredients: Some whitening treatments may contain ingredients that are harmful to the enamel or cause sensitivity. Read the label thoroughly to know the concentration of the whitening ingredients like hydrogen peroxide to determine what's best suited to your teeth.
4. Time Commitment: Since all whitening treatments require you to use them daily for a certain duration of time, you will need to choose a product that fits into your schedule. So, depending on how much time you can devote to the application, choose a five-minute express whitening or a 45-minute one that allows you to perform other activities in the meantime.
5. Keep Your Dental History In Mind: Your dental history and the condition of your teeth must be taken into consideration. Also, pay attention to the signals your teeth give you during the treatment. If you develop sensitivity or irritation, then discontinue the application temporarily or switch to a milder formula.
How To Use Teeth Whitening Strips
It is important to follow the directions on the package while using teeth whitening strips. However, the most common application steps are listed below.
 Wash and dry your hands.
 Make sure your teeth are dry.
 Remove the lower strip from the pouch. Peel off the plastic covering, which covers the adhesive layer.
 Carefully place the strip on your teeth with the sticky gel side facing the teeth.
 Try to keep the strip away from the gums.
 Do the same with the upper strip for your upper teeth.
 Let the strips remain on your teeth for the duration of time mentioned on the package. It could take five minutes to an hour sometimes.
 Gently peel off the strips once the time is up.
 Rinse out your mouth thoroughly with water.
Repeat the treatment daily for the number of days mentioned on the packaging.
Why Trust Stylecraze
Aditi Naskar, the author of this article, has a diploma in health and wellness and a strong drive for discovering and reviewing fitness products that are worth investing in. She has widely researched teeth whitening strips by looking at the product details and examining user feedback to shortlist the top options. These recommended strips are designed with non-harmful ingredients and remove stains and yellowing to give whitened teeth.
Frequently Asked Questions
Are teeth whitening strips better than gels?
Teeth whitening strips are generally considered a better option than gels. Since teeth whitening strips do interfere with daily routine, they are more convenient. Although the strips deliver quicker results, they may not be able to provide the long-term results of professional gel treatments.
Is it safe to use teeth whitening strips during pregnancy?
No, it is not safe to use whitening strips during pregnancy. They contain a mild amount of peroxide, and since it is not clear if these chemicals harm the baby, it is better to wait until after the baby is born to use these treatments.
How often should we use teeth whitening strips?
Once you start the treatment, the strips should be applied daily till the end of the course. They must be used daily for optimum benefits. That being said, avoid using whitening strips continuously beyond the period of time mentioned in the instructions as it can harm your teeth or lead to other dental problems.
How long do you leave teeth whitening strips on?
Since each pack of strips is formulated with varying degrees of concentration of the whitening agents, it is important to follow the instructions on the product. The time duration is likely to range between 5 to 45 minutes.
What teeth whitening strips work the fastest?
The MySmile Teeth Whitening Strips work the fastest. The strips are infused with carbamide peroxide that removes stains and whitens your teeth immediately after the first application.
Do you brush your teeth before or after whitening strips?
Brush your teeth before using whitening strips to remove the slimy layer on your teeth. This allows strips to come in direct contact with the teeth.
Are teeth whitening strips permanent?
No. The effect of good quality whitening strips lasts for six months. Use strips again to maintain the white color of your teeth.
Can you leave teeth whitening strips on overnight?
No. Do not leave teeth whitening strips on overnight; otherwise, it will harm the teeth's enamel. Using it beyond the usage time mentioned on the label makes your teeth porous.
Recommended Articles