8 Best Temporary Hair Dye Gels
Keep your muscles toned and metabolism boosted with these sturdy and durable weights.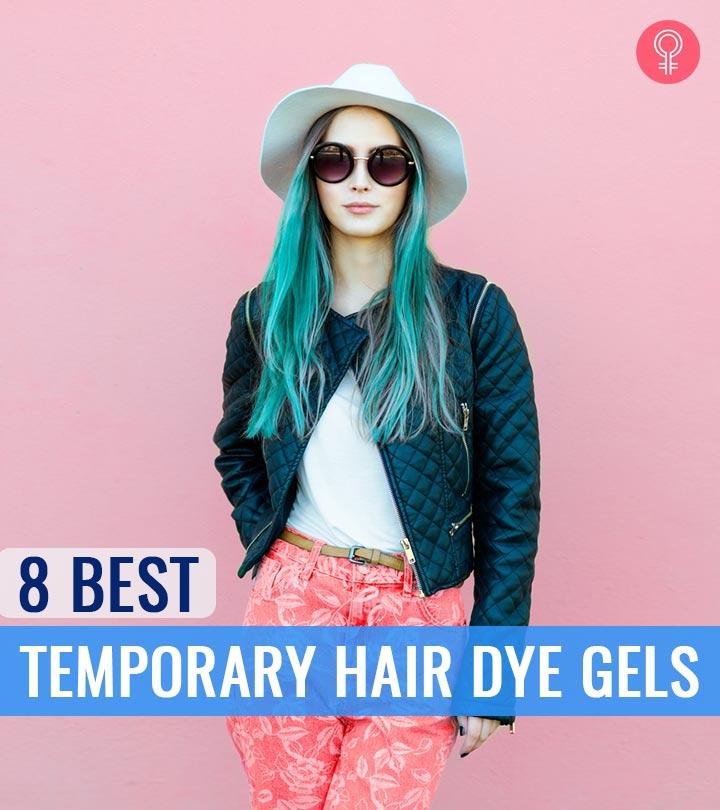 Temporary hair colors are the way to go if you want to change your hair color without permanently damaging it. Because your beautiful hair only deserves the best there is. We've put together a list of the 8 best temporary hair color gels that you can experiment with and flaunt your beautiful tresses in all their glory. Feel free to try these temporary hair colors and that pop and oomph to your hair to make you stand out of the crowd for the diva you are! What are you waiting for? Get started on the list now!
8 Best Temporary Hair Dye Gels
The Manic Panic Hair Color Gel comes in convenient squeeze tubes and is easy to apply. It is available in 11 punky shades and is suitable for wavy, curly, standard, textured, and straight hair. The non-dripping formula can be easily washed off with shampoo, and the colors can be mixed to customize your shade. The gel provides a strong hold, vibrant color, and gives vibrant results on dark hair. The shade Vampir Red has a bold, blood-red color and gives reddish-burgundy results on unbleached hair. Check out the review of this product for more information.
Pros
Washable
No stains
Affordable
PPD-free
Ammonia-free
Paraben-free
Gluten-free
Resorcinol-free
Phthalate-free
Vegan
Cruelty-free
Cons
Transfers easily
Takes time to dry
The YHMWAX Hair Coloring Wax has a muddy texture and is made of 100 % plant extracts that nourish the hair and colors without any damage. It gives brilliant shine and long-lasting color and is perfect for hairstyling and gray touch-up. The product provides medium hold, sets quickly, and is perfect for oily and curly hair. The shade purple gives rich color payoff even on dark hair.
Pros
Long-lasting
Multiple color options
Affordable
Contain organic ingredients
Pleasant fragrance
Easy to wash
Dye-free
Cons
If you are searching for bright neon hues, try the Moon Glow Neon UV Hair Gel. It is ideal for adding streaks and accents and is available in eight colors. The product gives bright neon tones in natural light and glows under UV lighting or black lights. It provides a strong hold and is designed to last long. The color is available in small tubes that are easy to carry for instant touch-ups. It is suitable for all hair types.
Pros
Affordable
Easy to wash
Vegan
Non-toxic
Cons
Expensive for the quantity
Contain parabens
The ELEGANCE Gel+Color is perfect for gray coverage and also works as a styling gel. This black tinted hair gel is specially formulated to provide instant color touch-up and lasts the entire day. It is easy to use, flake-free, and volumizes the hair instantly. The gel has a refreshing fragrance and can be used regularly.
Pros
Flake-free
Refreshing fragrance
Easy to wash
Cons
The Zach's Wax Hair Color Gel has a water-based formula that is easy to apply and suitable for all hair types. It is available in vibrant and neon colors and is easy to apply and remove. The washable formula does not damage the hair and can be used by adults and kids.
Pros
Multiple color options
Easy to wash
Safe for kids
Cons
No color payoff in dark hair
May stain blonde hair
The Christophe Robin Temporary Color Gel is infused with natural ingredients and gives rich color payoff. It has a gentle formula that stays for 5-7 washes. The color masks gray hair and adds shine to it. The gel is ammonia and peroxide-free and does not damage the hair shafts. The shade Dark Chestnut imparts a reddish-brown color to light hair and dark tan color to dark hair.
Pros
Long-lasting
Ammonia-free
Peroxide-free
Contain natural ingredients
Imparts shine
Cons
The Good Dye Young Poser Paste is a high-quality oil-based color and has a gel-based formula. It contains sunflower extract that conditions the hair and makes it shiny. The formula contains bergamot and sweet orange essential oils and has a refreshing fragrance. You can mix different colors of the same brand to customize your shade. The product is PETA approved, safe for all hair types, and washable. The shade Ex-Girl Pink is a vibrant pink shade and does not stain bleached or blonde hair.
Pros
Easy to wash
Vegan
Cruelty-free
Safe for all hair types
Provides medium hold
Non-staining
Cons
The 4RootZ Colored Hair Gel is perfect for gray coverage and also doubles as a hair styling gel. It instantly camouflages gray hair strands and gives a beautiful, natural brown color. This unisex gel can also be used as a beard concealer and facial hair darkener. It is suitable for all hair types, is non-drying and non-flaking, and does not damage the hair roots. The color is easily washable.
Pros
Alcohol-free
Paraben-free
Wax-free
Easy to remove
Cons
Why Trust StyleCraze?
The author, Shiboli Chakraborti, is a certified skin care coach who enjoys all things related to hair, keeping a close eye on the newest hair trends. She advises that the right dye can give you dark, rich, and luxurious locks that look salon-style. She compiled this list of the top products after extensive research and analysis of many online reviews. If you want the color you've been dreaming of, temporary hair dye gels can help you get it.
Frequently Asked Questions
Does the Manic Panic hair color gel wash out?
Yes, the Manic Panic hair color gel easily washes out. The formula offers a strong yet temporary hold and is fairly easy to apply.
How long does a temporary hair dye gel last?
A temporary hair dye gel lasts for four to six weeks.
How long can I leave the Manic Panic hair color gel on my hair?
You may leave the Manic Panic hair color gel on your hair for 30 to 40 minutes before thoroughly rinsing it with running water.
Does hair color gel hide gray hair?
Yes, colored hair gels hide gray hair and roots.
Do temporary hair color gels work on dark hair?
Yes. The vibrant and eye-popping temporary hair color gels work more than the subtle shades.
Recommended Articles