9 Best Temporary Tattoo Markers Of 2023 – Reviews & Buying Guide
For the indecisive artist in you that is not ready to settle on any particular tattoo.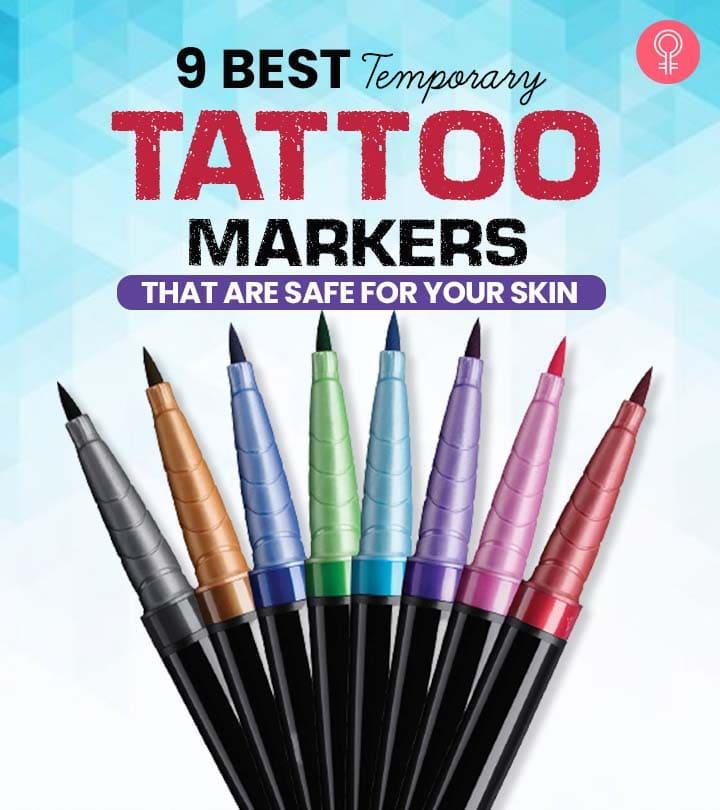 Tattoos have been ingrained in our society for over a thousand years as a universal emblem of flair and self-expression. Temporary tattoo markers are a relatively new development that is ideal for tattoo lovers who want their bodies to be a constantly changing canvas.This is because tattoo markers allow you to experiment with different styles and designs without having to permanently ink yourself. If you're addicted to having tattoos and want to keep getting tattooed without leaving anything permanent on your body, these tattoo markers are for you.
We've put up a list of the 9 finest temporary tattoo markers for you to try out. Are you ready to put one to the test? Scroll down to find out more.
What Are Temporary Tattoo Markers?
A temporary tattoo marker is a special pen that allows you to create a temporary design on your skin. This temporary tattoo pen is best for tattoo freaks who like experimenting with different designs on their body.
In the next section, we have listed the 9 best temporary tattoo markers of 2023 available on the market.
9 Best Temporary Tattoo Markers Of 2023
BIC BodyMark has one of the best temporary tattoo pens for inking your body. These skin-safe, cosmetic-quality tattoo markers come in bright colors. Plus, the flexible felt tips enable you to draw thin or broad strokes as per your design. You can also embellish your multicolored tattoos with sparkles or gem tattoos for an enhanced effect.. This video will help you make an informed decision about your purchase.
Pros
Long-lasting
Odorless
Colors can be mixed
Cons
Colors bleed
Tip gets damaged after a few uses
Price at the time of publication: $24.25
These fade-resistant markers from BIC BodyMark are great cosmetic weapons that allow you to express your story on your skin. Unlike permanent markers, these marker pens let you create masterpieces on your body without impacting your skin. Their flexible felt and bright and lasting pigments give you the liberty to create masterpieces. They come with two magnificent color options for experimenting with amazing body art.
Pros
Cosmetic quality
Easy removal
Cons
Price at the time of publication: $6.99
Looney Zoo Temporary Tattoo Markers include four markers with different finishes. The set has one metallic silver, one gold, and two-midnight black markers. All of them are high quality and suitable for all skin types. The metallic pens add a tinge of shimmery hue to your skin for a perfect gala look. They are safe to be used on the body to create beautiful art pieces using the 20 self-adhesive stencils that come with the set. You can use the broad tip of the marker to color the large areas and the fine tip to add details to your tattoo. The marker is easy to remove from the skin with the help of water and soap.
Pros
Easy to remove
Stencil-compatible
Safe for all skin types
High quality
Waterproof
Gentle stencils
Cons
Price at the time of publication: $19.95
Want to decorate yourself with long-wearing body art? Then these temporary tattoo pen kits from Vanli's would be your best bet. The kit comes with six original fine felt pens and seven metallic brush pens with vivid color options. Additionally, a set of fifty tattoo stencils in this pack offer unique design options for creating amazing body art. The bright pigmented inks are absolutely skin-safe and are formulated from non-toxic ingredients. Moreover, the products meet all cosmetic standards and boost your creative mind to make tattooing much more fun and safe!
Pros
Variety of colors
Non-toxic ink
Stencils included
Cons
Price at the time of publication: $14.99
Element Tattoo Supply Tattoo Skin Markers are of high quality. The set includes five markers and each of them features gentian violet ink that is safe to use on the skin. It is used to draw temporary tattoos or use for marking references when tattooing or ear piercing. The marker does not dry out.
Note: It is advisable to clean the skin with alcohol to ensure the marker stays on for a long time.
Pros
Safe to use
Easy to use
Washable
Long-lasting
Water-resistant
Disposable
Cons
Price at the time of publication: $9.97
These tattoo pens from Velvet are one of the best choices for temporary yet lasting body arts. The waterproof and water-based marker stays long without fading, while the flexible tapered velvet-like tip aids in creating effortless strokes. These professional quality tattoo pens feature excellent waterproof and smudge-proof ink that help you get a unique design that lasts all day.
Pros
Felt-tip
Fade-proof
Smudge-proof
No dragging or pulling
Ink dries instantly
Waterproof
Easy-to-apply
Cons
Colors flake after drying
Price at the time of publication: $45.99
Are you a tattoo freak but fear the pain of permanent tattoos? Then this totally temporary tattoo kit from Inkbox is the best choice for you. The set comes with an ergonomically designed bottle, stainless steel tip pack, shading ink, pen, transfer paper, and pencil that lets you bring out your creative ideas on the human canvas. The interchangeable tips add depth and dimension to the ink that stays for 1 to 2 weeks.
Pros
Beginner-friendly
Plant-based ingredients
Long-lasting
Easy to apply
Cons
Price at the time of publication: $49
This edition of BIC tattoo markers celebrates Pride. It contains the six colors of the pride flag and a bonus black marker. These skin-safe temporary tattoo markers are cosmetically-approved. The cosmetic-quality ink ensures a long-lasting color impact with immense vibrancy. Moreover, these tattoo pens are great as they are easy to remove and suit your changing style needs. The markers feature flexible brush tips that are great for fine or broad strokes and add depth to your designs.
Pros
Cosmetic quality
Lasting colors
Child-friendly
Suitable to create a variety of designs
Easy to remove
Cons
None
Price at the time of publication: $19.53
Tattooing is great fun and more so when you are dolling up for parties like Halloween night. These cosmetic-quality and versatile temporary tattoo markers let you unleash your crazy side with bright and long-lasting colors. You can also rely on these markers for your skin safety as they comply with all the cosmetic regulations. Their flexible brush tips allow you to seamlessly add depth and dimension to your body art through broad or fine strokes making them one of the best precision markers. The kit also comes with four sticker-like stencils that help you reveal your beautiful body art effortlessly.
Pros
Bright colors
Long-lasting
Cons
None
Price at the time of publication: $14.99
Temporary tattoos are a risk-free investment. But not all temporary tattoos are alike. There are the good, the bad, and the ugly. The following buying guide can help you pick the best one for you.
How To Choose The Best Temporary Tattoo Markers?
Check whether the pigment is durable.
Make sure the marker tattoo pens are waterproof.
They should be skin-friendly.
The pigment must have a quick-dry formula.
Look for pens with precise tips.
Let us give you a quick review as to how you can get fantastic and trendy tattoo designs with these temporary tattoo markers.
How To Make Temporary Tattoos With Markers?
Firstly, clean the area with a cotton pad or alcohol to remove traces of dirt, oil, water, or lotion.
Place any design pamphlets or stencils, if any, on the area.
Press the tip lightly for a fine stroke and press it hard for bold and thick lines.
After you are done with the outlines, fill in the color and allow it to stay for a while for an enhanced effect.
Let it dry out. Ensure you do not apply water or soap immediately (for creating a lasting color impact).
Why Trust StyleCraze?
The author, Baishali Bhattacharya, is certified in makeup artistry. She thoroughly researches different products used in makeup and has an in-depth understanding of various makeup trends. The list of temporary tattoo markers is curated after extensive exploration and reading online feedback on trusted platforms. These tattoo markers allow you to experiment with different styles and can be removed easily.
Frequently Asked Questions
Are tattoo markers safe?
Tattoo markers with non-toxic seals are safe to be used on skin even for children. But to be on the safer side, these body markers should be avoided using on extremely sensitive skin or on delicate areas like around the eyes.
What is the longest-lasting temporary tattoo?
Temporary body art or tattoos can last for several weeks. General stick-on tattoos are great for creating a lasting impression as they stay on for nearly a week.
Are temporary tattoos worth it?
Yes. They are painless, and can be washed off when required. They are ideal for short-term use.
How do you keep temporary tattoos from fading?
Keep your skin dry and clean before getting a tattoo. Do not apply lotion on the painted area. Oils or creams from lotions can lighten the pigment and fade the temporary tattoos much faster.
How long do temporary tattoos last?
Temporary tattoos last for one to two weeks. It may also last for three weeks, depending on the exposure to water and sun.
How do you remove temporary tattoo markers?
Follow these DIY methods to remove temporary tattoos.
• Press a transparent tape against the tattoo art, rub it firmly and peel the tape. It will work if the tattoo is 24 hours old.
• Scrub the tattoo with any skin care product like baby oil or a hand sanitizer that contains alcohol.
How do you remove BIC temporary tattoo markers?
Lather the surface of the tattoo with soap and rinse with lukewarm water. You may use makeup remover or baby oil to remove BIC temporary tattoos.
Recommended Articles