7 Best Tennis Balls For Practice, According To Reviews
Get a tennis ball so good that it faces your smashes and strokes all day long.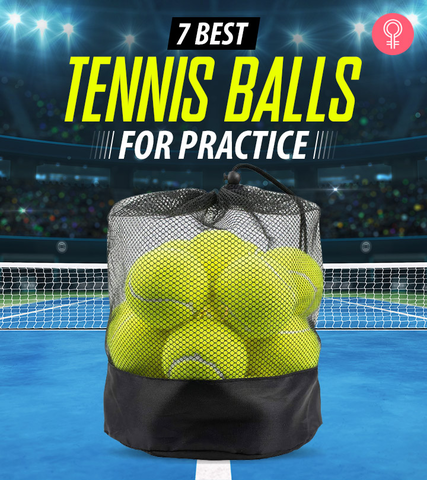 To become the best tennis player, you need to practice vigorously. And, if you are a novice, a tennis ball used by experts might not be the best. So, the best tennis balls for practice are here to lead you to become a better player. These balls support your hours of practice and training sessions. They are specially designed to be wear-and-tear-resistant and withstand pressure.
James Shapiro, a sports performance coach and personal trainer with over 9.5 years of experience, states, "There is a clear distinction behind tennis balls for hitting and practice. A ball with both benefits will ensure improvements to your game."
Durability and quality are the foremost things to consider while choosing a tennis ball. We have rounded the 7 best tennis balls that assist you in practicing smoothly. Check them out below!
7 Best Tennis Balls For Practice
The pack of advanced tennis balls by Tebery is made of shock-absorbing rubber material ideal for anything from tennis practice to playing fetch with your dogs. It delivers a long-lasting and consistent bounce height of about 135cm. These balls come with a reusable mesh carry bag that makes it easy to carry and store.
Specifications
Material: Rubber
Number Of Pieces:20
Pros
Durable
Sturdy
Affordable
Versatile
Cons
None
Price at the time of publication: $18.99
The Gamma Pressureless Tennis Balls are designed for long-lasting, consistent performance during your practices. It is a pack of practice balls with 48 pieces. These non-pressurized balls offer good bounce on hard or soft courts without ripping apart. These tennis balls can be used by professionals and amateurs alike. They come in a reusable and sturdy poly bucket with a handle and lid, making it convenient to carry around the court.
Specifications
Material: Rubber
Number Of Pieces: 48
Pros
Durable
Crack-resistant
Zero rip
Great value for money
Cons
None

Price at the time of publication: $69.99
Wilson Prime All-Court Tennis Ball features exclusive Duraweave felt which makes it suitable for all skill levels and courts. The company is the official ball of the Australian Open Grand Slam, US Open Championships, and NCAA Tennis. The ball is durable for extended play and provides excellent performance on all courts. This tennis ball can be used for training or competitions.
Specifications
Material: Rubber
Number of Pieces: 3
Pros
USTA and ITF approved
Durable
High-performance
Value for money
Zero rip
Excellent bounce
Cons
Price at the time of publication: $9.9
The popular brand of Penn Coach features a pack of three pressurized tennis balls that deliver excellent performance. These full-speed training balls are designed with a standard pressurized core that offers better ball control for novice players who are still in training. You can use these standard weighted balls with your coach or for practicing with a ball machine. This video will help you make an informed decision about your purchase.
Specifications
Material: Rubber
Number Of Pieces: 12
Pros
Durable
Sturdy
Excellent bounce
Cons
Price at the time of publication: $24.6
The Gejoy Tennis Training Balls come in a set of four tennis balls with strings that make them ideal for daily strenuous practice. These balls are made of safe and non-toxic rubber liner that offers excellent impact resistance and durability. The thickened wire rope has a 2mm diameter that effectively holds your ball in the built-in wire hole to improve your performance. So, whether you wish to use them for practice or training your pets, these balls offer long-lasting performance.
Specifications
Material: Rubber
Number Of Pieces: 4
Pros
Sturdy
Non-toxic
Durable
Built-in string
Budget-friendly
Cons
Price at the time of publication: $11.99
Now you can improve your tennis skills anytime, anywhere with the all-new Hoperay Tennis Trainer Kit. This tennis trainer helps you practice your returns, backhand strokes, volleys, and top spin hits without needing a partner or a ball machine all the time. The trainer is equipped with a convenient string to keep the ball in place while you train. All you need is to fill the baseboard with sand or water, and you're good to go.
The kit comes with a PE baseboard, three tennis balls and elastic return strings, and a metal pin connector. The balls are durable and good for beginners who want to practice regularly.
Specifications
Material: Rubber
Number Of Pieces: 3
Pros
Easy to use
Sturdy board and balls
Good for beginners
Non-toxic
Cons
Price at the time of publication: $6.99
If you like to practice your serves on your own, then the Teloon Solo Tennis Trainer Rebound Ball is made just for you. The design uses a ball attached to a training base that can be filled with water or sand with an anti-skid material that holds the training base in place. The rubber string attached to the ball can be wrapped up to your desired length to mimic heavy and longer swings.
The ball is made with natural rubber and a thick core and lotus wool on the outside, making it ideal for all kinds of court practices.
The set comes with two elastic ropes, one metal clip, one base, and one portable mesh bag to carry the ball around anywhere you go. Watch this video to get a detailed review of the product.
Specifications
Material: Rubber
Number Of Pieces: 2
Pros
Durable
High rebound
Sturdy
Easy to use
Portable
Anti-leak board
Cons
None
Price at the time of publication: $17.99
Tennis as a sport is competitive and demands one to be in their best form, which requires hours and hours of practice. For the best practice sessions that will get you court-ready, choose the best tennis balls. Here's a quick guide on how you can do that and more.
How To Select The Best Tennis Balls For Practice
Pressure-Less Or Pressurized
One of the most common differences you'll come across is whether to go for pressure-less or pressurized tennis balls. Pressurized tennis balls are the common tournament balls made with internal air pressure, allowing them to bounce higher. On the other hand, pressure-less balls do not come with compressed air inside, so the bounce is quite low, which is why they are typically slower. If you need a pressure-less ball for your daily practices, it is advised to look for the product label that specifically mentions 'pressure-less.'
If you reside in a place that is quite high above sea level, then you must opt for pressure-less tennis balls. This is because high altitudes naturally have a significantly higher air pressure than at sea level, resulting in the ball automatically traveling faster. To maximize control and performance, it is often advised to go with pressure-less tennis balls as pressurized ones may be difficult to work within high-altitude places.
Another major factor that will influence the ball you choose is the surface of the court you are practicing on. Clay or grass courts are usually gentler on the balls and cause less wear and tear, however, hard courts can destroy the balls pretty quick. So, if you do not wish to replace your training balls every month, go for sturdier balls that will last you longer.
The major difference between heavy-duty tennis balls and regular tennis balls will be how long the balls last. Heavy-duty balls use more nylon than wool, while the regular duty ones use more wool than nylon.
Heavy or extra-duty balls will feel fluffier, move slower, and will last longer on hard courts. Similarly, the regular duty balls move a little faster and are less fluffy, making them ideal for soft surfaces like grass or clay that do not wear the balls out very soon. It may also lead to reduced ball fuzzing. It is also best to opt for optic yellow balls for enhanced visibility.
Why Trust StyleCraze?
Aditi Naskar, the author, is our in-house health expert who holds a diploma in health and wellness and loves trying out different fitness equipment and gear. She relies on tennis balls to target muscles and believes they are a must-have for anyone who likes to add fun to their workout regimen. So, she has thoroughly researched tennis balls and gone through hundreds of online reviews to pick the best ones for her readers. The products listed in the article are durable, sturdy, and affordable.
Frequently Asked Questions
Why are some tennis balls numbered?
Most often than not, tennis balls are numbered so that players can distinguish their balls from the ones belonging to another court.
What are the lines on a tennis ball?
The seam on the surface of a tennis ball is where the fuzzy covering is attached to the ball's surface. There are also seamless tennis balls available on the market.
Are pressureless tennis balls good for practice?
Yes, pressureless tennis balls are more durable than normal tennis balls. Since they generate less spin and are heavy, they require more force to hit and are great to practice with.
What is the difference between practice tennis balls and regular tennis balls?
If compared with regular tennis balls, practice tennis balls are usually not too great in quality. Moreover, regular tennis balls last longer than practice balls.
Which is better – pressurized or pressureless tennis balls?
Pressureless tennis balls are heavier and produce less bounce. Pressurized tennis balls have more spin response and more bounce. You can choose one based on your requirement. However, choose pressurized balls if you want to play tournaments.
Does the quality of the tennis balls matter?
Yes, the quality of the tennis balls determines whether the balls are long-lasting and can withstand constant hitting during intense practices.
Which tennis ball lasts the longest?
Pressureless tennis balls last longer than any other tennis balls.
Recommended Articles