10 Best Tennis Racket Grip Tapes For Great Comfort – 2023
Get a better hold of sports equipment and bring out your true athletic skills!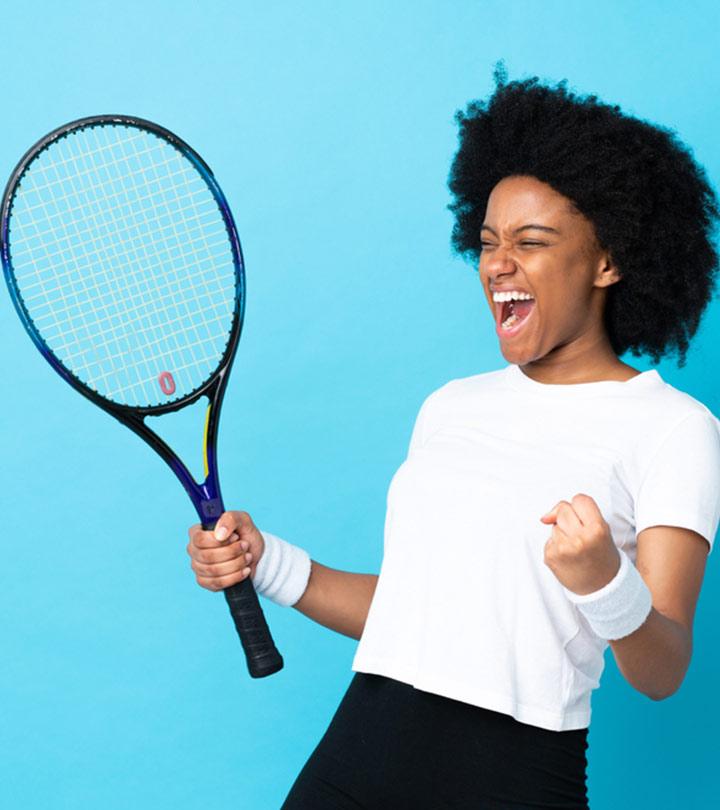 Who are you channeling today? Roger Fedeger, Stefanos Tsitsipas, Serena Williams, or the very mild Pete Sampras? No matter who you're aiming to play like today, the game of tennis can be made much smoother with some tennis racket grip tapes. It can help you focus and keep your head in the game as your grip is already reinforced. It feels comforting against your palms as it helps absorb sweat and provides cushioning too.
We'll get into all the details and the benefits shortly, for now, let's take a look at some of the best tennis racket grip tapes. Trust us, if you've never used these tapes before, you're in for a treat! Watch how your game improves and you'll be serving ace after ace like nobody's business! Let's get started and find one that suits your needs best!
10 Best Tennis Racket Grip Tapes For Great Serves And Aces
If it's good enough for Roger Federer (yes, he uses this one), it should be good enough for you, or for that matter anyone, don't you think? Considered the best tennis racket grip, this one features an extra tacky surface, offering you a firm yet comfortable hold. It's designed with a unique tread pattern for traction like no other and is long enough for several wraps. Weighing only 20 grams, the tape is incredibly lightweight, easy to use, and offers a comfortable grip.
Pros
Available in multiple colors
Tacky surface
Strong traction
Easy to cut
Doubles as a durable cover
Cons
Some may find it slightly narrow.
Price at the time of publication: $9.99
The ALIEN PROS Tennis Racket Grip Tape is quick and accurate to apply. Your racquet will feel brand new with this tape. It will effectively prevent your grip from slipping while absorbing perspiration. The product includes six black tennis racquet overgrips. Each tennis tape measures 43.3 inches in length, 1 inch in width, and 0.02 inches in thickness. Each grip tape is composed of PU, which has a dry feel and comes with vibration dampening to help you avoid being hurt. It can also be used for archery, rowing, dumbbells, squash, pickleball, badminton, and other sports.
Pros
Easy to use
Absorbent
No-slip grip
Cons
Price at the time of publication: $9.99
Serve like a pro and kill it with every drop shot with a little help from this tennis racket grips tape that deserves an honorable mention. It offers an enhanced yet comfortable grip with an specially-engineered tacky elastomer material and the grip offers confident control with every shot. And if your hands are constantly sweaty, don't worry, the tape is moisture absorbing too. Made with a thicker cut, it dampens impact and provides superior cushioning.
Pros
High comfort PU
Airbag felt
Shock-absorbing PU
Maximum tackiness
Cons
Some may find it too sticky.
Price at the time of publication: $9.5
Use the Tourna Multi-Purpose Sticky Grip Tape to boost performance while efficiently absorbing shock. It is unscented, wicks away sweat, and remains anti-slip, so you can focus on the game while retaining a fantastic hold. In addition to tennis racquets, squash, badminton, and other sporting equipment, it can also be utilized for fishing poles.
Pros
Non-slip grip
Easy to use
Offers sticky feel
Cons
Price at the time of publication: $6.02
The material used to make the Palbea Extra Adherence Padel OverGrip is intended to improve grip and adhesion on the handle. When in contact with air, the overgrip becomes more sticky as a result of a natural oxidation reaction. It combines sensitivity and vibration dampening in an ideal way. The padel tennis grip tape is incredibly soft and comfortable, thanks to its cotton backing, which also lessens vibration and impact on joints. The tape guarantees to be cozy, adherent, and sweat-absorbing so that you can maintain a tight grasp on the racket handle. The grip tape for padel rackets is made to quickly absorb hand perspiration. The invisible sweat proof micro-holes in the Polyurethane (PU) material help keep the grip wrap dry.
Pros
Sweat absorbent
Non-slip grip
Adhesive closure tape
Designed for padel racket
Cons
Price at the time of publication: $4.99
The Get A Grip Tennis Racket Grip Tape provides color fastness, quick-drying perspiration absorption, and a secure grasp so you can play with ease. The tennis overgrip offers an outstanding feel and control. It is also incredibly durable and non-slip. The grips are pre-cut, simple to wrap, and include finishing tape for the handle's top. The pull-up bars, ping-pong paddle handles, badminton, and squash racket handles, can all benefit from the tapes.
Pros
Customized designs
Non-slip grip
Easy to use
Soft surface
Cons
Price at the time of publication: $7.99
The ADV MaxTac Tacky Tennis Overgrip offers you total control over the position of your tennis racquet during each stroke. The material used to make this tennis grip tape has a special resin covering that enables moisture from perspiring hands to permeate the racquet overgrip for quicker drying. There is no need to be concerned about grip tape being too large for tennis racket handles. The product wraps are much thinner, extremely sticky, and provide a firm grip. Compared to other high-quality tennis racket tape grips on the market, the tennis grip tape's reinforced PU composition is more durable. It maintains its integrity and has good tear resistance.
Pros
Durable
Easy to install
Sweat-absorbent
High coverage
Comes with a waterproof pouch
Cons
Price at the time of publication: $20
Do you want to be the best there is or simply improve your grip and stance? Well, with determination, hard work, and a little help, you'll definitely get there! Allow the Yonex Super Grap Tennis Overgrip to do it for you in seconds. This grip tape for tennis rackets enhances play with its moisture-wicking qualities while absorbing shock like a pro. With a superior tacky grip, you can focus on the game while the anti-slip and no-smell qualities of this grip tape will carry you through your game.
Pros
Sweat-absorbing
Shock-absorbing
Anti-slip
Easy to use
Cons
Some may find it slightly thin.
Price at the time of publication: $20.99
Love bright and neon colors for your grips? Well, why not? They add a spark of fun to the game while calling attention to your personality. If you're looking for grips in larger-than-life colors, you can pick these ones. They are easy to install, non-slippery, and incredibly absorbent. As it helps wick away moisture, you can rest assured that your hands are going to stay clean and dry throughout the game.
Pros
Moisture-wicking
Available in many colors
Non-slip
Super absorbent
9 grips per pack
Cons
May not be as tacky as expected
Price at the time of publication: $11.99
Don't want to miss any shot, no matter how difficult it gets? Get your hands on this tape to aid you in that journey! It offers a tacky feel without being uncomfortable and can also be used for squash and badminton rackets. The grip tape is designed with an extra porous PU surface for sweat absorption and comes with a cellulose fiber sub-layer for added comfort. The grips include a pre-cut finishing tape and to secure the grip to the handle.
Pros
Super absorbent
Extra porous surface
Added layer for comfort
Tacky feel
Cons
Ready to hit the court and shoot some aces or practice improving your backhand? Well, all you need is a racket grip tape to help you out. Still undecided? Maybe our quick buying guide will help you make that decision!
How To Choose The Best Tennis Racket Grip Tape
Thickness
When choosing a grip tape, you must first figure out how you like your grip to feel. If you enjoy a smooth and soft feeling, you should choose a thin grip tape. Look for something that is 0.44 mm for an exceptionally smooth experience. However, if you like that cushioned, tacky feeling, choose a thick tape that's about 0.65 mm. These ones are better at sweat absorption and keeping your hands dry. Chandel Stallworth, a pilates, strength training, and corrective exercise expert with 4 years of experience, states, " I love cushioning to not only absorb sweat but to also prevent those nasty blisters that can pop up."
Length
The length of the grip is also a crucial point to factor in. Most grips will fit rackets that are 27 inches. But if your racket is longer or extended, you have to check the length of the tape thoroughly, so as to not fall short. If you're using shorter grip tapes, it may hurt your hands and even cause blisters, if the grip is not covered well.
Weight
When you initially start using grips, it may feel awkward and even slightly heavy. Most long-time players use grip tapes that weigh around 20 to 30 grams. However, if you're just starting out, look for grip tape that weighs around 15 grams, so you can ease your way into getting comfortable with it.
Dry or tacky
If you sweat quite a lot when playing, it's best to look for sweat-absorbing tapes. Some are made with porous PU materials for good ventilation. However, if you're looking for something that sticks and you don't care about the sweat, look for tacky ones.
Benefits Of A Tennis Racket Grip Tape
When made with porous materials, it can be sweat absorbing.
It offers a sticky tacky feeling, almost like adhesive qualities.
It helps increase traction.
It protects your hands from blisters.
It offers a soft yet cushioned texture.
You can customize the racket to suit your playing style. Using tapes can also help make the racket heavier in very small increments, which can have a beneficial impact on your game.
It helps you focus on the game.
It provides an enhanced grip.
Frequently Asked Questions
Should I put an overgrip over the original grip?
As replacing a base grip is expensive, you can put an overgrip over the original. It also provides cushioning and keeps your palms dry.
What is the difference between a grip and an overgrip?
Grips can be replacement grips or overgrips and have a sticky backing. On the other hand, overgrips may not be tacky or sticky and are more moisture-wicking.
Why do replacement grips matter?
They keep the entire handle or base protected, offer cushioning, protect your hands, and are moisture wicking. The comfort it offers helps you concentrate on your game more.
How often should I change my overgrip?
You can change it every 6-8 hours of play.
Can you put two overgrips on a racquet?
Yes, you can put two overgrips on a racquet. However, prevent your racquet handle from getting rounder by applying not more than two overgrips. Otherwise, your racquet handle will lose its edge and twist at every hit.
What is the lifespan of a tennis racket?
Your racquet can last for two years if you do not splinter it.
How long does a tennis overgrip last?
Your tennis overgrip might look fine, but changing it at the end of each week is better.