The 10 Best Tennis Shoes For Women (2022) + Buying Guide
Play tennis like never before with this durable and comfortable footwear.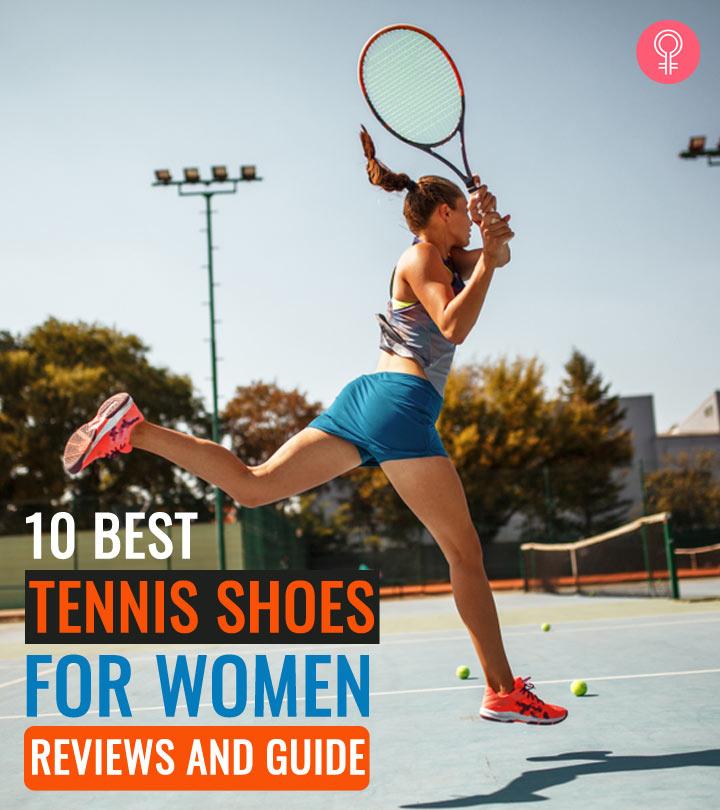 Tennis shoes are necessary whether you are a beginner or professional tennis player. You must select the best tennis shoes for women that will keep you comfortable and confident on the tennis court. You need a pair that has the most important features like comfort, cushioning, and durability. The shoes must make your movement flexible so that you can deliver the tricky shots but also sturdy enough so that you can stay balanced on the court. They must also be breathable to save you from sweaty-feet and keep you dry and cool.
In this article, we have put together a list of the 10 best tennis shoes for women. Scroll down to know all about them and make an informed choice of which one will suit you the best.
10 Best Tennis Shoes For Women Available Right Now
ASICS GEL-Fit Sana Training Shoe is great for tennis as well as any type of workout. It has an external heel cage of woven bands and a rear foot gel cushioning system. It also features a stretchable Mono-sock fit system with a low-profile midsole and a high abrasion outsole. It is lightweight and has a supportive and flexible upper that provides support in every direction. These tennis shoes are perfect for providing flexibility and 360° movement in all kinds of dynamic training sessions. This breathable shoe is great for tennis, cardio machines, weight training, and dance.
Features
Dimensions: 6 x 7.4 x 4.4 inches
Weight: 6 ounces
Color: Purple
Fit: True to size. Order usual size.
Pros
Durable rubber sole
Ultra-lightweight
Fit for all kinds of intense dynamic movements
Maximum flexibility
Cons
Does not provide enough front foot support
K-Swiss is an American athletic shoe brand focused on creating the best footwear for tennis. Their shoes provide support for the intense side-to-side movement of tennis. K-Swiss Women's Hyper court Express Tennis Shoes are the best for tennis players as they are lightweight and airy. They provide a generous fit and are also great for running. They are comfortable and designed to set the foot in a position that is best for court-to-foot contact. This is great for swift and responsive play in any sport. These shoes are made of synthetic fabric with textile collar lining. It is specially designed for high-level performance on clay courts.
Features
Dimensions: 14 x 10 x 6 inches
Weight: 65 pounds
Color: White
Fit: True to size. Order usual size.
Pros
Offers great support
Sturdy
Lightweight
Comfortable
Breathable
Cons
Price at the time of publication: $109.95
Prince Women's T22 Tennis Shoes are perfect if your feet are constantly on hard surfaces. These shoes provide full comfort and support along with breathability, which makes them a favorite amongst club players. They are made with a synthetic mesh fabric that offers maximum ventilation. The rubber sole and PRC 1000 out sole guarantee unmatched durability and increased traction on hard court surfaces. These tennis shoes are fitted with an external shock eraser and an EVA in the heel cradle to provide full protection and a responsive ride. The soft spring PU inserts also offer maximum comfort. These shoes also feature a wishbone shank that provides better mid-foot stability. The RASH toe cap protects your toes from constant abrasion.
Features
Dimensions: 13 x 7 x 4 inches
Weight: 2 pounds
Color: White/silver
Fit: True to size. Order usual size.
Pros
Comfortable
Suitable for hitting hard courts
Excellent durability
Good ventilation
Great ankle support
Protects feet from abrasion
Cons
Heavier than other shoes
No additional cushioning
Price at the time of publication: $99
New Balance designs athletic footwear for tennis players looking for excellent support and stability. New Balance Women's 806 V1 Tennis Shoe is a great option for club players. It is made with 50% leather and 50% synthetic fabric. It offers durability and comfort on the court. It also features a rubber sole, a C-CAP midsole, and ABSORB cushioning.
Features
Dimensions: 7 x 7.9 x 4.5 inches
Weight: 13 ounces
Color: White
Fit: True to size. Order usual size.
Pros
Superior quality
Good lateral support
Recommended for flat arch foot type
Offers great grip on the court
Supports and stabilizes feet
Cons
Small toe box
Slightly stiff
Price at the time of publication: $99.99
Adidas Gamecourt Tennis Shoes are made of 100% textile and synthetic fabric. They are lightweight and provide long-lasting comfort. The breathable mesh upper on these shoes provides the best support to your feet. These shoes have a rubber sole and a Cloud foam midsole that provides full comfort on and off the court. They also offer superior cushioning. The Adiwear outsole helps in maintaining their durability. These shoe feature Adituff, which provides good abrasion resistance in the toe region. Their shaft measures approximately low-top from arch. The closed lacing and TPU reinforcements offer additional support.
Features
Dimensions: 1 x 8.5 x 4.7 inches
Weight: 4 ounces
Color: Legend Earth
Fit: Runs large. Order a size down.
Pros
Breathable
Prevents ankle twisting or rolling
Women-specific fit
Comfortable
Traditional lace-up design
Cons
Not enough arch support
Limited cushioning for the ball of the foot
Price at the time of publication: $129.99
The UA Remix Running Shoes are designed to energize your fitness routine. They feature lace-up closures that are adjustable. They are also lightweight and generate ventilation. The mid-foot TPU heel has bonded taping that enhances durability. The knit mesh upper offers a soothing airflow. These tennis shoes also feature an EVA foam cushioned footbed and a removable insole offset. Their heel area is padded with airy textile lining. The shock-absorbing rubber outsole and the EVA midsole offer high energy return. The rubber pods are strategically placed under the heel and forefoot to allow maximum durability.
Features
Dimensions: 7 x 8.4 x 4.7 inches
Weight: 75 pounds
Color: Black/white
Fit: True to size. Order usual size.
Pros
Lightweight and responsive ride
Padded heel area
Breathable
Comfortable
Good cushioning
Cons
Wilson Women's KAOS Tennis Shoe features Symbiofit technology which comprises of a bootie and lateral webbings in an upper construction to facilitate superior comfort and support in the midfoot area. These shoes have rubber soles and Skinguard that takes care of the upper protection for increased longevity. They are specifically designed for women and provide great support. They also include extended and asymmetrical medial side TPU heel counters. This helps in providing maximum stability and control. DF2 provides a cushioned court feel which offers complete comfort and improves your performance. The forefoot and lateral support provide intensive protection during lateral movements and push-offs. The Pro Torque Chassis Light feature utilizes arch technology created for maximizing speed to generate stability and durability. The KAOS 2.0 SFT Tennis Shoes are designed to provide full comfort throughout the foot.
Features
Dimensions: 39 x 0.39 x 0.39 inches
Weight: 11 ounces
Color: Fiery Curacao
Fit: True to size. Order usual size.
Pros
High-level comfort
Women-specific support
Durable
Cushioning helps in maximizing performance
Softness around the ankle
Slip-on style
Cons
Price at the time of publication: $80
Prince T22 Lite Women's Tennis Shoe has been re-structured from the popular T22 shoe. T22 Lite is the lightest and most agile T22 to date. It features a new Ortholite sockliner that generates lightweight cushioning along with increased durability and comfort. T22 Lite has a Shock Eraser heel insert that absorbs heavy impact in the heel. The PU forefoot insert disperses shock beneath the ball of the foot. The air mesh quarter, vamp, and tongue panels help in generating ventilation. These shoes are highly durable, and Ultralite mesh upper makes them extremely airy and lightweight. The PRC 1000 outsole provides traction on multiple surfaces. These durable shoes are perfect for wider feet. Their EVA midsole facilitates lightweight cushioning and long-lasting comfort. The fully integrated TPU welded forefront straps give you complete stability. The perforated straps with mesh underlay ensure maximum breathability. A portion of the amount collected through the sale of these shoes goes to benefit Bright Pink, an NGO focused on the detection and prevention of breast and ovarian cancer in young women.
Features
Dimensions: 12 x 7 x 4 inches
Weight: 2 pounds
Color: Gray/purple/blue
Fit: True to size. Order usual size.
Pros
Lightweight cushioning
Absorbs shock
Breathable
Offers plush comfort
Exceptionally durable
Suitable for wide feet
Cons
Short shoelaces
Not firm grip
Nike Women's Tennis Air Zoom Prestige HC Shoes provide maximum comfort and grip during the game. The Air Zoom Prestige Shoes are a blend of the Zoom Air technology along with the lockdown of the Dynamic Fit system for smooth comfort and support on the court. The Dynamic Fit system holds the arch right from the laces to the bottom of the foot to provide a smooth fit. The lining wraps up and over the back of the heel to provide full comfort and ease. These shoes have rubber toes and additional durable rubber outsoles that provide long-lasting durability. Their closure is lace-up, and their soles are made of gum rubber.
Features
Dimensions: 1 x 8 x 4.4 inches
Weight: 7 pounds
Color: Metallic platinum and white
Fit: True to size. Order usual size.
Pros
Good arch support
Wider toe box
Maximized comfort
Rubber toe protection
Durable
Cons
Deep heel causes the ankles to hurt
Noisy sole
Babolat Women's Tennis Jet Mach II All Court Shoes are designed to provide both swiftness and support on the court. This is achieved by utilizing the Matryx 2.0 fabric. These comfortable shoes are made of Kevlar and Polyamide threads that provide maximum protection and support. The EVA midsole is soft and responsive. The multi-layered Ergo-Motion insole corrects foot pressure. The cushioning is streamlined inside the shoe, thus making it lightweight and durable. The Active Flexion technology throughout this shoe addresses nine important pressure points for added responsiveness. This shoe provides comfort with the Ortholite Memory Shape technology. The KPRS-X cushioning present in the heel absorbs shock, thus providing maximum foot protection. These shoes are made with Michelin Premium DIN 20. They are versatile and supportive, which makes them the perfect tennis shoes for all courts.
Features
Dimensions: 39 x 0.39 x 0.39 inches
Weight: 54 pounds
Color: Blue
Fit: Narrow and small. Order a half size up.
Pros
Lightweight
Streamlined cushioning
Delivers superior traction
Durable
Maximum foot protection
Superior comfort
Suitable for all courts
Cons
Price at the time of publication: $129.99
These are the 10 best tennis shoes that you can buy right now. But before you make your purchase, check out the buying guide given below to select the best tennis shoes as per your need.
Things To Consider Before Buying Tennis Shoes
Comfort should be the principal objective while selecting the perfect pair of tennis shoes. A properly fitted shoe provides maximum comfort. However, every shoe brand has it own technology and features. Listed below are some of the things that you need to look out for:
Cushioning helps in reducing the impact on and lateral movement of your feet. Usually, the cushion is made of either EVA material and Polyurethane. EVA materials are lightweight. Polyurethane materials are heavier, but they provide better stability.
A wide variety of soles are designed for the game of tennis. The sole perfect for hard court players usually have a flat thread, such as the herringbone pattern. A grass tennis court player would require a meaty thread pattern or something similar to rubber studs. Indoor players require something smooth since they do not need much grip. Too much grip can lead to injury.
You need to check if your feet can move within the shoe. If they cannot, the shoes won't provide the required stability and support. Also, shoes that are too tight or small can cause injury to your feet and ankles. You need to select shoes that fit you in every direction, including your height. The correct shoe size is essential to give your feet the proper fit and feel.
Stability in the shoes is required while playing tennis due to the rapid back and forth movements. Lateral support is responsible for keeping the feet in line so that the shoes don't twist while playing. Also, the lacing design of the shoe plays an integral part in determining lateral support.
Tennis shoes are made of various types of materials that are useful for players in different ways. Canvas is airy and prevents sweating. Leather is expensive but the most durable. They help in keeping your feet dry in damp conditions. Vinyl helps in keeping your feet dry from outside moisture. So, select the material as per your requirement.
Now, let's answer a few important questions.
What's The Difference Between Tennis Shoes And Running Shoes?
Tennis shoes are slightly heavier but slimmer so as to boost agility. Running shoes are lighter and designed for aiding forward movement.
Tennis shoes have thin and slim soles with minimal padding to give the player maximum agility. Running shoes require greater sole support and have thick padding to absorb additional shock coming from the feet.
Tennis shoes have thin and hard heels to provide stability, while running shoes have thick and soft heels to enhance traction.
How Much Should You Spend On A Pair Of Women's Tennis Shoes?
The lesser-known brands should cost around $70, while tennis shoes from more popular brands cost around $150.
Why Trust StyleCraze?
The author, Aditi Naskar, has a diploma in health and wellness and is a fitness lover. She painstakingly researches fitness products to help her readers make an informed choice. She compiled this list of the best tennis shoes for women with the help of extensive research and consulting numerous user reviews online. These listed products are breathable, flexible, and provide adequate support for your feet while playing the sport.
Frequently Asked Questions
Are tennis shoes suitable for walking?
Yes, tennis shoes provide additional stability and support appropriate for walking.
Are tennis shoes suitable for running?
No. Tennis shoes are not ideal for running as they lack the padding and cushioning you need for running shoes.
Are tennis shoes non-slip?
Yes, tennis shoes are non-slip and have the necessary traction that allow players to move smoothly across the court without slipping and falling.
Can you wear tennis shoes as casual everyday shoes?
Yes, you may wear tennis shoes as casual everyday shoes as they are mostly very stylish.
How long do tennis shoes last?
Tennis shoes can last anywhere from 6 to 12 months, depending on usage and maintenance.
Do women have higher arches than men?
Yes, compared to men, females have a higher genetic tendency to inherit high foot arches.
Recommended Articles