The 11 Best Texturizing Sprays For Fine Hair – 2023
The perfect way to volumize thin hair and get salon-worthy results right at home.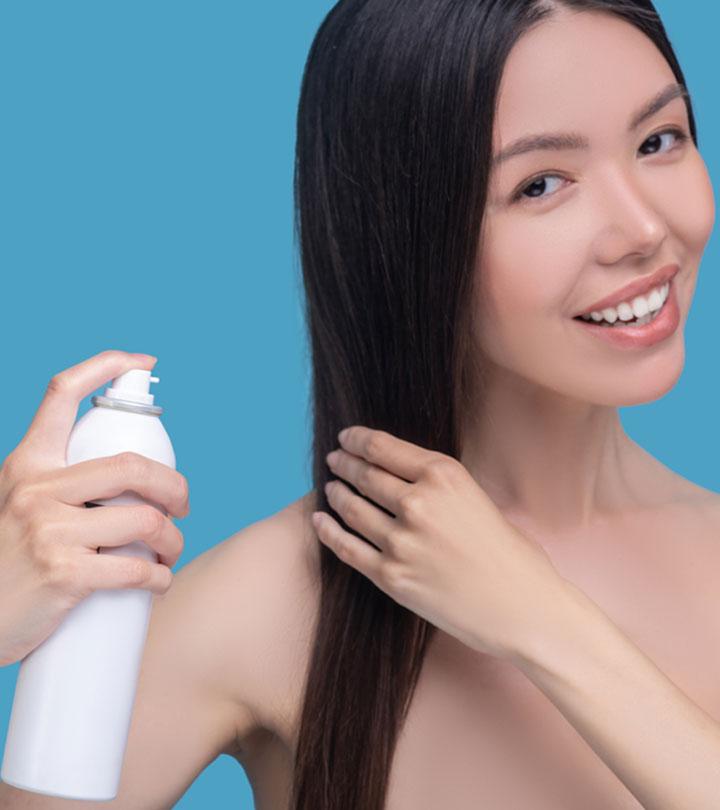 Choosing a decent hair spray for your hair type can be quite a challenge, given how many brands are out there vying for your attention. However, choosing the best texturizing hair spray for fine hair can be an even greater challenge. This is because women with fine hair can either have thick or thin hair. By using a texturizing hair spray, you can add volume to your hair and give it a firm hold that allows you to style your hair. To help you choose the best texturizing hair spray for fine hair, we have compiled a list of the 11 best texturizing hair sprays that are available for purchase. All the products are selected after thoroughly analyzing honest reviews on various e-commerce platforms. Keep reading this article to know more!
11 Best Texturizing Sprays For Fine Hair
This Beach Babe Texturizing Dry Shampoo is formulated with trusted ingredients and has an appealing toasted coconut fragrance. This shampoo comes in a pack of 2 and suits all hair types; be it fine, curly, coarse, and straight. It works wonders without water and leaves your hair windswept and clean. This salon-quality formula works effortlessly on flat and greasy hair, bringing it back to life and giving that carefree, just-back-from-the-beach look. Reviewers love its scent and highly recommend it to extend the time between wash days.
Pros
Leaves no residue
Non-greasy
Absorbs excess oils
Helps style hair instantly
Adds volume to hair and leaves no undesirable odor
Not tested on animals
Cons
Price at the time of publication: $14.37
This Beauty by Earth Sea Salt & Texturizing Spray can be called a 'beach in a bottle' formula, as it has vital ingredients such as sea salt, a dash of vodka, and organic aloe vera. It lifts your flat, lackluster hair and creates waves that make heads turn. Also infused with algae and green tea, this spray creates a beachy windswept style while adding body to your fine hair. Its lightweight texture and instant volume has made it a favorite among reviewers.
Pros
Can be applied on wet hair
Suitable for all hair types
Has a wonderful fragrance
Adds freshness and texture to hair
No animal testing
Cons
Price at the time of publication: $19.99
Paisle Biotin Hair Thickening Spray includes a unique combination of natural ingredients like biotin protein and caffeine, which seep deep into the follicles and block the DHT hormone. This will prevent hair loss, thereby encouraging healthy hair growth and thickness. This thickening spray is a lightweight formula that washes out easily without leaving any residue. Saturated with hydrolyzed wheat protein and caffeine, it helps fortify and strengthen damaged strands. Several reviewers highly recommend this product to give your hair more volume and body.
Pros
Lightly fragranced
Free of formaldehyde
Cruelty-free product
Sulfate and paraben-free formula
Revives thinning hair back to healthy growth
Cons
Price at the time of publication: $19.97
Boldify Dry Texture Spray is a hit with women as it gives instant results upon application. It is an incredible hair lifter, infused with polymers that create fullness and texture and transform your hair into a naturally thick and voluminous style. Regardless of hair type, color, or texture, it helps amplify, tame, and maintain the ideal hairstyle that you wish for. This dermatologist-tested texture spray is free of chemicals and is the go-to hair styling spray of many big celebrity hairstylists.
Pros
100% cruelty-free
Perfect for all hair types
Works best for both men and women
Free from harsh chemicals and residues
Cons
May make hair greasy post application
Price at the time of publication: $22.47
KICK Sea Salt Spray is powered with natural antioxidants, sea herbs, magnesium, and amino acids that transform your hair from a frizzy mess into a wavy style, impressing one and all. This unique blend of dry shampoo lends your hair a tousled textured look all day long. The Epsom salt, magnesium, sea salt, and kelp extract are the key ingredients that not only safeguard your mane from environmental hazards but simultaneously enrich your hair from scalp to ends.
Pros
Ideal for both men and women
Works well on color-treated hair
Creates beachy waves on every hair type
Chemical, sulfate, paraben, and cruelty-free
Cons
Some people may find the scent unpleasant.
Price at the time of publication: $19.95
Joico Texturizing Finisher is an excellent salon-prepared innovative finisher designed to bring hair to its original glory with each use. It protects hair from breakage and maximizes the growth of healthy and shiny hair. This texturizing finisher spray revives your parched and lifeless strands of hair with the help of the all-important marine ingredients and speeds up the hydrating process, instantly transforming them into your crowning glory. The product is clinically tested to protect against pollution. This buildable spray is free from stickiness and stiffness as well. Giving a texturizing finish upon use, it adds volume to fine and medium hair.
Pros
Suitable for all hair types
Adds volume and texture to hair
Has a mildly sweet fragrance
Protects hair from UV exposure and environmental pollution
Cons
Slightly expensive
May leave residue on the scalp
Price at the time of publication: $24.5
Osensia Sea Salt Texturizing Hair Spray adds beautiful natural-looking volume minus the greasy feel. This texturizing hair spray is packed with natural ingredients that nourish every strand from inside out. Without changing your original hair appearance, this spray acts as a protectant, texturizer, and volumizer, giving your hair that carefree windswept feel. This spray works well on fine hair, making it look fuller and thicker just after a few sprays.
Pros
Works well on thin hair
Works as a sunscreen for hair
Adds texture and volume to your tresses
Formulated without parabens, silicones, and sulfates
Cons
May make hair slightly oily
Price at the time of publication: $14.99
This Paul Mitchell INVISIBLEWEAR Undone Texture Spray is an incredibly light formula enriched with velvet flower that helps soften your fine strands, making them more manageable and boosting their softness. This spray adds volume and gives life to flat, fine hair. It helps add texture instantly and holds hair for long-lasting effortless styling. This spray can be used on a regular basis for styling your hair the way you want without any qualms. This awesome product works well on all hair types.
Pros
Can be used regularly
Holds styled hair in place
Works well on damp hair
Has an aromatic scent of amber, bergamot, and jasmine
Cons
Price at the time of publication: $23
PUFF.Me Dry Texturizing Spray is formulated with key ingredients like natural zeolite and silica that gives your hair complete protection from the harmful UV rays. With just a few sprays, this product gives your hair instant body and fullness, thereby making you look and feel gorgeous. It has oil-absorbing properties that help prolong your hairstyle for a longer period.
Pros
Vegan
Sulfate and paraben-free
Works well on colored hair
Suitable for all hair types
Adds volume to your hair instantly
Not tested on animals
Cons
Price at the time of publication: $26
This MATRIX Total Results product is a lightweight spray made from water and sea salt, among other ingredients. This spray adds texture and volume, giving your hair the all-famous beachy look that is so appealing. It is suitable for all hair types and is safe to use on colored hair as well.  With an invigorating and refreshing smell, it also gives your hair instant fullness and bounce. This spray adds body and definition for a perfectly tousled look. Upon application on damp hair, it makes your hair tangle-free and shiny.
Pros
Smells amazing
Helps defrizz locks
Does not make hair stiff
Can be used on both wet and dry hair
Cons
May make hair slightly curly post application
Price at the time of publication: $17
Mitch Stone Essentials Volumizing Texture Spray is a lightweight hair root booster. Infused with repairing and nourishing ingredients that include a mix of papaya and argan oil, it protects very thin and fragile hair and aids in hair regrowth. The proteins and amino acids in the formula add body and fullness to your hair. All while vitamins B6, B12, C, and E repair hair damage. This highly nourishing spray adds body and hold without being stiff or sticky. Besides having a wonderful fragrance, it also keeps your hair hydrated for a longer duration. It works well on all hair types — be it thin, fine, or normal hair, making it an excellent choice for people seeking root lift and volume.
Pros
Absorbs oil
Helps eliminate odors
Has a beautifully light and airy fragrance
Perfect product for backcombing hair
Does not contain hazardous aerosols
Cons
May not provide enough volume for shorter hair
Price at the time of publication: $24.99
Texturizing sprays are not designed to make your hair stiff and scrunchy like hair sprays. They help by adding a healthy bounce and volume to hair, giving it a refreshing look. To get the right texturizing spray for your hair type, here are a few points to consider.
How To Select The Right Texturizing Spray For Fine Hair – A Buying Guide
There are a few things to keep in mind while purchasing the perfect texturizing spray for your hair:
Residue: The amount of residue the spray leaves behind post-use should be a deciding factor while purchasing the best texturizing hair spray for yourself. Some sprays create a great deal of product build-up, which in turn affects the texture of your hair texture.
Ingredients: As is the case with all health and beauty products, it is important to understand the ingredients that go into it. Look for nourishing ingredients that hydrate your hair. Reading the contents of the product will give you a fair understanding of the product, avoiding allergic reactions to any chemicals.
Price: The price of the texturizing hair spray should be a deciding factor when it comes to purchasing the right one. Buying a good texturizing spray shouldn't be too expensive.
How Do You Apply Texturizing Spray To Fine Hair
Applying texturizing hair spray is as easy as it gets. Listed below are some pointers to nail any look using a texturizing spray.
Step 1: Always hold the spray can at least 6 to 8 inches away from the hair while using it.
Step 2: Section your hair in horizontal sections.
Step 3: Apply the spray starting from the roots to the tips and massage it slightly.
Step 4: Repeat the same process throughout the hair.
Step 5: Make sure to go over the crown and the back of the head to get the perfect voluptuous look.
Rebekkah O'Neill, master stylist in hair and beauty, says, "I love using a texturizing spray, as it can make fine hair go from flat to fabulous in seconds! I always tip my head upside down and spray evenly, then flip my hair back the right way and mould it into the shape I want. This creates that beachy and effortless look."
Why Trust StyleCraze?
The author of this article, Kirtana Divakar, is a hair care enthusiast and loves reviewing different products for her readers. She went through multiple online forums for user feedback to compile this list of the best texturizing sprays for the fine fair. She also researched the products to ensure they met the needs of fine hair. The shortlisted sprays can offer firm hold and volume to your tresses.
Frequently Asked Questions
Is texturizing spray good for thin hair?
A good-quality texturizing spray will help by adding volume to thin hair, and this makes it a great addition to your vanity.
Does texturizing spray work on straight hair?
Texturizing hair spray works on straight hair to make it look voluptuous by giving it texture and bounce.
Does texturizing hair make hair look thicker?
Yes, texturizing spray adds oodles of volume to your hair making it look much thicker than usual.
Should you use texturizing spray before curling hair?
It is advisable to use texturizing spray post curling your hair as it will help hold your curls better in place.
What is the difference between texturizing spray and finishing spray?
A texture spray helps add volume and structure to the hair without leaving it stiff. In contrast, a finishing spray is excellent for providing any hairstyle with long-lasting hold and shine, but it will make your hair thick and crunchy.
Can I use texture spray every day?
Yes, it is ok to use texture spray daily to add texture and volume to your hair.
Does texture spray damage the hair?
No. Texture spray is not damaging to the hair, but be careful of the substances in the spray. Certain ingredients, such as drying alcohols and salts, might cause moisture loss in the hair.


Recommended Articles
Best Texturizing Sprays
Best Texturizing Sprays To Get Wavy/Curly Hair Instantly
Best Drugstore Texture Sprays
Best Hairsprays For Fine And Thin Hair That Provide Strong Hold