10 Must-Try Thalgo Skin Care Products – 2023 (Our Top Picks)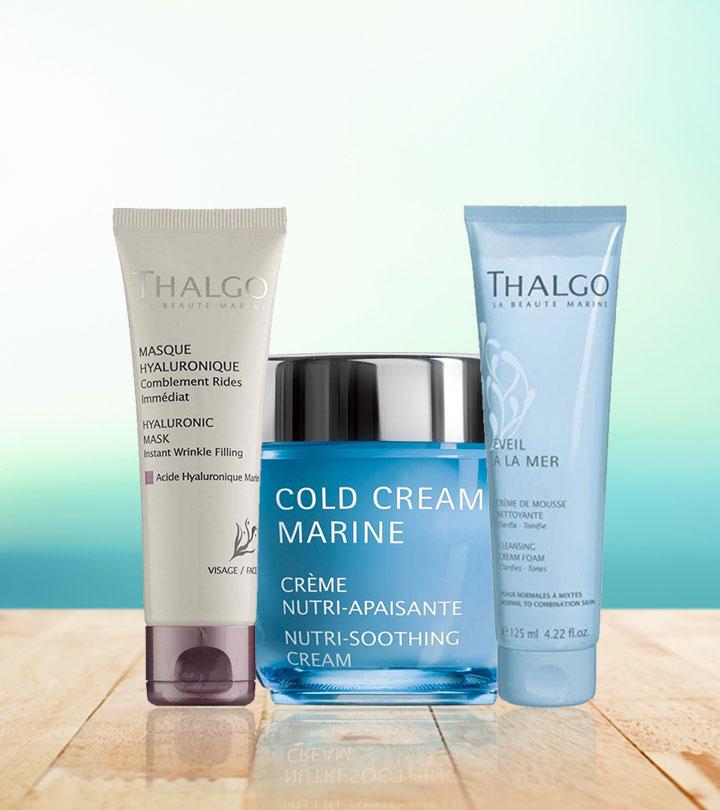 Thalgo is a French beauty and skin care brand that is recognized all over the world because of its outstanding marine products. The brand's philosophy is that marine cosmetic active ingredients are superior due to their exceptional bio-affinity with our internal environment. Our skin is able to absorb these marine elements better, making Thalgo skin care products gentler and more effective than regular products. Read on to discover the 10 best Thalgo skin care products that you must add to your beauty closet for flawless skin.
Top 10 Thalgo Skin Care Products In India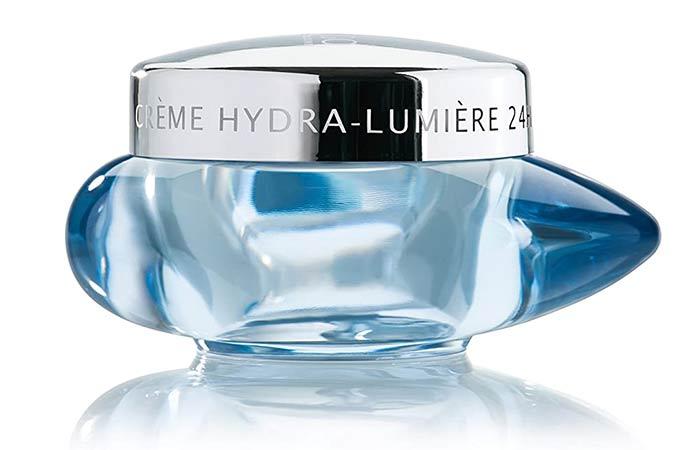 Product Claims
The Thalgo Crème Hydra- Lumière 24H Cream restores your skin's lost minerals, vitality, and radiance. It replenishes and moisturizes dry skin within 24 hours and offers a healthy glow. This cream contains Sève Bleue des Océans and Lumisource that help make the skin soft and supple. Sève Bleue infuses mineral-replenishing vital water to your skin and strengthens its barrier. Lumisource promotes the natural detoxification process of the skin. This cream boosts your skin's hyaluronic acid levels and enhances its moisture-binding ability. It is infused with a delicate fragrance of fresh flowers and subtle notes of tea.
Pros
Suitable for normal to dry skin
Pleasant fragrance
Non-greasy
Long-lasting
Paraben-free
Travel-friendly packaging
Cons
None
Product Claims
Thalgo Cleansing Cream Foam is a fantastic addition to your cleansing routine. This luxurious foaming cleanser is water-based and quite effective at removing makeup, toxins, and impurities at the end of a long day. For a clean and fresh complexion, just add water and watch the potent cream transform into a revitalizing foam. It is rich in amino acid derivatives that nourish and revive dull and tired skin. 
Pros
Suitable for normal to combination skin
Ideal for daily use
Water-based cleanser
Removes makeup effectively
Refreshing fragrance
Paraben-free
Travel-friendly packaging
Cons
None 
Product Claims
Thalgo Melt-in Smoothing Brightening Cream cares for pigmented skin and gives you a radiant and youthful complexion. It controls melanogenesis and promotes the production of collagen III. It lightens existing pigmentation marks and prevents new ones from appearing. Its formula contains red algae that help regulate photo-induced pigmentation.
Pros
Suitable for pigmented or sun-damaged skin
Ideal for daily use
Provides intense hydration
Pleasant fragrance
Paraben-free
Travel-friendly packaging
Cons
None 
Product Claims
Thalgo Foaming Micellar Cleansing Lotion has replaced the Thalgo Foaming Marine Cleanser. It is a light and airy cleansing mousse that cleans your skin effectively using a micellar surfactant complex. It traps and eliminates the excess oil and organic dirt that accumulates on the skin surface by the end of the day. The invigorating scent of refreshing sea spray and fresh flowers is an added delight. 
Pros
Suitable for all skin types
Ideal for daily use
Pleasant fragrance
Travel-friendly packaging
Paraben-free
Sulfate-free
Cons
May dry out some skin types
Product Claims
Thalgo Beautifying Tonic Lotion is a gentle alcohol-free toner that leaves your skin feeling soft and supple. Its active ingredient is a unique composition that benefits your skin in three ways. It strengthens the skin's cellular structure, making it firm and youthful. It is an intensely hydrating and soothing toner for dry skin. 
Pros
Gentle on sensitive skin
Alcohol-free
Non-greasy
Gets absorbed easily
Convenient pump dispenser
Cons
Product Claims
Thalgo Hyaluronic Mask contains a professional anti-aging formula for instant and visible results. This gel mask needs to be applied for 20 minutes. It plumps up your entire face, smoothening out and filling in even the most stubborn wrinkles. It restores your original skin tone and adds a youthful firmness to aging skin. 
Pros
Suitable for mature, dry skin
Intensely hydrating
Restructures the skin
Light fragrance
Travel-friendly packaging
Cons
Not suitable for daily use
Not a permanent solution for wrinkles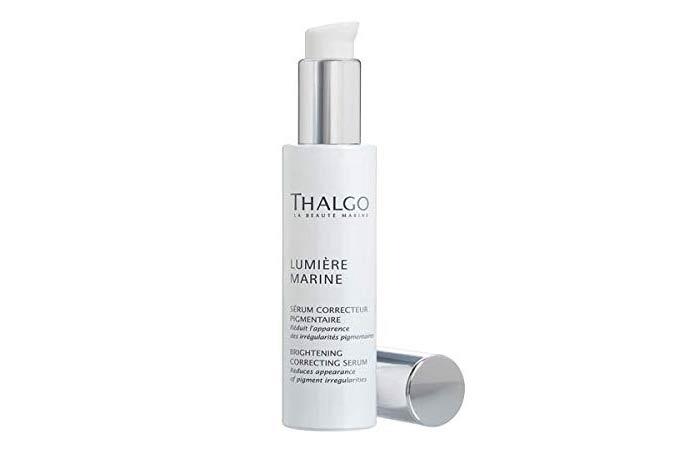 The Thalgo Brightening Correcting Serum helps improve your skin tone by eliminating dark spots. It is enriched with rich brown algae extracts that reduce pigmentation and even tone your skin. This serum contains tyrosinase that protects the skin from environmental stress and imparts a youthful glow. It minimizes grey, red, and yellow pigment irregularities and smoothens your skin. This product has soothing notes of cotton and white flowers.
Pros
Suitable for all skin types
Smoothens and moisturizes the skin
Soothing fragrance
Reduces dark spots
Cons
None
Product Claims
Thalgo Lifting Correcting Day Cream fights the visible signs of aging on mature, tired skin. It also supports the skin's natural ability to regenerate itself overnight. With regular use, it claims to give you a refreshed complexion, along with firm, toned, and visibly younger-looking skin. This cooling gel-cream reduces wrinkles, maintains your facial contours, and offers protection from aging caused by sun damage. 
Pros
Suitable for all skin types
Anti-aging benefits
Paraben-free
Pleasant fragrance
Cons
Product Claims
Thalgo Gentle Cleansing Milk is the perfect solution for removing all traces of dirt, pollution, and makeup from your face after a long day. It also prevents skin dryness and irritation while cleansing. It is made using Sève Bleue from the Oceans that hydrates and soothes even the most sensitive skin.
Pros
Suitable for all skin types
Gentle on sensitive skin
Non-drying
Non-greasy
Cons
Not very effective on makeup
Added fragrance
Product Claims
Thalgo Nutri-Soothing Cold Cream is enriched with essential fatty acids that nourish dry skin immediately upon application. This formula contains a unique recipe to replenish, soothe, and repair dull, dry skin for up to 24 hours. It has a refreshing fruity fragrance combined with notes of rose and ylang-ylang.
Pros
Suitable for dry and sensitive skin
Ideal for daily use
Moisturizes well
Pleasant fragrance
Cons
May feel heavy on oily skin
Non-organic
Availability
These are 10 of our favorite products from Thalgo's skin care range. Take your pick from any of the above (according to your skin type), and watch your skin's amazing transformation. Which Thalgo skin care product is your favorite? What would you add to this list? Share your thoughts with us in the comments section below.

Recommended Articles