10 Best Expert-Approved Thick Gym Flooring Mats For Your Home – 2023
Minimize injuries and enjoy a comfortable workout with these skid-proof gym mats.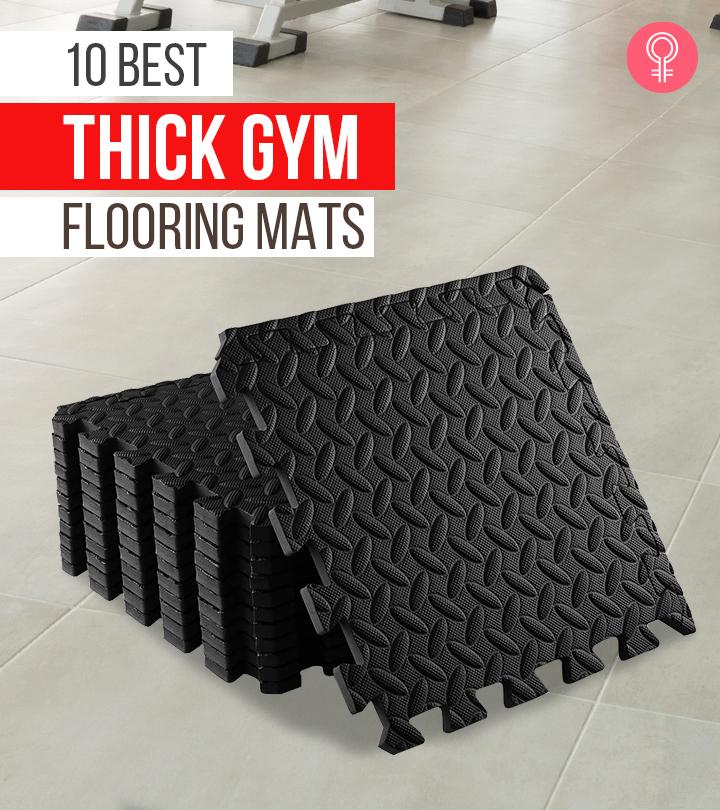 The fitness-enthusiasts stress on regular exercise to live stress-free and relaxed. And, whether you are into gymming, yoga, pilates, or weight lifting, a perfect surface is always necessary. If you have the best thick gym flooring mat, you can always keep your legs, knees, and back protected while getting excellent support and cushioning. Additionally, it will also protect your flooring from the equipment you use irrespective of the flooring you have – tiles, wood, or cement. James Shapiro, a sports performance coach and personal trainer with over 9.5 years of experience, states, "Having an absorbing workout floor will help support your joints and floors." In this article, you will read about the 10 best gym flooring mats, their pros and cons, and necessary information. Read on and make an informed choice!
10 Best Thick Gym Flooring Mats For Your Home – 2023
The Yes4All exercise mats are made of sturdy foam to withstand pressure during yoga, Pilates, CrossFit, or weightlifting. The pack consists of 12 interlocking square tiles with a border and a non-slip texture. A shock-absorbing surface makes the mat soft, cushioned, and comfortable during workouts. The lightweight puzzle-type pieces provide support and have water-resistant and noise-reducing features. The mats can be cut and customized to suit different rooms. The versatile mats are easy to clean. Watch this video for user insights and a thorough understanding of the product from the tester's experience.
Specifications
Tile Dimensions: 12 x 12 x 7/16 inches
Area: 12 sq. ft.
No. Of Tiles: 12
Pros
High density
Easy to assemble
Durable
Non-slip
Water-resistant
Space-saving
Easy to clean
Cons
We Sell Mats brings you a floor mat that offers a durable surface for exercising. The ⅜" thick exercise mat is constructed with EVA foam and comes in the form of interlocking square tiles. The anti-fatigue cushion support reduces strain on the knees, back, and feet. This mat can be easily assembled on any hardwood floor or indoor surface like vinyl or tile for extra padded comfort. It can be wiped clean with soap and water and air dried. It can also be used in the children's playroom, for yoga or exercises, or in tents during camping.
Specifications
Tile Dimensions: 24 x 24 x 3/8 inches
Area: 16 sq. ft.
No. Of Tiles: 4
Pros
Easy to assemble
Easy to clean
Durable
Non-slippery
Lead-free
Phthalate-free
Cons
Color bleeds.
Not suitable for high-impact workouts.
The interlocking gym floor tiles of the ZENY 24 Tiles Puzzle Workout Mat offer a safe and enjoyable exercise surface for your home gym. Each tile is manufactured with high-quality EVA foam, that absorbs excess sweat and provides good cushioning to your joints. The interlocking design of the tiles makes their installation easy. It offers protective padding from bumps and knocks. They also reduce noise and vibration and protect your flooring from scratches. Additionally, the tiles are waterproof and have an anti-slip surface.
Pros
Suitable for a variety of exercise settings
Durable
Non-toxic material
Water- and sweat-resistant
Easy to clean
Easy to assemble
Reduces noise
Slip-resistant
Cons
The ProsourceFit Puzzle Exercise Mat is made of 1⁄2-inch thick EVA foam tiles. The interlocking pieces provide a protective covering on the floor. This multipurpose, thick gym flooring mat saves the floor from scratches due to gym equipment and pressure applied during workouts. It offers cushioning and support for your back and knees, supporting you through your personal transformation routine. The non-skid tiles are durable, create a comfortable workout space, and are lightweight and easy to assemble. The foam offers noise reduction, is waterproof, and ideal for garages, gyms, and children's play areas. Here's an in-depth review video to help you get a direct feedback based on the reviewer's experience of using the product.
Specifications
Tile Dimensions: 24 x 24 x ½ inches
Area: 144 sq. ft.
No. Of Tiles: 36
Pros
Easy to assemble
Skid-proof
Water-resistant
Easy to clean
Lightweight
Noise-reducing
Phthalate-free
Cons
The tiles come apart easily.
The Innhom Gym Mat consists of interlocking tiles made of high-density EVA foam that covers the gym floor and protects it from equipment and workout scratches. It supports the knees, back, and legs during workouts due to its thick cushioning power. The premium quality foam mat is easy to assemble and clean. It conforms to all standards of safety and is durable, long-lasting, odor-resistant, lightweight, and waterproof. You can use it as a gym mat, a play mat for your kids, or even for sleeping in tents.
Specifications
Tile Dimensions: 23.6" x 23.6" x 3/8 inches
Area: 93 sq. ft.
No. Of Tiles: 24
Pros
Non-toxic
Skid-proof
Durable
Lightweight
Easy to assemble
Easy to clean
Cons
Flattens over time.
Comes apart easily.
The XspecExtra Thick Interlocking EVA Floor Mat has 12 reversible tiles. The extra-thick high-density EVA foam cushions absorb stress.
The interlocking design of the reversible tiles helps in straightforward and seamless installation. This foam mat safeguards your flooring, protects your equipment, and cushions your joints. Plus, these tiles are water-resistant and noise-resistant.
Pros
Lightweight
Easy to assemble
Water-resistant
Noise-resistant
Reversible design
Lightweight
Easy to clean
Value for money
BPA-free
Phthalate-free
Cons
None
The Epic Fitness Mat is made of six tiles and is water-resistant and noise-reducing. The interlocking tiles connect easily like a puzzle and provide non-skid cushioning to gym floors. The tiles are made of high-density EVA foam, which offers comfort and support to the back, knees, and feet. This mat offers good shock absorption during yoga, CrossFit, Pilates, and weight training. It can also be used for kids' play areas and is non-toxic and safe. This thick gym flooring mat can be cleaned with soap and water and air dried.
Specifications
Tiles Dimensions:  24 x 24 x ½ inches
Area: 24 sq. ft.
No. Of Tiles: 6
Pros
Easy to clean
Non-toxic
Lightweight
Waterproof
Skid-proof
Cons
The tiles come apart easily.
This foam puzzle exercise mat from BalanceFrom offers a protective covering to the floor. It is non-skid and durable and provides cushioning during workouts. The pieces are made of high-density EVA foam, which is noise-proof, water-resistant, and easy to clean. The pack includes six tiles and 12 end borders that give the mat a neat look. The versatile mat can be used by adults for exercising or children for playing.
Specifications
Tile Dimensions: 24 x 24 x ½ inches
Area: 24 sq. ft.
No. Of Tiles: 6
Pros
Skid-proof
Lightweight
Easy to clean
Easy to assemble
Phthalate-free
Cons
The ActiveGear Large Exercise Mat is a non-slip rubber training mat made for pleasant and safe home exercise. The high-quality material and non-slip surface of this training mat allow you to exercise on it with confidence.
The dot matrix pattern of the mat reduces its chances of sliding. It also features 7mm high-density padding which is ideal for complex yoga postures. This extra large size mat comes with two velcro straps and a travel-friendly storage bag. Additionally, this mat is large enough for cardio, fitness, and plyometrics.
Pros
Durable
Slip-resistant
Tear-resistant
Easy to store
Comes with a carry bag
Cons
None
The WF Athletic Supply Interlocking Exercise Foam Mat is made with high-quality, impact-resistant EVA foam. The mat absorbs excess stress and safeguards your floor from scratches. Each tile in the mat is 3/4 inches thick, providing enough padding for your feet. The tiles' interlocking shape lets you easily set them and create a smooth, solid surface for exercises. You may use this mat as a protective flooring for your home gym and as a cushioning surface for yoga or pilates. It has a non-slip surface and its waterproof body is easy to clean.
Pros
High-quality EVA foam construction
Interlocking design
Versatile
Easy to assemble
Easy to clean
Non-slip surface
Waterproof
Durable
Cons
None
Fitness enthusiasts who like to exercise at home often miss the flexibility they get with the heavy-duty flooring at professional gyms. But once you add a thick gym mat to your home gym, you can have a solid workout without leaving your home. Home gym flooring comes in various bright colors, features, and styles. To help you find the perfect one to suit your needs, we have compiled a list of factors to keep in mind while choosing the best thick gym flooring mats for your home.
How To Choose The Best Thick Gym Flooring Mats For Your Home
Gym flooring mats are constructed from two main materials – thick rubber and foam. Carpet, vinyl, and turf are other home gyms' flooring options. While rubber is the most popular as it's relatively affordable, easy to clean, durable, and versatile, carpet tiles are less expensive but aren't suitable for rigorous workouts. You can choose one as per your preference.
It is important to accurately measure the space you will dedicate to your home gym. You don't want to end up with too many pieces or too few. Instead, multiply the length and width of your space to get your specific square footage. Gym flooring options come as single mats or tiles that fit together. The dimensions of each tile are mentioned, along with the number of tiles in the set. This will help you calculate how many you will need to cover your space.
When it comes to exercising, one of the most important factors to consider is grip. The flooring mat should be firm if you jump, push, or carry weights. Rubber and foam mats provide a firm grip for shoes and bare feet. On the other hand, foam works best for bare feet as sometimes shoes can tear fragile foam mats. Mats with studs or raised treads also provide grip but can trap dirt more easily and might be harder to clean.
Consider your installation preference and where you will store it. For example, flat sheets are better suited for a more permanent installation as they tend to be heavy and difficult to maneuver. A mat with square puzzle pieces that can be simply pressed together is ideal for easy storage. If this is your choice, ensure the assembly and dismantling are easy.
Foam mats are the best flooring options for gyms, and it is imperative to keep their thickness in mind for optimum support and cushioning. Given below are some regular options of thickness for such mats.
What Is The Best Thickness For Gym Flooring Mats?
¼ inches: These mats are the best for areas with heavy equipment like elliptical and treadmill machines. They are ideal to protect the machine and flooring from scratches. These mats are durable and can withstand light weights (if anything is dropped accidentally). They are also useful for heavy footfall areas like aisles and welcome corridors.
3/8 inches: These are less expensive and lightweight. This thickness is good for spaces where 50-75 lbs weights are used regularly.
½ inch: Mats that are half-inch thick are ideal for areas where utilization of weights over 100 lbs take place. These mats can take the tension if the weights are dropped, unless dropped deliberately too many times. This thickness is found in tiles, rolls, and stall mats.
¾ -1 inch: These mats are used in areas where power lifting is practiced. They are usually not needed by most people unless weights above 100 lbs are dropped often. For example, deadlifts and clean-and-jerks. These mats have options of vulcanized rubber of 1" thickness and more. The non-vulcanized rubber mats usually have a support structure on the underside, which offers more cushioning and noise absorption.
The Bottom Line
Why Trust StyleCraze?
Aditi Naskar, the author of this article, is a certified health and wellness expert. Her keen observation and in-depth research skills bring out the best for readers to easily choose from. After exploring many products and reading many reviews from trusted platforms, these best thick gym flooring mats were compiled. She says that investing in a good gym mat protects and supports with a cushioning effect minimizing the chance of injuries. These mats are also suitable for kids, so you and your young ones can exercise safely.
Frequently Asked Questions
Is it better to get thick rubber gym mats?
Yes. Thicker rubber mats offer optimum comfort and deliver balance to your feet. In addition, they are ideal for powerlifting purposes as they provide floor protection.
Is foam or rubber better for the gym floor?
Rubber mats offer high-impact absorption and prevent slips. They are usually long-lasting and scratch-proof. In contrast, foam mats are softer but less durable. They get scratched or punctured easily.
Can I put a thick gym floor over the carpet?
No. A thick gym mat over a carpeted surface is not stable and can lead to accidents. The wobbly floor also offers no balance to your feet.
How thick should floor mats be for the home gym?
Invest in a floor mat of 3/8″ thickness for the home gym. They offer floor protection, absorbs high impact, and offer good cushioning.
Can you put thick gym mats on concrete?
Yes. Put only heavy-duty rubber mats to protect concrete floors and achieve a consistent, long-lasting foundation while exercising.
How do you keep a thick gym mat in place?
• Choose a mat with non-slip rubber underlay.
• Invest in a mat with claw-type backing.