7 Best Thick Yoga Mats For A Strong Hold On Any Surface – 2023
The thick yoga mats will let you perform all kinds of yoga safely and comfortably.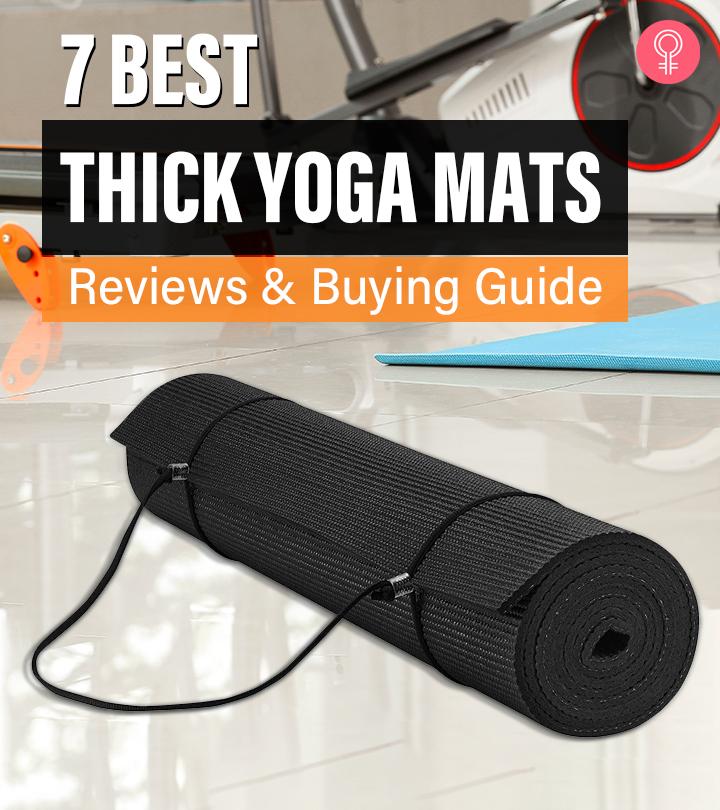 When purchasing a yoga mat, a few things to keep in mind include comfort, grip, and moisture resistance. Thick yoga mats have all of these features. Knowing which is the best thick yoga mat is meant for you can be confusing because there are thousands of them in the market. We have put together a list of the best thick yoga mats that you can buy to solve your problem. The mats on our list consider factors like cushioning for your knees and grip quality so that your practice is seamless and you enjoy your yoga in the best possible way.

7 Best Thick Yoga Mats – 2023 Update
The Gaiam Essentials Premium Yoga Mat is made with high-quality PVC material free of DEHP, DINP, DIDP, DBP, BBP, and DNOP. Its ¼ inches thickness provides enough comfort while practicing your yoga poses. The surface of this non-toxic PVC thick yoga mat is textured and non-slip to provide superior gripe and fantastic traction. It is a lightweight and durable mat that will last for an extended duration. The yoga mat carrier sling lets you carry the mat easily. These thick yoga mats are available in black, green, grey, navy, pink, purple, and teal colors.
Specifications
Material: Polyvinyl Chloride
Dimensions: 72.05 x 24.02 x 0.24 inches
Weight: 3.5 pounds
Pros
Durable
Eco-friendly
Portable
Offer superior traction
Lightweight
Non-slip
Includes carrying sling
Chemical-free
Cons
Unpleasant smell during unpacking
Price at the time of publication: $27
Sivan Health And Fitness offers a 0.5 inches extra thick yoga mat with memory foam to protect your knees and joints during exercise. No matter your size or shape, this mat is ideal for comfortably performing yoga, pilates, and other floor exercises. Its ribbed non-slip surface offers excellent traction, thus preventing slipping during yoga sessions. Its high-density NBR foam provides extra cushioning, increases durability, and is easy to hand wash. In addition, the integrated carry strap is convenient for transportation. These best thick yoga mats come in black, purple, and teal colors. You can check this video out if you need to know more about the product.
Specifications
Material: Nitrile Butadiene Rubber Foam
Dimensions: 24 x 0.39 x 71 inches
Weight: 2 pounds
Pros
High-quality
Lightweight
Non-skid ridges
Integrated carrying strap
Easy to clean
Durable material
Phthalate-free
Cons
Might produce a rubbery smell
Price at the time of publication: $23.99
The Gruper Thick Yoga Mat features a high-density NBR material that's soft and feels comfortable. It protects your knees and prevents sudden shocks during meditation, yoga, or any light sport. The mat is available in 2 different widths, 8 and 10mm, which provides enough cushion for intense yoga poses. It is 60-degrees anti-slip tested to ensure that you remain safe while exercising on wooden, cemented, or tiled floors. The material is also moisture-resistant, non-toxic, eco-friendly, flexible, and safe for your skin. The mat comes with a carry bag and a strap for easy portability.
Specifications
Material: Thermoplastic Elastomers and Nitrile Butadiene Rubber
Dimensions: 72.05 x 31.5 x 0.39 inches
Weight: 2.42 pounds
Pros
Large width
Tear-resistant
Non-slip
Soft and elastic
Moisture-resistant
Eco-friendly
Non-toxic
Cons
None
Price at the time of publication: $37.99
The durable Extra-Thick Classic Yoga Mat from Aurorae is made with superior-quality PER material which is lightweight and comfortable. Its ¼-inch thick memory foam protects your knees and joints during floor exercises and ensures proper traction. The mat is 72-inches long, offering proper space and flexibility for performing yoga, fitness, aerobics, and Pilates. Unlike other cheap yoga mats, this one comes with slip-free rosin that provides excellent stability during balanced poses. It also has a focal point icon that helps you focus during the challenging poses and is available in elegant colors like earth, camaron green, crown, midnight, and ocean.
Specifications
Material: PER
Dimensions: 72.05 x 24 x 0.25 inches
Weight: 4 pounds
Pros
Lightweight
Odorless
Washable
Eco-friendly
Durable
Phthalate-free
Latex-free
Silicone-free
Phenol-free
Cons
Might slip without the rosin
Price at the time of publication: $39.95
The easily portable Thick Yoga Mat by HemingWeigh features a non-slip surface that ensures stability and safety during yoga and Pilate practices. Its tear-resistant material adds to the durability factor and allows you to perform various yoga routines without worries. The mat is made of nitrile butadiene rubber (NBR) and foam material that is soft, non-toxic, and flexible. The material is easy to clean, thus ensuring a high level of hygiene. To find out more about this product, check this video review out.
Specifications
Material: Foam, Nitrile Butadiene Rubber
Dimensions: 71.06 x 24.01 x 0.78 inches
Weight: 3.36 pounds
Pros
Eco-friendly
Lightweight and soft
Portable
Anti-slip surface
Long-lasting
Easy to clean
Cons
None
Price at the time of publication: $27.99
The handmade Manduka Prolite Thick Yoga Mat comes with ultra-dense cushioning to offer joint protection and superior stability. The 4.7mm (0.19-inch) thick mat offers sufficient support on any surface. Its closed-cell technology prevents sweat and moisture from reducing its lifespan. The PVC material has Standard 100 certification by OEKO-TEX, making it an eco-friendly thick yoga mat. The mat is available in 6 colors and 2 sizes (71 and 79 inches). Its dot pattern holds the mat in place on the floor and ensures safety during yoga and Pilate sessions. If you are an absolute beginner, this video review might be useful.
Specifications
Material: Rubber
Dimensions: 71 x 24 x 0.19 inches
Weight: 3.96 pounds
Pros
Lightweight
Moisture and sweat-resistant
Anti-slip surface
Easy to maintain and clean
Handmade
100% latex-free
Cons
Price at the time of publication: $99
The Crown Sporting Goods Yoga Cloud Mat features a moisture-resistant surface and non-slip ridges that ensure safety during workout sessions. It has a length and width of 72 and 24 inches, respectively, which offers proper cushioning to weak joints during yoga practices. The mat comes with a carry strap for convenient transportation. This super thick yoga mat is 1-inch thick, which makes it super comfortable. The high-density foam material is strong and durable and won't deform easily.
Specifications
Material: Foam
Dimensions: 24 x 9.75 x 9.25 inches
Weight:  4.49 pounds
Pros
Safe and sturdy
Absorbs shock
Non-slip ridges
Moisture-resistant
Convenient carrying strap
Cons
Price at the time of publication: $47.99
Yoga mats are available in several unique styles, materials, and designs. Due to these variations, many buyers find it technically challenging to find suitable products. But worry not because our detailed buying guide will help you ensure the best buy.
How To Choose The Best Thick Yoga Mat?
The material of yoga mats determines the durability, texture, traction, and flexibility. PVC is the main material used in many thick yoga mats for durability, ease of maintenance, and excellent floor grip. While PVC is latex-free, it is not eco-friendly or moisture and sweat-resistant. The thick yoga mats in our list are mostly made of rubber and foam and have moisture-wicking qualities to ensure safety.
Lumalia Emmy Armstrong, certified yoga and meditation teacher, suggests, "More eco-friendly and thick yoga mats many yogis, including myself, rave about are made of sustainability harvested cork and rubber. When mixed together, cork and rubber provide a natural antibacterial material that is self cleaning and naturally cushioning while offering great grip."
A thick sticky yoga mat stays right at that place where you need it to be. It does not slide whenever you are changing yoga poses. PVC yoga mats are preferred for their stickiness as they retain this feature even after cleaning it with water.
Yoga is all about connecting to the earth in a non-violent manner. Therefore, there is no need to buy thick yoga mats that take decades in landfills and maybe centuries to disintegrate. Instead, go for sustainable thick yoga mats made from natural/recycled rubber and other raw materials like jute and organic cotton.
Why does thickness matter? Commonly, thicker yoga mats are believed to offer unrivaled comfort than their thinner counterparts. They offer proper support to weak joints and ensure proper shock absorption.
Lumalia Emmy Armstrong, certified yoga and meditation teacher, notes, "Keep in mind, as the thickness of a mat increases, so may the weight of one. Thicker yoga mats may also be heavier so make sure to read about the heaviness of a mat when considering whether you will perform yoga at home or walk to your local studio. If you do walk to your own studio, you could consider a medium size thickness and fold the edges over to the middle or fold a part of your mat up over itself like a pastry to create extra padding around areas like your knees when needed."
Another vital factor to consider when choosing the best yoga mats is the texture. Yoga mats could have an artificial or natural texture, but all aim to provide proper traction and prevent sliding or slipping. The surface has an overall effect on your absolute comfort. Rubber, cotton, or jute yoga mats with raised or tactile patterns are better than PVC mats for preventing sliding and slipping.
Why Trust StyleCraze?
Aditi Naskar, the author of this article, has a diploma in health and wellness. She went through thousands of reviews and various yoga mats online to curate this list of the best thick yoga mat for her readers. These yoga mats are washable, lightweight, portable, and slip-resistant. They absorb shocks or impacts, thus preventing mishaps.
Frequently Asked Questions
What is the best thickness for a yoga mat?
The thicker the yoga mat, the better it will support the joints. You can choose a mat between 4mm to 8mm thickness for the best experience.
Is a 10mm yoga mat good?
Yes, 10mm is a perfect thickness, provides the best cushioning, and helps perform the asanas efficiently.
Is it ok to wash the yoga mat in the washing machine?
Yes, depending on the yoga mat material, you can use either hand wash it or spin it in a washing machine.
How often should you replace your yoga mat?
You can replace your yoga mat when it starts to wear and tear or feels rugged. Most yoga mats can last more than 1 year.
Can you use a camping mat for yoga?
You can use a camping mat for yoga temporarily if you don't have any other mats available; however, it may not give you a very comfortable experience while performing asanas.
Can I use a thick yoga mat as a sleeping pad?
Yoga mats don't provide any thermal protection while sleeping; so they may not be a good option for sleeping.
Recommended Articles