11 Best Thong Shapewear Of 2021 For Perfect Tummy Control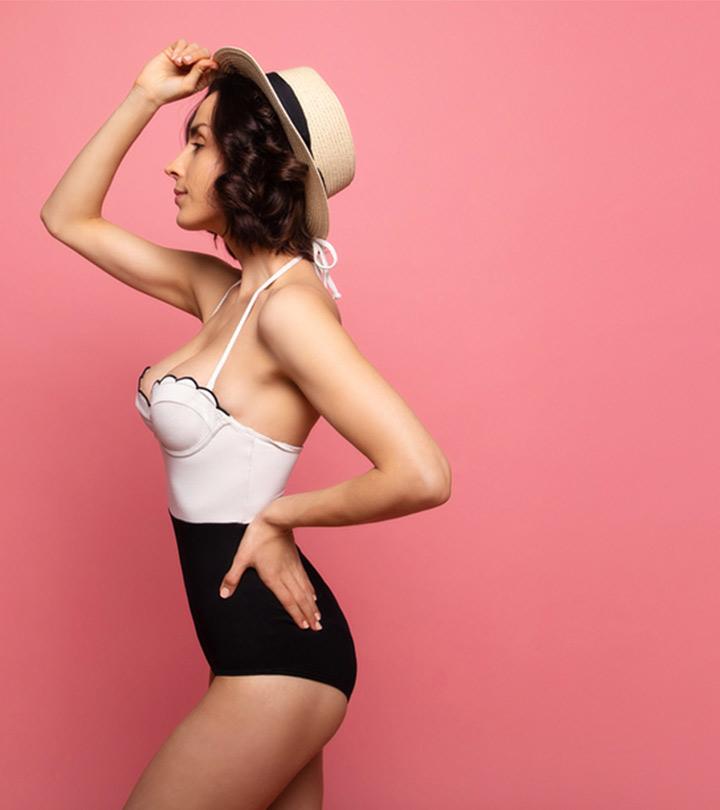 Between a sitting job and tons of responsibilities to take care of, it can be hard to look in shape all the time. This is especially true if you are postpartum or recovering from a surgery or injury. That's why shapewear was invented, to lend you a contained silhouette on occasions when you want to look even more put together than usual. If the day calls for a bodycon or cocktail dress, shapewear won't be too far behind on your checklist. So, we've rounded up the 11 best thong shapewear that tucks, lifts, and compresses in all the right places without leaving behind a bellyful of lines and marks.
Thong shapewear, as the name suggests, is built like a thong that reaches over the belly button and covers the midsection of your body. The materials are flexible, which is a blessing when you want that perfect fit. It's seamless, supportive, high-waisted, and makes you appear flatter in the tummy without cutting off airflow. Available in different shapes, sizes, cuts, and styles, it can be intimidating to figure out which one your body needs. Take a peek at our shortlist and you might just end up finding the gem that was made for you.
11 Best Thong Shapewear To Hug Your Curves Beautifully
A high-waist thong that tucks in the waistline and makes you look slimmer without compressing the wind out of you — that almost sounds like a fantasy until you meet this waist-cincher. The half-rising thong is made of breathable fabric that doesn't make you sweat a lot and takes care of comfort. It has a 4-piece steel bone embedded in it, which is quite helpful in shaping the body. The pair also helps keep your posture upright, which is necessary for back pain relief. With immense flexibility, the shaper can be worn under a party gown, a tight dress, or any other outfit without digging into your skin.
Pros
Naturally butt-lifting
Provides midsection and back support
High-quality polyester and spandex
Light boning system prevents rolling down
Cons
Ribbed design might lead to visible lines
This nylon-elastane thong shaper is incredibly smoothing and flexible. It has a high waist that redefines the shape of your tummy and helps in controlling the waist line. The crotch lining is made of pure cotton, which keeps your skin cool, dry, and free from excess sweat. To enhance your curves while offering just enough support around the stomach, waist, and butt, the thong comes with a 2-ply mesh fabric line that does not move. Since the whole point of fitting into the shaper is to enjoy an all-glam day out, you won't have to keep fussing and fidgeting with the band because it will stay in place of its own will.
Pros
Soft fabric
Flexible fit
Provides firm control
Made of lightweight material
Provides perfect coverage to tummy, hips, and waist
Cons
Might be too high-rise for some
This no-frills-all-thrills shapewear is a premium quality creation that covers your midsection and lifts the butt just enough to look natural. Crafted from a durable polyester and spandex blend, it feels really lightweight and soft to the touch. You can easily wrap up your torso in the high-waist design that exercises tummy control and accentuates a lean silhouette. For those who could do with extra back support, this is an ideal choice as it aligns the midsection and back for improved posture. Offering the kind of purposeful compression that tucks in the pooch without constricting circulation, this thong shapewear is a top contender on our list.
Pros
Comfy lining
Seamless design
Sweat-free comfort
Moisture-wicking fabric
Opening in the back for butt lift
Cons
The thong area might feel slightly snug for some.
If you've always thought of shapewear as unforgiving and uncomfortable, this seamless shaper will change your mind. From giving your waistline a little tuck to ensuring your tush gets a little lift, this thong does it all. It's designed with special focus on providing proper back support along with a sculpting effect on the tummy, hips, and back. Ideal in terms of fit, form, and fabric, this fashion-forward shaper with a wider reach and better fit than regular panties was made to be worn under tight summer dresses, skirts, pants, and anything else you feel like pairing it with.
Pros
Great design
Powerful elastic material
Comfortable, breathable fabric
Suitable for everyday wear
Cons
Might be a little stretchy
The Shaperqueen 102 classic shaper thong is premium-quality shapewear with a luxurious design, comfortable fabric, and a body-flaunting shape. It's suitable for those who want to reign in their silhouette by regulating the midsection and honing the waistline. The shaper excels at draping around your body effortlessly with anti-slip bones, meant to prevent the undies or dress from rolling up or down. Women who want to give their rears some extra support should definitely check this out and enhance their curves. Bonus points for being ergonomic and providing a strong foundation for the back.
Pros
Helps with back pain
Offers great ab support
Helps in improving your posture
Made of high-quality breathable fabric
Cons
Some might find the compression a little too strong.
When all you covet is seamless thong shapewear that manages your tummy, makes you look more slender, and feels comfortable all day long, give this one a chance. It stands out with its soft, high-quality fabric that offers a perfect curve to your shape without causing undue stress or tightening the skin too much. The raised elastic band extends to give you excellent coverage, enhancing the buttocks and toning the waistline. With a remarkable mid-rise design that conveniently tightens the abdomen without being overtly visible under your cocktail dress, this shapewear does pretty much everything you want it to.
Pros
Flexible and durable
Super-soft cotton crotch
Relieves back pain
Provides midsection and back support
Cons
Might be slightly short for some
Finding the ideal shapewear that focuses on the butt can be really difficult — until you come across this shaper from Nebility. It features an open-back design that lifts the bottom while shaping the midriff and tummy like the versatile expert that it is. Not only does it make your butt look a little more prominent, but it also adds a sense of seamlessness to your appearance. Induced with 2 spiral steel bones whose purpose is to support your upper body, the shapewear grants some much-needed relief to back pain and corrects your posture.
Pros
No panty lines
High-grade material
Feels soft and smooth
Moisture-wicking comfort
Stretches and fits all shapes
Cons
Might not be suitable for those who are shorter
It's impossible to spell shapewear without Spanx. This one is ideal for anyone who prefers mid-waist or low-waist body shapers that provide the perfect foundation under bodysuits. It covers the area around your waist and inner thighs, tucking in the abdomen and smoothing your stomach and back. With elastic-free edges and a bonded waistband, the shapewear runs seamlessly over your hip without making you feel too cramped or uncomfortable. Made from nylon and spandex, it feels super-soft and tolerable for hours of wear. You won't have to worry about visible panty lines because the thong is great at concealing itself under form-fitting dresses and skirts.
Pros
Breathable fabric
Has a cotton gusset
Offers decent butt-sculpting
Comfortable for longer durations
Cons
Not much belly control involved
When you want to smooth your midsection but can't stand the idea of tucking yourself in a long-running body shaper for hours, you can call on this shaper to get the job done. It runs only up to the belly, supporting your back, covering the crotch area, and making your tummy feel reigned in. The soft fabric and stylish design do an excellent job of screening the bumps and bulges that naturally appear on the belly and lower waist. A steel bone is embedded in the panties that prevent rolling down and hold them high and firm.
Pros
Smooth back
Supportive and soft
Seamless appearance
Breathable crotch
Cons
Might be slightly tight for some
RRLOM shapewear is a top-notch body controller that does not have to deal with roll-down issues. It offers a tight grip that keeps muffin tops in check and transforms your figure by pulling the waist in. Crafted from a polyester and spandex blend, the shapewear has a lot of stretchability to offer, not to mention a long shelf life and butter-smooth softness. There are tiny holes to make room for ventilation and let your skin breathe better. You can wear it under any outfit, from cocktail dresses to tight bodysuits, to change your silhouette and make it more curvaceous.
Pros
Slims till mid-thigh
Tightens buttocks
Soft and skin-friendly
Provides back support
Good for postpartum recovery
Cons
Bottom curl might be slightly tight for some
Shockingly soft and comfortable, this bodysuit is made from high-quality polyamide and elastane that offers 4-way elasticity that elevates the butt and provides maximum stretch. A 360º seamless stitching makes it quite durable and protects the skin from itchiness or harsh rubs. The shapewear comes with a unique feature — removable shoulder straps that make it versatile enough to be used as a bodysuit and waist-shaper depending on what the occasion demands. Another good thing is that these straps can be adjusted to your requirements, making them suitable for any body type. Crafted with an ultra-high waist, the shapewear uses double-layer fabric to mildly but firmly restrain a bulging tummy.
Pros
Butt-sculpting
Reduces waistline
Enhances curves
Detachable straps
Easy to wear and take off
3-row hook and eye closure
Cons
The edges of the crotch might feel slightly uncomfortable at first.
Preferred for their ultra-soft feel and amazing body support, these thong shapewear options are among the best of 2021. But before you pick your favorite one, check out this guide to be sure you're making the right choice.
How To Choose Thong Shapewear That Suits Your Body
You need to buy shapewear that is perfect for your size. It might feel tight in the initial days, but eventually it expands and loosens up to give a more comfy feel.
Just like you choose dresses based on your body shape, you need to choose shapewear as per your figure. For instance, if you have an apple-shaped figure, try using an under-bust shaper that covers you completely. If your bust and shoulders are wider than your hips, choose an hourglass shapewear with hip pads on the bottom. For women who have a pear-shaped body with a lower tummy bulge, short thongs that cover the butt are recommended.
Fabric is the life of thong shapewear. If the fabric is not good enough, the shapewear feels cheap and non-durable. Look for fabrics like nylon, polyester, spandex, etc. that stretch wonderfully and feel soft to the body. They even prevent skin irritability, so you can wear your thong for longer.
Always choose shapewear keeping in mind the prime purpose. For instance, if you wish to control your tummy, choose shapewear that covers the torso and makes your silhouette feel balanced. In case you just want to hide your panty lines, opt for thong panties. For women who want to give the butt a slight lift, go for shapewear that focuses on the tushy along with the tummy.Lastly, if you want the highest level of comfort along with a tucked-in tummy, thong shapewear with breathable fabric is a good choice.
If you are constantly on the prowl for the best thong shapewear, these are the most popular choices for you to consider. Each shaper is skin-friendly and designed in a manner that totally boosts body comfort. Whether you want to tuck in the tummy, give yourself some support, or just want to look seamless in your favorite bodycon dress, the different options here can help you do it all. So, embrace these thong shapewear ideas on your journey towards a sleek and streamlined figure, but at the same time, don't forget to love your curves every single day.