10 Best Thumb Braces For Thumb Arthritis (2023) + Buying Guide
Keep your fingers safe with affordable products that eliminate aches and pain.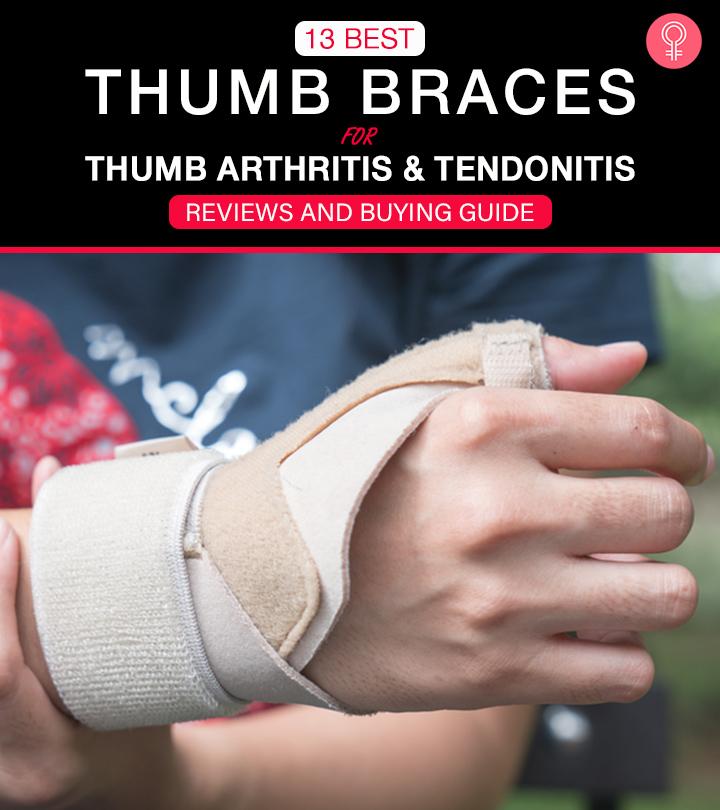 Investing in functional devices like the best thumb braces is quite essential for those that work from home, and especially those who are always on the laptop while meeting their targets. These nifty solutions are crucial for relieving arthritis in the thumb as well as tendonitis. It takes extra care of our thumb joints and makes the movements such as gliding and swerving the thumbs easier.
It is normal to feel a sense of numbness when we are busy working our fingers. The built-in stabilizer in thumb braces helps exercise your thumb better and helps you overcome the pain. Pick something that feels comfortable if you are planning to put it on for long hours. These 10 useful thumb braces are here for you to choose from and decide!
10 Best Thumb Braces For Thumb Arthritis And Tendonitis
Mueller Reversible Thumb Stabilizer is designed for basal thumb arthritis and carpal tunnel. It supports and limits the motion of the metacarpophalangeal (MCP) joint and provides comfort and compression to weak and aching thumbs with a good stabilization capacity. It relieves the joint pain caused by arthritis.
This stabilizer is ideal for soft tissue injuries, ligament strains, osteoarthritis, and degenerative joint pain. It is made from breathable fabric for extended wear. Watch this honest review by this famous YouTuber to gain a better understanding of the product.
Key Features
One size fits most (5.5″ – 10″)
Reversible (fits either hand)
Pros
Easy to put on
Supports the entire wrist and thumb
Durable
Odor-resistant
Antimicrobial fabric
Latex- and rubber-free
Cons
None
Price at the time of publication: $18.49
3M Futuro Deluxe Thumb Stabilizer provides essential support to your thumb so you can carry on with your daily tasks like texting, gardening, writing, or gaming. It features 2 supportive stays and adjusts easily for a comfortable fit. It comforts aching, sore, and weak thumbs by providing moderate stabilizing support. It also supports your lower thumb joints. The durable lace fabric easily adjusts for a perfect fit. Thus, it provides a great range of motion to your fingers. It is ideal for arthritis, degenerative joint disease, and double injuries. Check out this YouTuber's video to reassure yourself about the benefits of this product.
Other Features
Fite range: S/M:5″ to 6.5″, L/XL: 6.5″ to 8″
Pros
Easy to wear
Durable
Comfortable for extended use
Soft and breathable material
Ergonomic design
Can be worn on either hand
Cons
Price at the time of publication: $14.87
This physical-therapist recommended thumb splint is ergonomically designed to provide maximum support to the thumb joint and ligaments. It is ideal for people with arthritis, carpal tunnel syndrome, repetitive stress injury, occupational injury, sprains, and strains. The dual removable splints stabilize the thumb in a neutral position to reduce pain, swelling, soreness, and inflammation. This lightweight thumb splint is breathable and suitable for extended wear.
Vive Arthritis Thumb Splint restricts the movement of the thumb while providing adjustable compression to improve circulation and promote healing. It allows full use of the remaining fingers so you can complete all your daily tasks with ease. The ergonomically designed aluminum splints provide maximum support to the thumb.
Key Features
l Aluminum splints to immobilize the thumb
l Extra-strong fastener straps to fit any hand size
Pros
Fully adjustable
Can be worn on either hand
Comfortable to wear
Protects both the thumb and wrist
One size fits all
Cons
Price at the time of publication: $14.99
U.S Solid Thumb Splint can help relieve the pain caused by arthritis, a fracture, or soft tissue injury in the thumb region. This product has a lightweight metal splint enclosed in the breathable and light fabric that secures your thumb and wrist without moving. It is durable enough for daily use and comfortable for long wear.
This thumb splint isolates the finger by providing free space for movement. It can give you 24 hours of support and stability. 
Key Features
Unisex design
Fully adjustable for a perfect fit
Pros
One-year warranty
Available in small and medium sizes
Can be worn on either hand
Custom-fit
Wicks moisture and dissipates sweat
Cons
None
Price at the time of publication: $12.34
This thumb splint is made of quick-dry moisture-wicking yarn. It is certified by the US FDA for a broken thumb, skier's thumb, trigger finger, sprained thumb, scaphoid fractures, and chronic thumb injury. You can wear this thumb splint and continue with your daily chores without any difficulty. Its fabric is lightweight and latex-free. This immobilizer consists of a removable splint that immobilizes the finger to prevent further damage. It has adjustable straps and fits both hands.

Key Features
3D breathable spacer fabric
Removable splint
Pros
Latex-free
Wicks away moisture
Hypoallergenic
Provides 24 hours of comfort
Available in three sizes
Cons
None
Price at the time of publication: $22.99
This unique thumb brace supports injured, weak, sore, and arthritic wrists. It is designed to provide multi-zone compression for quick recovery. It delivers a snug yet flexible fit to warm up the muscles and support the wrists during outdoor activities. The breathable fabric wicks away moisture during intense activities. It can be worn easily under everyday clothes at work, home, or college. It fits both right and left hands and is unisex.
Other Features
Multi-zone compression
Certified as a class-1 medical device
Pros
Helps in the recovery of strained muscles
Lightweight material
Flexible fabric
Allows proper airflow
Comfortable to wear for long hours
Cons
None
Price at the time of publication: $15.99
FLA Orthopedics 3D Adjustable Left Thumb Brace is a one-of-a-kind brace that restricts thumb movement while maintaining the functionality of the hand. Its award-winning design ensures the immobilization of the CMC and MCP joints without restricting the movement of the wrist and other finger joints. It consists of a moldable aluminum core that is easily adjustable for a perfect fit. The material is water- and dust-proof. This product is an optimal combination of reliable stability, functionality, and comfort.
Key Features
Available in 3 sizes: small, medium, and large
3D adjustable thumb brace
Automatically pre-shaped brace
Pros
Smooth edges for safety
Ensures joint stability
Ideal for post-operative rehabilitation
Can be worn underneath gloves
Durable
Cons
None
Price at the time of publication: $39.95
Push Meta Grip CMC Thumb Brace is one of the most effective, streamlined, and durable thumb braces for thumb arthritis, osteoarthritis, and CMC.
You can squeeze the embedded metal insert to custom fit the brace. You can wear this brace while cooking, golfing, gardening, playing badminton, driving, and knitting.
It provides support to the injured joints without impeding other joint movements.
Key Features
Available in 2 sizes for both right and left hand
Imbedded, contoured metal insert offers a perfect fit
Pros
Latex-free material
Machine-washable
Suitable for post-operative recovery
Provides long-term durability
Can be worn under a glove
Cons
None 
Price at the time of publication: $104.99
This thumb and wrist brace is ideal for a sprained thumb, ligament tears, post-surgery support and care, thumb and wrist immobilization, soft tissue injuries, tendonitis, carpal tunnel, CMC, and sports injuries.
This thumb splint with a wrist brace and a hot and cold ice finger gel pack is perfect for quick healing. It can be worn on either left or right hand. It is made of premium-quality neoprene with a metal thumb spica splint for maximum comfort and immobilization. The gel pack helps relieve swelling and soreness. 
Key Features
Removable metal splint for additional support
3 adjustable straps for a custom fit
Pros
Easy to put on
Ideal for women
Light and breathable fabric
Dissipates sweat
Flexible fabric
Cons
None
Price at the time of publication: $17.99
The specialty of this product is that it has 88% copper and nylon embedded into the brace. It supports and immobilizes your injured thumb, wrist, and hand. It relieves pain caused by a sprain, strain, trigger thumb, arthritis, tendonitis, CMC, carpal tunnel syndrome, and more.
Its ultra-comfortable fabric gives you full support while immobilizing the thumb joint. This restricts your thumb, muscle, ligament, and tendons from moving and helps them heal without damaging them further.
This splint is suitable for both men and women. It is designed to fit either hand. It provides multi-point support and immobilization and is extremely comfortable for extended wear. 
Key Features
Copper-infused fabric
4-way stretch flexible fabric
Pros
Breathable fabric
Lightweight and ergonomic design
Easy to use
Offers multi-zone compression
Machine-washable
Cons
None
Price at the time of publication: $23.16
Now that you know all about the best thumb braces available on the market, check out the buying guide given below to pick the best product that fits your needs.
Thumb Brace Buying Guide – Important Features To Consider
1. Type
Here are some common types of thumb splints you may come across while searching for your ideal product.
Hand And Wrist Brace: This type of brace covers your thumb, wrist, and parts of your hand. It is ideal for people with carpal tunnel syndrome as it helps reduce the radiating tingling and provides effective pain relief for the hand.
Thumb Brace: Thumb splints/braces only cover the thumb. It is ideal for people with osteoarthritis, rheumatoid arthritis, ligament instability, thumb sprain, or recovering from thumb surgery. It is lighter and thinner than hand and wrist splints. It can be worn underneath gloves. It can also be worn comfortably while doing regular household chores or while participating in recreational sports.
Hard Material: If you often work outdoors, a hard plastic thumb brace is a perfect option for you. It is waterproof, durable, lighter, and thinner than regular thumb splints.
Soft Material: Soft material splints are made from neoprene or micro-fleece. They are extremely light and breathable. They are less irritating on the skin and more comfortable to wear for extended hours. They are ideal for people with sensitive skin.
2. Size
A well-fitted brace is mandatory for quick relief and speedy recovery. Therefore, check the product size chart and measure your thumb to figure out the exact size that fits best. If you are unsure of the size of your thumb, you can purchase a one-size-fit-all thumb brace. 
3. Adjustability
Adjustable thumb braces are useful for people who are often involved in outdoor activities. They come with adjustable straps for a custom fit. They allow a proper range of motion during daily activities at work or at home. 
4. Durable Material
If you plan on using a thumb brace for long hours, pick one that is made of breathable fabric and dissipates sweat and moisture. If you have sensitive skin, stay away from latex thumb braces as they can rub against your skin and cause more irritation or lead to an allergic reaction. Ensure that the material is durable and flexible for maximum comfort.
5. Flexibility
Flexibility and functionality go hand-in-hand. It is very important to choose a flexible thumb brace because you don't want the product to snag at the edges while getting on and off the thumb as this can aggravate the injury. Besides, flexible thumb braces allow you to carry on with your daily chores without any stiffness or rigidity.
The Bottom Line
Why Trust StyleCraze?
The author Aditi Naskar has a diploma in Health & Wellness. Her in-depth research and impartial opinion help users make an informed decision. This list of thumb braces is perfect for people with arthritis and tendonitis. These products are also very helpful for people working on their laptops all day long. Using these will help reduce pain, improve your range of motion, and reduce thumb fatigue.
Frequently Asked Questions
Do thumb braces work?
Yes, thumb braces help relieve discomfort, improve stability, and reduce joint pressure. It also provides support if you have thumb pain.
How long should you keep a thumb brace on?
Depending on the intensity of the pain and treatment, you may need to wear a thumb brace for 3 to 4 weeks. However, you might need to remove the braces within the interval of 2 to 3 hours to relax the muscles.
Why do I need a thumb brace?
If you have thumb arthritis, a thumb sprain or fracture, or swelling in the thumb, you need to wear a thumb brace to provide support and ease the pain.
Do you sleep with a thumb brace on?
Yes, you can sleep with your thumb brace on as it will help keep the thumb in a relaxing position and reduce the pain or discomfort.
What kind of brace do you use for thumb tendonitis?
When you have thumb tendonitis, a hand-based brace that supports the base of your thumb is preferable. The NEW 3pp Prima Thumb Brace and the CMCcare Thumb Brace are suitable products for this pain.
Recommended Articles