9 Best Tinted Lip Balms With SPF Available In 2023
Protect your lips from the sun rays while adding a gorgeously subtle tint to them.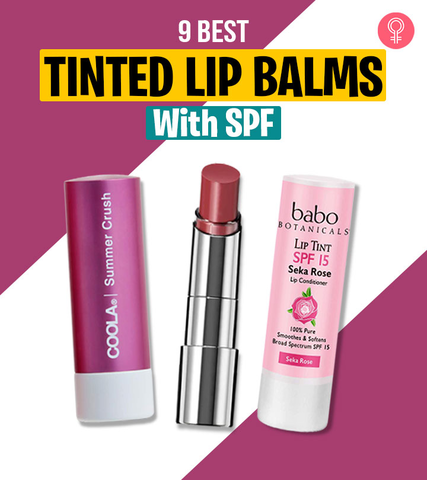 You may be a fan of wearing lipsticks, and you may have many in your collection, but they are not always the right choice to wear everywhere. In such cases, you need to use the best-tinted lip balms with SPF to protect your lips from the sun while still flaunting your favorite tint without the fear of overdoing it.
If you are a skincare junkie, you must be aware that sunscreen is very important for your routine, and you need to apply it everywhere on your exposed skin, even on your lips. Lips are a sensitive spot on your face, and to protect them from environmental aggressors, photodamage, and skin cancer, you need to use a lip balm with SPF. There are also plenty of options available to enhance your natural lip color. Also, these lip balms are super hydrating and enriched with nourishing ingredients. So let's check out some of the top picks on the market. Keep scrolling to learn more about these protective lip balms!
9 Best Tinted Lip Balms With SPF
The Sun Bum Tinted Sunscreen Lip Balm provides the goodness of SPF 15 broad-spectrum UVA and UVB sun protection in its nourishing formula. This moisturizing lip balm is a great choice for people with sensitive skin and lips. It is ideal if you want a subtle tint of natural color, lasting hydration, and sun protection all in one.  The shade 'Bonfire' is subtle and ideal for all skin tones.
Pros
Hypoallergenic
Pleasant fragrance
Ultra-moisturizing
Non-greasy
Gluten-free
Cruelty-free
Paraben-free
Phthalate-free
Silicone-free
Dermatologist tested
Oxybenzone-free
Mineral oil-free
Retinyl palmitate-free
Synthetic dye-free
Budget-friendly
Cons
If you prefer a physical sunscreen formula over a chemical one, go for the high SPF 45 protection of the TIZO Tinted Lip Balm. This skin care and beauty product uses titanium dioxide and zinc oxide in its formula to reflect the sun's rays away from your skin. It combines SPF with a sun shield that offers UV protection. This photostable lip balm does not degrade in sunlight or whiten your lips. It is a perfect blend of sun-savvy sophistication with lip care. This gentle formula is water-resistant for up to 80 minutes and also decreases the risk of early signs of aging.
Pros
High SPF protection
Gentle on skin
Moisturizing
Water-resistant
Photostable
Anti-aging
Long-lasting
Non-sticky
No chemical sunscreen filters
Dye-free
No preservatives
Phthalate-free
Paraben-free
Reef-friendly
Cons
The vegan Coola Summer Crush Tinted Mineral Liplux has an antioxidant-rich formula for plump and younger-looking lips. This results-driven lip balm contains titanium oxide and zinc oxide which are active sunscreen ingredients. They give you lip hydration with SPF 30 broad-spectrum UVA/UVB protection. It is also enriched with cupuacu butter for boosting long-term moisture and nourishing mongongo oil for its anti-aging and smoothing properties. The 'Summer Crush' shade lends a natural minty rose flavor to your lips while safeguarding them from sun damage. You may check out the Amazon reviews to learn more about the visible results that the product may offer.
Pros
Long-lasting
Pleasant fragrance
Moisturizing treatment
Water-resistant
Cruelty-free
Vegan
Reef-friendly
Dermatologist tested
Cons
The Sheer Lip Balm by MDSOLARSCIENCES has a universal tint that works across multiple skin tones. This sun-safe lip balm is enriched with a blend of naturally moisturizing ingredients that provide an optimal amount of moisture, tint, and protection from radical damage. The sheer tinted formula contains a combination of shea, avocado, and olive butter. It is also powered by avocado oil, which is an active ingredient that works to deliver long-lasting hydration. It also offers broad-spectrum SPF 30 with UVA/UVB defense.
Pros
Long-lasting
Ultra-hydrating
Excellent coverage
Mild fragrance
Vegan
Gluten-free
Non-sticky
Cons
The Lip Tint Conditioner by Babo Botanicals acts as a lip protectant and delivers SPF 15 broad-spectrum protection using non-nano zinc oxide and titanium dioxide. It has the proprietary Nutri-Soothe Complex that offers antioxidant and vitamin benefits to your lips. This colored lip balm softens, conditions, and smoothens your lips while adding slight color and shine.
This SPF-infused lip tint contains sunflower seed oil rich in fatty acids to restore the skin's natural barrier and organic jojoba oil to calm irritation. The shea butter acts as a potent emollient that boosts moisture retention, and the beeswax helps lock in moisture. Additionally, these four protective ingredients also work together to reduce inflammation.
Pros
Waterproof
Hypoallergenic
Moisturizing
Reef-safe
Gluten-free
Dairy-free
Soy-free
Peanut-free
Almond-free
Walnut-free
SLS-free
Sulfate-free
Paraben-free
Phthalate-free
Synthetic fragrance-free
Dye-free
Sodium chloride-free
Formaldehyde-free
No MEA/DEA/TEA
Allergen-free
Oxybenzone-free
Octinoxate-free
Cons
None
Are you a fan of mineral sunscreens but worried about the unflattering white cast they leave? Well, not anymore.  All thanks to the Cotz Lightly Tinted Lip Balm which features a lightweight and transparent formula that leaves your lips feeling protected and silky soft. This naturally tinted lip balm uses zinc oxide and titanium dioxide to provide broad-spectrum SPF 45 protection without any chemical filters. Whether you are going to work or enjoying a day outdoors, this lip balm will last with you all day.
Pros
High 100+ SPF protection-Remove
Long-lasting
Prevents sun blisters
Reef-friendly
Cruelty-free
Gluten-free
No preservatives
Budget-friendly
Cons
None
The Cherry Shine Lip Balm by Nivea has been a cult-favorite formula for so long. This popular lip balm provides long-lasting hydration and a shimmery tint of color on your lips. It helps soften your lips with the proprietary Hydra IQ formula for deep moisturization. This everyday lip balm is enriched with Cherry Extract, Shea Butter, and Jojoba Oil to help chapped lips feel smooth.
Pros
Heals chapped lips
Long-lasting
Pleasant fragrance
Dermatologically approved
Mineral oil-free
Cons
None
The Babo Botanicals Lip Tint Conditioner is a lip treatment enriched with a mineral-based sunscreen formula. It helps soften and nourish your lips while also adding a slight tint and shine to them. It uses non-nano zinc oxide and titanium dioxide to provide broad-spectrum SPF 15 protection. This protective formula is enriched with the brand's Nutri-Soothe Complex to deliver antioxidants and vitamins into your skin.
This lip product is enriched with organic jojoba oil that calms irritated skin and sunflower seed oil enriched with fatty acids to repair the natural moisture barrier. This formula also contains shea butter for promoting moisture retention and beeswax for locking in moisture. Furthermore, these soothing ingredients also provide anti-inflammatory benefits.
Pros
Waterproof
Hypoallergenic
Moisturizing
Reef-safe
Gluten-free
Dairy-free
Soy-free
Sulfate-free
Paraben-free
Peanut-free
Almond-free
Walnut-free
SLS-free
Sodium chloride-free
Formaldehyde-free
No MEA/DEA/TEA
Phthalate-free
Synthetic fragrance-free
Dye-free
Allergen-free
Oxybenzone-free
Octinoxate-free
Cons
None
Get a soft sheen, glossy shine, and mild lip color with the unique micronized pigment formula of the Softlips Pearl Tinted Lip Balm. It has a hydrating to relieve dry and chapped lips with its luxurious emollients. This lip balm also provides lip care with SPF 15 protection that defends your skin from damage against the sun and wind while softening the lips in the process.
Pros
Super affordable
Moisturizing
Long-lasting
Cons
*The prices provided in this article are based on the latest available information. However, they may vary due to changes in pricing by the seller and/or promotional offers.
Why Trust StyleCraze?
Certified in makeup techniques, Srijani Roy Chowdhury, the author of this article, is a certified image consultant. She aims to help her readers find the best tinted lip balms with SPF, so she curated a list of them after trying some herself and visiting online forums to read product reviews. These items in the list contain nourishing ingredients, and they keep your lips hydrated.
Frequently Asked Questions
What SPF value is the best for lip balm?
SPF 30 or higher is the best for lip balm.
Can we use tinted lip balm daily?
Yes, tinted lip balms are ideal for daily use. On top of keeping your lips moisturized, they also add a tiny bit of color to them, making you look lively and energetic.
Can I use lip balm with SPF at night??
Using SPF lip balm at night will not cause any harm, but it will not benefit you apart from providing ample moisture.
What are tinted lip balms?
Tinted lip balms are regular lip balms that add a subtle tint of color to your lips. They are a great way to keep your lips moisturized and lively-looking throughout the day.
How long does a tinted lip balm last?
Tinted lip balm lasts for an average of 1-5 years. Organic, preservative-free lip balms last for approximately 1 year, while the others can have a shelf life between 3-5 years. However, once opened, use it within 6 months.
Recommended Articles