15 Best Tinted Lip Balms For Dry, Chapped Lips
Formulations that will add a subtle hue to your lips and leave them buttery soft!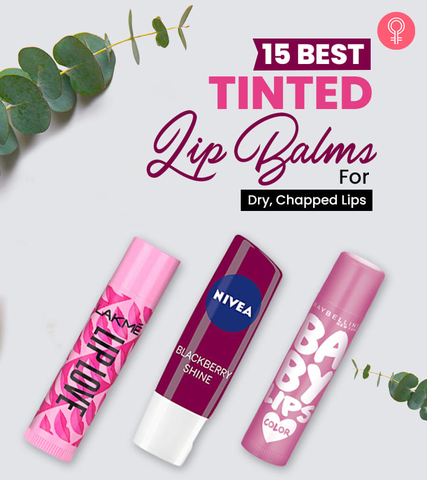 Lips are probably the most sensitive part of our body and go through phases of dryness, cracking, and peeling more often than you would like. So, whether it's the harsh weather or a bout of cold and cough, you end up with chapped or bleeding lips. Enter: lip balms. These nourishing balms keep your lips feeling soft, plump, and supple while adding a soft shine to them.  Plus, they help enhance the overall lip texture and provide excellent protection from UV rays. Tinted lip balms are a great substitute for when you don't want to apply a thick coat of lipstick.
In this article, we have curated a list of the best tinted lip balms in India for you to give a try. Scroll down to know more!
15 Best Tinted Lip Balm In India
Boasting a staying power of 22 hours, the Lakme Lip Love Chapstick is the ultimate choice to keep your lips nourished and supple for a long time. It gives your lips the right pop of color along with intense lip care. The shade Insta Pink features a unique formulation where it changes color from sheer to pink upon application. Additionally, it is infused with SPF 15 that protects your lips from the UV rays of the sun. Apart from this shade, there are five tinted and one non-tinted lip balm available in this range.
Pros
Lightweight
Affordable
Contains SPF
Tempting scent
Cons
Requires frequent reapplication
Price at the time of publication: ₹125
This cult-favorite lip balm from Maybelline is an all-in-one solution for cracked, chapped lips. Its gentle and creamy formula is available in three vibrant shades that suit people of all ages. This tinted lip balm is infused with SPF 20 for sun protection and a blend of vitamin E and coconut oil for 16-hour long hydration.
Pros
SPF 20
Non-sticky formula
16 hours long hydration
Adds a glossy effect
Lightweight
Value for money
Cons
Price at the time of publication: ₹155
With the Nivea 24h Melt-In Moisture Caring Lip Balm, you get long-lasting hydration and a subtle hint of color and shine for your lips. The innovative Hydra IQ formula powered by natural oil offers 24-hour moisturization. And the touch of berry pigment in the lip balm adds color and shine to your lips, while the fruity aroma of berries has a pleasant effect on your senses. The melt-in moisture formula ensures that you get a smooth application every single time.
Pros
Non-sticky
Dermatologically tested
Clinically-tested formula
Mild fragrance
Value for money
Cons
None
Price at the time of publication: ₹157
The unique, innovative formula of the Maybelline's Baby Lips Bloom Lip Balm is enough to make it stand apart from the rest. Its color-changing formula developed with innovative Color Bloom Technology gives you a sheer peachy nude color upon application. Plus, the lip balm is infused with jojoba oil and vitamin E that keep your lips hydrated all day long, while the SPF 16 in the formula offers sun protection. It comes in two different shades – Peach Blossom and Pink Bloom.
Pros
Color changing formula
Highly pigmented
Non-sticky texture
Long-wearing
Mild fragrance
Value for money
Cons
None
The Organic Harvest Lily Lip Balm has 100% certified organic ingredients to give you long-lasting hydrated lips with a tint of pink color. The blend of organic oils deeply nourishes and hydrates your lips to prevent dryness and flakiness. Olive oil and shea butter in this balm soften the lips, while vitamin E- and antioxidant-rich jojoba oil heals your chapped lips and prevents further damage. The lily oil in it regulates cell renewal and eliminates toxins, making your lips soft and kissable.
Pros
Heals chapped lips
Fades hyperpigmentation
Offers anti-aging benefits
Suitable for all weather conditions
Vegan
Cruelty-free
PABA-free
Paraben-free
Mineral oil-free
Cons
Needs frequent reapplication
Price at the time of publication: ₹147
The Kaumudi 3-in-1 Lipbalm acts as a cheek tint and eyeshadow as well. It is a natural and handmade lip balm that provides the ultimate solution for cracked and dry lips. The Ayurvedic formula is infused with rich A2 ghee, coconut oil, cocoa butter, almond oil, shea butter, and beeswax that give your lips intense nourishment and treat lip darkening. The intricate mix of rose damascena and saffron essential oil exudes a soft scent, reminding you of the Mediterranean coast. This lip balm comes in 9 vibrant tints, including red, plum, and brown hues, that suit almost all skin tones.
Pros
Multipurpose
Moisturizing formula
Affordable
Long-wearing
Softens the lips
Offers sun protection
Chemical-free
Cruelty-free
Preservative-free
Paraben-free
Cons
None
Price at the time of publication: ₹234
The Vaadi Herbals Strawberry Lip Balm is your one-stop solution to get rid of chapped lips. It is formulated with a mix of strawberry, vitamin E, honey, and almond oil. The alpha hydroxy acid-rich strawberry extract helps clear dead skin cells, revealing naturally soft and plump lips. Besides, strawberries are potent skin-brightening agents that help to remove tan and discoloration around the lips. If that didn't impress you, its fruity strawberry aroma surely will!
Pros
100% organic
Paraben-free
Chemical-free
Cruelty-free
GMP certified
Affordable
Pleasant fragrance
Smoothens the lips
Long-wearing
Cons
None
Price at the time of publication: ₹276
The Himalaya Herbals Strawberry Shine Lip Care is perfect for naturally glossy, soft, and nourished lips. Its moisture-retention formula ensures that you get a subtle shine as well as a 100% natural lip color. In addition, it is enriched with the naturally emollient apricot kernel oil that is high in vitamin E for hydrating dry and chapped lips, along with strawberry seed oil that is rich in essential fatty acids for retaining the skin's natural moisture balance.
Pros
Heals chapped lips
Hydrating formula
Silicone-free
Affordable
Mineral oil-free
Petroleum-free
Preservative-free
Cons
None
Price at the time of publication: ₹124.8
The TNW Herbal Beetroot Lip Balm is an efficient mix of the most effective conditioning herbal ingredients that make your lips soft and plump while adding a natural shine. It contains apricot oil, honey, shea butter, cocoa butter, jojoba oil, and beetroot. The apricot oil helps prevent cracked lips, honey heals rough, chapped lips and imparts hydration, and shea butter soothes and moisturize chapped lips with vitamins A and E.
It also contains jojoba oil that is rich in vitamin E and B and fatty acids that promote cell regeneration, while antioxidant-rich cocoa butter fades wrinkles. Additionally, the beetroot extract provides the goodness of vitamin B, manganese, potassium, iron, and vitamin C.
Pros
Heals chapped lips
Affordable
Mineral oil-free
Petroleum-free
Cruelty-free
Paraben-free
Preservative-free
Cons
None
Price at the time of publication: ₹179
Indulge in the tempting strawberry-flavored Born Lippy Pot Lip Balm from The Body Shop for hydrated and nourished lips. This scented lip balm gives your lips a subtle rosy tint along with a sweet and fruity scent.
Pros
Moisturizing formula
Adds shine
Pleasant fragrance
Instantly softening effect
Makes lips supple
Cons
None
The Candy Melts Vegan Lip Balm by Plum is a naturally nourishing and sweet red velvet-scented lip balm that is ideal for daily use. It is enriched with carrot seed oil to restore sun damage and chapped lips, along with the moisturizing cocoa and shea butters that make them plump. It also contains plant-based olive oil to help make your lips feel soft and supple.
Pros
Hydrating formula
Non-sticky
Value for money
Cruelty-free
UV protection
Paraben-free
Vegan
Cons
Price at the time of publication: ₹9.99
The Revlon Color Burst Matte Lip Balm is designed to give you great color pay-off with a matte finish. This moisturizing chubby crayon is infused with a trio of shea, mango, and coconut butters for intense moisturizing. It is available in 8 matte shades that give your lips a velvety matte look.
Pros
Value for money
Moisturizing formula
Long-wearing
Non-sticky
Decent pigmentation
Lightweight
Matte finish
Cons
The Avon Naturals Lip Balm is designed for all age groups and infused with a weightless and ultra-moisturizing formula that lasts up to 24 hours. It also provides decent SPF protection and is available in two delicious flavors – strawberry and cherry.
Pros
Pleasant fragrance
Contains natural ingredients
Softens the lips
Long-wearing
Cons
None
For a tint of natural strawberry pink color along with some serious moisturization, try the Nivea 24h Melt-In Moisture Strawberry Shine Caring Lip Balm. It is enriched with shimmery pigments that also add shine to your lips, while the melt-in moisture formula enables smoother application. Its fruity aroma is just another reason you need to try it out today.
Pros
Non-sticky
Moisturizing formula
Mild fragrance
Long-lasting
Value for money
Cons
None
Price at the time of publication: ₹146
If you want plump and healthy lips with a sheer pop of color, then you should try the Aegte Beetroot Lip & Cheek Tint. This 2-in-1 formula can be used as a lip balm and a cheek tint. This lip balm is infused with beetroot that evens out discoloration with its natural bleaching properties while nourishing the lips to make them softer. It also contains antioxidant-rich tomato that acts as an excellent exfoliator and repairs damage to keep dryness and cracked lips at bay.
This formula also includes grapeseed oil enriched with omega-6 fatty acid and vitamin E for lightening the tone and imparting moisture for glowing and healthy lips. The antifungal carrot seed oil prevents yeast infections and corner cracking while imparting antibacterial, antioxidant, and anti-inflammatory benefits to treat the skin.
Pros
Hydrating formula
Lightweight
Non-sticky
Pleasant fragrance
Value for money
Paraben-free
Cruelty-free
Vegan
Pesticide-free
Cons
None
Price at the time of publication: ₹599
Now that you have had a look at some of the best tinted lip balms currently available, it is time to check out some factors to consider before purchasing any of them. The vital points to be considered are presented in the following guide.
Things To Consider When Buying A Tinted Lip Balm
Buy a lip balm that is highly pigmented as it will offer a better tint. Lip balms that are less pigmented do not provide the desired color even after several applications.
Choose a lip balm that does not fade away easily so that you don't have to touch it up frequently. Waterproof lip balms are a dependable choice as they do not dissipate quickly.
Sun protection is required for your lips as well. Constant sun exposure can lead to discoloration of the lips. Therefore, it is necessary to opt for a balm that has SPF. For the protection of your lips, SPF 15 is recommended.
Lip balms are available in many different flavors and shades. Some common flavors are strawberry, cola, blueberry, orange, mint, cocoa, and lemon.
The prime motive of any lip balm is to offer moisture to the lips to prevent them from dryness and chapping. Many lip balms focus on moisturization, but some are inclined towards shine and tint. Therefore, it is imperative to choose a product that provides deep moisturization along with a tint. A lip balm formulated with moisturizing agents like shea butter, jojoba oil, beeswax, coconut oil, or honey is the perfect choice.
Any lip balm you wish to buy should be smooth as butter to apply. Therefore, consider checking the user reviews to learn about the product's finish and usability.
While lip balms are usually used to moisturize the lips, they do so much more. The best tinted lip balms listed above not only hydrate your lips but also give them a pop of color for when you don't want a heavy makeup look. Pick up some of your favorites from the list and give them a try. Happy shopping!
Frequently Asked Questions
Are there any specific shades or color options available in tinted lip balms for different skin tones?
You may use pink lolita and purple for cool skin tones, peach blossom and blackberry for warm skin tones, and cherry lip for mixed skin tones.
Can tinted lip balms be used as a base or primer under other lip products?
Tinted lip balms can be a moisturizing base for your lip products. However, if you wish to create a canvas to make your lipstick last longer, a proper lip primer would be the best choice.
Can tinted lip balms help in reducing the appearance of fine lines on the lips?
Yes. Tinted lips balms are enriched with skin-nourishing fatty acids, emollients, and antioxidants that moisturize chapped lips and improve skin texture, reducing fine lines.
Can tinted lip balms be used by individuals with sensitive lips or allergies?
Lip balms with 100% coconut oil or shea butter and natural colors are best suitable for allergy-prone and sensitive lips. You may also use tinted petroleum jelly as it is hypoallergenic.
Recommended Articles