11 Best Tinted Moisturizers For Mature Skin Reviews Of 2023
Minimize signs of aging with affordable, light, and natural tinted moisturizers.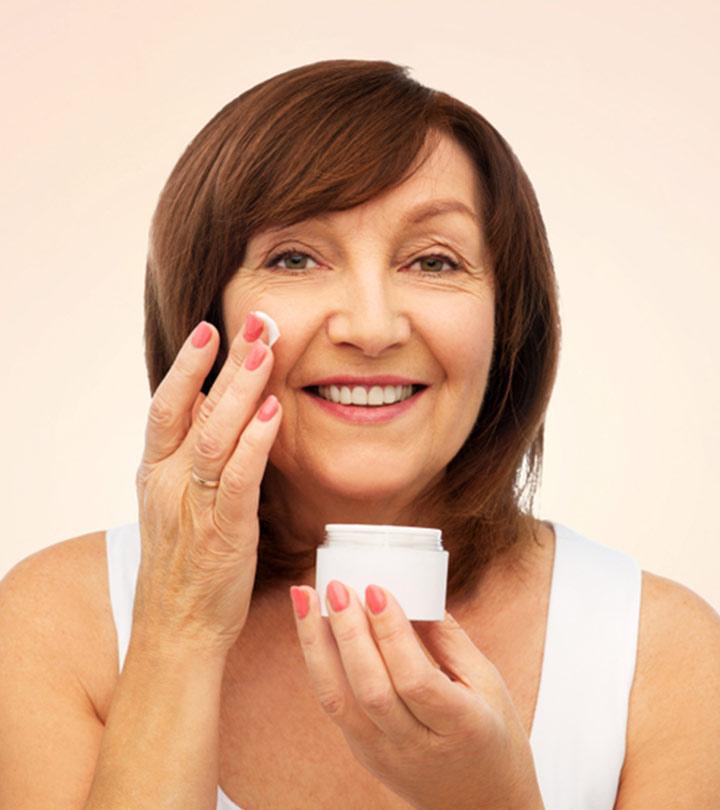 If you are looking for the best tinted moisturizer for mature skin, we have just what you need. Tinted moisturizers are taking the beauty industry by storm and for all the right reasons. Once your skin matures, and you can't take the wrath of experimenting with various makeup products anymore, you would like to tone it down to simple products that give you flawless results. This is when tinted moisturizers come in.
Along with giving you the care and nurture of cream, it also counters the aging signs like sagging skin, hyperpigmentation, uneven skin tone, wrinkles, and fine lines. It is also loaded with SPF that keeps you safe from UVA and UVB rays. These moisturizers also give you foundation-like coverage without making your skin struggle to breathe. So, ready to give your mature skin the perfect hydrating makeup? If you are not sure about what to buy, we are here to help. Take a look at our list of the 11 choicest tinted moisturizers, selected by professionals that are worth investing in.
Top 11 Best Tinted Moisturizers For Mature Skin Guide 2023
Pros
For all skin types
Evens out skin tone
Blends easily
Versatile product
Cons
Difficult to use packaging
Price at the time of publication: $34.5
Pros
Hydrates skin
Can be used daily
Reduces the signs of aging
Travel-friendly packaging
Cons
Dr. Schwarzburg, MD, Cosmetic Dermatology says, "Moisturizer containing SPF gives you two-in-one benefit of having your tinted moisturizer and protecting you from the harmful effects of UV rays. It is a holy grail for your skin and beauty!"
Price at the time of publication: $9.79
Purlisse BB cream is a versatile skincare product that helps you with skin nourishment, skin protection and skin rejuvenation. Along with these benefits, it also serves the role of a perfect foundation that conceals your imperfections. When used as a full coverage tinted moisturizer, this product gives a flawless finish that evens out skin tone and moisturizes dry skin. Kristi Bergman, a makeup and beauty enthusiast, states, "It really helped to cover up redness on my cheeks. It seems glowy and hydrating which I love." This BB cream contains a broad spectrum SPF 30 sunscreen that is good for everyday sun protection. The best part is that it is available in multiple shades for all types of skin tones. Safe ingredients make this product good for skin. Charity, a skin care aficionado, states on her Instagram post, "Honestly, it is the bb cream I've been searching for my whole life. It feels like a tinted moisturizer but with ACTUAL COVERAGE. It does not get cakey and feels so light on your skin."
Before purchasing, you can also check this reaction video for a short and honest review of this product.
Pros
Vegan
Cruelty-free
Natural formula
Paraben-free
Cons
Might cause breakouts for some
Pros
Cruelty-free
Gluten-free
Age-defying formula
Non-GMO verified brand
Cons
Price at the time of publication: $15.03
Pros
Natural ingredients
Mineral-oil free
Suits all skin types
Multiple benefits
Cons
Scent might be too strong for some
Price at the time of publication: $21.99
Looking for a tinted moisturizer for dry mature skin? Do you wish it to be light and easily blendable? Well, if yes, then this product will surely suit you. Formulated with zinc oxide, this works as a great moisturizer For countering the signs of aging, using this digital aging defense formula is really useful. If you wish to use it like a tinted balm, it gives sheer light coverage that conceals imperfections. The product aims at hydrating and protecting your skin from environmental stressors. Use it as your daily moisturizer to keep your mature skin healthy.
Pros
Mattifies well
Weightless feel
Silky smooth formula
Gives evenly toned skin
Cons
Smell might be unpleasant to some
Price at the time of publication: $47.0
Pros
Soothes skin
Preps up skin
Adds a radiant glow
Gives a dewy fresh look
Cons
Blending might take a little time
Price at the time of publication: $35.0
Nivea Visage daily essentials tinted moisturizing cream is ideal for day time. It contains SPF 15 for sun protection and the goodness of vitamins and Hydra IQ for intense nourishment. The formula is hydrating for the skin and keeps it moisturized. Sparkly Lynnette, a makeup product reviewer on YouTube, states, "It gives my skin a nice glow, it makes my skin feel really radiant as well. It does even out my skin tone." If you wish to use it as your makeup base, you can use it instead of your regular moisturizer and get the benefit of primer, moisturizer, sunscreen and a light foundation. It works at reducing skin imperfections like premature aging and keeps the skin healthy and radiant.
Pros
Budget-friendly
Evens skin tone
Light texture
Dermatologically tested
Cons
Price at the time of publication: $10.9
Pros
Lightweight
SPF 45
Easy to use
Creamy texture
Blends well
Travel-friendly
Cons
Price at the time of publication: $80.0
Are you sick and tired of your dark circles and wrinkles? If yes, then you need to change your regular moisturizer with this best tinted moisturizer for mature skin and witness the changes. The name itself suggests that this product gives a pearl-like illumination to the skin and minimizes the appearance of dark spots. Infused with niacinamide, this moisturizer brightens the skin and improves the skin texture. It has a silky powdery finish that conceals imperfections perfectly. A unique feature of this moisturizing cream is that it has the goodness of Hadasei-3, a trio of Japanese anti-aging superfoods, and hyaluronic acid, which rejuvenates the skin and nourishes it deeply.
Pros
Easy-to-use
Available in 3 shades
Sheer coverage
Blends perfectly
Cons
Price at the time of publication: $64
This lightweight tinted moisturizer is extremely good for prepping the skin and making your makeup look smooth. It hydrates the skin and protects it against the damages caused by environmental stressors. Induced with collagen, vitamin C and E, this tinted moisturizer is nourishing and works at minimizing the signs of aging like fine lines and wrinkles. With SPF 30+, you get to protect your skin and prevent skin damage. Since it is available in a variety of shades, it is highly preferred. The product is quite small in packaging and is easy to carry.
Pros
Vegan
Cruelty-free
Gluten-free
Paraben and sulfate-free
Cons
Large opening which wastes product
Price at the time of publication: $27.33
Having read all about the top-rated tinted moisturizers, you must be looking for the key points that might help you in making a better purchase. Given below are certain points to keep in mind before investing in a good tinted moisturizer. These tips shall help you choose better for your skin.
How Do I Choose A Tinted Moisturizer For Mature Skin?
It could be really difficult to choose a tinted moisturizer for mature skin. Here are certain tips that can help you choose the best tinted moisturizer for your mature skin.
While looking for an appropriate tinted moisturizer, match your skin complexion with the shade of the product. The shade that matches and blends with your skin tone has to be your top choice.
Looking for a moisturizer that is formulated as per your skin type is the best thing to do. If you have oily skin, look for formulations that are oil-free. If you want to prevent breakouts, choose moisturizers that are not too heavy for the skin. For people who have dry and mature skin, moisturizers that are nourishing and repairing in nature must be chosen. For example, moisturizers with shea butter and retinol can be suitable for dry mature skin but not for oily skin.
Coverage is something to look for in a tinted moisturizer. Nobody likes cakey or uneven coverage. So a tinted moisturizer that is light, blendable and gives flawless even coverage must be chosen.
A versatile beauty product is something to cherish. So it is always good to choose a tinted moisturizer that has SPF in it to protect from the sun and is infused with nourishing ingredients for deep moisturization. It should also be able to give super smooth coverage to hide your imperfections like spots, lines and wrinkles. A product that has it all is ideal for daily wear.
A formula that is free from chemicals like parabens, sulfates, dyes and mineral oils is considered healthy for the skin. So choose a tinted moisturizer that has no harmful chemicals in it.
Why Trust StyleCraze?
Vaishnavi Kothuri, the author of this article, is an expert in reviewing skin and hair care products. Here, she has curated a list of the best tinted moisturizers for mature skin. These products offer a flawless finish on your skin without heavy makeup. Sneha has researched and reviewed several products available in the market to sort out the choicest ones for her readers. She has mentioned the pros and cons of each product and included a buying guide to help you with your choice.
Is Tinted Moisturizer Bad For Your Skin?
No, tinted moisturizer is not bad for your skin. Just choose a tinted moisturizer that is made for your skin type.
Is It Bad To Wear Tinted Moisturizer Every day?
No, it is not bad to wear a tinted moisturizer every day only if you use it correctly. A formula that doesn't go with your skin type can ruin your skin game.
How Long Does A Tinted Moisturizer Last?
If you have oily skin and you sweat a lot, a tinted moisturizer can wear off faster. Different tinted moisturizers have different stay powers and you should pick one according to your skin type and other factors that may influence sweating like weather, climate, sports, crowded area, etc.
Is Tinted Moisturizer Better Than Foundation?
If you are looking for more moisturization and lesser pigment, then a tinted moisturizer is better than foundation. In case, you wish more color and coverage on your skin, then a foundation will do the job better.
Recommended Articles