9 Best Tinted Primers For A Flawless Foundation In 2023
These tinted primers can blur all spots and mattify greasy T-zone to give a flawless finish.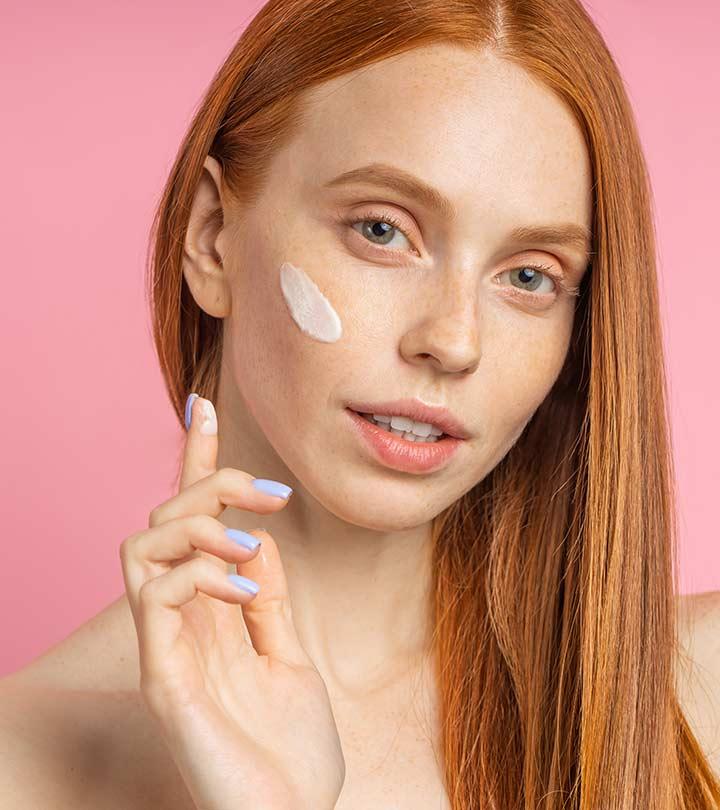 When it comes to keeping your foundation in place, face primers are a no-brainer. After all, a great primer complements your skin just like great lingerie flatters your figure — it makes all the many bits that are to be layered on top feel and look better! Makeup connoisseurs would agree, the best tinted primer formulas essentially work just like an Instagram filter, but IRL. And if you nail the right primer and foundation combo, you won't ever require the services of another photo-editing app to give your complexion a glow-up again.
Blurring fine lines and an uneven skin tone, mattifying greasy T-zones, moisturizing irritated skin, and obscuring pesky pores — these account for just some of the makeup magic that tinted face primers create. The ideal formula for your skin will not only serve as the perfect base for makeup, but it could also offer skincare boons. From shea butter to hyaluronic acid, the modern-day tinted primer is enriched with skincare superheroes that can soothe, nourish, and hydrate your skin on the go. Supermodel and beauty enthusiast Nini Amerlise says "I agree with the listed products, however I do find that in some cases tinted primers can give off almost a dull or less pigmented finished look when worn by itself, reverting from matching one's natural complexion in comparison to simply using a basic primer and foundation. Nonetheless, the listed primers are rich in quality and usually do not produce the ash/ gray undertone in varying complexions. Overall, What I do love about tinted primers is that they're usually lightweight and breathable."
So, if you're looking to bring your makeup A-game to your next #nofilter Instagram story, here are the 9 best tinted primers for a gorgeously glowing complexion. Read on!
The 9 Best Tinted Primers For Women For A Flawless Finish
Not a fan of messy makeup sponges or brushes? Then allow us to blow your mind. This "one-stroke imperfections blurring" tool is the first of its kind in Maybelline's long list of beloved makeup products. Encased in an easy-to-use, roll-on plastic tube, this tinted primer instantly produces a smooth and evenly textured surface that preps the skin for foundation application.This prepping and tinting primer is fantastic at blurring and evening out your skin tone, minimizing pores, and producing a lovely soft-focus effect. This video helps you know more about the product.
Pros
Mess-free stick applicator
Relatively inexpensive
Easy to carry in a handbag
Makes your foundation last longer
Cons
Only available in 3 shades
Price at the time of publication: $19.49
An everyday mattifying and anti-aging formula, this skin tone correcting primer by La Roche-Posay may be slightly more expensive than your run-of-the-mill drugstore tinted primer, but it's surely worth the price. It's shockingly lightweight, absorbs excess oils, and has a lovely matte finish mousse texture. Not only does this Anthelios tinted primer instantly minimize the appearance of pores, wrinkles, fine lines, signs of aging, it also serves as an SPF 50 mineral sunscreen! Enriched with titanium oxide and antioxidants, this tinted primer for mature skin offers broad-spectrum UVA/UVB protection through its patented Cell-Ox Shield technology. 
Pros
Contains Vitamin E, iron oxides, and anti-aging ingredients
Also serves as a powerful sunscreen
Fragrance-free and suitable for sensitive skin
Lightweight formula free of octionxate and oxybenzone
The best tinted primer with SPF protection
Cons
Price at the time of publication: $39.99
This silky, oil-free formula is somewhat of an overachiever. But we aren't complaining! A one-step tool for the perfect complexion enhancing primer, it preps for foundation, masks blemishes, evens your coloring, and refines the surface of your skin — all in one go. Its superior surface adhesion keeps your makeup in place and boosts the life of your foundation, so you can kiss smudges goodbye. Bonus? This award-winning tinted primer with color is also enriched with titanium dioxide and zinc oxide to provide you with SPF 30+ protection from the sun.
Pros
Combats creasing and smudging of foundation
SPF 30+ formula doubles as a sunscreen
Primer tint is available in 4 different shades
Can be worn alone for sheer coverage
Cons
Relatively more expensive
Price at the time of publication: $44
A mousse-like formula, this velvety, moisturizing, tinted primer spreads easily across the skin and works well beneath your foundation or even worn alone. It helps instantly blur and even out the skin tone, mattify oily T-zones, and reduce the appearance of blemishes or textural imperfections in one application. Additionally, its oil-free, acetone-free, and alcohol-free formula adeptly locks in your makeup for a flawless finish that will last all day. Suitable for dry, oily, and combination skin, it's available in the shades Light Beige, Nude Beige, Medium Beige, Tan, and Deep. Check out this video to know more about this product.
Pros
Relatively less expensive
Suitable for all skin types
Superb matte finish
Free of parabens, oils, acetone, and alcohol
Not tested on animals and vegan formula
Cons
Formula isn't lightweight
Price at the time of publication: $4.99
This BB Tinted Treatment Primer from Tarte truly defines value for money. An all-in-1 primer, moisturizer, foundation, and sunscreen, it can be worn under (or even instead of) your foundation. Its triple-B complex helps minimize the visibility of pores and fine lines to provide a more youthful-looking complexion. Meanwhile, the cloud-like, creamy texture feels almost weightless and provides a medium yet buildable coverage with a lovely matte finish. Not only does it instantly hydrate, smoothen, and brighten the skin, the SPF 30 protection also serves as a sunscreen on the go. Before buying this hydrating tinted primer, take a look at this video for more details.
Pros
Non-comedogenic & dermatologically tested
Provides 12-hour wear and boosts foundation life
Doubles as a broad spectrum SPF 30 sunscreen
Improves skin surface texture and minimizes pores
Cons
Relatively more expensive
As seen in the on-set toolkits of countless makeup artists, this tinted primer from Tigi Cosmetics certainly lives up to its promise of being the "first step for a flawless complexion." This oil-free formulation provides a lightweight, buildable coverage that glides easily spreads across your skin and provides a fabulously matte finish. The skin-perfecting primer helps to significantly minimize your pores while evening out the skin tone. This tinted base coat should be applied on clean, well-moisturized skin and then directly followed with the application of your foundation in order to create an immaculate and long-lasting finish.
Pros
Tinted primer formula dries quickly and blocks stains
Excellent adhesion properties to prevent smudges
Compatible with most oil and latex-based topcoats
Easy to use nozzle and attractive packaging
Cons
Price at the time of publication: $7.99
A powerful hyaluronic booster, this tinted primer from MediPharma Cosmetics gives an instant and healthy glow upon application. Made with key ingredients that have been carefully selected to deliver silky, soft, and smooth skin, this complexion perfector creates the ideal base for your foundation. The aqua-based formulation helps visibly minimize the appearance of wrinkles, fine lines, and pores. It sits lightweight and sheer on your skin while combating redness and dullness for a salon-grade makeup finish. Available in a compact size, this sheer tinted primer fits in your travel bag with ease, so you can re-apply on the go.
Pros
Suitable for skin types, including sensitive skin
Provides intense moisturization to the skin
Reduces pores, redness, and wrinkles
Free of parabens and skin irritants like perfume
Cons
Possesses a sticky consistency
Price at the time of publication: $12.99
With an innovative formula that minimizes pores, protects, and simultaneously moisturizes the skin for a radiant and beautiful complexion, this tinted face primer from ProBeauty Co is the real deal. This radiance-boosting primer provides a demi-matte finish that instantly brightens dull skin but also manages to provide good coverage to blur textural imperfections. The oil-free formulation aids in decreasing shine from trouble areas like the T-zone. Meanwhile, the infusion of age-defying ceramides and hyaluronic acid helps boost skin hydration, improving its overall integrity.
Pros
Doubles as a sunscreen with SPF 20 protection
Contains skin elixir minerals and other active ingredients
Helps minimize the appearance of pores and mattify skin
Provides a radiant finish and natural-looking coverage
Cons
May be a bit drying on already dry skin
Price at the time of publication: $28.99
An imperceptibly light formulation, this fabulous tinted primer from Jolie Impeccable Me is perfect for those who don't like their makeup feeling too "cakey." What's more, it also doubles as a sunscreen under your foundation due to its SPF 20 protection against both UVA and UVB rays. With active ingredients like titanium dioxide and octinoxate, this oil-free, SPF-infused tinted primer helps smooth skin, even out the tone, and warm up your complexion with a subtle illumination that will have your friends questioning you about your "glow up".
Pros
Enriched with age-defying ceramides and hyaluronic acid
Free of parabens and skin irritants like fragrance
Illuminating primer with tint
Supremely lightweight – can be worn alone for a natural look
Cruelty-free, gluten-free, and vegan formulation
Best tinted primer for mature skin
Cons
Not too many color options
Price at the time of publication: $38
And that's a wrap on our list of the 9 best tinted primers that are guaranteed to provide a flawless finish for your foundation this year. But if you want to up your makeup game, take a quick look at our handy buying guide on tinted primers before you hurry over to a virtual checkout.
A Makeup Lovers' Guide To Buying The Best Tinted Primer
An excellent tinted primer helps you prep your skin by creating a smooth, even canvas for your foundation application. It builds a barrier between the makeup you apply and any excess oil produced by your skin that may ruin your efforts. There are a number of key points that you must assess while shopping for a tinted primer that suits your skin. Listed below are the most essential questions you must ask yourself:
It is extremely crucial for you to know your skin type prior to shopping for a tinted primer. One must also consider other factors such as whether you possess allergies or any skin sensitivities that a tinted primer could trigger and erupt. If you've noticed your skin tends to flake or peel under your foundation, you most likely suffer from dry skin. Hence, you will want to opt for a tinted primer that has additional moisturizing and hydrating elements in its formula that will help lock moisture and condition your skin under your foundation. Avoid tinted premiers that contain acetone or alcohol in their ingredients as they may dry out your skin faster.
Alternatively, if you've noticed your skin gets shiny relatively quickly after applying makeup or simply feels greasy to touch when not washed, you most likely possess oily skin. For such a skin type, one must steer clear of tinted primer formulas that contain added oils or have a runnier consistency. You'll want to opt for mattifying tinted primers that adhere to oily skin much better and help reduce shine and excess oil, especially in troublesome areas like the T-zone. Lastly, if you have aging skin, you may enjoy a tinted primer that is enriched with antioxidants and a potent SPF sunscreen. This will protect your skin from free radical damage from the sun and help prevent the formation of fine lines and blemishes.
Do I suffer from any skin issues?
The next essential factor to consider before purchasing a tinted primer is whether you suffer from any skin conditions such as acne, rosacea, atopic dermatitis, psoriasis, or eczema. If you aren't careful and the tinted primer formula does not agree with your skin, you can exacerbate your symptoms or cause a breakout that could take weeks to heal. Hence, always study the ingredients list of a product and cross-check with your treating dermatologist prior to purchase. If you possess sensitive, acne-prone skin, opt for non-comedogenic and fragrance-free primers that are less irritating. Additionally, remember to do a patch test before use. Simply apply a small amount of the primer on the skin of your arms or hands and check 12-24 hours after application. If it produces any redness, itchiness or rashes, you're probably sensitive to the product and should avoid applying it to your face.
What kind of makeup longevity do I need?
If you're the kind of gal who prefers to wear makeup only during special occasions or events that last for a few hours, longevity may not be your priority. Therefore, you could instead invest in a primer that focuses on other skin benefits like the infusion of vitamins and minerals. But if you prefer to wear makeup on a daily basis and expect it to last all through your work and dinner date, you'll need a lasting primer. A well-formulated tinted primer should provide at least eight hours of wear time after its application. Ideally, this would be regardless of whether you have an oily, dry or combination skin type. That said, if you require 8 hours of tinted primer coverage, it is best to look for a brand that accommodates your skin type. Certain higher-end tinted primer formulas are designed to last up to 12 hours, too. Always check the product description on the back of the packaging to see what kind of longevity your tinted primer offers.
Why Trust StyleCraze?
The author, Srijita De, is a beauty and makeup enthusiast who loves trying products that take your makeup and beauty routine a notch higher. While she knows that most of you may have a shade and formula preference when it comes to foundation, she is here to make your foundation look flawless with this selection of the best tinted primers. To help you get started, she has gone through several customer testimonials and multiple site comparisons before shortlisting this list of the 9 best tinted foundations right here for you. Whether you want a matte look or dewy finish, these primers are going to give you that smooth even base to enhance the effect of your foundation and complete makeup.
Frequently Asked Questions
Are tinted primers good?
When worn under your foundation, a good tinted primer can help create a smooth and evenly textured base for any further makeup applications. They can reduce the appearance of pesky pores, minimize the formation of shine at problem areas like the T-zone, and also boost the lasting power of your foundation. Additionally, a well-formulated tinted primer can help lock your makeup in place, so you don't have to worry about creases or smudging.
Can I wear a tinted primer without foundation?
If you don't want to feel too "cake-faced" or simply want to enjoy a relatively au naturale, #nomakeup look, you can always skip the foundation and wear your tinted primer alone. It will provide enough coverage to even out your skin tone, reduce the appearance of pores, and mattify excess oil or shine. For an even more natural finish, apply a coat of fixing powder or your trusted compact to set the look.
Do I need to prep my skin with a tinted primer?
When it comes to makeup application, you don't necessarily need anything. It's perfectly fine to apply foundation without some extra help from a tinted primer. That being said, primers are considered to be equivalent to photoshopping in the world of makeup. A good primer worth its salt can create a soft-focus, smoothing effect that will enhance your makeup coverage and boost its longevity — all while helping deal with skin dilemmas like dry or oily skin under your foundation.
When should I apply my tinted primer?
The most popular way to wear a tinted face primer is right before the application of your foundation. This helps create a fantastically smoother-looking canvas with minimal pores, fine lines, and textural imperfections that could crease your foundation layer.
Do I need a tinted primer if I use a moisturizer?
It is true that some tinted face primers do come with extra hydrating formulas that can help moisturize your skin under your foundation. As a rule of thumb, however, it is always important to apply a face moisturizer prior to primer application. This will help combat any dry or dead skin cells that could affect the primer's finish. Additionally, the moisturizer will provide more lasting and lightweight hydration than your primer.