10 Best Toilet Brushes – Reviews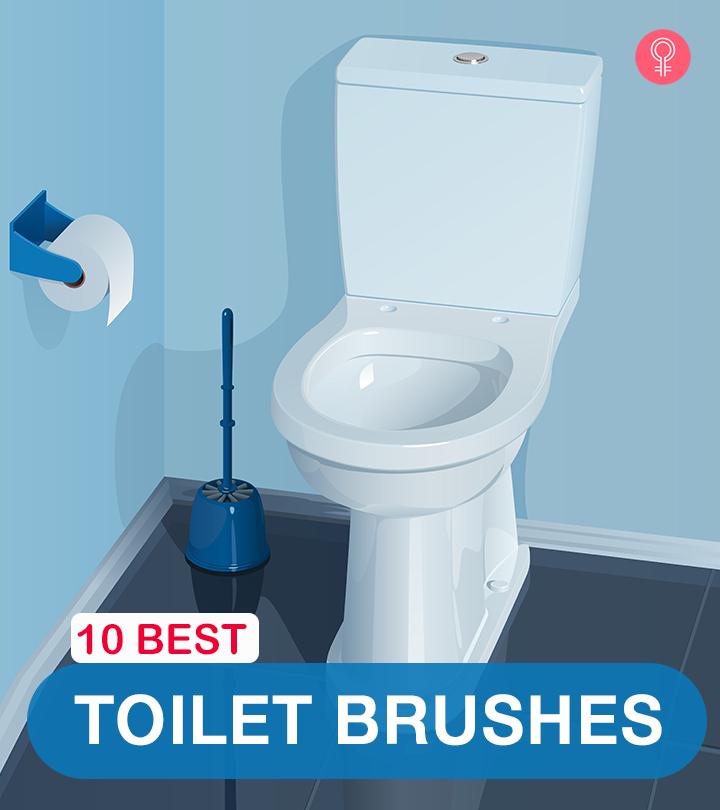 Having a toilet brush eases your time and effort to clean a toilet. This is especially true with modern toilets with self-flushing mechanisms. A proper toilet cleaning brush would help clean and maintain the bathroom. There are several brushes on the market, and it is important to pick the right one. You need to ensure the brush does not leave scratches on your toilet and cleans it properly. We have shortlisted the 10 best toilet brushes here. Check them out!
Top Picks
10 Best Toilet Brushes – Reviews
Price at the time of publication: $17.99
Price at the time of publication: $9.99
Price at the time of publication: $11.99
The simple human Toilet Brush is specially designed in a crescent shape to ensure it reaches every corner of the toilet. The stiff outer bristles are perfect for scrubbing off tough stains. The slim, dome-shaped caddy cover efficiently stores the toilet cleaning brush when not in use. It also has a unique magnetic collar that locks the cover to the toilet brush so you can carry the entire set together without dripping any water. The brush can easily be stored in any under sink cabinet.
Specifications
Dimensions: 3 x 3.7 x 18.6 inches
Weight: 1 pound
Material: Durable Plastic and Stainless Steel
Length: 6 inches
Features
High-quality stainless steel rod
Brush has a replaceable head.
Crescent-shaped bristle head for thorough cleaning
Magnetic collar for the caddy to secure the brush
Pros
Drip-free design
Durable and sturdy
Easy storage
Lightweight
Easy to carry together
Cons
Rod rusts after multiple uses.
Bristles tend to bend.
Price at the time of publication: $10.49
Price at the time of publication: $39.95
Price at the time of publication: $27.95
Price at the time of publication: $14.99
The Amazon Basics Toilet Brush Holder is made of stainless steel and is highly durable. The steady build stands the test of time and can be easily moved around as it is lightweight. The steel finish goes with every bathroom décor and looks discrete and stylish. It comes with a freestanding brush holder that is easy to move and holds the brush steady in its place. The entire set has a decorative and stylish matte finish exterior that looks even classier. The brush set is available in various other finishes and styles.
Specifications
Dimensions: 35 x 4.35 x 16.6 inches
Weight: 8 pounds
Material: Stainless Steel
Length: 5 inches
Features
A protective disc shields from splashes.
Freestanding design
Decorative and modern matte finish
Also available in more finishes and styles.
Pros
Lightweight
Durable
Long handle
Discrete storage
Compact
Cons
Expensive
Tends to rust eventually
The JWCE Toilet Brush and Holder is a super-efficient product set. The brush thoroughly cleans the rim and areas under the rim. This brush also cleans every nook and corner of the bowl and also around it. The long, strong, and hard bristles clean the ceramic and scrub off any stain without scratching or ripping the glaze. The compact design of the brush fits any bathroom corner or under the sink cabinet without taking much space. The brush handle has an anti-slip grip that is comfortable to hold on too tightly while scrubbing.
Specifications
Dimensions:12 x 6 x 4 inches
Weight: 4 ounces
Material: Durable Plastic
Length: 37 inches
Features
3-in-1 functional product
Ergonomic design
Eco-designed for minimal environmental impact
Pros
Hard, sturdy bristles
Anti-slip grip handle
Affordable
Lightweight
Compact
Cons
None
Price at the time of publication: $5.45
These are the top 10 toilet brushes available online. The following buying guide will help you make a better purchase decision.
What To Consider Before Buying A Toilet Brush
Style And Design: The toilet cleaning brush should not be a sore to the eyes when you walk into the bathroom. It should look well-placed and stylish, despite its purpose of use. Make sure the design helps clean the toilet bowl, curved grooves, and under-rim areas effectively. The brush should have strong construction, durability, and ergonomic yet compact design. The brush also must have an aesthetic appearance to suit the decor of the bathroom instantly.
Size And Storage: The brush and its holder should be compact and should not accommodate much space. It always is better to pick a brush that comes with storage or a holder for better hygiene. Make sure the base of the holder has an anti-slip lining or foam design to ensure it does not topple.
Durability And Build: The best toilet brushes are made of durable plastic or metal. Ensure the plastic is of high-quality and does not break, bend, or shatter easily. If it is made of metal/stainless steel, ensure it is corrosion-resistant and rust-proof too.
Bristle Quality: The bristles of the toilet brush should be strong, firm, and durable. They should not fall off when the brush is roughly used while scrubbing.
Handle Length And Design: The optimum length of a toilet cleaning brush handle ranges from 14 to 20 inches. It should not be too short nor too long. The handle should be comfortable to hold and must have an anti-slip grip for firm use.
Price: You do not have to shell out more than 25 to 30 dollars for a good toilet brush. There is an umpteen number of brands that offer affordable, high-quality brushes.
Additional Features: A toilet brush that comes along with a plunger, a toilet paper holder, are movable drip tray, or even a pair of tweezers could be a bonus.

A toilet brush not only cleans the marks, dirt, stains, or germs but also efficiently maintains your bathroom hardware without damaging its glaze. These toilet brushes are the perfect choice as they help clean your bathroom thoroughly with less effort. They come with storage, too, and are reasonably priced. Pick a toilet brush that suits your needs and make your bathroom sparkling clean!

What is the most hygienic toilet brush?

Toilet brushes with anti-microbial bristles and handles are considered to be the most hygienic variants.

Are silicone toilet brushes better?

Yes, silicone brushes are considered better as they can be cleaned more easily and thoroughly than plastic-bristled brushes.

How often should you change your toilet bowl brush?

Change a toilet bowl brush once every six months.

How do I keep my toilet brush clean?

Ensure it thoroughly drips all the excess water and dries out before you put it back in its storage space.

Is it wise to expose the toilet brush to bleach water?

Yes. Using bleach water to cleanse the toilet brush can help kill the harmful germs. It also removes odors.

What is the most efficient way to store my toilet brush?

Keep the brush in the canister or brush holder. Ensure the brush is dry before storing it.

What is the ideal style of a brush head for cleaning the toilet rims?

There are various brushes specially designed for cleaning under or over the rims. You can pick one with a rim-cleaning extension or a brush that has longer bristles.




The following two tabs change content below.