The 15 Best Toiletry Bags Of 2023 That Are Travel-Friendly
Your travel packing is all organized and sorted with these toiletry storage solutions.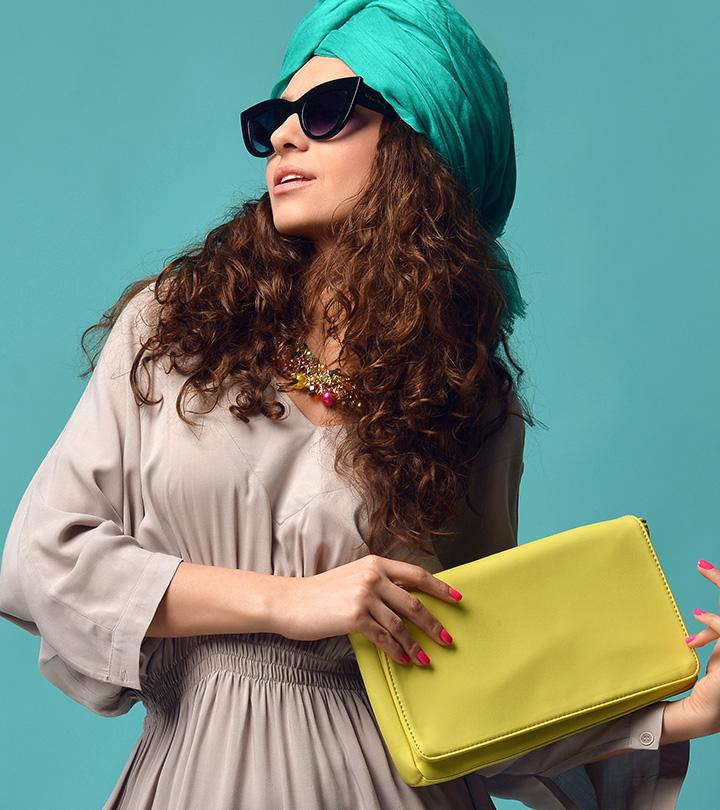 Vacations are fun but packing all your essentials can be quite challenging. While suitcases and duffle bags are good for storing clothes and accessories, your toiletries need special attention. Enter the best toiletry bags for women ideal for organizing your makeup and skin care essentials. They come with extra compartments to help you keep your toiletries at your arm's reach. Best part? They are available in numerous sizes and colors to choose from.
Be it a leisurely vacation or a regular business trip – a cosmetic bag is crucial as they hold all the necessary items for your skin care and makeup regimen. These cute pouches keep all the small items like lipsticks, eyeshadow singles, and makeup brushes in one place. A well-organized toiletry bag saves you the hassle of digging through your purse. It also keeps the shampoo and conditioner bottles from leaking and ruining your clothes. So, get ready for your next vacation with one of the toiletry bags mentioned in our list. Swipe up.
Get Travel-Ready With The 15 Best Toiletry Bags For Women In 2023
BAGSMART's hanging travel toiletry bag is the stuff dreams are made of! It is designed with water-resistant polyester and is well-padded, so the bag doesn't lose its shape. To elevate your love for organization, you will find 4 compartments with a zipper closure and an open pocket at the back. To prevent leakage, the inner pockets come with elastic straps, so that all your liquids can sit upright. You can also review your items at a glance as each section is covered with a transparent sheet. The 360° swivel non-slip metal hook allows you to hang the large toiletry bag anywhere for convenience. With double zippers and easy-to-carry handles, we're certain this perfect toiletry bag is coming with you on your next trip!
Pros
4 large compartments with double zippers
Inner pockets with elastic straps for liquids
Water-resistant and well-padded material
Transparent sheet covering
360° swivel non-slip metal hook
Minimal space claim
Cons
Price at the time of publication: $24.99
Narwey's cute toiletry bag is a must-have when you're packing your bags for the holiday season. It is made with high-quality soft and padded fabric for optimum protection, reliable zippers, and Velcro for durability. 3 compartments allow you to neatly store all your essentials and the last one features a mesh to keep away odors. Small mesh pockets are present, so you can organize your favorite travel-sized minis. This hanging toiletry bag features a metal hook for easy access and better view while also saving on storage space.
Pros
3 compartments
3 small-sized mesh pockets
Smoothly functioning zippers
Metal hook for hanging
Waterproof fabric
Well-padded for protection
Cons
Might be too small for some
Price at the time of publication: $12.99
The Gravel Explorer Max Travel Toiletry Bag is for you if you are seeking the ideal travel bag to store all of your trip necessities. You may organize your toiletries in any way you want them in the bag's four separate sections and one deep pocket. There is a separate pocket designated for your toothbrush and toothpaste, ensuring the best oral hygiene possible. The bag is waterproof and includes TPU compartments that can contain all of your body wash, shampoo, and other personal care items. Along with your toiletries, you may also put your watch, jewelry, phone, passport, chargers, and other items in this compartment. It also includes an adjustable strap that you may utilize or hide depending on your needs. The TSA-compliant bag is transparent, water-resistant, and detachable to make it easier for you to get through airport security.
Pros
Compact size
High-quality build
Spacious design
Travel-tested
Durable
Cons
None
You can count on Mossio's women's toiletry travel bag to keep all your medication and essentials organized in style. It is made of waterproof polyester fabric, stitched neatly, and reinforced to stay intact at the seams. A clear zippered pocket sits atop for easy view and access, while the large compartment at the bottom contains mesh sleeves to store all your bottles of shampoo or lotion. A small mesh pocket in the middle allows for storage of tiny necessities like Q-tips or cotton pads. Mossio's women's toiletry bags are compact, sturdy, and stylish, and will make a great companion for your next family or business trip.
Pros
Sturdy hook
Functional zippers
Mesh sleeves for storing bottles
Made with waterproof polyester
Soft Velcro
Durable stitching
Cons
Might not be able to fit tall bottles
Price at the time of publication: $16.99
Some of us need a lot of stuff and that's nothing to be ashamed of! Just look for a large women's toiletry bag like this one by BOACAY. With smooth-gliding strong metal zippers and doubly-sewn seams, this sturdy waterproof 4-layer bag will withstand all your cosmetics. While you can use the extra large compartment for bulkier products, 10 elastic bands hold your brushes and 2 zippered pockets are suitable for all your other needs. For your utmost comfort, a 360° swivel metal hook, slim side exterior pockets, and a strong shoulder strap are also present.
Pros
10 elastic bands for brushes
1 large main compartment
Slim side pockets
Waterproof 4-layer material
360° swivel metal hook
2 mesh pockets with zippers
Cons
Inner lining of cotton might stain easily
Price at the time of publication: $39.95
Store your toiletries or cosmetics in this hanging cosmetic bag that can fit an array of makeup products. 100% waterproof and leak-proof, this bag is fitted with high-quality YKK zippers and contains clear pockets for easy organizing. With a detachable pocket, you can carry whatever you need for the day and head out leaving the bag behind. The thick plastic pockets expand to allow more space and the hook is convenient for you to hang wherever you might go. Available in 4 colors, you can choose one that fits your tastes the most.
Pros
Detachable pocket
Waterproof and leak-proof
Clear pockets for easy view
Made with premium quality zippers
Pockets expand to allow more space
Metal hook
Cons
The plastic pockets might be slightly stiff
Price at the time of publication: $49.97
BOOEEN's floral patterned ladies' toiletry bag is made with polyester and is resistant to tearing, abrasion, and skidding for durability. Numerous compartments with a non-slip zipper closure and the 6 elastic straps help secure makeup items or toothbrushes. The wide strap allows for easy portability and the sturdy hook gives you an easy display. There's also slim pockets on the sides, which are ideal for stowing away tissues or even your phone when you're traveling.
Pros
9 compartments
Waterproof material
Wide carrying strap
Slim side pockets
6 elastic straps
Non-slip zipper closure
Cons
Price at the time of publication: $4.88
Bosidu's women's dopp kit is one of our favorites owing to its workmanship. It features a double leather handle for ease of carrying, high-quality zippers, and waterproof striped canvas, which adds a stylish touch. Available in 4 colors, this chic women's toiletry case contains 4 clear compartments lined with PVC, so that they are resistant to leaks and stains. A front zipper pocket is ideal for when you want some extra storage and the sturdy metal hook can be hung on your bathroom door for easy access and view.
Pros
Dual zipper feature
Inner PVC lining
Double leather handle
Waterproof and leak-resistant
Front zipper pocket for extra storage
Sturdy metal hook
Cons
Some may find the pockets to not have enough depth
Price at the time of publication: $23.99
As you can't neglect your daily skin care routine while on vacation, Shubb's cute travel toiletry bag will come to your aid. The waterproof bag features 3 divided compartments that can easily accommodate a variety of toiletries neatly. Mesh coverings, elastic straps, and double alloy zinc zippers add to the ease factor. As a handy pouch comes with the larger weekend toiletry bag, it's perfect for storing your most-used items.
Pros
Waterproof
Comes with a small pouch
Elastic straps for brushes
3 main compartments
High-quality smooth zippers
Cons
Price at the time of publication: $18.99
We think Vetelli's got the best women's toiletry bag owing to its elegant design. Made with the finest materials and sturdy YKK zippers with a custom lining that prevents spills, you need to get your hands on this overnight toiletry bag. The main compartment opens up wide, so you can store everything you need while the inner compartments feature a protective lining resistant to water and stains. With an inner pocket for smaller items and 2 transparent ones, this spacious women's leather toiletry bag will be your best traveling companion.
Pros
Water and stain resistant protective lining
Smooth-functioning zippers
Wide and deep compartments
Inner and transparent pockets
Elegant design
Cons
No handle for portability
Price at the time of publication: $40.99
Bag & Carry's folding toiletry bag is well-made with polyester and features water-resistant materials for the lining. The roomy and portable design opens up to a small transparent pocket and 2 main compartments for larger bottles, both with zipper closures. At the bottom you will find a detachable zippered pouch that is convenient to store everyday essentials. With sturdy double-stitched zippers and a metal hook, you can easily carry this versatile large toiletry bag for women wherever you go.
Pros
Waterproof nylon lining
Inner pockets with PVC covering
Sturdy zippers
Detachable zipper pouch
Metal hook for easy hanging
2 main transparent compartments
Cons
Might take up too much space in luggage
Price at the time of publication: $29.99
Among the choicest toiletry bags for women, MIRASON's kit gives you plenty of storage room with a water-resistant leather outer. Made with high-grade PVC leather, the bag also features an inner nylon lining and a waterproof bottom that is leak-proof and easy to clean. The bag retains shape and the metal hook provides an easy display, especially when you're running out of time. You can easily carry the affordable travel toiletry bag around with the solid and durable handle while the inner mesh pockets keep all your toiletries neatly decked away.
Pros
5 mesh pockets, 3 zipper mesh pouches, 5 elastic loops
Waterproof and easy to clean
360° swivel metal hook
Retains shape
Solid handle
Inner nylon lining
Cons
Price at the time of publication: $36.99
Portable, lightweight, and compact — FYY brings to you one of the best women's toiletry bag in 2023 to do it all! Available in other colors and patterns, this pick will elevate the way you pack for your next cross-country trip. Padded with foam, the bag retains its shape while safeguarding all your essentials. Featuring 3 zippered and elastic pockets, this design will fit everything on your bathroom counter, so you don't have to leave anything behind. The thick top handle allows for easy carry with a good grip so you can take it on all your overnight trips.
Pros
Lightweight
Solid handle
3 zippered compartments
Foam padding
Smooth zippers
Cons
Might have a strong chemical smell
Price at the time of publication: $25.99
Chandelli's women's toiletry bag merges style with practicality and the gold accents add an elegant touch. The well-crafted handles and smooth zippers keep the bag sturdy and allow for a comfortable travel experience. 4 inner pockets of which one is removable along with 4 elastic bands to hold up your liquids are available. The brand also includes 3 silicone bottles that you can refill and the metal hook gives a great display for when you're in the shower. We're sure this cute and stylish bag is going to earn you tons of compliments!
Pros
Water-resistant
Strong handles and zippers
4 inner pockets
1 detachable pouch
3 refillable silicone bottles
Metal hook
Cons
The golden chain might be flimsy
Price at the time of publication: $34.97
FINDCOZY's ultra-large capacity features 8 compartments, which can house all your large and small products, and everything in between. This toiletry bag with removable pouch comes in handy when you want to carry fewer things too. To hold different-sized brushes, there are 10 elastic spots covered with a transparent covering for an easy view. The main inner pocket is where all your bottles will remain upright in elastic loops, so no more worries about spillage! And to save space, the 360° swivel metal hook comes into play. Store all your necessities and travel hassle-free with this women's large toiletry bag.
Pros
Removable pouch
Keeps bottles upright
Plastic covering for easy view
360° swivel metal hook
Elastic loops for brushes
Cons
Might take up a lot of luggage space
Price at the time of publication: $19.99
Now that we've looked at the best toiletry bags for women, let's dive into how you can choose one for yourself.
How To Choose A Toiletry Bag For Women
Look for toiletry bags whose material is waterproof, durable, and easy to clean. Plastic is a great choice as it is water-resistant and transparent. It also gives you a view of your products easily without having to open the bag up. But plastic may fade when out in the sun and needs regular care.
Leather is durable and also looks fashionable. However, leather can be easily damaged when it's exposed to water. As a toiletry bag might be exposed to your bathroom countertops or doors, this might not be the best option. Canvas is a popular choice as it allows for a variety in colors, patterns, prints, and prices. But as canvas stains quite easily, you will have to take extra care of it.
This depends on how many items you're carrying with you and the type of items. For fewer items, a dopp kit will work but if you are planning on bringing makeup, cosmetics, and medication, you will need a multiple-compartment bag. A dopp kit has a single large compartment and can house all your essentials. As it is small, it is portable and won't take up much space in your luggage. For activities like camping or trekking, this is a go-to for millions of people.
A roll-up, foldable, or hanging toiletry bag comes with multiple pockets which can be used to store items of all sizes and kinds. They close into a compact case and will save space in your baggage. As each one opens up, there are a few main compartments for the bigger items, elastic straps for brushes, mesh pockets, and transparent or detachable pouches. Depending on the number of items you own, you can make this call.
As you will be carrying all your essentials to another place, check for the sturdiness of your toiletry bag. The zippers must be made of high quality metal and must be functioning smoothly. As hanging bags come with a hook, a metal one is better than a plastic one as it is stronger and holds weight. Also check for the quality of the mesh linings and the handles of the toiletry bag which must also be machine washable for convenience.
A functional yet stylish toiletry bag is hard to come by. It should be spacious enough for hair and makeup products, tools, minis, and some medication as well. Not only do they feel like a walking dresser, but they also save you a lot of time. Toiletry bags for women that come with a huge number of pouches and compartments to be able to fit your elaborate skincare routine are a blessing. On the other hand, they must also be slim enough to be carried around on vacation. We hope our list helped you with some cute yet versatile pieces that will be making it to your next trip.
Why Trust StyleCraze?
Fashion enthusiast Chaitra Krishnan loves to preview fashion products and inspire her readers to try out amazing looks. She read several customer reviews and did a thorough research to create a list of the best toiletry bags available on the market. These listed toiletry bags are super functional and easy to carry.
Frequently Asked Questions
What is a TSA-approved toiletry bag?
A clear toiletry bag with an approximate dimension of one quartz is TSA-approved.
Does a toiletry bag have to be clear?
Yes. Carry clear toiletry bags to find your items fast. Also, they help you pass through security checks quickly.
What essentials do you usually put in the toiletry bag?
Carry your toothbrush, toothpaste, nail clipper, travel-size shampoo, SPF, shower gels, perfume, lip balm, and wipes in the toiletry bag.
What is the difference between a Dopp kit and a toiletry bag?
There is no difference between a Dopp kit and a toiletry bag. People use these water-resistant and lightweight bags to carry their hygiene essentials. However, the term 'dopp kit' is most used by US citizens.
Can you wash a toiletry bag?
Yes. Wash your toiletry bag with mild detergents and rub off the stains from its surface. Also, you can machine wash some toiletry bags made of robust fabrics.
Recommended Articles
Best Makeup And Cosmetic Bags
Best Travel Fanny Packs
Best Travel-Friendly TSA Bottles
Best Feminine Hygiene Products
Best TSA-Approved Toiletry Bags