13 Best Toners For Acne-Prone Skin Available In India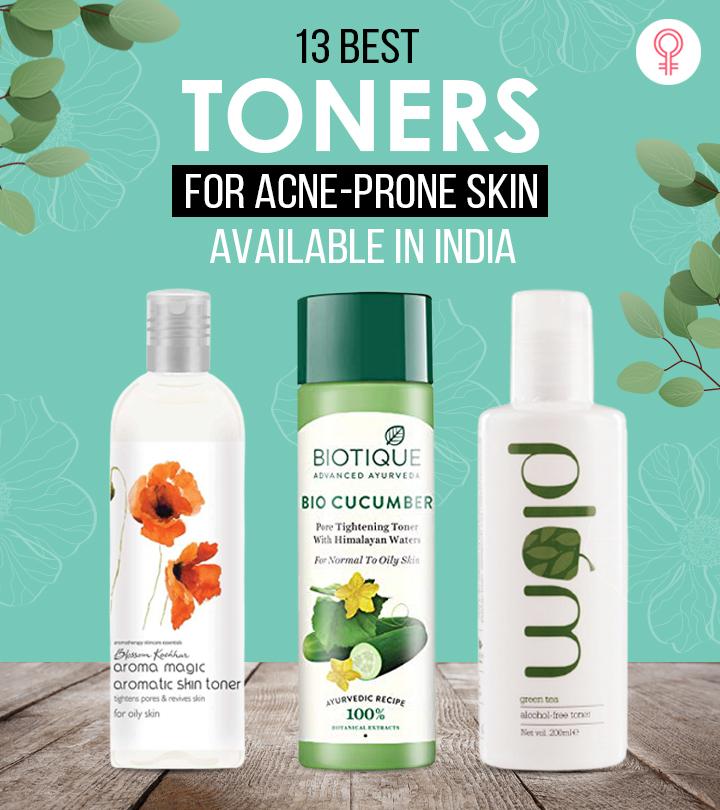 Toner is an important part of a skin care routine, irrespective of the skin type. However, for people with acne-prone skin, toner is a staple. It not only helps remove the last traces of dirt, debris, and makeup to unclog the pores but also controls excess oil to prevent breakouts. This article lists 13 best toners for acne-prone skin available in India. Scroll down to find your perfect match.
13 Best Toners For Acne-Prone Skin Available In India
The BIOTIQUE Bio Cucumber Toner has a blend of cucumber, coriander, nutgalls, peppermint oil, berberry, and fresh Himalayan waters that tightens open pores. This herbal formula reduces the signs of aging and sun damage and rejuvenates the skin. Cucumber purifies and cools the skin. The toner helps in maintaining an even skin tone and removing puffiness.
Key Ingredients: Daruhaldi root, Dhania fruit, Majuphal, Kheera jal, and Peppermint oil 
Pros
Ayurvedic
Paraben-free
Sulfate-free
Phthalate-free
Cons
The plum Green Tea Alcohol-Free Toner contains green tea extracts that fight acne prevent aging signs and glycolic acid that revitalizes the skin while exfoliating it. Glycerin makes the skin soft and smooth. This toner clarifies and even tones your skin without stripping its natural oils. 
Key Ingredients: Glycerin, Camellia sinensis (green tea) leaf extract, and Glycolic acid 
Pros
Vegan
Paraben-free
Non-comedogenic
Phthalate-free
Cruelty-free
Alcohol-free
Mineral oil-free
SLS-free
Cons
Price at the time of publication: $312.0
The WOW SKIN SCIENCE Lavender & Skin Rose Mist Toner is fortified with natural rose and lavender hydrosols that heal, moisturize, and protect the skin. The extracts of witch hazel, green tea, and cucumber close open pores, soothe the skin, protect it from environmental damage, and keep the signs of aging at bay. Regular use of this toner ensures tighter pores and protection from acne-causing dust particles. The floral fragrance reduces stress and elevates your mood. This toner contains bio-actives that keep your skin glowing and healthy and is free of harmful chemicals.
Key Ingredients: Lavender hydrosol, Rose hydrosol, Witch hazel extract, Green tea extract, and Cucumber extract 
Pros
Alcohol-free
Paraben-free
Sulfate-free
No synthetic fragrance
Mineral oil-free
Cons
The Aromatic Skin Toner from aroma magic is loaded with the goodness of pomegranate extracts, lavender, and peppermint to heal and rejuvenate the skin cells while improving circulation. The natural astringent properties of rosemary and ylang-ylang soothe the skin and provide vitamins and nourishment. Witch hazel prevents moisture loss. This toner tightens the pores and tones the skin without drying it.
Key Ingredients: Pomegranate juice, Witch hazel, Essential oils of Rosemary and Ylang-Ylang 
Pros
Paraben-free
Alcohol-free
Phthalate-free
No artificial colors
Cons
The Cucumber & Basil Clarifying & Balancing Toner from LOTUS HERBALS gently clarifies your skin while removing the impurities in the pores. The natural goodness of cucumber cools the skin and reduces inflammation. The antibacterial properties of basil leaf extract reduce acne and promote cell rejuvenation. The neem extracts work in tandem with basil leaf extract to lighten blemishes, moisturize your skin, and keep it radiant throughout the day. This toner controls oil production, tightens pores, and ensures non-greasy, clear skin.
Key Ingredients: Cucumber extracts, Basil leaf extracts, and Neem extracts 
Pros
Alcohol-free
Cruelty-free
All-natural ingredients
Cons
Medicinal smell
Contains parabens
Kaya Clinic's Purifying Toner opens blocked pores and gently removes dead cells. Niacinamide helps reduce scarring, and mandelic acid (1 %) reduces the production of oil, thereby preventing acne. This alcohol-free toner also contains botanical extracts of rose, cucumber, and witch hazel that soothe your skin. It tightens the pores, reduces irritation, and leaves your skin feeling relaxed and invigorated.
Key Ingredients: Mandelic acid, Niacinamide, and Extracts of rose, cucumber, and witch hazel
Pros
Alcohol-free
Gentle
Developed by dermatologists
Cons
Not suitable for extremely sensitive skin
The Re'equil Pore Refining Face Toner for acne-prone skin contains nine botanical extracts – witch hazel, lemon, aloe vera, sage, great burdock, seaweed, ivy, watercress, and common soapwort. These ingredients minimize acne and enlarged pores and smoothen the skin. This toner controls sebum production and prevents the growth of acne-causing bacteria. The special formula ensures the skin's natural moisturizers are preserved, hydration levels are maintained, and the chances of acne breakouts are minimized. This dermatologically tested toner does not contain parabens, sulfates, silicones, or mineral oils.
Key Ingredients: Witch hazel, Aloe Vera, Seaweed, Great Burdock, Ivy, Lemon, Watercress, Sage, and Common soapwort
Pros
Alcohol-free
Dermatologically tested
SLS-free
Paraben-free
Silicone-free
Mineral oil-free
Cons
The Witch Hazel, Basil & Neem Toner from Urban Botanics minimizes pores, reduces blackheads, and fights the effects of aging to make your skin look youthful. It balances the oil production in your skin and makes it more even and smooth. This organic toner also reduces redness, leaving your skin revitalized. It does not contain alcohol, parabens, sulfates, or artificial colors. 
Key Ingredients: Witch hazel, Basil, Neem, Aloe vera, Glycolic acid, Sugarcane extract, and Myrtillus fruit extract
Pros
Cruelty-free
Alcohol-free
Sulfate-free
Paraben-free
Silicone-free
Phthalate-free
No artificial colors and fragrances
Cons
None
The Pilgrim White Lotus Natural Face Mist & Toner is enriched with white lotus, camellia, and witch hazel and promises the right blend of nourishment and hydration to your skin. White lotus moisturizes the skin and purifies and tightens the pores. It contains natural exfoliants that brighten and firm the skin. Witch hazel soothes irritation and calms inflammation, while camellia is loaded with antioxidants that nourish the skin from deep within. This alcohol-free toner is FDA approved and does not contain harsh chemicals.
Key Ingredients: White Lotus, Camellia, and Witch hazel
Pros
Alcohol-free
Vegan
Cruelty-free
Paraben-free
Sulfate-free
Mineral oil-free
FDA approved
Cons
The Neutrogena Deep Clean Blackhead Eliminating Cooling Toner is a perfect defense against blackheads. It contains 0.5% WW salicylic acid that exfoliates dead cells and controls sebum production, which prevents new blackheads from forming and ensures clean and healthy skin. The cedarwood extract improves the skin's essential water-oil balance. This toner imparts an immediate cooling sensation on application.
Key Ingredients: Cedarwood extract and Salicylic acid
Pros
Dermatologically tested
Cooling effect
Cons
THE BODY AVENUE Facial Toner is enriched with cucumber, neem, tulsi, and green tea to help revive fatigued, dull skin. Cucumber soothes the skin, lightens scars and blemishes, tightens pores, and reduces skin irritation. This toner hydrates and nourishes the skin and soothes redness. It regulates the oil balance of the skin and restores its pH to make it soft, supple, and glowing. 
Key Ingredients: Cucumber, Neem, Tulsi, Green tea, Witch hazel extract, Aloe vera, and Glycerin
Pros
Sulfate-free
Paraben-free
Vegan
Not tested on animals
No artificial color
Cons
The Neem Tulsi Toner from Organic HARVEST is an all-natural formulation with botanical ingredients. This collagen-stimulating toner heals chapped skin. The anti-inflammatory and antibacterial properties of neem and tulsi prevent skin infections. This toner helps tighten pores and reduce sebum production. 
Key Ingredients: Aqua and Neem and tulsi extracts in water base
Pros
Alcohol-free
Paraben-free
Mineral oil-free
Plant-based
Vegan
Cruelty-free
Cons
The Beauty Co. Tea Tree Toner combines the benefits of tea tree, glycerin, and aqua to give you clear and revitalized skin. It helps unclog pores, reduce dark spots, control acne and sebum production, treat rashes, and clear the skin tone. Tea tree oil tightens the skin pores, gets rid of dead skin cells, and reduces acne and pimples. Glycerin moisturizes the skin, reduces dark spots and signs of aging, and makes your skin soft, supple, and smooth. Aqua clears impurities from the skin surface, moisturizes it, and imparts a glow.
Key Ingredients: Tea Tree Oil, Glycerin, and Aqua 
Pros
Alcohol-free
Sulfate-free
Paraben-free
Silicone-free
Cruelty-free
Cons
A good toner is essential for acne-prone skin. Listed below are the benefits of using toners for acne.
Benefits Of Using Toners For Acne
Cleansing: A regular face wash will not cleanse your skin completely, and there can still be traces of makeup and grime, which could lead to acne. Including an effective toner in your skin care regimen takes care of this problem.
pH Balance: A good toner will maintain the pH balance of your skin without stripping it of its natural oils.
Tightens Pores: It removes extra oil from your skin and unclogs and shrinks pores, which reduces acne formation.
Hydration: Toners provide hydration to keep your skin well-nourished.
Protection From Pollutants: It protects your skin from contaminants and reduces the damage caused by pollution.
Soothing: It penetrates deep into your skin to revitalize and soothe it.
If these benefits have convinced you, it's time to learn about the factors to keep in mind while choosing a toner for acne-prone skin. Scroll down to the next section for more information.
How To Choose The Best Toner For Acne 
Check The Ingredients: Look for ingredients that best suit your skin's requirements. For acne-prone skin, go for toners that contain low concentrations of salicylic acid or glycolic acid – they exfoliate the skin, clear pores, and reduce sebum production, which controls acne. Look for botanical extracts like witch hazel, licorice root, and willow bark that soothe the skin.
Chemical-free: Choose a gentle toner with no chemicals. Avoid products with alcohol, parabens, sulfates, mineral oils, and artificial fragrances as they may cause irritation.
Price Point: Toners vary in price. Choose one that suits your skin and pocket.
Now that you know how beneficial a toner is in achieving acne-free skin, keep the points discussed in the buying guide in mind, and take your pick from our list of the 13 best toners for acne-prone skin.

Recommended Articles
Best Face Toners Available In India With Buying Guide
Best Toners For Oily Skin Available In India
Best Natural Skin Toners In India
Best Toners for Dry Skin Available in India
Best Toners For Sensitive Skin Available In India