15 Best Toners For Acne-Prone Skin (2023) – Top Rated
Rescue yourself from acne and grab all the shine with these therapeutic toners.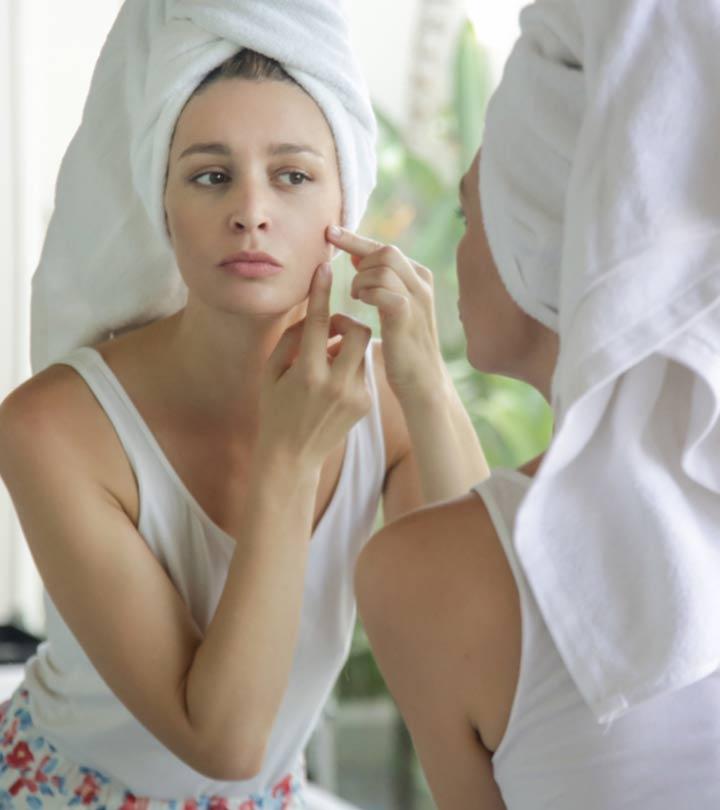 If your skin is prone to frequent breakouts, getting your hands on the best toner for acne might help deal with them better. A toner helps reduce the chances of getting acne, by cleansing your pores with excess oil and buildup. It leaves your skin clean, nourished, and contamination-free. If you have tried every other thing for your acne without any significant results, try using a toner in your daily skincare routine. It would not only balance out the oil secretion all over your face but also help calm angry inflammations. Additionally, toners that act on your acne are formulated with naturally therapeutic ingredients like witch hazel, tea tree, aloe, and other important vitamins and acids that help fight the stubborn acne and scars. These add that additional layer of nourishment and defense. To help you get started on your acne-free journey, we have shortlisted the top 15 best toners for acne for you to choose from.
Top 15 Best Toners For Acne-Prone Skin (With Buying Guide)
Bask in this recipe for blooming skin infused with pure rose water, witch hazel extracts, and aloe vera. Soothing blisters, eliminating excess oil and dirt, the toner ensures a therapeutic experience with every use too. Also, the rose water and witch hazel blend tighten pores, control oil production, and keeps the skin radicle-free. And besides this, the aloe vera extract soothes and nourishes the skin intensely to leave a healthy and stunning glow. Try this beauty product to witness the difference.
Pros
Locks in moisture
Hydrates intensely
Fades scars and blemishes
Strengthens skin cells and boosts collagen production
Alcohol-free, paraben-free, and propylene glycol-free
Suitable for dry and acne-prone skin
Cons
Not ideal for chronic acne or rosacea skin
Price at the time of publication: $10.95
Make way for this pore cleaner! A great option for those who are dealing with clogged pores, this toner claims to eliminate dead skin cells, dirt, and excess oil instantly to make skin appear refreshed and glowing. The formula contains the powerful witch hazel, which acts as an astringent to tighten pores as well as soothe inflammation. Also, the infused 2% salicylic acid cleans pores, treats existing acne, and balances the oil production too. And the best part— this pore minimizer is dermatologist-recommended.
Pros
Lightweight formula
Soothes and relaxes the skin
Guarantees to leave no oily residue
Prevents future breakouts and blemishes
Non-comedogenic and oil-free
Suitable for acne-prone, blemish-prone, and oily skin
Cons
Price at the time of publication: $6.47
Youthful glow and clear skin are now a mist away! Whether you have dry, sensitive, acne-prone, or aging skin, here's a toner that claims to fight more than just clogged pores and zits. Infused with vitamin C, vitamin E, glycolic acid, witch hazel, MSM, lavender oil, and geranium oil, the formula rich in antioxidants ensures your skin the best nourishment, toning, and clarifying experience with every use. From stimulating your skin to bask in the ingredients, increasing elasticity, removing excess oil, balancing pH levels, to fighting aging signs, there's nothing this toner cannot do. Don't believe us? Try it!
Pros
Restores skin's health
Boosts collagen production
Eliminates dullness and eases fine lines
Enhances complexion and adds a stunning glow
Reduces enlarged pores and corrects uneven skin tones
Suitable for all skin types, tones, and textures
Cons
Price at the time of publication: $13.97
How about you reverse those aging signs while fighting acne? Mario Badescu Glycolic Acid Toner with grapefruit and aloe vera claims to soothe tired skin, correct uneven tone and eliminate dullness too. Helping your skin revitalize and regain its stunning glow, this toner for oily acne prone skin also eases fine lines and wrinkles, thus making your skin appear younger, smoother, and fresher than before.
Pros
Alcohol-free
Exfoliates gently
Leaves skin clear and dirt-free
Boosts skin cell turnover for a youthful glow
Suitable for acne-prone and oily skin
Cons
Price at the time of publication: $18.0
Tone down that excess shine and oiliness with Neutrogena. Promising a refreshed look, it claims to control excess oil production, soothe the irritation, and reduce redness like a charm. The non-irritating formula is blended with cucumber, salicylic acid, green tea, and microClear technology that together ensures to combat all acne-related problems and leave your skin blemish-free. Yep, a must try!
Pros
Fights acne
Leaves skin soft and smooth
Prevents future acne build-up
Eliminates oil clogs and clarifies pores
Suitable for acne-prone and oily skin
Cons
Not suitable for sensitive skin
Price at the time of publication: $7.84
Do you have sensitive skin? If yes, then you must try Proactiv Revitalizing Facial Toner. Suitable for all ages to use, its pH balancing formula is enriched with botanical ingredients such as aloe vera, allantoin, witch hazel, chamomile, and panthenol (vitamin B complex) to clarify clogged pores and excess oil. Correcting the skin tone, the toner also shrinks large pores, balances moisture levels, and prevents future breakouts. And all this while nourishing your skin intensely!
Pros
Balances pH levels
Eliminates impurities
Tightens pores and alcohol-free
Leaves skin soft, hydrated, and smooth
Reduces irritation and boosts healthy cell growth
Suitable for acne-prone skin
Cons
Price at the time of publication: $37.5
Bring back your natural and clear skin with clarifying toner. Spray it on to deep-clean your pores, control excess oil, remove impurities and rejuvenate your skin instantly. Also, all those zits and acne, consider them banished! This antibiotic toner for acne infused with tea tree oil, tamarind extract, and witch hazel, also contains African black soap, which acts as a powerful astringent to provide intense detox with every use. Yep, goodbye, acne!
Pros
Cruelty-free
Exfoliates dead skin cells
Infused vitamin C nourishes and corrects skin tones
Paraben-free, mineral oil-free, phthalate-free, and sulfate-free
Suitable for oily, blemish-prone, and acne-prone skin
Cons
May sting slightly on dry skin
Oily skin users, all eyes on this one! Quit powdering the excess shine and oiliness when you can tone it down with this mattifying herbal tonic. Infused with not one but three water ingredients such as rose water, clary sage water, and tea tree water, it balances the pH levels and oil production instantly. Also, it will not dry your skin or leave an oily film on the surface. Just what you need for some intense but gentle pore cleansing by EOD, give this anti-inflammatory herbal bliss a try this season.
Pros
Ensures deep-cleansing
Leaves skin fresh and healthier
Reduces inflammation and shine
Eliminates dullness and tiredness
Locks in moisture and hydrates intensely
Vegan, cruelty-free, paraben-free, and non-GMO
Suitable for oily, dry, and acne-prone skin
Cons
May not be ideal for sensitive skin
Price at the time of publication: $18.95
Fight acne with this aloe miracle in your kitty! Infused with 80% aloe vera extracts and BHA, this toner will exfoliate, soothe, hydrate, and fight blackheads all in one go! More like a recharge for your skin to rejuvenate and freshen up after a long tiring day, Benton Aloe BHA Skin Toner also claims to eliminate dead skin cells or any residue that is left behind after cleansing. Do not skip it!
Pros
Prevents future breakouts
Reduces irritation and soothes inflamed skin
Hydrates and nourishes dull skin intensely
Dermatologist-tested and cruelty-free
Suitable for sensitive, acne-prone, and dry skin
It does not contain artificial fragrances, chemicals, or coloring.
Cons
Not ideal for intense exfoliation
Price at the time of publication: $13.99
Let the only shine on the skin be your natural glow. Take control of the sebum production with this pH balancer infused with organic ingredients. The skin balancing formula contains witch hazel, neem leaf, tea tree, lemongrass, ginger, basil, and spearmint to maintain the pH balance only. Besides this, the MSM tackles red spots and inflammation, whereas glycerin and sodium PCA provides intense moisture and hydration. Want more? The Aspen bark, phytic, and lactic acid work towards exfoliating the dead skin for a healthy glow. Still, want to miss this hydrating toner for acne-prone skin?
Pros
Alcohol-free formula
Controls oiliness
Prepares skin for moisturization
Leaves the skin soft, smooth, and refreshed
Ideal to use on face and body
Suitable for oily and acne-prone skin
The infused cucumber hydrates and relaxes tired skin.
Cons
Price at the time of publication: $14.7
Be it clogged pores, dull complexion, or sun-damaged skin— it stands no chance against this toner by Body Merry. Unleashing a boost of vitamin C to clarify all the impurities from the pores, your skin has no option but to look refreshed and radiant with this gentle formula. Plus, it also has anti-aging benefits as it hydrates with aloe vera, tackles skin troubles like psoriasis and eczema with tamanu oil, and reduces sun damage with organic green tea. An enriching blend to instantly recharge your skin EOD, this spot treatment toner is a must-try for all.
Pros
Gentle and cruelty-free
Ideal for makeup removal
Leaves skin soft and healthy-looking
Combats acne and minimizes pores
Exfoliates and eliminates dead skin cells
Balances pH levels and locks in moisture
Suitable for dry, oily, and sensitive skin
Cons
Price at the time of publication: $17.67
Calm and soothe your skin with the Peach Slices Acne Exfoliating Toner for your acne-prone skin. This antibacterial toner contains a 2% salicylic acid, which unclogs your pores and clears the acne. It also contains AHA, a mild exfoliant that cleans the surface level of your skin and prevents future breakouts. In addition, this formula's soothing cica and allantoin help reduce redness and inflammation. This toner is clinically proven for its skin-enhancing and balancing properties. It is gentle yet powerful, and it works wonders on sensitive skin as well.
Pros
Prevents dullness and breakouts
Deeply clarifies pores
Prevents moisture loss
Suitable for all skin types
Ideal for sensitive skin
Sulfate-free
Alcohol-free
Fragrance-free
Harsh-free
Gluten-free
Vegan
Cruelty-free
Cons
Not suitable for dry skin
Price at the time of publication: $10.99
This is not a drill— you can now exfoliate your skin without stripping the natural moisture! This alcohol-free toner with botanical ingredients such as marigold cucumber, sage, and more, along with lactic acid and aloe vera juice, forms a blend that your skin can't help but bask in and bloom! More like a therapeutic spa that calms, soothes, and hydrates your skin while working on minimizing pores and easing fine lines, watch your face brighten up instantly with this exfoliating toner for acne-prone skin. Try it!
Pros
Contains natural ingredients
Reduces wrinkles
Prevents future breakouts
Eliminates dead skin cells
Softens and moisturizes skin
Cruelty-free, fragrance-free, and dye-free
Suitable for combination and oily skin
Cons
Price at the time of publication: $42
Light, refreshing, and exfoliating at the same time, Glytone Acne Clearing Toner is more like a stress-busting tonic to awaken your natural glow instantly. All you have to do is apply it gently and watch your skin calm and relax in its coolness. A great option to rejuvenate and refresh, the infused 2% salicylic acid will also deep-clean and tighten pores to encourage soft, smooth, and healthy skin.
Pros
Reduces blemishes
Controls excess oil production
Prevents future breakouts
Non-comedogenic, oil-free, and fragrance-free
Cons
Price at the time of publication: $28
Lastly, this herbal blend contains witch hazel, sage, hops, and lemon peel that ensures naturally glowing skin with every use. Why resort to heavy makeup to conceal blemishes, pores, and redness when you can get rid of it from the core. Yep, formulated to combat pimples, breakouts, and clogged pores, this lemon toner for acne does not joke when it claims to reduce oiliness and shrink pores. Besides this, it works against aging signs as well, thus making this blemish control toner a perfect solution for all. Give it a try!
Pros
Cruelty-free
Balances pH levels
Prevents oil build-up
Reduces irritation and inflammation
Suitable for all skin types
Cons
Price at the time of publication: $26.87
There you go, those were the 15 best toners for acne-prone skin that you must try. Do you still need assistance with choosing the right toner for acne-prone skin? Or are you wondering how to use it? We've explained it all in our buying guide below.
Buying Guide
How To Choose A Toner For Acne-Prone Skin?
Here are some points you must look out for when choosing a toner:
Skin type: Prioritize your skin type when choosing a toner. Whether you have oily, dry, sensitive, or combination skin, pick a toner that best suits your skin type for it to work and deliver satisfying results.
Ingredients: Always check the ingredients and know what you are applying to your acne-prone skin. Ideally, toners with witch hazel, salicylic acid, and aloe vera are deemed as most beneficial when it comes to fighting acne, clogged pores, or blemishes. So, look out for these ingredients while choosing a toner for skin renewal.
Oil control: Excess oil is one of the main factors that can lead to breakouts, which is why controlling sebum is IMP. So, if you have oily skin or you are dealing with oil buildups, then pick a toner that guarantees to aid in sebum regulation.
Intense exfoliation: Exfoliation is crucial. Considering that a face wash may not necessarily remove all the impurities and buildup, especially from the pores, a toner can fill in and do the deed with its intense exfoliation formula. Also, the exfoliation will get rid of dead skin cells as well to make your skin appear clean, clear, and healthy-looking.
Balances pH level: Oily skin users, this one is for y'all. Excess oil production can lead to pH imbalance, thus resulting in uneven skin tones, pores, and in worse cases, breakouts. So, pick a toner that specializes in balancing the pH level while it exfoliates and hydrates your skin.
How do you use a toner for acne-prone skin?
It's easy! After face wash, squirt a little toner on a cotton ball or pad and gently wipe it over your cheeks, chin, forehead, and hairline. If you are using a mist or spray, you can spray it on your face from a distance and gently wipe it with a cotton ball. Also, do not rinse after using a toner. Wait for a few seconds or minutes for the toner to absorb into your skin then you can move on to applying a moisturizer.
Why Trust StyleCraze?
The author, Krati Darak, is a skin care enthusiast who loves trying out and reviewing different products. She has curated the list of toners for acne-prone skin after carefully considering online reviews and feedback on the products. Sneha has considered the necessary quality parameters to bring you this list of best toners for acne-prone skin. These toners may help reduce the number of breakouts and calm inflammation.
Frequently Asked Questions
Are toners good for acne?
Yes, absolutely! If you are dealing with acne, then using a toner for acne-prone skin is ideal as it exfoliates dead skin cells, removes impurities from pores, and nourishes at the same time.
Do toners cause pimples?
No, if you use the right toner for your skin type, then it will not cause pimples or breakouts but prevent them instead.
Do dermatologists recommend toners?
Yes, there are umpteen toners for acne-prone skin that are recommended by dermatologists. Bioré Witch Hazel Pore Clarifying Toner and BENTON Aloe BHA Skin Toner are both dermatologist-recommended.
Which toner is best for oily and acne-prone skin?
Mario Badescu Glycolic Acid Toner, SheaMoisture Clarifying Toner, and TheraTree Skin Balancing Clarifying Toner are some of the best toners if you have oily and acne-prone skin.
Is tea tree toner good for acne?
SheaMoisture Clarifying Toner and TreeActiv Balancing Herbal Toner are tea tree-infused toners, which help control oiliness, cleanse pores, and combat acne.
Is glycolic acid toner good for acne?
Yes, it is! Glycolic acid combats acne, fine lines, and also hydrates the skin intensely. So, if you are looking for a toner with glycolic acid, then Lavo Glycolic Exfoliating Toner is a must-try.
Will a toner remove dark spots?
Yes, a toner can reduce dark spots and correct uneven skin tones too. So, if you are dealing with sunspots or damages, InstaNatural Vitamin C Facial Toner would be a great option.
Should you use a toner every day?
Yes, use a toner daily and twice a day after your cleansing routine. Also, there are toners, mists, and sprays that you can use endlessly or whenever your skin feels dull, dry, or lifeless.
Recommended Articles