8 Best Toners For Blonde Hair Available Right Now – 2023
Provide that lustrous shine to your blonde hair with toners that keep locks salon-fresh.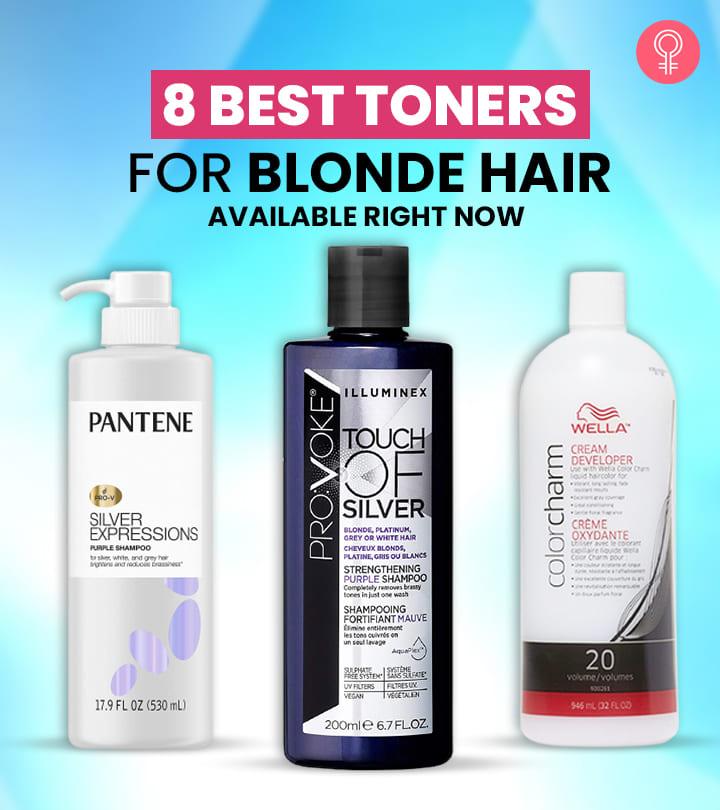 Blonde hair has to be one of the most popular coloring options for many individuals. However, it is best to go for products that are specially formulated for blonde locks, for example, the best toner for blonde hair. This product is meant to add a lustrous shine to your locks and make sure that your gorge hair stays bright instead of fading away. Even though our hairstylists do a good job of applying toner after a fresh dyeing session, it is important for you to continue the process later. Choose between these 8 best toners for blonde locks available right now!
What Does Toner Do To Your Hair?
Bleaching is not what gives you the ultimate color and sheen–toner does. It adjusts and maintains the cool and warm tones of your locks to give your perfect results. It adds shine and reduces split ends as well. Toner comes in many forms – like tinted shampoo, foam, semi-permanent color, and gloss – and works to adjust the tone of your hair.
Blue and purple toners eliminate brassiness. Blue toners are best suited for red-heads and brunettes, as blue cancels out orange tones. Purple toners are formulated for blondes as they reduce yellow tints and keep your highlights looking salon-fresh.
Scroll down through our list of the 9 best toners for blonde hair and pick one to make your hair look salon-treated and pampered.
8 Best Toner For Blonde Hair In 2021
Wella Colorcharm Permanent Liquid Hair Toner is the last step in the hair coloring routine to mute unwanted warm tones. The shade T28 Natural Blonde neutralizes warm and brassy notes in natural or colored blonde hair. This formula is extra mild and creates delicate shades of beige or platinum. It works on double-processed blonde hair as well. Its Liquifuse Technology enables the toner to saturate and fuse with the hair, elongating the life of your hair color. You will need the Colorcharm 20 volume cream developer with this toner to complete the coloring process.
Pros
Reasonably priced
Long-lasting results
Easy to use
Spreads easily
Cons
May dry out the hair
Messy application
Price at the time of publication: $7.83
The Touch of Silver Purple Shampoo works well on any light-colored hair in silver, gray, platinum, or white tones. It contains a mix of blue and purple pigments that neutralize orange and yellow notes and brighten the original hair color. This shampoo also repairs the hair bonds damaged due to UV rays and other environmental stressors. Its AquaPlex technology repairs and hydrates the colored tresses, keeping the hair color rich and vibrant. This shampoo is sulfate-free, paraben-free, and silicon-free. Learn more about the product in this video.
Pros
Adds shine to the hair
Moisturizing formula
Creamy texture
Vegan
Silicone-free
Paraben-free
Sulfate-free
Cons
Watery consistency
Does not lather
Price at the time of publication: $14.95
The Pantene Silver Expressions Purple Shampoo is best suited for color-treated and chemically treated gray, white, or silver hair. The formula is suitable for blonde hair as well.  The pro-vitamin B5 formula removes brassy notes and reduces dullness, adding more shine to the hair color. The purple pigment in it neutralizes the yellow tones caused by environmental stressors. Pantene Silver Expressions is a paraben- and silicone-free formula that adds vibrancy to your gray, white, and silver hair. This video gives you more information about the product.
Pros
Gentle formula
Makes hair more manageable
Suitable for everyday use
Paraben-free
Silicone-free
Mild fragrance
Cons
Price at the time of publication: $14.99
Maple Holistics Purple Shampoo is a multi-purpose formula that provides nutrition to your colored hair while repairing the damaged hair shafts. This purple shampoo removes brassiness and unwanted undertones from blonde hair and keeps it shiny and fresh. Botanical keratin strengthens the hair follicles and promotes hair growth. Additionally, this shampoo cleanses build-up and brightens silver, gray, ash, platinum, white, and highlighted hair.
Pros
Multipurpose shampoo
Repairs damaged hair
Cruelty-free
Vegan
Sulfate-free
Paraben-free
Silicone-free
Cons
Price at the time of publication: $24.95
Ethique Tone It Down is a great toner for silver and blonde hair. This solid natural shampoo bar has a pH-balanced formula that removes frizz and brassiness from light-colored hair. It can be used as a regular shampoo for deep cleansing the scalp. This shampoo bar is powered with jasmine oil and babassu that add volume and shine to the hair. Moreover, beetroot extract elongates the life of your hair color. This shampoo is free from sulfates and other harmful petrochemical dyes. It is suitable for blonde, gray, and silver hair.
Pros
pH-balanced formula
Plant-based ingredients
Tames frizz
Paraben-free
Sulfate-free
Petrochemical-free
Soap-free
Vegan
Eco-friendly
Zero-waste product
Palm oil-free
Cons
Price at the time of publication: $14.64
This Marc Daniels Professionals toner is infused with Australian blue cypress oil, which helps to reduce yellow or brassy tones in blonde, gray, or color-treated hair. It has a non-sticky texture that reduces frizz and makes the hair manageable. This toner is infused with rosemary and sage extracts that restore dullness and highlight the cool tones of your hair color. Additionally, it repairs and reverses the damage caused by heat styling tools and products. Have a look at this video to learn more about the product.
Pros
Eliminates frizz
Vegan
Cruelty-free
Paraben free
Sulfate-free
Money-back guarantee
Cons
Global Keratin brings you this purple shampoo that removes yellow and brassy tones from gray and blonde hair. The Silver Bombshell Shampoo can be used daily to neutralize the orange tint that develops in light color-treated hair. It has a violet base, which enhances the natural blonde tones of your hair. The vitamin B5 in this formula heals the hair from within and fuses split ends, protecting them from further damage.
Pros
No harsh chemicals
Sulfate-free
Paraben free
Cons
None
Price at the time of publication: $29.9
The Trivitt Violet Toning Conditioner is designed to eliminate the yellowing of color-treated or naturally blonde hair. This conditioner also helps to soften and detangle the hair and protects your hair color for a longer duration. The violet pigments present in this formula neutralize the yellow tint, while the antioxidants protect the hair from environmental stressors. This conditioner seals the hair follicles, decreases discoloration, and enhances the gloss of your hair. This toning conditioner is best-suited for silver, gray, blonde, and color-treated hair.
Pros
Decreases color fading
Increases shine and luster
Detangles the hair
Protects the hair from environmental aggressors
Cons
Price at the time of publication: $14.99
The effects of a hair toner mostly depends on your hair texture and whether it has been dyed previously.
How Long Does Toner Last?
The longevity of the hair toner depends on your hair type and whether your hair was previously colored. Typically, the effect of a toner lasts between two to six weeks. If your hair was already color-treated, then the color will fade faster as dyed hair is more porous. Un-dyed "virgin" hair can hold color for up to six weeks. Plus, the hair color fades from it at a much slower rate.
When done correctly, by a professional, hair toner can give you fabulous results.
Does Toner Damage Your Hair?
If you get toning done by a professional, then toner will not damage your hair. In case you are doing it yourself at home, then make sure you have a toner that suits your hair type. Also, read and follow the instructions carefully. Being over-enthusiastic can land you with over-toned hair.
Why Trust StyleCraze?
Shiboli Chakraborti is a certified skin care coach who is a hair care enthusiast too. The best toners for blonde hair hand-picked by her have been closely reviewed and analyzed based on reviews and feedback on multiple online forums. These products are specially formulated for blonde hair and do the job without damaging your hair in the long run.
Frequently Asked Questions
Is toner necessary for blonde hair?
Yes, toners are important for blonde hair. They prevent unwanted brassy tones and add a healthy shine to the blonde hair. Additionally, toners also reduce split ends.
Does toner make blonde hair lighter?
No, toners do not lighten blonde hair but adjust and correct the cool and warm tones of the blonde hair.
Is toner the same as purple shampoo?
Yes. Similar to toners, purple shampoos neutralize hair pigments to adjust the tone of blonde hair. Therefore, purple shampoos can act as toners.
Does a glossy toner work on blonde hair?
Yes. A gloss toner, similar to a regular toner, can neutralize the brassy tones of your blonde hair and lift its overall shine.
How do I remove toner from blonde hair?
Wash your hair with a clarifying shampoo, baking soda, or dandruff shampoo to remove the toner from your blonde tresses. The other way is to mix lemon juice with your conditioner and apply the mixture from the root to the tip.
How long does a purple toner tinge last in blonde hair?
Purple toners last an average of four to eight weeks on your hair. Once the color starts fading, use purple shampoo and conditioner to retain the lively color.
Is toner better than bleach?
Yes. Bleaching damages the natural texture and structure of the hair and makes it prone to breakage. Additionally, bleaching dries out the tresses and causes split ends. But a toner simply controls the brassiness and makes your hair look healthy. Therefore, toners are better than bleach.
Will toner for blonde hair affect brown hair if it accidentally gets on it?
No. Toners for blonde hair will not drastically affect brown hair. It might tone down your strands lightly but will not impact it much negatively.
Recommended Articles