8 Best Toners For Sensitive Skin Available In India
Highly effective, daily-use formulas for smooth and well-nourished skin.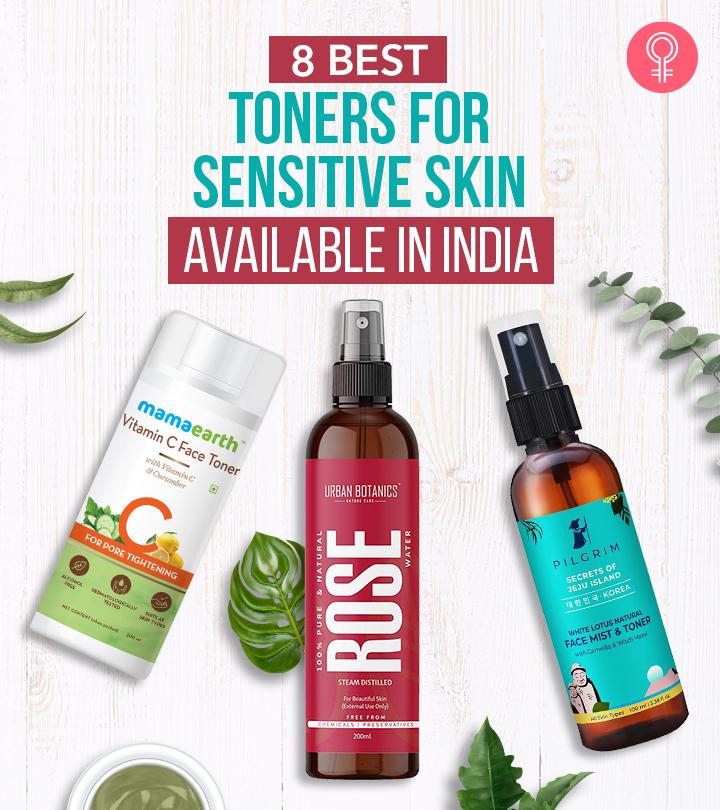 Cleansing often strips the sensitive skin of its natural oils and disrupts its pH balance. It then becomes critical to use a toner to control this situation. But, using a random toner can do more damage to your skin than good. This is because most toners contain alcohol that dehydrates your skin further and leaves it parched. Just when your skin would love a little pick-me-up, here we are with 8 toners specially formulated for sensitive skin. These best-selling toners cater to the moisture needs of acne-prone, dry, and/or inflamed skin. Scroll down to know what they are, how they differ, and tips to choose the best one for you.
Top 8 Toners Your Sensitive Skin Would Love
Plum's Green Tea Alcohol-free toner is the best toner for sensitive skin available in India. With no trace of dehydrating alcohols in its formula, this FDA-approved toner does not dry out your skin. It restores the moisture and natural oils in the epidermis without clogging the pores. Green tea extracts help stop the formation of new acne and kill the acne-causing bacteria. This toner also contains glycolic acid which helps remove dead skin cells, especially from the top layer of acne-prone skin. As a result, your skin stays clear, soft, fresh, and even-toned in all seasons. This hydrating toner is free of all preservatives, animal products, and mineral oil. Also, it is a 100% vegan product and comes in completely recyclable packaging.
Key Ingredients: Green tea extracts, Glycolic acid, Glycerine, Castor oil
Pros
Does not dry out the skin
Non-comedogenic
Paraben-free
FDA-approved
SLS-free
Mineral oil-free
100% vegan formula
Cruelty-free
Cons
Price at the time of publication: ₹312.0
The UrbanBotanics® Pure & Natural Rose Water/Skin Toner provides instant hydration to your face and neck while strengthening the moisture barrier. It rejuvenates stressed sensitive skin by restoring its pH balance and controlling excess oil production without causing dryness. This toner is made with pure, unadulterated, high-quality rose water that has been extracted using steam distillation. Since it does not involve heat or chemicals, this product retains its active components and is highly effective. This toner is also free of alcohol, parabens, sulfates, and artificial fragrances – just the way your sensitive skin likes. This makes it a soothing option for teens who are undergoing hormonal fluctuations and acne flare-ups.
Key Ingredients: 100% pure high-grade steam-distilled rose water
Pros
Maintains pH balance of the skin
Lightweight formula
Suitable for teenagers
Preservative-free
Easy to dispense
Cruelty-free
Subtle scent
Cons
Price at the time of publication: ₹19.09
Mamaearth Vitamin C toner has a unique alcohol-free formula and comes loaded with the goodness of aloe vera, cucumber, witch hazel, and many other hardworking ingredients. Vitamin C supports the production of healthy collagen that brightens the complexion and boosts firmness. Witch hazel reduces inflammation, tightens skin pores, and soothes acne-prone sensitive skin. The alcohol-free formula of this toner helps balance the pH level of your skin. Cucumber, a trusted skin care ingredient, offers hydration, reduces inflammation, and calms irritated skin. Mamaearth Vitamin C Face Toner is suitable for all skin types and free of alcohol and harmful toxins.
Key Ingredients: Vitamin C, Cucumber, Aloe vera extract, Witch hazel extract, Glycolic acid
Pros
Alcohol-free
Dermatologically-tested
Paraben-free
Sulfate-free
Silicone-free
Convenient to use
Cons
May trigger irritation
Gets sticky
The RE' EQUIL Pore Refining Face Toner is formulated with 9 active botanical extracts that help in pore-tightening and maintaining the skin's pH balance. This toner regulates sebum production and neutralizes acne-causing bacteria. Soothing extracts of aloe vera, burdock, witch hazel, ivy lemon, watercress, sage, and common soapwort heal acne-prone sensitive skin with potent antiseptic properties. Since this formula is free of alcohol and similar astringents, it preserves the moisture balance of your skin and prevents it from drying. It clears out pores that remain clogged after cleansing to give you a matte, smooth, and blemish-free appearance,
Key Ingredients: Witch hazel, Aloe vera, Seaweed, Great burdock, Ivy, lemon, Watercress, Sage
Pros
Alcohol-free
Paraben-free
Dermatologically-tested
Developed by scientists
Mildly-scented
Gentle
Cons
Price at the time of publication: ₹12.68
The UrbanBotanics® Alcohol Free Skin Toner fights the effects of aging and tightens  the skin pores after cleansing. It comes with the active botanical extracts of neem, basil, witch hazel, sugarcane, maple, aloe vera, lemon, and orange. These extracts are rich in antioxidants that maintain the pH and moisture balance in the epidermis. This non-comedogenic toner removes the last traces of makeup from blemish-prone skin and leaves it smooth and refined. Since it is free of alcohol and other astringents, you can use this toner in your day and night skin care routines. Also, it is free of parabens, phthalates, SLS/SLES, harsh chemicals, and synthetic additives. 
Key Ingredients: Neem, Sugarcane, Basil, Aloe vera, Witch hazel, Sugar maple
Pros
Gentle formula
SLS-free
SLES-free
Suitable for all-day use
Paraben-free
Silicone-free
Phthalate-free
Non-comedogenic
Cruelty-free
Cons
Price at the time of publication: ₹19.41
Created with the perfect blend of Korean beauty secrets, Pilgrim's White Lotus Natural Face Mist & Toner is the clear winner. It comes as a gentle, misty spray and helps rejuvenate stressed skin. It effectively tightens large open pores and helps calm acne flare-ups. This alcohol-free facial toner prevents moisture loss and drying up of sensitive skin, unlike other harsh toners. It also restores and maintains the pH balance in the epidermis and, thus, controls the inflammation caused by trapped bacteria, dirt, and sebum. Natural extracts of camellia, witch hazel, and white lotus nourish, hydrate, and cleanse all skin types ever so gently. This toner and face mist is FDA-approved and free of all preservatives, mineral oils, and animal derivatives.
Key Ingredients: White lotus, Camellia, Witch hazel, Almond oil
Pros
Vegan
FDA-approved
Cruelty-free
Rejuvenating fragrance
Paraben-free
Sulfate-free
Easy to dispense
Mineral oil-free
Cons
None
The Organic Harvest Neem Tulsi Toner is an ECOCERT-certified organic product made with high-quality plant-derived ingredients. It helps in minimizing large open pores and clears excess oil on your face. It contains antiseptic, antibacterial, and anti-inflammatory extracts of neem and tulsi that protect and soothe sensitive skin. This water-based, alcohol-free toner calms infections, acne flare-ups, blemishes, and dryness. It also restores moisture and enhances skin elasticity by stimulating collagen production in women and men. This organic toner is best suited for oily, acne-prone, and sensitive skin types as it is free of parabens, harsh chemicals, mineral oil, and animal products.
Key Ingredients: Water, Neem extract, Tulsi extract
Pros
Alcohol-free
Water-based formula
Paraben-free
ECOCERT-certified organic product
Mineral oil-free
Cruelty-free
Antibacterial properties
Vegan
Cons
May trigger oiliness
Leaves a sticky residue
Mamaearth Rose Face Toner is tailor-made for sensitive skin. This is an alcohol-free preparation of pure rose water that is enriched with witch hazel, cucumber, aloe vera, and grapefruit extracts. Their active antioxidants gently detoxify stressed sensitive skin while replenishing the moisture barrier.
These botanicals together tighten open and enlarged pores to give your skin a smooth, bump-free appearance. This toner controls excessive sebum production and limits the spread of acne. It is also free of preservatives, toxic chemicals, artificial fragrances, dyes, and animal derivatives. It is dermatologically-tested to soothe and prep all skin types for skin care and makeup routines.
Key Ingredients: Rosewater, Cucumber extract, Witch hazel extract, Aloe vera juice, Grapefruit extract
Pros
Paraben-free
No mineral oil
Alcohol-free
Silicone-free
Dermatologically-tested
SLS-free
Petroleum-free
Long-lasting
Mildly-scented
Cons
Price at the time of publication: ₹8.99
Each toner listed here comes with a unique set of key ingredients and, therefore, offers a unique set of benefits for sensitive skin. To help pick the best-suited toner for your skin, here are a few tips you should consider.
How To Choose The Right Toner For Sensitive Skin?
Alcohol-free Composition: It is a rule of thumb to avoid alcohol-based toners if you have sensitive skin. Alcohol is an astringent that could strip away the natural oils of your skin to destabilize its moisture barrier. Always go for alcohol-free toners to protect the delicate epidermis from breaking out.
Ingredients: We usually end up doing more harm than good by using a toner on sensitive skin. It can leave your skin burnt, over-dry, and sensitized to the following steps in the skin care regimen. Therefore, it is imperative to choose a toner with soothing ingredients. Look for mild extracts of chamomile, cucumber, lavender, etc. Barrier-repairing and anti-inflammatory molecules like salicylic acid and glycerin could help to tone sensitive skin.
Skin Concerns: Sensitive skin comes with concerns like acne, breakouts, blemishes, or pimples that need constant attention and care. It becomes easier to maintain this skin type if you pick cosmetics formulated with ingredients that are healing and soothing. Try getting a toner that addresses your skin concern if it fits your budget. Such toners will preserve, protect, and prep sensitive skin for your desired makeup looks.
Using the right kind of toner makes a sea of difference, especially on sensitive skin. The above-listed toners are much gentler than the cheaper options online. These toners protect your skin, rejuvenate it, and prep it for the following skin care and makeup routines. Use our tips to choose a toner that fits your requirement and budget. Order it right away to keep your sensitive skin clear and toned every day!

Recommended Articles
Best Face Toners Available In India With Buying Guide
Best Toners for Dry Skin Available in India
Best Toners For Oily Skin Available In India
The following two tabs change content below.