14 Best Toners For Sensitive Skin To Add To Your Beauty Arsenal
Include these non-comedogenic toners for sensitive skin to flaunt only good looks.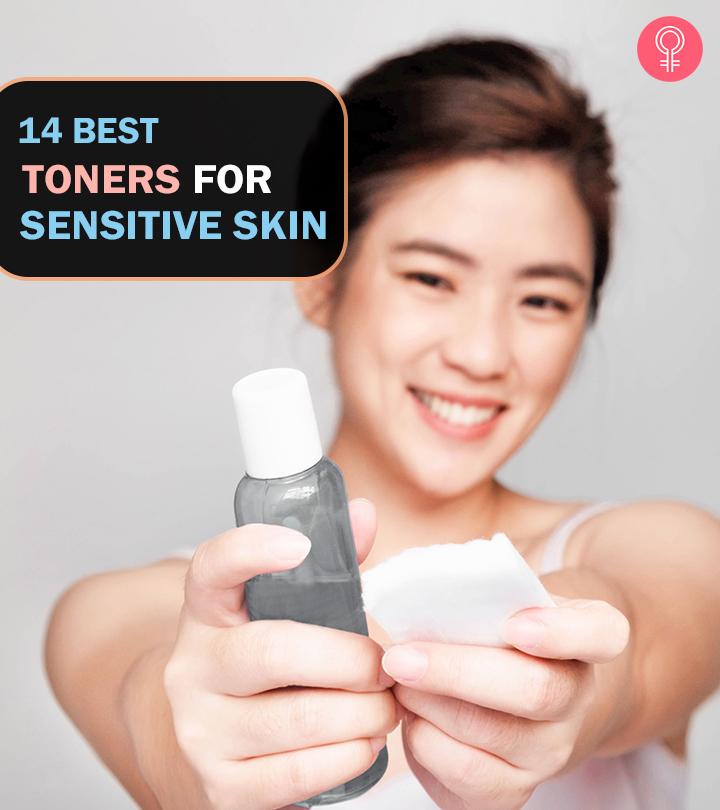 You need to get two things right to get the best toner for your sensitive skin. While one is the right formula, the other is ingredients that do not irritate your skin type. Choosing the right products for this skin type requires utmost caution as it breaks out easily and reacts badly. But do not worry, leave it to us. In this article, we have brought to you some of the best toners that go well with sensitive skin types. Swipe up!
Dr. Rosmy Barrios, MD and medical advisor for the Health Reporter, says, "One of the main ingredients to avoid in toners is sulfates, such as Sodium Lauryl Sulfate, derived from Lauryl Alcohol Ethoxylate. Although it is often used in beauty products, it causes skin dryness, irritation, and allergic reactions. Nevertheless, it may be suitable for people who do not have dry skin."
14 Best Toners For Sensitive Skin
The Thayers Facial Toner contains witch hazel, rose petal extracts, and aloe vera. It helps add moisture to your skin, remove impurities, and protect the skin from damage. Witch hazel helps tighten your skin pores and make it smooth without drying. Here's an honest review of the product.
Key Ingredient(s): Witch Hazel
Pros
Alcohol-free
Paraben-free
Phthalate-free
Gluten-free
Certified organic ingredients
Propylene glycol-free
Cons
Dr. Rosmy Barrios, MD and medical advisor for the Health Reporter, says, "Aloe vera soothes facial skin, helps reduce the scars that often remain after acne treatment, and most importantly, has moisturizing properties, so it is perfect for sensitive or dry skin."
This is an alcohol-free formula and contains witch hazel extracts. It helps keep your skin soft and supple by removing all traces of dust and impurities. The hyaluronic acid in this formula keeps the skin hydrated, and vitamin E and aloe vera prevent moisture loss. Here's a video featuring a detailed review of the product.
Key Ingredient(s): Rosewater, Hyaluronic Acid, Vitamin E
Pros
Alcohol-free
Contains 98% natural witch hazel distillate
Dye-free
Soap-free
Sulfate-free
Does not cause dryness
Does not irritate the skin
Cons
Contains artificial fragrance
This Vitamin C toner contains MSM that easily penetrates the skin to improve its elasticity. All the ingredients in this toner help reduce excess oil. The vitamin E and glycolic acid in the toner ensure to restore the natural pH levels without causing any dryness. This video will help you understand the product better.
Key Ingredient(s):  Witch hazel, MSM, Lavender & Geranium Oils
Pros
Paraben-free
SLS and SLES-free
Mineral oil-free
No formaldehyde releasers
Synthetic dye-free
DEA/MEA/TEA-free
Cruelty-free
Polyethylene glycol-free
No unsafe preservatives
Cons
This toner has a fast-absorbing formula that improves your skin's hydration levels, balances the pH , and calms your skin. It has a viscous essence or serum-like texture and can easily replace the serum from your skin care routine. Moreover, ingredients like Centella Asiatica, hyaluronic acid, and beta-glucan soothe and calm sensitive skin immediately.
Key Ingredient(s): Centella Asiatica, Hyaluronic Acid, Beta-glucan
Pros
Paraben-free
Mineral oil-free
Synthetic dye-free
Does not irritate the skin
Does not cause breakouts
Cons
None
This is a multi-use Moroccan orange blossom floral water and a natural, alcohol-free toner. The orange blossom water is a natural astringent loaded with antimicrobial properties that keep your skin healthy. This toner helps balance your skin pH, improves suppleness, and promotes healing and cell regeneration.
Key Ingredient(s): Orange Blossom Floral Water
Pros
Vegan
Cruelty-free
100% natural
Alcohol-free
Refreshing fragrance
Removes excess dirt
Cons
Takes time to show a visible effect.
This alcohol-free toner contains glycolic acid, an AHA that helps exfoliate your skin gently, remove dead skin cells, regulate excess sebum production, and keep your skin clean and healthy. It contains botanical extracts like aloe vera, witch hazel, chamomile, allantoin, and panthenol (vitamin B complex) that help refine your skin pores and reduce skin irritation.
Key ingredient(s): Glycolic Acid, Witch Hazel
Pros
Alcohol-free
Reduces breakouts
Reduces acne inflammation
Cons
Contains imidazolidinyl urea
Contains parabens
Contains artificial color
This toner sweeps away dust and residue from your skin and keeps it refreshed. The aloe toner by Mario Badescu is extremely gentle on your skin. It has a non-drying formula and does not contain irritants.
Key Ingredient(s): Aloe Vera
Pros
Alcohol-free
Non-drying
Fragrance-free
Cons
Contains propylene glycol
Contains parabens
Contains artificial color
This soothing aloe toner does not contain any harmful chemicals and easily wipes out the residue of makeup dust and impurities from your skin pores, leaving them clean. This helps in preventing breakouts and reduces skin irritation. You can also use this toner as a hydration pack if your skin needs intense hydration.
Key Ingredient(s): Aloe Vera
Pros
Paraben-free
Benzophenone-free
No chemical preservatives
Refreshing
Pleasant fragrance
Non-drying
Mineral oil-free
Cons
This hyaluronic acid toner has a unique skin-balancing formula that contains healing vitamins like B5, C, and E. It contains ginseng extracts that promote blood circulation, brighten your skin, and soothe inflammation. The other ingredients, like witch hazel, aloe vera, chamomile, and grapefruit seed extracts, keep your skin calm. It has a pH of 5.5.
Key Ingredient(s): Ginseng, Hyaluronic Acid
Pros
No harsh chemicals
No skin irritants
Dermatologist recommended
Sulfate-free
Paraben-free
Silicone-free
DEA/MEA-free
Gluten-free
Cruelty-free
Vegan
Fair-trade
Cons
This hydrating and soothing skin toner reduces flaky skin caused by excessive dryness and helps revitalize your skin. It fights the signs of aging, reduces redness, and nourishes your skin with antioxidants that enable your skin to cope with the environmental stress. It delivers essential lipids, antioxidants, and skin-restoring ingredients to keep your skin healthy.
Key Ingredient(s): Vitamin E, Primrose
Pros
Fragrance-free
Non-irritating
Paraben-free
Cruelty-free
No harsh chemicals
Cons
Might cause an allergic reaction.
This is an alcohol-free bi-phase toner that nourishes your skin, keeps it healthy, and prevents any damage caused by harmful free radicals. It helps reduce the effect of constant dust and pollution exposure. This product matches the natural pH level of your skin, so it will not irritate your skin. It protects the skin's natural barrier. You have to shake it to activate the ingredients before using it.
Key Ingredient(s): Avène Thermal Spring Water
Pros
Hypoallergenic
Paraben-free
Soy-free
Soap-free
Alcohol-free
Oil-free
Gluten-free
Cons
Contains artificial fragrance
Contains PEG
This is a treatment toner mist that claims to revitalize and brighten your skin. It has an orange blossom water base, which is infused with lavender and citrus extracts and arginine that keep your skin healthy, boost the moisture levels and form a protective veil on it. Spritz it on your skin to make it feel awakened and refreshed. 
Key Ingredient(s): Orange Blossom & Citrus Extracts
Pros
Suitable for all skin types
No animal testing
Cons
Contains polyethylene glycol
This is a calming pH-balanced toner that removes dirt and impurities from the skin. This s specially formulated for sensitive skin and helps soothe troubled and weak skin. It contains witch hazel that reduces the appearance of skin pores, along with a blend of hyaluronic acid, allantoin, and panthenol that conditions, moisturizes and calms the skin.
Key Ingredient(s): Witch Hazel
Pros
Paraben-free
No harsh chemicals
Cons
Contains artificial fragrance
This is a concentrated toner and contains a blend of peptides that keeps your skin healthy, improves elasticity and skin tone, and reduces the appearance of wrinkles. It removes residual makeup, dirt, or soap and maintains the natural pH balance.
Note: The Environ products are "consultation-only" products as they contain a high level of active ingredients. Do not use it without consulting a skin specialist or expert.
Key Ingredient(s): Peptides (Matrixyl)
Pros
Contains Matrixyl (peptide for collagen-boosting)
Contains witch hazel
Cons
None
You cannot pick toners randomly for your skin. You need to avoid the possible irritants and choose one that addresses your skin issues. Here are a few tips.
How To Pick The Right Toner For Sensitive Skin
There are two things you have to be careful about when choosing a toner for sensitive skin:
1. The Ingredients
Avoid any ingredients that might irritate the skin or you are allergic to. Alcohol and essential oils are the common ingredients that might irritate your skin and should be avoided. Look for calming ingredients like rose, chamomile, cucumber extracts, hyaluronic acid, aloe vera, lavender, witch hazel, and willow bark extracts. Ensure that you are not allergic to any of these ingredients before using the products.
2. Skin Concerns
It is better to match your skin issues with the product that you are using. If your skin feels dry, try a rehydrating toner. If your skin is hyper-sensitive and super-irritated, use pH-balancing toners. If you have mature skin and acne issues, use exfoliating toners. These skin conditions can be chronic or short-lived. Whatever the issue is, adjust your toner accordingly.
Why Trust StyleCraze?
Shiboli Chakraborti is a certified skin care coach who loves trying different skin products. She vouches for the best toners for sensitive skin for a rash-free and cooling experience. She believes they are a must-have for people with sensitive skin and cannot risk using products that further aggravate their skin. She has researched the products and reviewed them to help her readers pick the best ones. These toners remove impurities from your skin and seal your pores to protect them from allergens and foreign bodies.
Frequently Asked Questions
Can toner irritate the skin?
Yes, only if it contains ingredients that do not suit your skin. Check the ingredients before buying. Alcohol is one of the most common irritants, so do not go for alcohol-based toners.
Is toner necessary for sensitive skin?
It is not a necessity. However, toner helps to clean the residue of cleanser or soap that might irritate the skin and prepare your skin for the next skin care steps. Using a toner is good for the skin, but it is not a necessity.
Recommended Articles