15 Best Hair Toners To Maintain White Hair
Keep your white hair looking fresh, vibrant, and free of those pesky brassy tones.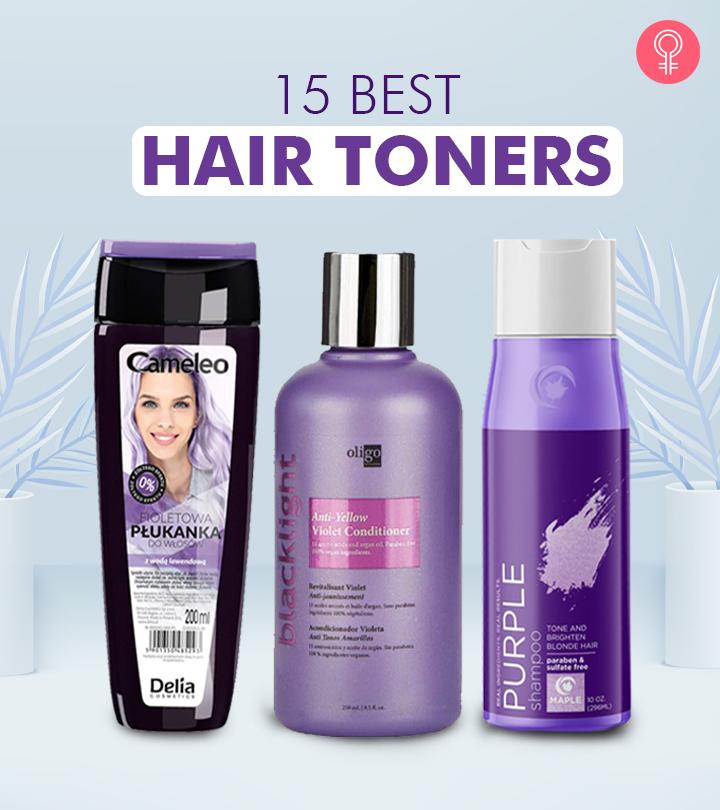 If you have white hair, you must know that maintaining it is no easy feat. Gray hair, yellow tones, brassiness, and unevenly colored tresses might ruin your look. Therefore, you need to change your hair care routine to keep your white hair looking stunning. That is why you need to use the best toners for white hair.
Hair toners help refresh the color of your hair and keep them vibrant. The best part is that you don't have to book frequent salon appointments with the right hair toners. So keep reading to check out the 15 amazing toners for white hair now!
15 Best Hair TonersTo Maintain White Hair
The Vitamins Keratin Purple Hair Toning Shampoo neutralizes and removes brassiness from silver and platinum hair. The shampoo is enriched with a natural herbal blend that can repair damaged hair. The product is formulated without alcohol or parabens. It is cruelty-free.
Pros
Paraben-free
Alcohol-free
Cruelty-free
Nourishing
Repairs damaged hair
Cons
None
The Okara Silver Toning Conditioner is formulated especially for gray, white, and platinum blond hair. The product hydrates the hair fibers and neutralizes unwanted yellow tones. It also helps in detangling the hair. The conditioner is free of silicones, parabens, and sulfates. The product is formulated with okara extract that helps in reinforcing the natural structure of the hair.
Pros
Paraben-free
Silicone-free
Sulfate-free
Nourishing
Detangles the hair
Reinforces natural hair structures
Cons
None
The Salerm White Hair Shampoo will help you in keeping your hair looking brilliantly clean and white. It thoroughly cleanses your hair and scalp. It also removes any yellow tones that gray or bleached hair may have. The shampoo maintains a perfect balance of color on gray or white dyed hair
Pros
Removes yellow tones
Keeps hair shiny and bright
Cons
None
The 'N Rage Bleach &Toner Kit is a 2-step system that helps you achieve vivid and long-lasting results. The kit is easy to use and takes less than 15 minutes to work. The bleach formula lightens your hair while the white-out conditioning toner eliminates hair dullness. The kit is ideal for all hair types and textures. If you want a detailed review of the product, make sure to take a look at this video.
Pros
Easy to use
Ideal for all hair types and textures
Moisturizing
Works within 15 minutes
Long-lasting results
Cons
None
The Pantene Silver Expressions Conditioner is a moisturizing conditioner. It is formulated for women with dyed gray, white, and silver hair. The conditioner deeply nourishes and hydrates the hair without weighing its roots down. It contains protective antioxidants and hydrating lipids. These ingredients help restore shine and flexibility to the hair. The product is formulated without parabens, sulfates, or mineral oils. The product also includes an adaptive Pro-V nutrient blend. This blend delivers shade-specific nutrients allowing every hair strand to stand out.
Pros
Moisturizing
Restores shine to hair
Paraben-free
Sulfate-free
Mineral oil-free
Every hair strand stands out
Cons
May cause allergic reactions
The Oligo ProfessionnelBlacklight Violet Conditioner is formulated for women with light blonde and white hair. The conditioner is infused with amino acids that nourish hair. It will keep blonde hair radiant while eliminating the yellow tones. It also strengthens the hair structure and repairs surface damage. The conditioner is made with vegan ingredients. It is formulated without sulfates and parabens.
Pros
Moisturizing
Strengthens hair structure
Repairs surface damage
Vegan
Sulfate-free
Paraben-free
Cons
The Ion Icy White Creme Toner helps remove unwanted brassy tones from your white, dyed hair. It has a creamy consistency that is easy to apply. The toner also works well for pre-lightened and highlighted hair. The product provides maximum light reflection and shine.
Pros
Easy to apply
Removes unwanted brassy tones
Maximum light reflection and shine
Cons
None
The Delia Cameleo Violet Hair Toner is formulated for blond, grey, and bleached hair. The toner eliminates unwanted yellow tones and offers shine to your dyed hair. The toner also nourishes and brightens the hair. You can use it after every wash for better results.
Pros
Nourishing
Brightens hair
Eliminates unwanted yellow tones
Cons
None
The Brilliant Silver White Hair Toner is a water-based product that does not dry or damage the hair. The toner is easy to apply as well as remove (with just 5 to 8 shampoo uses). The product is non-metallic and ideal for all hair types. It easily removes unwanted yellow and brassy tones while adding softness and shine to the hair. The toner is highly concentrated – a few drops will go a long way.
Pros
Does not dry or damage hair
Easy to apply
Easy to remove
Ideal for all hair types
Highly concentrated
Long-lasting
Makes hair soft
Removes yellow or brassy tones
Cons
None
The SarahKSo Blonde Platinum Hair Toner Mask will make your dyed and damaged hair more radiant within minutes of use. The toner mask helps color correct brassy, yellow tones and orange hues. It also lifts and lightens each hair strand. The shea butter in the product repairs damaged hair ends and restores softness and shine.
Pros
Restores shine
Repairs damaged ends
Color corrects brassy, yellow hair
Lightens each hair strand
Easy to use
Cons
None
The Maple Holistics Purple Shampoo will make your color-treated hair look fresh and stunning. The shampoo's formula will preserve your hair color by removing unwanted brassiness and yellow tones. The shampoo contains keratin that refortifies hair follicles from within and strengthens the hair. It also promotes healthy hair growth and repairs damaged hair. It moisturizes your scalp and clears away product build-up. The shampoo is vegan. It also is free of sulfates and parabens.
Pros
Strengthens hair
Repairs damaged hair
Vegan
Sulfate-free
Paraben-free
Cons
The Wella Color Charm Permanent Liquid Hair Toner will help you correct or neutralize unwanted brassiness of your color-treated hair. The liquid is quick and easy to apply. Using the toner along with a developer can give you the best results. The product has a liquid fuse technology that saturates, penetrates, and fuses with the hair. It offers a vibrant shine that will not fade away easily. The product also works well for toning double processed blondes.
Pros
Neutralizes unwanted brassiness
Easy to use
Provides intense shine to hair
Liquid fuse technology for better results
Tones double processed blondes
Cons
None
The Natur Vital Henna Shampoo will help remove the yellowish hue from white and grey hair. It will also provide a natural brightness to hair that will last long. The shampoo is formulated with henna and blueberry extracts. Henna strengthens your hair and works as a natural dye. The blueberry extract provides pro-vitamin B5 that gives shine to the hair.  The shampoo neutralizes yellowish tones and makes hair more luminous.
Pros
Provides natural shine
Strengthens hair
Neutralizes yellowish tones
Moisturizing
Cons
The Clairol Pure White Creme Developer helps neutralize the brassiness and yellow tones of your dyed hair. It has a creamy texture that gives a slightly thicker, more opaque mixture. The product is ideal for a bowl-and-brush application. The developer provides superior coverage and allows easy spreadability.
Pros
Ideal for bowl-and-brush application
Provides superior coverage
Easy to use
Cons
The La Riche Directions Hair Color is a semi-permanent hair dye that helps in getting rid of unwanted brassiness and yellow tones from your color-treated hair. It comes in a container that has a tamper-proof lid. It also has an instruction manual. The product is vegan.
Pros
Neutralizes yellow tones
Vegan
Container has tamper-proof lid
Comes with instruction manual
Cons
None
Flaunt perfect white hair with the help of these amazing hair toners. If you haven't used a hair toner before, the following section can help.
How To Use A Hair Toner For Best Results?
You Will Need
What To Do
Wash your hair with a mild pH-balanced shampoo.
Divide your hair into sections.Part your hair down the middle to create the right and left sections. Also, part your hair at the back, horizontally. Clip all the four sections of hair.
Start applying the toner at the roots and work it down into the rest of your hair. If the color is turning purple, do not freak out.Leave the toner on for 10-20 minutes before washing it out. Finish by applying a conditioner.
Blow-dry your hair and apply a damage-control serum or spray.
Here are a few tips you can follow while using hair toners.
Tips To Follow When Using Hair Toners
Purple Shampoo: If you have white hair, the best way to keep its brilliance intact is by using a purple shampoo. This will keep your hair color fresh and luminous.
Coconut Oil: Since white hair requires extra care, nourish it with coconut oil. It keeps your hair soft and prevents breakage and split ends.
Do Not Wash Your Hair Often: Washing your tresses too oftencan fade out their color. Instead, use a mild pH-balanced shampoo just once or twice a week.
Why Trust StyleCraze?
Oyendrila Kanjilal, the author of this article, is a hair care enthusiast who has a deep interest in reviewing the emerging trends in haircare. She has curated this list of the best hair toners available on the market to maintain white hair. She conducted extensive research, checked user reviews and feedback to understad the product quality and efficacy before preparing the list.
Frequently Asked Questions
How long can I leave the toner on my white hair before rinsing it off?
Although it depends on the brand, ideally, you can leave a toner on your white hair for about 30 minutes.
What happens if I use these toners on my black hair?
While toners are primarily used for color-treated hair, they may offer slight improvements on black hair too.
What toner should I get for white hair?
If you want to achieve a dazzling white hair color, you'll need a toner with purple pigment. Any yellow undertones in the hair will be counteracted with purple-based white hair toners.
What happens if you put toner on white hair?
A toner for white hair will help remove brassy tones that may appear a few weeks after dyeing your hair.
How often should you tone white hair?
To keep your hair appearing natural and healthy, use a toner every 6-8 weeks to refresh your color.
Recommended Articles