15 Best Tongue Scrapers For A Squeaky Clean Tongue – 2023's Top Picks
Keep your tongue fresh & beautiful with these scrapers, so your inner foodie stays alive.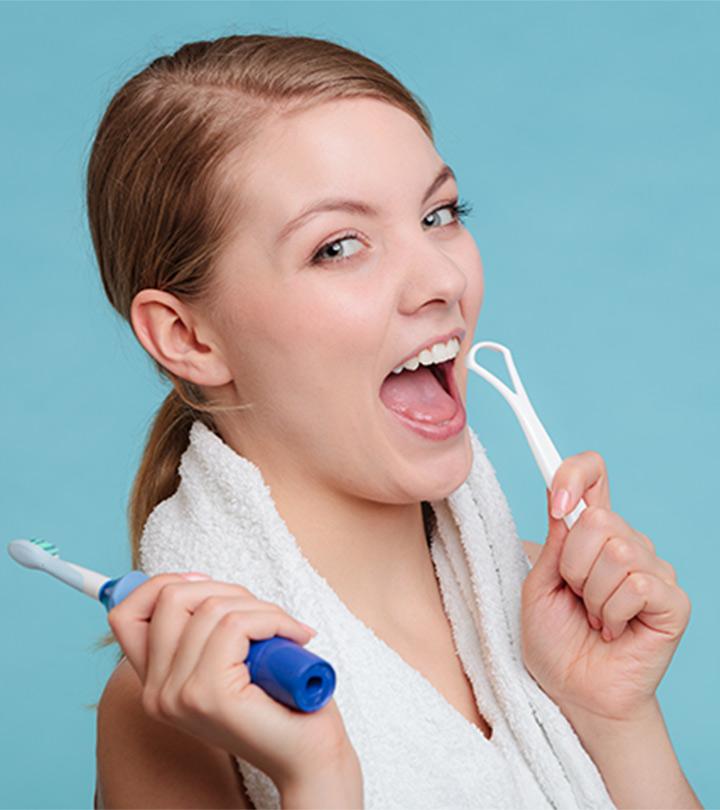 A good toothpaste and toothbrush are the key components of good oral care. But if you experience a bad odor even after ritually brushing your teeth, it is because you are not cleaning your tongue. You need the best tongue scraper to keep your tongue clean and healthy. Just like food particles deposit in your teeth, they settle on your tongue as well, providing an ideal place for harmful bacteria to grow. A tongue scraper can remove the white film on your tongue, wash away bacteria, minimize bad breath, improve the sense of taste, and improve overall oral health. Tongue scraping is an essential step in your oral care regimen. So it is important that you learn the tongue scraping technique for effective tongue cleaning. Dental Expert Dr. Farayi Shakespeare Moyana says "I agree, the top surface of the tongue needs to be cleaned as well in addition to good and effective brushing."
Investing in an ideal tongue scraper for daily tongue cleaning is essential. You must choose the right kind of tongue scraper that is comfortable to use or cleans your tongue efficiently. There are an overwhelming number of tongue scrapers available in the market. We have curated the list of 15 best tongue scrapers that are a great blessing to maintain healthy oral hygiene. Scroll down to read more about tongue scraper benefits in detail!
What Does A Tongue Scraper Do?
Tongue scrapers or tongue cleaners are designed to clean your tongue and are generally used right after brushing to complete the oral care routine. Our tongue has a white layer that builds up each day with the food that we eat. This layer becomes a hotbed for bacteria and germs to flourish. When you use a tongue scraper, not only does it get rid of the white buildup off your tongue, it also ensures that no bad, disease-causing bacteria grow on your tongue.
And this is why it is crucial to scrape the tongue on a daily basis. Besides this, the tongue scraper also helps reduce and eventually eliminate the bad odor that you might have because of the buildup and the food particles sticking to your tongue. So, scraping your tongue every day means preventing the formation of a white layer on your tongue, along with bacteria and germs, and freshening your breath and improving the sense of taste in addition to other oral health benefits.
Keep Your Tongue Clean With These 15 Best Tongue Scrapers
Bid adieu to gunk and bad breath with this stainless-steel tongue scraper from Mstermedi. Made from medical-grade stainless steel, it offers gentle yet effective cleaning to ensure your oral health is taken care of completely. Your breath will feel instantly fresh and your tongue will be ridden of the white buildup as you use this steel tongue cleaner on a regular basis. Made from high-quality materials, this bad breath remedy is resistant to both rusting and building mold. The classic U-shape gives you all the control you need as you flex this metal scraper without gagging. Not only is the body of this tongue cleaner made from stainless steel, but even the handles are non-synthetic, which makes it a great choice for the environment as an easy alternative to plastic-coated tongue scrapers. So, add this tongue scraper to your daily oral care routine and smile with complete confidence! Look at this YouTube video to check the clear demo of the Mastermedi Stainless Steel Tongue Scraper.
Pros
Ergonomic design
Flexible
Non-synthetic handles
Non-gagging
Rust-proof
BPA free
Dishwasher friendly
Easy to sterilize
Cons
Some may find the front part too wide for their liking.
Price at the time of publication: $8.99
If you're looking for a tongue scraper that is easy to carry around when you travel, you can't go wrong with this metal tongue cleaner from Cbiumpro. This tongue scraper features a mouth-friendly scraping head that can be used by those with both a big and small mouth. The anti-slip grips with carvings ensure that the scraper stays intact in your hand even as you use it with wet hands. It helps get rid of the white buildup, bad breath, and can even reduce the sensation of bitterness. With a more compact design, you can rest assured that this tongue cleaning tool won't give you a hard time as you try to care for your tongue.
Pros
Easy to clean
Rust-proof
Non-slip carved handles
Smooth surface
Thoughtfully built
The scraping head covers the entire tongue.
Cons
May lose its sharpness over time
Price at the time of publication: $4.97
It is indeed true that a dirty tongue can be a hotbed for the growth of different kinds of bacteria. And to ward those bad guys off, you need a good tongue scraper from a dependable brand like Thinkprice. This tongue cleaner comes with a handy case and features an ergonomic design that offers a hassle-free tongue-cleaning experience. It also features a non-slip handle and is a C-type arc scraper, which means easy tongue scraping! Made from eco-friendly material, it is also resistant to high temperatures. And since these tongue scrapers come in a pack of 4, you can pick one scraper for each member of your family so you're all ready to say cheese for your next family picture with a clean tongue!
Pros
BPA-free
Ergonomic
Durable
Comes in a variety of colors
Does not bend
Cons
May not offer intense cleaning
Price at the time of publication: $7.99
The Orabrush Tongue Cleaner is a stand-out product as it features both a brush and a tongue cleaner. This tongue cleaner has been thoughtfully and innovatively designed to take complete care of your oral health. The bristles help scrub off the white layer on your tongue effectively so you can get rid of the gunk as you gargle. Additionally, the tongue scraper for oral thrush reaches the back of your tongue and cleans hard-to-reach areas to prevent germs and bacteria build-up that could easily lead to bad breath. Designed after a surgeon's scrub brush, this tongue cleaner is the best way to loosen stinky bacteria and then get rid of it, ensuring you have a fresh breath through the day. Click this video for a detailed demo of the Orabrush Tongue Cleaner.
Pros
Doubles as a brush
Features ultra-soft bristles
Helps fight bad breath
Removes bacteria
Cons
Price at the time of publication: $18.45
This set of tongue scrapers from Sestball packs 2 nifty cleaning scrapers in a cute case so you can take them along as you travel. Made from odorless stainless surgical steel, the tongue cleaner features 2 sides for easy tongue cleaning. The side A is comparatively blunt and helps loosen the bacteria and gunk build-up while the side B helps scrape the tongue from inside out to ensure effective cleaning. With this stainless-steel tongue scraper cleaner, you can say goodbye to thick tongue coating, food residue, and even bad smell! And if you love everything aesthetic, you'll totally want to add this colorful, stylish, and efficient tongue scraper to your dental kit.
Pros
Double-sided design
Does not rust
Does not collect mold
Long lasting
Does not deform
Cons
The scraper may not be as wide for adults.
Price at the time of publication: $8.49
The Gum Tongue Cleaner is the ideal choice when you're confused whether to scrape away or brush all that funk on your tongue. A dual-action dental tongue scraper, it features bristles to gently brush away the gunk while the plastic ridges help in effective scraping. If you're steel-averse, this scraper made from high-quality plastic will definitely appeal to you. Just simply choose to alternate between brushing and scraping your tongue each day for effective plaque removal and optimal oral health. And to add more to its features, it comes with a soft-grip handle that makes cleaning your tongue a breeze!
Pros
Removes plaque and food particles
Features bristles
Removes dead cells
Stiff and sturdy
Cons
May require too much pressure to get the grime off the tongue
Price at the time of publication: $6.98
When you're ready to experiment with different kinds of tongue scrapers, this round tongue scraper from Peak Essentials deserves your attention. This tongue scraper is an ideal choice for those who prefer to brush their tongue clean rather than scraping with a sharp tongue cleaning tool. With a round surface with bristles all over, it helps scrub away the dirt and germ build-up like no other. While the bristles are hard enough to effectively scrub your tongue, they are equally gentle so as to not make your tongue bleed. When you use it on a daily basis, it helps eliminate odor so you never have to be anxious about bad breath. Here is the video of a personal review of the Peak Essentials The Original Tung Brush & Gel Tongue Scraper.
Pros
BPA-free
Designed by a dentist
Soft bristles
Safe to use
Easy to use
Cons
May cause gagging while cleaning the back of the tongue
Price at the time of publication: $6.87
The Basic Concepts Tongue Scraper brings together the steel body of traditional tongue cleaners and the modern, ergonomic design of the new-age scrapers to give you a product that is the best of both worlds. Durable and long lasting, this dental scraper scrapes away low self-esteem and loss of confidence from bad breath along with the white layer that sits on your tongue. What makes this one of the best tongue scrapers for mouth cleanliness out there is its super wide surface that reaches every nook and corner on your tongue. And with that, it also features a non-slip grip handle so you can maneuver it even when your hands are wet. Give this tongue scraper a try and you'll never complain of a bad breath again!
Pros
Rust-proof
Medical-grade stainless steel
BPA-free
Durable
Easy to sterilize
Features a hanging hole
Non-slip comfort grip handle
Cons
Price at the time of publication: $9.97
Tiny, portable, and hygienic, this stainless-steel Dr. Tung's Tongue Cleaner features 2 handles with soft grips to help you have a good hold on the tongue cleaner as you use it. The handles also come with circular points that further impart you a good grip. While it looks like any conventional tongue cleaner at first glance, take a closer look and you'll know it's made to be super sturdy and the chunky handles add to its cuteness! What's even better is that you can use it with a single hand or both your hands— whatever helps you clean your tongue more effectively. As you start using this wonder tongue cleaner, you will soon see your bad breath, tongue coating, plaque build-up, and germ layer on the tongue go away to leave your mouth feeling fresh!
Pros
1 and 2-handed design
Curved edge
Stainless steel tongue cleaner
Adjustable
Gentle on the tongue
Cons
Price at the time of publication: $6.35
This tongue cleaner does exactly what it is supposed to do, and flawlessly so because its name says it all! It comes in a cute blue tone and features a slight bend at the neck of the scraper such that you can maneuver it easily and conveniently to reach the back of your tongue without gagging. The handle of this plasti scraper is the ideal length to let those with big as well as smaller hands hold it with a good grip. And thus, this is also a preferred choice of tongue cleaning tool for kids and toddlers. The surface of the scraper is sharp enough to do its job without requiring excessive pressure or vigorous rubbing. However, it is also gentle enough to not hurt your taste buds. A true hero when it comes to professional tongue cleaning we say!
Pros
Extra wide surface
Durable
Requires minimal pressure
Sturdy
Can be used by kids
Cons
Price at the time of publication: $9.95
Looking for a quirky tongue scraper that looks as good as it functions? Scrape Your Tongue's Tongue Scraper is our answer to your lookout. The tongue cleaner features 2 circular discs at each corner that offer a good grip. They feature smiley faces that add to its look. Made with steel, it has a nice retro look to it. We all know the variety of health issues that a dirty tongue can lead to, especially bad breath. This tongue scraper features ridges that buff away the build-up on your tongue as you move it back and forth, thus resulting in a fresher breath. As it is compact, you can simply throw it into your toiletry bag aa you're out and about.
Pros
Does not cause gagging
100% recyclable
100% BPA free
Travel friendly
Easy to grip
Cons
Some may find it too small for their liking.
Price at the time of publication: $9
Get rid of the build up on your tongue and refresh your breath effectively with the Boka Rasana Stainless Steel Tongue Cleaner and Scraper. The product is made with non-toxic stainless steel. Its loop design is gentle on your tongue. The 'U' shaped curve is flexible and this ergonomic design is quite comfortable and effective to use.
It easily scrapes through the corners of your tongue and promotes healthy taste buds and also eliminates bad breath. The stainless steel is rust-proof and easy to clean and should be sanitized after every use. This tongue scraper for halitosis comes with a small linen pouch for easy storage and also convenience during traveling.
Pros
Stainless steel loop
Flexible design
Durable build
Rust resistant
Easy to store
Removes build up
Freshens breath
Non-toxic
Travel-friendly
Cons
None
Price at the time of publication: $7
The SoFresh Oral Care Tongue Scraper is a thoughtfully designed tongue cleaning tool that completes your daily morning routine. When you use this tongue scraper for taste enhancement every morning right after brushing, be assured that your cup of tea or coffee will taste a lot better! Not only does this handy tongue cleaning tool help buff away odor-causing oral bacteria but also helps rid your tongue of food particles from the night before to prevent the build-up of anaerobic bacteria. What makes it so effective at cleaning the tongue is its concave shape that matches the curvature of your tongue, thus cleaning it without causing gag. If you are all about an affordable, compact, hygienic, and top-quality tongue scraper, your hunt may come to an end right here!
Pros
Concave shape
BPA-free
Easy to clean
Sturdy
Available in color variants
Cons
Some may find the tongue scraper too sharp.
Price at the time of publication: $11.99
If you're looking for a one-stop-solution for all your dental health care needs, you need to invest in this 3-in-1 total care tool from FreshAid that features a floss, pick, and a tongue cleaner. While the floss comes in handy for cleaning between your teeth, the pick helps target any food particles stuck between the teeth, and the tongue cleaner gets rid of all the build-up on the tongue so your mouth feels clean and smells fresh. This tool has been designed keeping in mind the requirements of those who travel frequently. These dental care tools are so small that you conveniently fit a bunch of them in your bag and simply discard them after cleaning your teeth, gums, and tongue.
Pros
Do not break
Offer complete oral care
Perfect for travel
Easy to use
No sharp edges
Cons
May not offer intense tongue cleaning
Price at the time of publication: $17.99
Yet another innovatively designed tongue scraper, we love this one because of its functional heads on both sides. While the silicone tongue brush on 1 side helps scrub the tongue to loosen food particles and germ layer, the other side that features a circular tongue scraper helps get rid of hard-to-scrub gunk from your tongue. The scraper comprises 3 layers that ensure effective cleaning of the tongue. What's more? This is one of the best tongue scraping tools on the market because it is not only versatile but is also durable as it is made from stainless steel and features silicone bristles. With ergonomic and compact design, using this tongue cleaner on the daily will help you reclaim that confident smile as your mouth smells fresh 24×7.
Pros
Soft tongue brush
3-layer scraper
Rust-proof
BPA-free
Easy to use
Easy to clean
Ergonomic design
Durable
Cons
The scraper may not be as sharp.
Price at the time of publication: $8.88
That was our list of the 15 best tongue scrapers that help complete your oral care routine. With all the options that you have, it must be overwhelming to lay your hands on that one tongue scraper that ensures perfect cleaning while also being safe to use. And to help you make the right choice, we're here to specify the types of tongue scrapers that are available on the market.
Types Of Tongue Scrapers
Traditional tongue scrapers
The most popular, conventional, and easy-to-find tongue scrapers are those that have an elongated body that serves as a grip and the head (like a toothbrush in terms of design) with a wide and appropriately sharpened body that is used to scrape the tongue. These tongue scrapers are held using one hand and you place the tip of the scraper at the back of your tongue and pull it forward to get rid of the buildup. While these tongue scraper types are mostly made of stainless steel, you can easily spot plastic tongue scrapers as well. Since both plastic and stainless-steel tongue scraper do the job as long as they're sharp and wide enough, what you choose depends on your personal preference.
U-shaped tongue scrapers have 2 ends that are supposed to be held with both hands, and the middle portion, that is the loopy part that forms the u-shape, is supposed to be placed at the back of the tongue and dragged forward, using both the hands. U-shaped tongue scrapers are almost always available in stainless steel material, and it is not common to spot U-shaped tongue scrapers made out of plastic or other similar material.
Tongue brushes are a great option for those who look for intense cleaning. It comes with soft and gentle bristles and a wide, relatively sharp and wide tip to scrub the tongue surface. While the brush helps scrub off the grime and loosen the white layer of food particle and bacterial buildup, the tongue scraper itself helps pull it all off the tongue. This combination works great for those who have a layer of white buildup that does not clear away by merely scraping the tongue, thus making it difficult to expose the original pink color of the tongue.
Disposable tongue scrapers
Disposable tongue scrapers are a blessing for those who travel more often and need scrapers that can just be used and thrown away so as to not suffer the hassle of cleaning and caring for the tongue scraper. Disposable ones, as the name suggests, are made of disposable and affordable material, commonly plastic. Once you're done cleaning your tongue with them, you can simply throw them away.
These days, many brands design toothbrushes to double as tongue cleaners. These toothbrushes with tongue scraper feature gentle and short bristles on the back side that helps scrub away the buildup. While this can be a quick way of cleaning the tongue when you don't have a tongue scraper, it does not offer intense cleaning as the bristles only loosen the grime. When not pulled out of the tongue, the buildup sits right there and may even settle back as you have your food.
If you're not sure what to consider when buying a tongue scraper, we're here to help. Here's a comprehensive buying guide on the factors to keep in mind when hunting for a tongue scraper for maintaining tongue hygiene.
How To Choose A Tongue Scraper
Getting a tongue scraper is a personalized experience, pretty much like when you buy a toothbrush that's right for you. First thing to know when you plan to buy a tongue scraper is that it generally comes in 2 materials— stainless steel and plastic. While this totally depends on your preference, stainless-steel tongue scrapers are known to last longer without disintegrating unlike their plastic counterparts. However, if you're looking for features like an exceptional grip, a plastic tongue scraper might be the right choice for you. However, there are several tongue scrapers out there that feature a stainless-steel body but a plastic covering at points where you'd grip the tongue scraper so as to give you a good hold.
When scraping your tongue, it is crucial to find a tongue scraper that is easy to move along the tongue and maneuver so as to get all the grime off right from the back of your tongue. This is why easy-to-use tongue scrapers are those that are flexible enough without being flimsy or poorly constructed. Additionally, the tongue scraper should not be way too wide or it will not move any further than the middle part of your tongue. Also make sure that the tongue cleaner is not too narrow or thin as it may end up gagging.
As we have already discussed different types of tongue scrapers, it is a matter of fact that there are several variants just to suit the preferences of different people. Know what you are comfortable with— a V-shaped, U-shaped tongue scraper or one that looks like a toothbrush with a scraper at the end of the handle. This will help you ensure that you don't experience discomfort every time you scrape your tongue.
When you travel frequently, you would want a tongue scraper that is easy to pack with you so that you don't end up compromising on your oral health maintenance. You can either get a whole pack of disposable tongue scrapers and carry as many as you would need for your trip or you can invest in one that is handy and comes in a tongue scraper box.
While purchasing a good tongue scraper is only halfway close to good oral hygiene, knowing how to use your tongue scraper will ultimately decide if or not your tongue is protected from buildup, bacteria, and bad odor. So, here's a little guide on how to use your tongue scraper the right way.
How To Use A Tongue Scraper
For a U or V-shaped tongue scraper, hold both the handles on either side and place the loopy part of the scraper at the end of your tongue. Hold the tongue scraper firmly but pull it forward gently. Drag it all the way to the front and once the buildup is off your tongue, you can gargle to clean your tongue.
For a tongue scraper that features a head at the other end of the body of the scraper, you just have to hold the scraper and place the tip at the back of your tongue and drag it forward. Once the buildup comes off, all you have to do is gargle.
Why Trust StyleCraze?
Shreya Vishwanathan, who wrote this article, understands the importance of using the right toiletries to maintain hygiene and health. While we focus on cleansing our body, hair, and teeth, we often overlook the tongue. The author recommends using these tongue scrapers to remove the white film that settles on the tongue, minimize bad breath, remove any bacteria and improve oral hygiene. She checked the tongue scraper reviews thoroughly before shortlisting the products.
Frequently Asked Questions
Do tongue scrapers really work?
Yes, tongue scrapers work to keep your tongue clean while also making sure you have a fresh breath. They prevent a white layer from building up and thus keep your tongue safe from bacteria and germs.
Can tongue scrapers damage taste buds?
While good tongue scrapers are designed to clean the tongue without harming your taste buds, it is recommended to not buy a tongue scraper with a very sharp surface as you may end up hurting your tongue, and the tongue may even bleed.
How many times a week should you scrape your tongue?
It is suggested to use a tongue scraper twice a day, every day so that your tongue is completely clean and you're able to taste your food and distinguish between flavors such as sweet, bitter, and salty. It also ensures that your tongue looks pink and your mouth feels fresh.
Should I use a tongue scraper before or after brushing?
It is recommended that you use a tongue scraper after you're done brushing your teeth as this helps ensure that the toothpaste doesn't collect on your tongue as you brush after cleaning the tongue, which would render tongue-cleaning almost useless.
Which tongue scrapers are better – metal or plastic?
Metal tongue scrapers are better than plastic ones in terms of durability and bacteria resistance.
How often should I replace the tongue scraper?
Replace the tongue scraper after every 3-4 months
Recommended Articles
How To Get Rid Of A White Tongue
Ways To Get Rid Of Garlic And Onion Breath Right Away
Effective Home Remedies For Bad Breath