11 Best Toning Shampoos For Brassy Hair – Top Picks Of 2023
Prevent your beautiful blonde hair from discoloration with these effective products.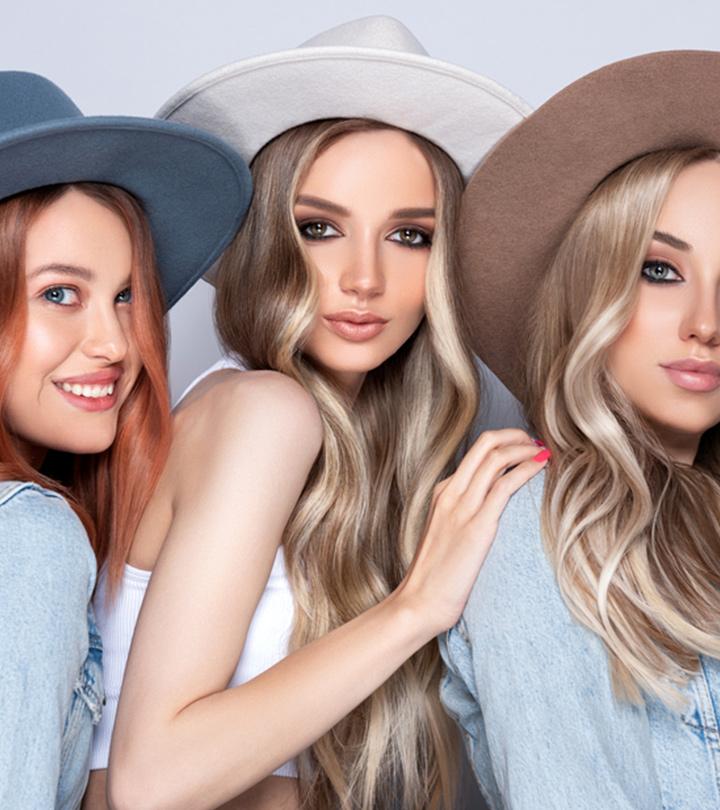 If you are blessed with blonde hair, you know by now that it calls for high maintenance. While it can be fun to highlight, stylize, go for every kind of chemical treatment and flip it to its glory, it needs the best toning shampoos to keep up with its natural golden color. Blonde hair can get brassy and yellow if not pampered regularly, and what worries us more is that it comes in notice way more than dark shades of hair. The good news is toning shampoos can reverse the damage and help you refresh the natural look without making expensive visits to the salon. Since blonde hair is the most experiment with hair colors, it will neutralize the unwanted tones and gently cleanse your scalp and hair without messing with the natural oils. Toning shampoos also provide the necessary nutrients to rejuvenate chemically treated hair and add life to your hair. So, if you have been waiting for the perfect shampoo for your blonde hair, this is the one. No more waiting for the monthly hair spa, for here is the list of the 11 best toning shampoos to get effortless gorgeous hair right at home! All these products are highly rated by reviewers on various forums. Some of them are even free of animal testing, so you can get a formula that aligns well with your ethical lifestyle.
What Does A Toning Shampoo Do?
A toning shampoo contains intense purple pigments to help neutralize yellow, brassy tones and give your hair a cool hue that makes you look event-ready. An absolute must-have between coloring salon appointments, it is best used once or twice a week to maintain hair color. Suitable for color-treated, highlighted, and naturally blonde and light-colored hair, a toning shampoo helps refresh and revitalize your hair color and prevent fading, so you can always flaunt beautifully bright and radiant hair.
Check out the best hair toners in the form of shampoos down below!
11 Best Toning Shampoos To Neutralize Unwanted Tones
Banish brassiness and protect your gorgeous blond highlights with this specially formulated toning shampoo which uses purple tones to keep your hair color looking fresh and vibrant. This specialist-approved shampoo helps cleanse and detangle the hair and leave it feeling smooth, soft, and oh-so-touchable. You can include it in your haircare routine for thick hair to make it more manageable and beautiful. Designed especially for blond hair, add this good toning shampoo to your weekly roster and take your hair care regime to the next level. You will thank us later! Go through this video detailing a reviewer's experience with this product for a detailed idea about it.
Pros
Designed for blond hair
Controls frizz and reduces flyaways
Suitable for chemically-treated hair
Neutralizes brassy tones effectively
Cons
Might not be best suited for those with extremely dry hair.
Price at the time of publication: $10.49
Get your hands on this incredible toning shampoo for blond hair and remove those unsightly yellow tones for a finish that makes you look glamorous and ready to take on the world. This shampoo purifies and nourishes blond hair, using violet pigments to counteract unwanted brassy tones, making hair look shiny, glossy, and radiant. You can easily add this to your hair care routine for toning, as it is suitable for all hair types. This shampoo promises fantastic results whether your hair is dry and damaged or tends to be more on the oily side. Check this video detailing a tester's experience with this product to learn more about it.
Pros
Designed for blonde hair and highlights
Purifying and nourishing formula
Easy to use
Pleasant fragrance
Cons
Some might find that this purple shampoo tends to stain the nails a bit.
Price at the time of publication: $22.32
If repeated color treatments have turned your hair into a dry, dull mess, you're going to love this toning shampoo that eliminates brassy, yellow undertones to leave your hair feeling silky smooth, and glossy. Suitable to brighten blonde, grey, and platinum hair, this fantastic shampoo turns your gray into a stunning silver that is sure to have the compliments pouring in. You'll be flaunting a beautiful color in no time! Add this cool toning shampoo and mask treatment to your hair care regime as a haircare hack for eliminating brassiness.
Pros
Highly concentrated formula
Brightens blonde, silver, and platinum hair
Neutralizes brassy undertones effectively
Conditions and nourishes hair deeply
Cons
Some might find the consistency of this shampoo a bit thin.
Price at the time of publication: $26
Give your color-treated hair the tender loving care it deserves with this blonde toning shampoo which promises to revitalize and renew ash-toned blonde or silver hair. Enriched with phyto-complex, this nourishing shampoo protects hair from discoloration while helping get rid of dryness and damage. Effective in eliminating brassy and yellow tones, it returns your tresses to their enviably glamorous glory in just a few washes.
Pros
Ideal for color-treated hair
Removes brassy and yellow tones
Enriched with phyto-complex
Nourishing formula
Cons
Some might find the scent of this shampoo a bit unpleasant.
Price at the time of publication: $23.45
Here's a toning shampoo that ticks all the right boxes when it comes to a hair care product that protects color while gently cleansing the scalp and hair. Infused with sunflower seed extract and polyphenols, this pH-balanced formula is ideal for removing brassy, yellow tones from blonde and gray hair, leaving hair looking and feeling its absolute best. The unique non-staining violet base has various haircare benefits, it removes dullness while the nourishing formula ensures damaged hair is left feeling soft and luscious, making this one of the best toning shampoos for blonde hair.
Pros
Designed for blonde and silver hair
Mild, nourishing formula
Enriched with sunflower seed extract and polyphenols
Contains no salt, parabens, or gluten
Cruelty-free
Cons
Might not be best suited for those with very sensitive skin.
Price at the time of publication: $20.8
Go from drab to fab in just a few minutes with this game-changing violet toning shampoo which packs a mean punch against hair damage and the brassy, yellow tones that diminish the brilliance of beautiful blonde hair. Enriched with omega-rich oils, this highly pigmented shampoo helps restore moisture and promote healthy hair growth for unmatchable softness and elasticity. Formulated with a blend of rich botanicals, this versatile toning shampoo for brassy hair is a one-stop solution for chemically-treated hair that is damaged, dull, and dry.
Pros
Highly pigmented formula
Designed for chemically-treated hair
Enriched with nourishing omega-rich oils
Suitable for weekly use
Cons
Some might find the fragrance of this shampoo a bit strong.
Price at the time of publication: $18.99
Do yourself a favor and extend the life of your gorgeous hair color with this intensive toning treatment which is designed specifically for blonde and light brown colored hair. Many reviewers have noted that the color pigments in this cleansing shampoo give the hair a cool metallic bronze hue, while the plant-based proteins and amino acids strengthen hair and give it a wonderful shine. Gentle yet effective, this vegan and cruelty-free shampoo is a must-have for the conscious fashionista who doesn't leave a stone unturned in ensuring her hair is always in tip-top condition.
Pros
Designed for light brown and blonde hair
Infused with nourishing plant proteins and amino acids
Free of SLS, SLES, and sulfates
Vegan and cruelty-free
Cons
Might not be best suited for those with gray and silver hair.
Price at the time of publication: $28
If you're looking for a color toning shampoo that instantly illuminates your beautiful blonde hair, restoring shine and vitality, you're going to love this clean shampoo which is formulated without sulfates. This shampoo cleanses and deeply conditions hair, reducing brassy tones, and leaving hair feeling moisturized and luxuriously soft to the touch. This popular purple shampoo works effectively without drying out the hair, making it a hot favorite amongst hairstylists, celebrities, and professionals. This video will give you more insights into the product.
Pros
Suitable for both color-treated and naturally blonde hair
Free of sulfates, parabens, and phthalates
Safe for daily use
Cruelty-free
Cons
Some might find the texture of this shampoo a bit sticky.
Price at the time of publication: $13
If you feel your blonde hair has started resembling a bundle of hay, you need to try this fabulous toning shampoo which instantly refreshes and revives color while adding incredible shine to your dull, damaged hair. This unique purple shampoo gently cleanses the scalp and hair while neutralizing unwanted tones to brighten and extend the life of color-treated blonde hair. This sulfate-free formula is vegan and free of all the nasties we've learned to hate, making it the ideal choice for the conscious beauty consumer.
Pros
Designed for color-treated blonde hair
Strengthens and nourishes hair
Free of sulfates, parabens, and gluten
Vegan and cruelty-free
Cons
• Might not be best suited for those with very oily hair.
Price at the time of publication: $9
Say hello to soft, bouncy hair and bid goodbye to ugly, unwanted yellow tones with this gentle toning shampoo explicitly designed for women with gray, blonde, and platinum blonde hair. Made with high-quality hair-loving ingredients, this shampoo contains tonic purple pigments that neutralize brassy tones and okara extract. This plant-based soy derivative helps repair and reinforce damaged hair. So don't hesitate to give this shampoo a try!
Pros
Neutralizes unwanted yellow tones
Enriched with repairing okara extract
Silicone-free formula
Free of parabens and SLS
Cons
Some might find the scent of this shampoo a bit strong.
Price at the time of publication: $32
Flaunt beautiful, wavy hair and get ready to turn heads with this amazing tone-correcting shampoo which helps keep warm undertones at bay for a cool, refreshed finish. This purple shampoo is loaded with haircare essentials and works by depositing intense blue-violet pigments to reduce brassy tones, while cleansing and nourishing hair to keep it looking its absolute best. Add it to your haircare routine for fine hair to unlock the vividness of your colored hair. And there's more! The compact, portable size makes this shampoo the ideal companion for all your travels.
Pros
Refreshes and brightens gray hair
Free of parabens, sulfates, and sodium chloride
Suitable for all hair types and textures
100% vegan and cruelty-free
Cons
Some might find the consistency of this shampoo a bit thick.
Price at the time of publication: $16.48
Now that we've had a look at our pick of the 11 best toning shampoos in 2023, it is important to look at some things to consider when picking the perfect shampoo to help you banish those brassy tones. Get tips on products for haircare routines for colored hair, down below.
How To Choose The Best Toning Shampoo
Whatever your shade of blonde — light, platinum, or silver-gray, there's a brilliantly purple toning shampoo designed just for your unique hair color. Don't hesitate to try a few before you find a toning shampoo that makes your beautiful hair stand out and sparkle.
If your hair is dry and damaged, pick a nourishing toning shampoo enriched with hair-loving ingredients like amino acids and botanical extracts. Oily hair would benefit from a refreshing toning shampoo made of non-comedogenic ingredients, whereas those prone to allergies should pick a shampoo labeled as hypoallergenic. If you have a sensitive scalp, it's essential to look for dermatologist-tested products that are packed with clinically tested ingredients to avoid damaging your hair further. Remember to always choose a toning shampoo explicitly designed for your unique hair type.
A quick look at the ingredient list will tell you volumes about the toning shampoo you're about to pick. Steer clear of shampoos that contain sulfates and parabens, particularly if you're prone to dry and damaged hair. If you want your toning shampoo to give you the double benefit of strengthening your hair while protecting its color, pick a product enriched with nourishing ingredients. Vitamin E, shea butter, and coconut extracts are great choices as they deeply condition and moisturize your tresses. Lastly, those looking for a shampoo made without animal-derived ingredients should pick one labeled as vegan and cruelty-free.
How To Use Toning Shampoos
Step 1 – Wet and completely saturate your hair and scalp with lukewarm water.
Step 2 – Put on a pair of gloves on your hands to protect nails from staining.
Step 3 – Take a small amount of toning shampoo in the palm of your hands and massage it into your scalp and hair, creating a rich lather.
Step 4 – Let the shampoo sit in your hair for 3-5 minutes to allow the toning pigments to penetrate your hair.
Step 5 – Rinse your hair thoroughly with lukewarm water and follow with a conditioner.
Why Trust StyleCraze?
Kirtana Divakar is an expert beauty and fashion writer. She has several years of experience reviewing hair care products. She has curated this list of the best toning shampoos based on her research of user reviews and trusted feedback online. The products listed above are great for protecting and nourishing brassy hair color and preventing hair damage.
Frequently Asked Questions
Does toning shampoo work on natural hair?
Absolutely! Toning shampoo can be used on naturally blonde hair to make it less brassy and more glossy and radiant.
Does toning shampoo damage hair?
A toning shampoo is used to help enhance and refresh color-treated hair. If you're worried about damage, pick a sulfate-free formula which is gentle and nourishing to your blonde tresses.
How often should you use toning shampoo?
It is best to use a toning shampoo once to twice a week between salon visits to help maintain hair color and prevent fading and dullness.
Is toning shampoo safe during pregnancy?
Toning shampoos are generally considered safe during pregnancy. However, it is best to consult your medical practitioner before trying any new beauty product when pregnant.
Is purple shampoo the same as toning?
Yes, purple shampoo is suitable for blonde hair. It is a great toning solution to prevent brassiness.
What does toning shampoo do to brown hair?
A toning product like the Four Reasons Bronze Toning Shampoo for brown hair imparts a cool metallic bronze color. Some purple shampoos also help neutralize the brassiness of brown hair color.
How long does toning shampoo take to work?
Toning shampoos do not take much time to work. Some shampoos can even show results in one wash.
Recommended Articles