Top 11 Too Faced Makeup Products In 2023
Cover spots, signs of aging, and simply look your best by applying affordable products.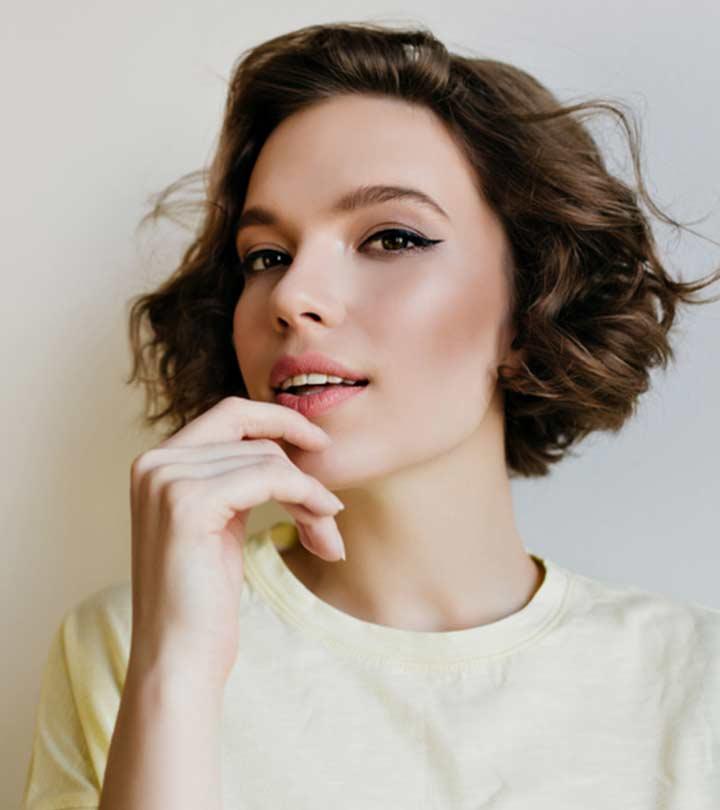 If you are tired of trying out many brands that look and sound great and do not work as promised, well, you got to try the best Too Faced products. Too Faced is one brand that not only has great packaging but also does wonders to your skin with its wide range of products. Too Faced is a name that starts conversations. Whether you wear it or carry it, you are sure to grab compliments and begin to talk about it.
Makeup enthusiasts, artists, and celebrities swear by the phenomenal Too Faced products. Be it their powders or their mascaras – all deliver bomb results. A favorite and beloved brand across the globe, this has been the rage for years now. And it's time for you to try out the most popular products from Too Faced. We have listed below the 11 best Too Faced products for you. Take a look!
Top 11 Too Faced Makeup Products In 2023 That You Will Love
This black voluminous mascara adds volume and intensity to your eyelashes. If you have always wished for defined and multi-dimensional lashes, this is the right mascara for you! The shape of the large wand is inspired by the curves of an hourglass and the bristles are extra stiff so that the performance of the collagen-infused mascara is maximized. This carbon black mascara is one of the most popular Too Faced products. A single coat of the mascara is enough to get defined and full lashes, while two coats add to the curl and drama. The mascara also includes film-forming polymer that locks curls for the entire day and acacia senegal tree extract that sets the volume. Here's an honest review of the product.
Pros
Smudge-free
Paraben-free
Buildable coverage
Easy to remove using regular eye makeup remover.
Hourglass shape of the brush provides extra volume.
Cons
The solution of the mascara may be a bit watery and may need to be applied in multiple coats to get results.
One of the best Too Faced products is The Too Faced Born This Way Naturally Radiant Concealer which helps hide imperfections instantly, makes dark circles vanish and blurs wrinkles and fine lines so that you get complete coverage that is almost undetectable. The anti-blemish concealer has a high impact and it results in people really wondering if you are born this way? The skin is left feeling clear and radiant in a very natural way, thanks to alpine rose extracts that help in supporting the skin's natural resilience and health. This Too Faced beauty product is also infused with hyaluronic acid that helps achieve a youthful appearance. The creamy texture of the concealer makes it comfortable to wear and color correctors make the skin look flawless. Here's a video featuring a tester's experience of using the product to give you a detailed review of the concealer.
Pros
Oil-free concealer
Can be worn by itself, or under or over foundation
Provides a creaseless and smooth, no-makeup effect
Includes coconut water that gently helps in topping up moisture levels in the skin.
Cons
The concealer may start wearing off in a few hours if you have oily skin.
The Chocolate Bar Eye Palette by Too Faced is an absolute must have if you are a makeup junkie and chocoholic. This eye shadow palette consists of 16 shimmer and matte shadows that are scented with actual chocolate. The chocolate-inspired colors are cushioned into a cutesy retro chocolate-bar tin and are an ideal mix of neutrals, perfect browns, and exciting pops of color. This tempting array of sweet-smelling eye shadows is a must have if smokey or earthy makeup is your go to look. Some of the shades featured are Strawberry Bon Bon, Gilded Ganache, Hazelnut Crème Brulee and Champagne Truffle. The names are enough to get you hungry and eager to head out with a full face of fabulous makeup! This is truly one of the best chocolate themed eyeshadow palettes out there. This video detailing a tester's experience of using the eyeshadow palette will help you understand the product better.
Pros
Includes matte as well as shimmer shades
Free glamor guide to help you get three looks
Infused with the goodness of 100% cocoa powder
Shadows are highly pigmented and offer true color on skin as well
Cons
May cause irritation on sensitive skin.
Too Faced lip products are very popular among makeup enthusiasts and it is understandable why. The Too Faced Lip Injection Extreme Lip Plumper is a lip serum that provides a stunning plumping effect to the lips. Too Faced has made maximum use of advanced technology and science to create a potent and strong quadra-delivery system that brings together vitamin E, dehydrated marine sponge and collagen-friendly MaxiLip that stimulate blood flow and make your lips fuller. It also rehydrates the lips with moisture so the effect is absolutely instant and long-lasting. If all of the above was not enough, this lip-plumping, hydration-boosting gloss is also injected with doses of jojoba and avocado oil so that your pout is always smooth and free of cracks and dryness. The product has garnered multiple positive customer reviews on Amazon as well, so definitely check those out if you still are not convinced by us!
Pros
Contains less than 1% of artificial fragrances.
Provides hydration, nourishment, and volume to lips
Can be worn over lipstick, lip liner or simply on bare lips
Gluten, parabens, sulfates SLES and SLS, triclosan, phthalates-free
Cons
It may not be suitable to apply the lip plumper at night as it may have a very strong cooling sensation.
The Too Faced Throwback Lipstick Cheers to 20 Years Collection is a metallic lipstick with lots of sparkle and glitter that is multi-reflective! This lipstick inspired by the original Too Faced lipstick bullets from 1988, gives you a highly-pigmented finish with unlimited sparkle payoff. This collection was launched at Too Faced's 20th birthday and is a real throwback to the 80s dark-hued lips yet updated to current times, with shades and textures that are on-trend now! If you like to stand out in the crowd or love having some extra attention, this statement-making lipstick is for you, which is another marvel of the Too Faced Lip Products.
Pros
Induced with avocado oil
Can be worn all-day long
Smells delicious
Creamy lipstick offers full coverage
Cons
The lipstick may need multiple coats for the color to show.
The Too Faced Cosmetics Primed And Poreless Skin Smoothing Face Primer specializes in erasing imperfections as well as pores. Your skin is left ready for any powder, bronzer or makeup, or you can step out with nothing else on your face and still look fresh and made up. The customized pore-minimizing formula provides a canvas that looks airbrushed and is enriched with mulberry extract along with arctostaphylos UVA URSI. The result is bright and light skin that is protected and refreshed with a soothing effect. Daily use of this revitalizing primer can give long term benefits thanks to cyclodextrin, retinyl palmitate and cavamax retinol that restore elasticity, moisture, and make your skin supple. Numerous reviewers have also vouched for this product, crediting its exceptional results and smooth finish.
Pros
Detoxifies, firms, and hydrates tired skin, giving it a dewy finish.
Perfect for a long day, color stays in place and doesn't change.
Contains a powerful combination of youth-enhancing and anti-wrinkle, skincare ingredients.
Infused with the essence of vitamin A, camellia oil, and white tea plant so skin looks brighter and firmer.
Cons
The primer may not be suitable for dry skin.
The Too Faced Born This Way Medium-To-Full Coverage Foundation in Light Beige diffuses the thin line between skin and makeup to get a flawless and natural finish with undetectable coverage. This skin-refining and elasticity-boosting foundation is oil-free and is one of the most popular Too Faced products among makeup lovers and suits most skin types. Enriched with coconut water, this foundation helps to replenish the moisture levels in the skin and doesn't over hydrate. The Too Faced Foundation is also infused with alpine rose which results in bright and elastic skin. Lastly, hyaluronic acid provides the skin with long-lasting hydration that balances the skin for a smoother appearance and makes you look youthful at the same time. But if you still are not entirely sure, let the countless positive reviews and customer testimonials on Amazon convince you to try it out!
Pros
Gluten, paraben-free
Vegan, non-comedogenic and waterproof
Long-wearing: can be worn for 12 hours at a stretch
Medium to full, buildable coverage that is undetectable
Cons
The foundation may have a sticky finish instead of a powdery one.
You may ask yourself, "Is Too Faced a good brand for eye makeup?" The Too Faced Sketch Marker Waterproof Eyeliner answers this question single-handedly. This waterproof liquid eyeliner found its inspiration in Japanese calligraphy pens and is developed innovatively. The sketch marker doesn't feather or fade even after wearing it for a few hours and can be worn alone or along with multiple eyeliners to create a dramatic look. The formula of the eyeliner acts as a drawing ink which is created to be vivid and smooth. The tip of the liner is flexible yet has precision-control that lets you create precise, brush-like strokes and sharp lines on your eyelids and achieve different line widths. Wish to look through some honest reviews before making your purchase? Explore the product further on Amazon.
Pros
Waterproof formula
Gluten, paraben-free
Lasts all day long
Cons
The eyeliner may smear quickly on oily skin.
The Too Faced Tutti Frutti Fruit Cocktail Blush Duo is an absolute delight to own and use. This dual blush on can be used separately as a blush and a glow or it can be used together to achieve a multidimensional flushed appearance. Thisblush duo is infused with the delicious smell of strawberry that gives you the ideal fruity flush you need. This blush is long-wearing and lets you create a strobe effect on your cheeks using the glowing side of the duo. The fact that two finishes are included together in a single compact makes this blush-on a very versatile product. So if you are aiming for a subtle, timeless beauty that complements all occasions, this blush will have you covered for good!
Pros
Buildable payoff
Silky formula for soft touch on skin
Smells just like yummy strawberry
Cons
The blush palette may break the product cushion very easily.
If futuristic lipsticks that are eye-catching are your cup of tea, then the Too Faced La Creme Mystical Effects Lipstick is made just for you! This holographic lipstick lets you add a hint of moisture to a matte lipstick that you can easily wear under it. This statement-making lipstick has an uber cool vibe and while it may look shimmery blue when in the tube, it looks like a sheer lavender or sky blue on your lips depending on your actual lip color. This lipstick can be worn by itself or along with any of your favorite lipstick depending on how mystical you want the look to be. The lipstick is filled with hydrating and luscious lip conditioners that contain shade shifting, creamy staining pigments which gives you the ultimate holographic and iridescent look.
Pros
The rainbow pigment is ideal for festivals and chic events
Infused with a the signature sweet scent attributed to unicorns
Includes extracts of white lotus flower for intense soothing and long lasting hydration.
The futuristic shade-shifty technology allows the lipstick to change its color based on the temperature of your body.
Cons
The glitter chunks in the lipstick may make them unsuitable for everyday wear.
Another superb Too Faced lip product is the Melted Matte Liquified Matte Long Wear Lipstick. This lightweight matte lipstick has a color-rich and creamy formula. It is formulated in such a way that it glides like a lip gloss but dries to be ultra-matte with an opaque finish. The lipstick is also enriched with Volulip so that plumping doesn't cause any stinging and the result is smooth lips, and has a generous quantity of hyaluronic filling spheres that smooth the lip lines. The applicator is in a special doe-foot shape that coats the lips with intense matte color which is long-lasting. The lipstick is lightweight, has a matte finish, and makes your lips look very kissable.
Pros
Does not shrivel, dry or crack
Gives out a long lasting, super-saturated and high-impact intense color.
Enriched with avocado oil that is antioxidant-rich and vitamin E
Cons
The lipstick may have a very strong smell.
Too Faced is one of the leading makeup brands known for their wide range of products. And if you are planning to buy any of their makeup products, you must consider a few things before you make the investment.
Things To Consider While Buying The Best Too Faced Makeup Products
If you are picking a foundation, concealer, or any other cream-based makeup product from Too Faced, then consider your skin type. Those with oily skin, opt for products that are non-greasy, lightweight, and non-comedogenic. Likewise, if your skin is on the dry side, opt products that are moisturizing and have a creamy consistency. Avoid any product that contains harmful chemicals like parabens, silicones, mineral oils, alcohol, and artificial fragrance and opt for sensitive skin-friendly products.
When it comes to foundations and concealers each have a different kind of coverage. No matter what type of product you pick, look for a formula that offers high coverage. When it comes clear skin, pick sheer or light coverage just to even out the skin tone. But for those with uneven skin tone, go for medium coverage. And, for dealing with dark spots, acne scars, or blemishes, full coverage is an ideal choice.
In case of contour powders, lipsticks, or eye shadow palettes, consider the pigmentation as an important factor. In fact, it plays a key role and is a deciding factor if you want to invest in the makeup product or not. Whatever Too Faced makeup product you pick, ensure it has a buildable formula, so that you can apply it depending on the occasion.
Staying power is another important factor to consider when buying any makeup product. There is nothing more disappointing than applying a product that you need to re-touch often or one that fades away quickly. Although all of Too Faced makeup products claim long staying power, it is best to choose after combing through some reviews. Pick a formula that is smudge-proof, transfer-proof, water-resistant, sweat-proof and does not flake.
While most of Too Faced makeup products claim to be vegan and clean, it still doesn't hurt to cross-check before buying. Look for a formula that is non-irritating, hypoallergenic, non-comedogenic, and non-acnegenic. Avoid products that contain parabens, phthalates, silicones, sulfates, petroleum, mineral oils, and other harsh irritants like artificial fragrances or dyes.
Now that you have seen these wonderful products, let us share with you some helpful tips to help you purchase the right product from the Too Faced Cosmetics.
Why We Are In Love With Too Faced Products
One of the most striking things that set Too Faced apart from the rest of cosmetic brands is the fact that they are as big a foodie as you are! The packaging of the products is unrivaled and having the Too Faced makeup items on your dressing counter is as good as having decorative pieces that you want to show off. The fact that each product smells like a delicious item on a bakery menu makes you want to eat it all up, which by the way doesn't taste bad at all!
Certified and approved by PETA, Too Faced is a brand that is friendly to anything with a face! They do not test on animals and are absolutely vegan. It doesn't get better than this, does it?
Classic food combinations:
The signature cosmetic products by Too Faced are named after some of the most classic and iconic all-American food combinations like Peanut Butter and Honey and Peanut Butter and Jelly eyeshadow palette or the Gingerbread Extra Spicy palette. No other makeup makes you feel as hungry as Too Faced items do.
Too Faced is a chocoholic brand and there is no denying it. Ask anyone who has used Too Faced makeup before and one of the main things they will go on about is how divine the Chocolate Bars smell. Who needs to eat chocolate to feel better, when you can wear cocoa on your face and look like a diva at the same time?
Delicious-tasting makeup:

If your makeup products are going to smell so good, your customers are going to want to eat it. Too Faced knew this and delivered. The Too Faced makeup line is vegan, tastes supremely delicious and is safe if you try a little bit of it.
Why Trust StyleCraze?
Srijita De is a makeup enthusiast who loves trying out different brands and their products. This list of the best Too Faced products has been put together after carefully browsing through many user forums and considering multiple reviews and feedback. These good-quality, skin-friendly products include lipsticks, eyeliners, blushes, foundations, primers, and other makeup essentials that have great packaging and are absolutely cruelty-free.
Frequently Asked Questions
What is Too Faced known for?
Too Faced is known for being a game changing cosmetics brand. They produced the world's first glitter eye shadow, lip plumpers and crease proof eyeshadow primer.
Is Too Faced good makeup?
Too Faced is not just good makeup but great makeup! A trendsetter and a vegan makeup brand that comes up with the coolest palettes that are great to look at and are highly pigmented.
Is Too Faced a natural brand?
Yes Too Faced is cruelty-free and a vegan brand. They do not test on animals at all.
Is Too Faced cruelty-free and vegan?
Yes Too Faced is even approved by PETA as an animal-friendly cosmetics brand.
How popular is Too Faced?
Too Faced cosmetics is a popular makeup brand among celebrities like Katy Perry and Gabriel Zamora. This brand is the first to manufacture products like lip plumpers, crease-proof eyeshadow primers, and glitter eyeshadows. Owing to its high-quality formulas, the brand enjoys huge popularity among makeup lovers.
How long does Too Faced makeup last?
The shelf life of Too Faced makeup is between one to three years.
Recommended Articles